Spiralized vegetables as a replacement for pasta is a healthy choice, and simple to do with a Spiralizer. One of my husband's favorite vegetables is zucchini, so spiralized zucchini is naturally a hit for us (and a dish that even he can tackle). Zucchini pasta is versatile like regular pasta and can be cooked many different ways. I personally have cooked zucchini with marinara sauce or pasta sauce, with a garlic sauce and even as a stir-fry with other green vegetables. For this recipe, I decided to cook the zucchini pasta with brussel sprouts, pine nuts and bread crumbs. I simply saute the bread crumbs in olive oil and garlic, easy-peasy. To get a nice charred color on the Brussels sprouts I just roasted them in the oven. You may skip this step though if you want to prepare the meal in a quicker manner as it's completely optional.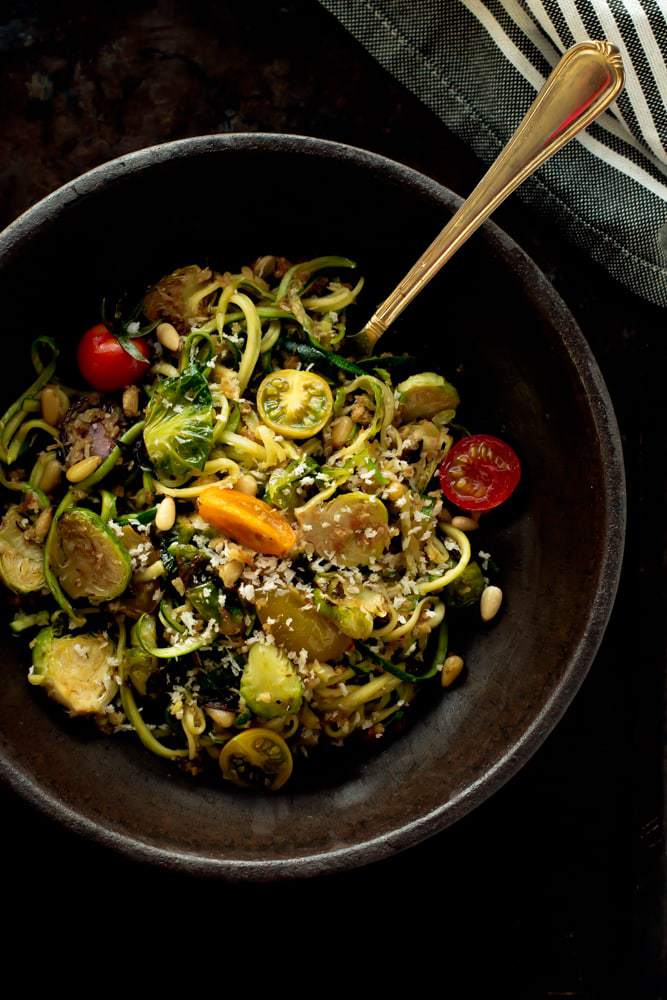 This is a lighter menu option for those of you on a health-kick recipe. This zucchini pasta would be perfect for meatless Monday. You may also use a traditional spaghetti pasta for this recipe and stir in the brussels sprouts with pancetta to boost the flavor as these taste great whether or not you have them with spiralized zucchini.
Eating more veggies and less carbs is something that many people dread doing, but with some tricks of the trade, a handful of menu ideas and a few easy kitchen toolsyou'll be on your way. I still love my pasta but with my husband we've had to make some adjustments (at least to his meals), but it has been a fun adventure with some great tasting food.
📖 Recipe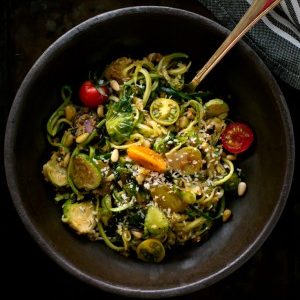 Zucchini Pasta with Brussel Sprouts, Pine Nuts, Bread Crumbs
Ingredients
¼

cup

olive oil or coconut oil

,

such as NUTIVA

4-6

cloves

garlic or DOROT frozen garlic

optional: 1-2 shallots

3

cups

brussels sprouts

,

quartered or thinly sliced

1

cup

panko bread crumb

1

pint

tomatoes. halves

3

cups

spiraled zucchini raw

⅓

pine nuts

Salt/Pepper to taste

Lemon for serving
Instructions
In a medium skillet over medium-high heat, heat up the oil then add garlic and shallots. Cool until fragrant.

Stir in the brussels sprouts and cook until they soften (for about 2-3 minutes).

Add Panko bread crumbs and cook until golden/crisp (for about 2-3 minutes)

Add tomatoes and cook until tomatoes burst

Add pine nuts and mix in with a quick stir

Spiralize

zucchini noodles and add them to skillet, then season with salt/pepper and cook until softened.

(optional): Serve with lemon juice