This is a sponsored post written by me on behalf of Tin Star Organic Ghee. All opinions are entirely my own.
Stove Top Blackened Tilapia recipe, Cajun style, perfect for fish tacos or burrito bowl. Tilapia fillets, marinated in homemade blackened fish seasoning, then cooked in a heavy cast-iron pan.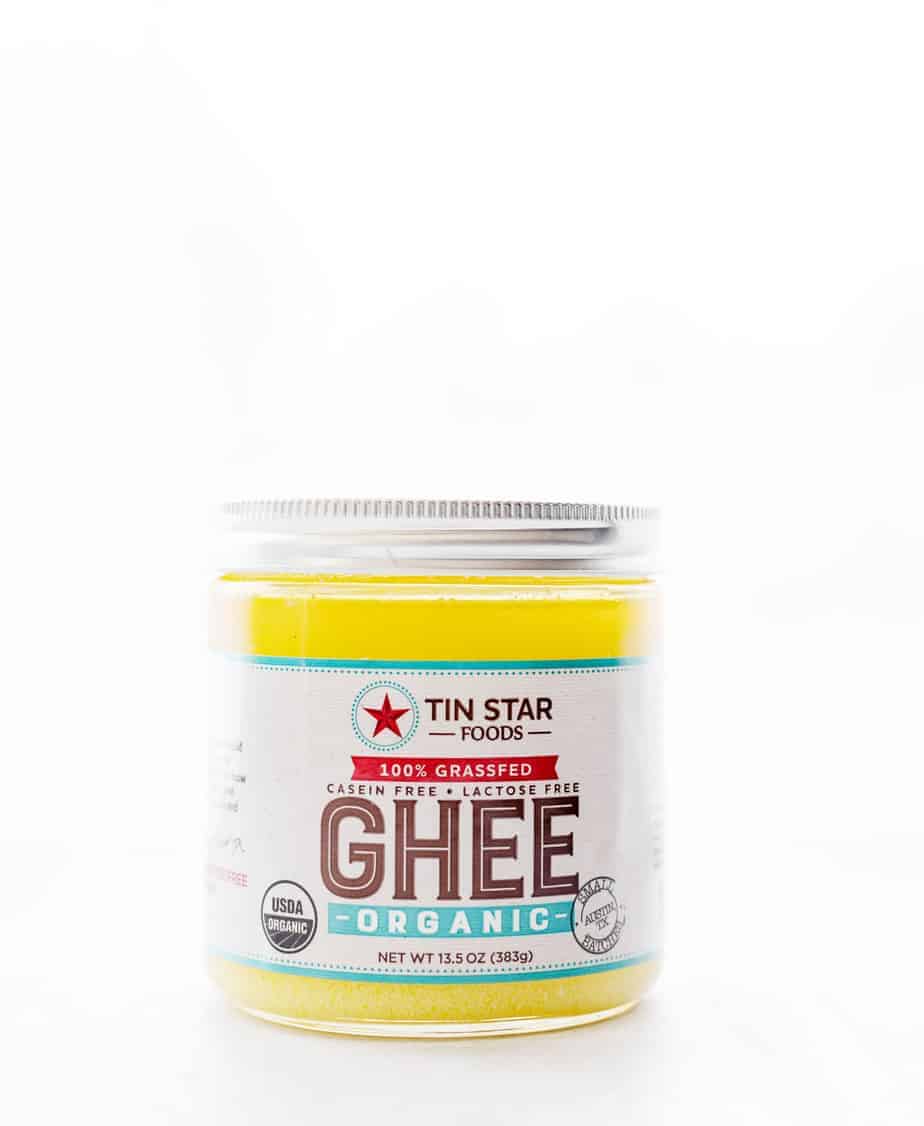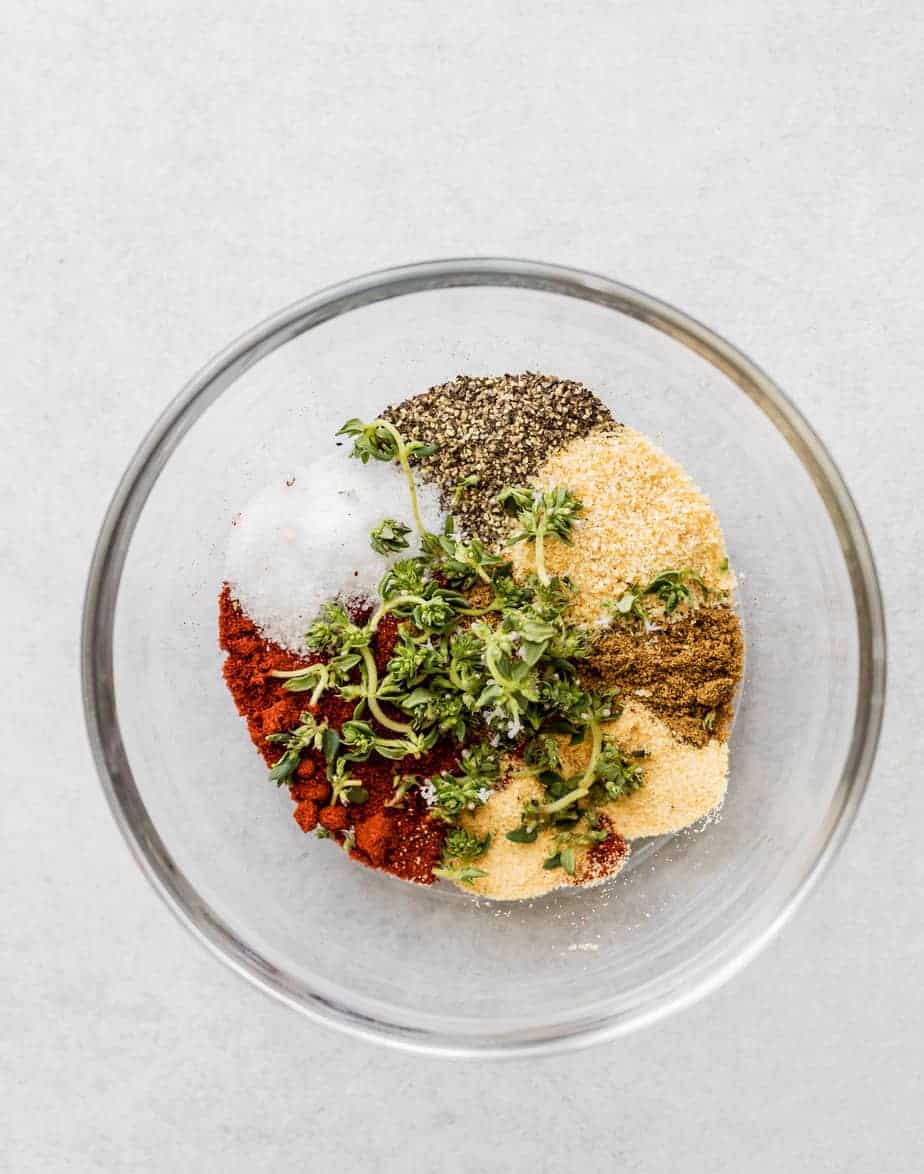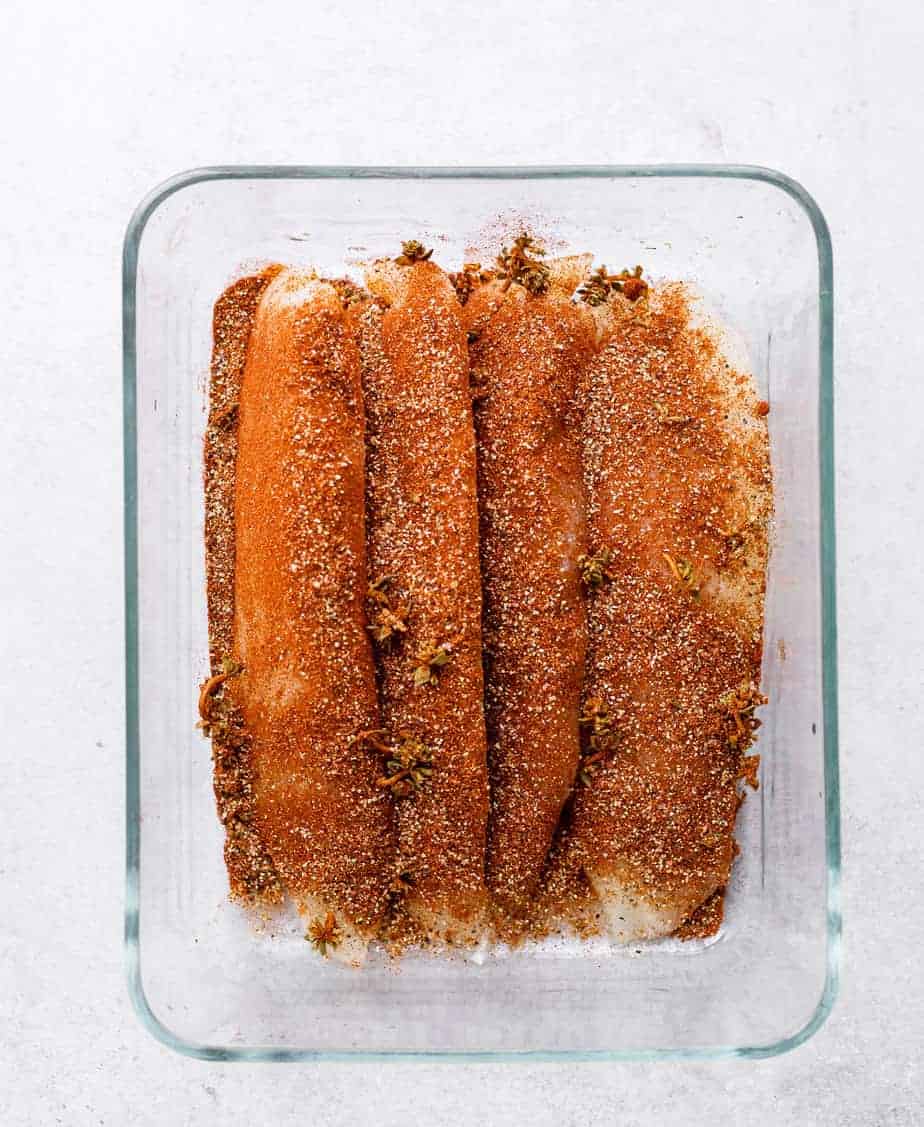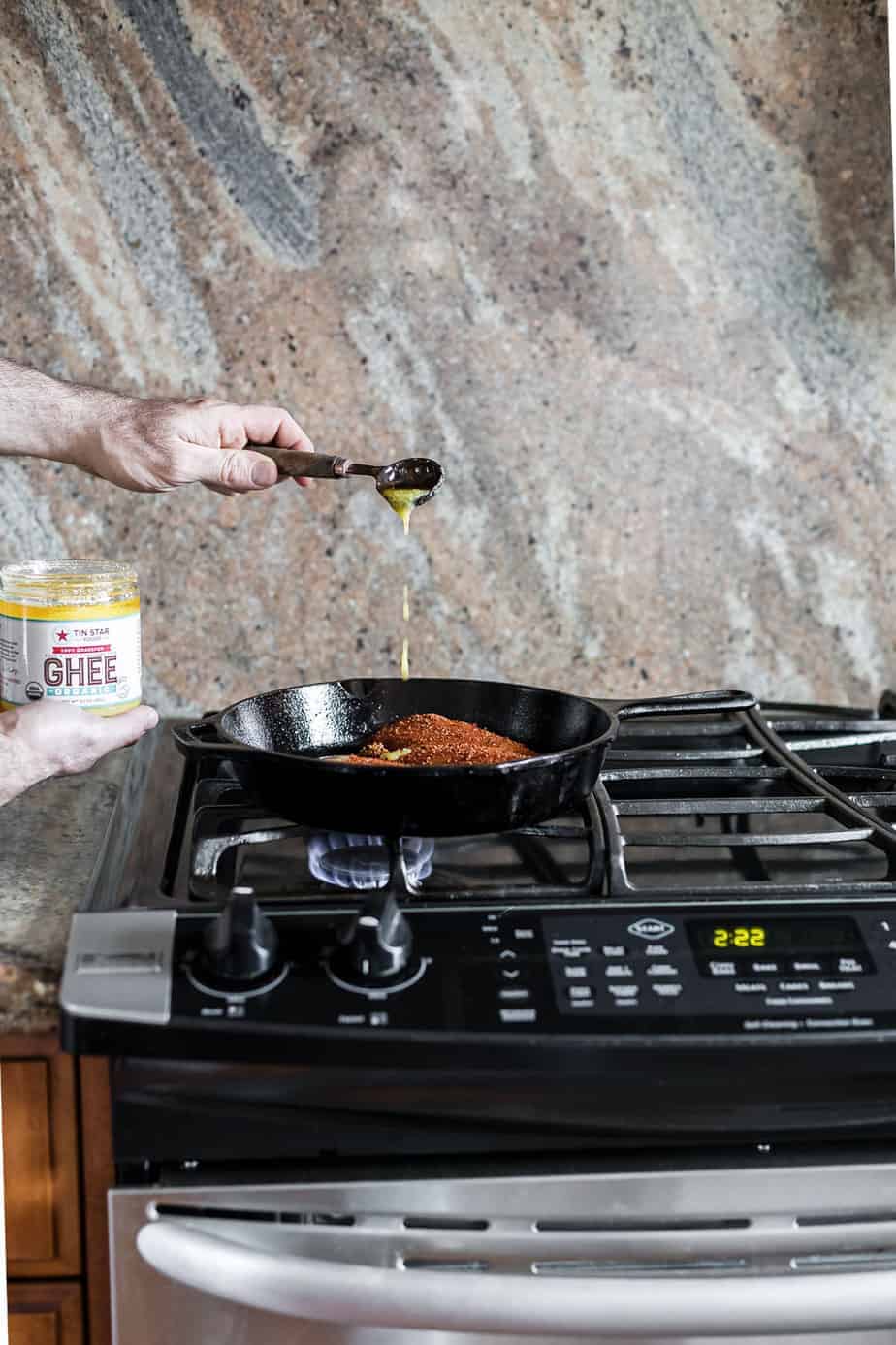 Tilapia for fish tacos or burrito bowl? It's the best! My favorite way to cook Tilapia is to boost the flavor with a blackened fish seasoning. This is a quick fish Blackened Tilapia recipe with a ton of flavors. The spice rub contains paprika, cumin, garlic, onion, dried thyme, cayenne, salt, and pepper. Blackening is a very common technique used in the preparation of fish and other foods. This technique includes dipping the fish in melted butter and then dredging a mixture of blackening seasoning. The best way to cook it is in a very hot cast-iron skillet on the stove. Alternatively, you can blacken the fish without the cast-iron skillet by grilling or baking the fish or using a non-stick pan. I served the blackened fish with a bowl of rice, chopped lettuce, mango salsa, black beans, cilantro, and salsa. My husband chose to eat them as blackened fish tacos.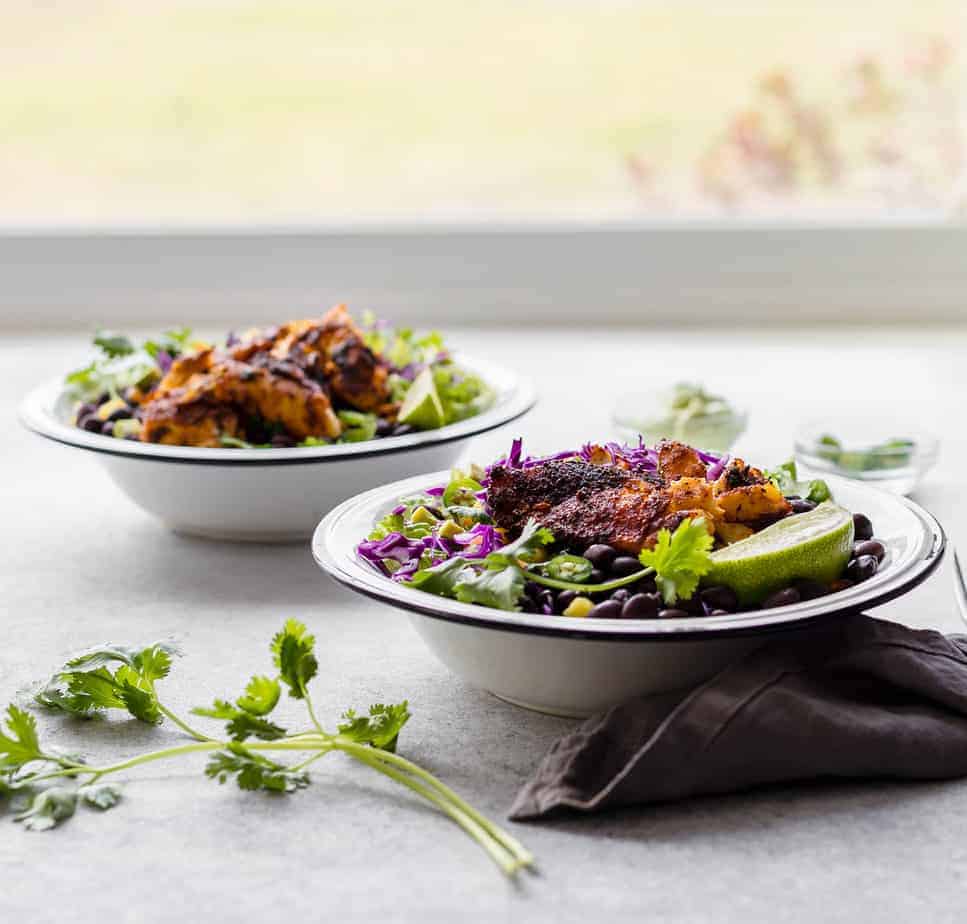 This Blackened Tilapia recipe used Tin Star Organic Ghee, which is a 100% Grassfed, Gluten-Free, Non-GMO and Paleo alternative to butter. It is Whole30 and Made right here in the USA with sustainable farming practices. I used this Ghee as one of the main ingredients because Ghee is a healthy and delicious alternative to regular butter and vegetable oils. It has a nuttier flavor and gorgeous golden color. Tin Star Foods Ghee is an excellent choice for those suffering from allergies or autoimmune diseases. It's also 100% lactose and casein-free for those sensitive to dairy.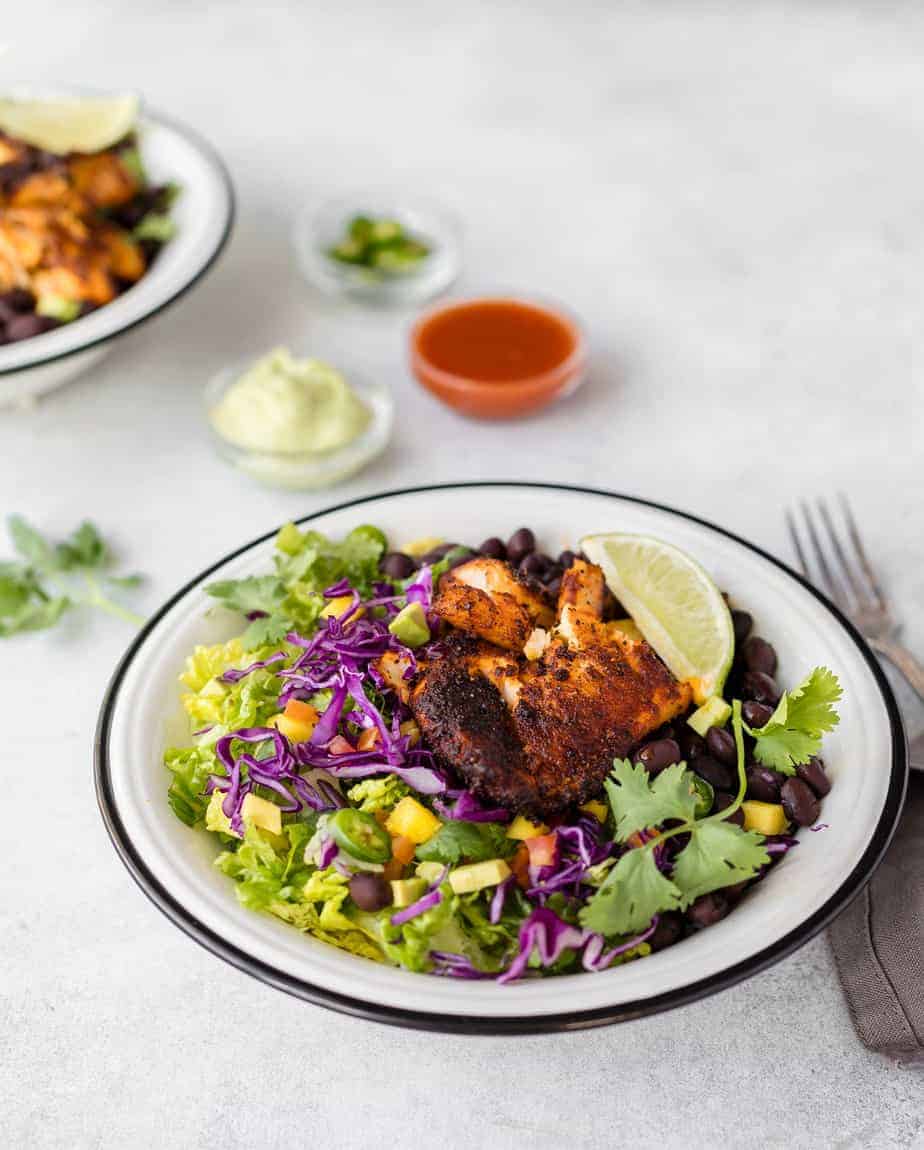 What's great about Ghee, in addition to the taste and health benefits, is that it has been used as a healing product going back thousands of years in India. It's neat to learn about all of the ways it's been used to heal people, both internally and by applying it on the body. The process to make ghee includes cooking butter at a particular heat threshold, whereupon all of the milk solids (lactose and casein) are released down to the bottom of the pan and are hence eliminated. I like that Tin Star offers both cultured and non-cultured varieties, and clearly explain the differences on their website.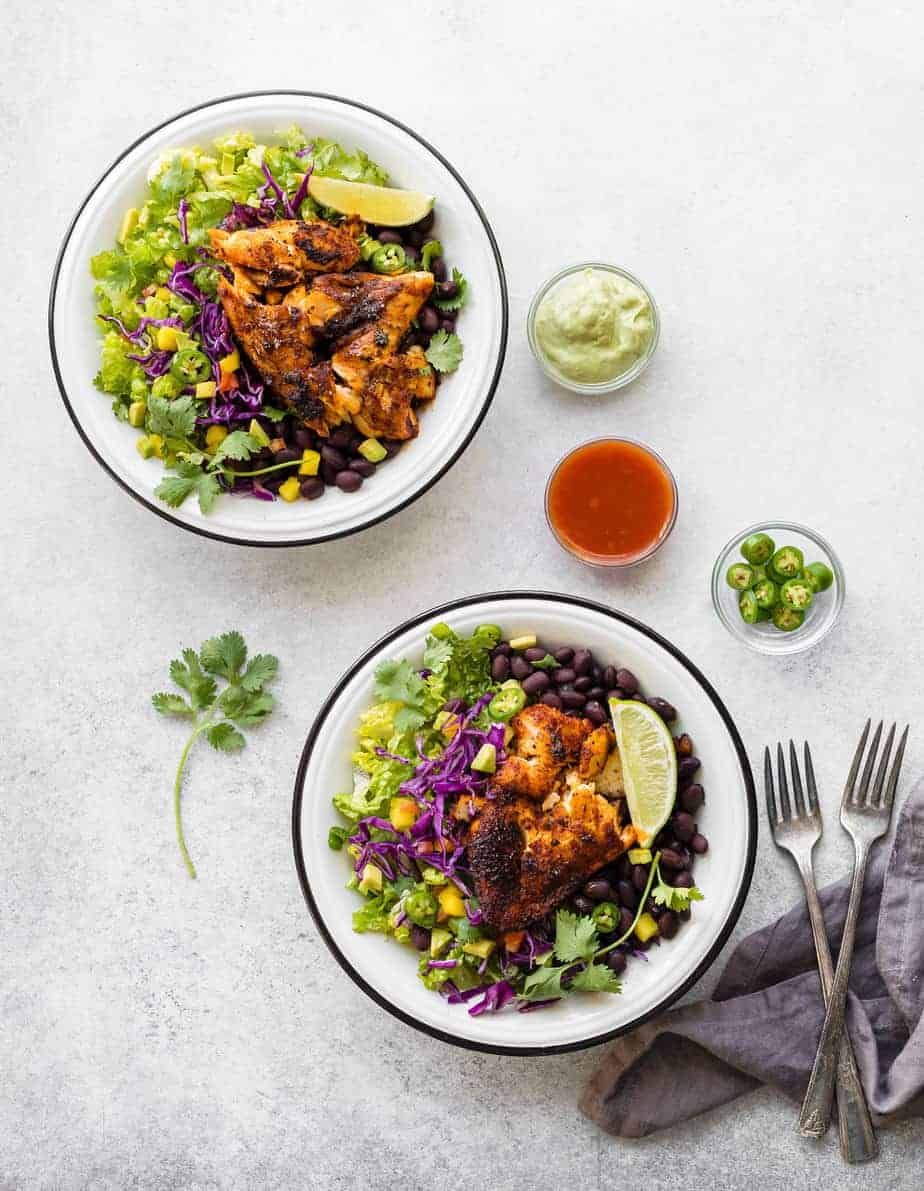 Living here in San Diego we have quite a few fish and seafood restaurants, and most offer about 4 different styles to prepare your fish. There's oftentimes fried, grilled, blackened, broiled, steamed and more. I do like to mix it up and think that's part of the fun of going out, but I must say that I opt for blackened more than any other preparation style. It's a lighter option, yet has big taste in every bite. Blackened fish is one of those meals that people don't do enough at home, either because they think it's harder to make than it really is, or because people just don't think of it. Well hopefully sharing this recipe breaks those barriers down a bit.
Use coupon code YUMMGHEE to take 10% off on Amazon. This code is only valid through 7/31/17. The coupon applies to the organic ghee, ghee, and brown butter ghee.
Blackened Tilapia Recipe for Fish Tacos or Burrito Bowl: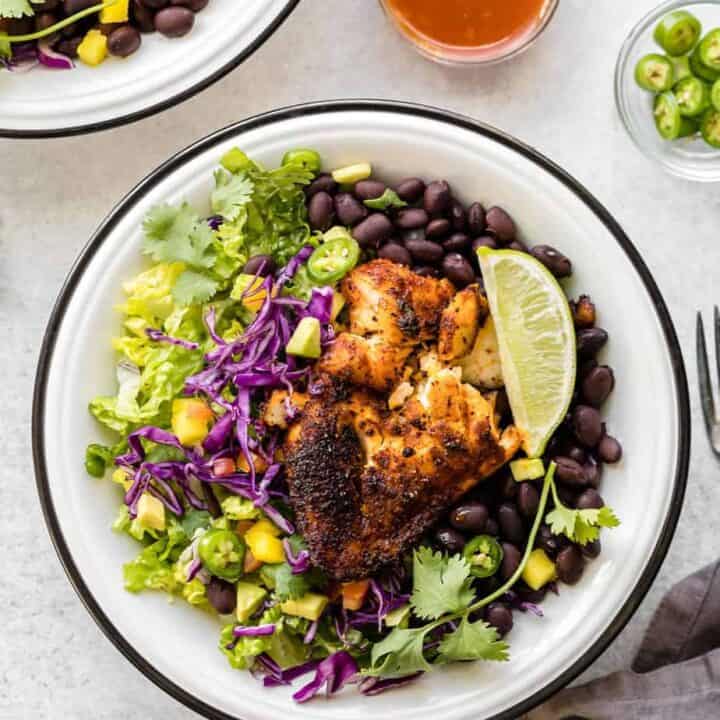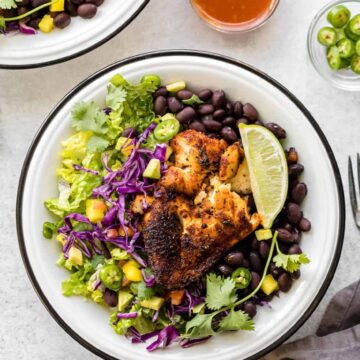 Blackened Tilapia Recipe for Fish Tacos or Burrito Bowl
Ingredients
Skillet Blackened Tilapia:
4

Tilapia fillets

,

(large)

2

tablespoons

paprika

1

teaspoon

ground cumin

¼

teaspoon

cayenne pepper,

you may skip if you don't like spicy taste

1

teaspoon

black pepper

1

teaspoon

dried thyme or about ⅓ tablespoons fresh thyme leaves

1

teaspoon

onion powder

1

teaspoon

garlic powder

¾

teaspoon

white pepper

¼

teaspoon

dried oregano

1 ½

teaspoons

salt

,

add more according to your liking

2

tablespoons

Tin Star Organic Ghee + 3 teaspoons Tin Star Organic Ghee
Burrito Bowl:
Shredded red cabbage

Black Beans

,

unsalted or low sodium

Rice

Chopped Jalapeno
Chopped Avocado

Chopped Lettuce

Chopped Mango

Red Salsa

Fresh cilantro leaves

Optional: Avocado Crema
Avocado Crema:
1

big whole avocado

2

tablespoons

lime juice

½

cup

cilantro leaves

½

cup

greek yogurt

Optional: Black pepper/salt to taste
Instructions
To Blacken Tilapia:
In a small bowl, combine all seasoning ingredient.

Heat a cast iron skillet on high heat for about 10 minutes (without oil).

In a mixing bowl, Dip each fish fillet into melted butter, coat each side with spice mixture.

Transfer the fish to the skillet. Sprinkle with some of the remaining spice mixtures if any.

Add one teaspoon melted butter over a fillet and cook for about 1-2 minutes.

Repeat this step on the other side of the fish fillet and the remaining fish.

To Create a Burrito Bowl:
Customize your own burrito bowl, use less or more ingredients according to your liking.
To Make Avocado Crema:
In a blender or food processor, blend all the ingredients until smooth.