This Albondigas soup recipe is so flavorful, healthy, and easy to make. It is one of my family's favorite soup recipes! It's perfect for lunch or dinner, especially on a cold or rainy day!
Soup is one of my favorite things to eat and make all year round. If you're looking for an easy soup, try this Albondigas soup recipe!
Albondigas means "meatballs" in Spanish. It is a classic Mexican soup loaded with meatballs and vegetables.
This Caldo de Albondigas recipe is so tasty and filling. The meatballs are so tender and juicy. They are perfectly seasoned with herbs and spices. Moreover, The broth is so good that you'll be tempted to slurp it right from the bowl, just like when you were a kid.
Also check out this Chicken Tortilla Soup recipe.
Jump to:
You can cook this Sopa de Albóndigas soup on a stove, in a slow cooker, or in an instant pot. Now, let's talk about the ingredients for Albondigas soup!
The Ingredients and Variations:
This albondigas soup is made of:
Ground beef (either lean or extra lean, depending on your preference). Use ground meat that's at least 20% fat to ensure that your meatballs stay moist and juicy. Or, use 90% or 93% lean if you want to limit your saturated fat intake and don't want to skim off the fat that rises to the top of the soup (a cleaner broth).
Fresh spearmint, Mexican Yerba Buena. It is an important ingredient that makes meatballs delicious. So, be sure not to skip it! If fresh mint isn't available, feel free to substitute it with dried mint.
Fresh parsley
Uncooked white rice (In this recipe, I used Jasmine)
Egg
Dried oregano
Cumin powder
Onion powder (or fresh onion)
Garlic
Yellow onion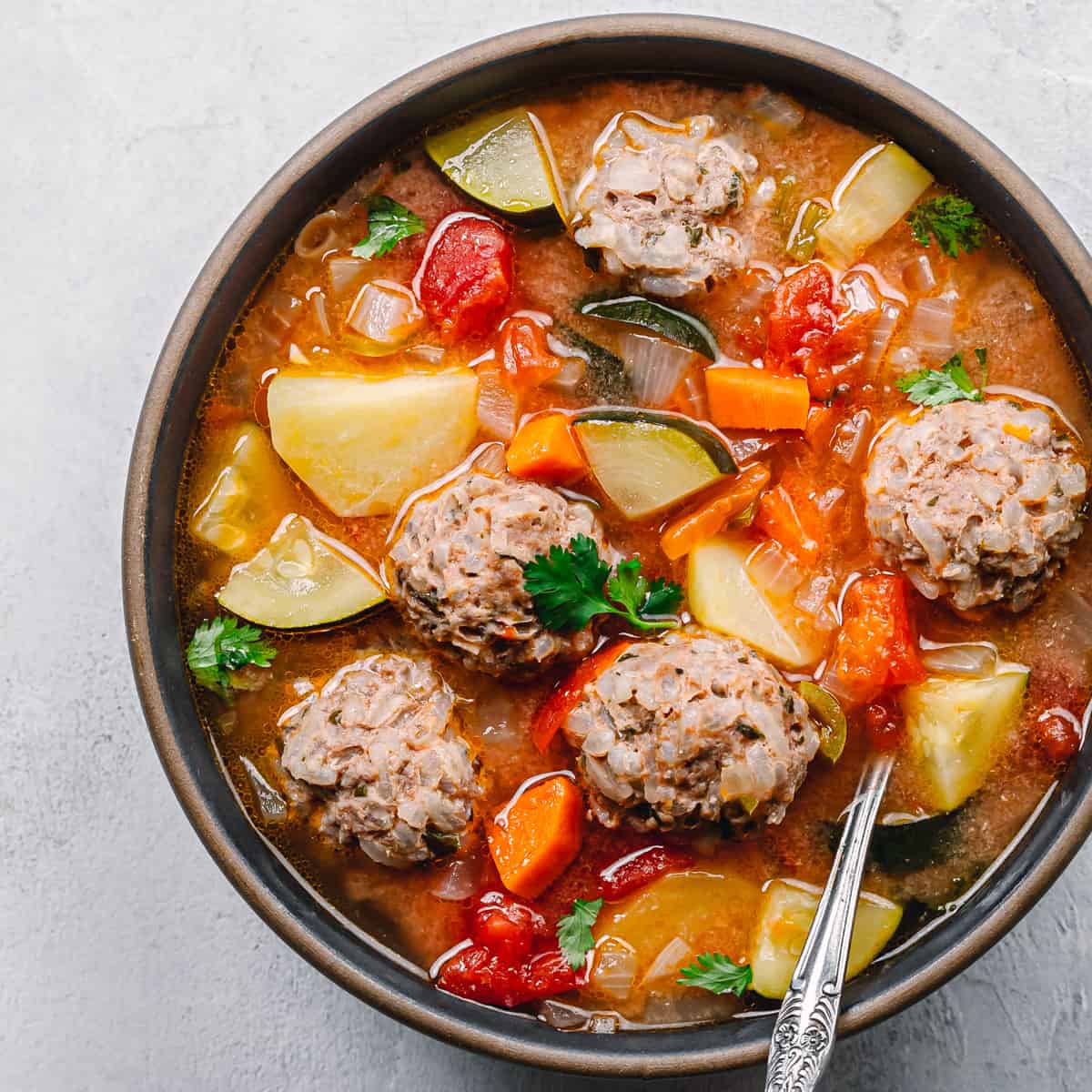 Broth (You can use chicken, beef, or vegetable). In this recipe, I used chicken broth.
Carrots
Potatoes - Use potatoes that are low-starch and high-moisture hold together better in the soup, such as red or Yukon gold potatoes. Also, Also, make sure that you chop the potatoes into smaller pieces so they will be done at the same time as the meatballs.
Canned diced tomatoes with no salt or seasoning added.
Serrano peppers.
In order to keep meatballs from falling apart, you are going to mix in the egg and uncooked white rice with ground beef. The starch in rice helps foods hold together, no breadcrumbs needed!
Now, let's talk about the preparation and cooking process!
Here's how to make the Classic Mexican Albondigas soup
First, you need to soak the white rice in water for about 20 minutes. Rinse your rice and drain the water. Set aside.
Second, make the meatballs by combining the ground beef with chopped mint, chopped parsley, minced garlic, cumin powder, onion powder, cumin powder, dried oregano, egg, uncooked white rice, salt, and black pepper. Chill for at least 10 minutes in the fridge.
Third, make the soup base. To start, saute the onion in oil for about 4 minutes then add jalapeno, stir for 1 minute, add garlic and stir just until fragrant.
After that, add carrots and diced tomatoes, stir for about 1-2 minutes to get rid of any bitter or tinny tastes, and to concentrate their flavors.
Next, add chicken broth, water, potatoes, and meatballs. Bring the soup to a boil then reduce the heat, cover and simmer for 15 minutes.
Last, add chopped zucchini. Cover the pot and continue cooking for another 15 minutes or until the meatballs are fully cooked and vegetables are tender.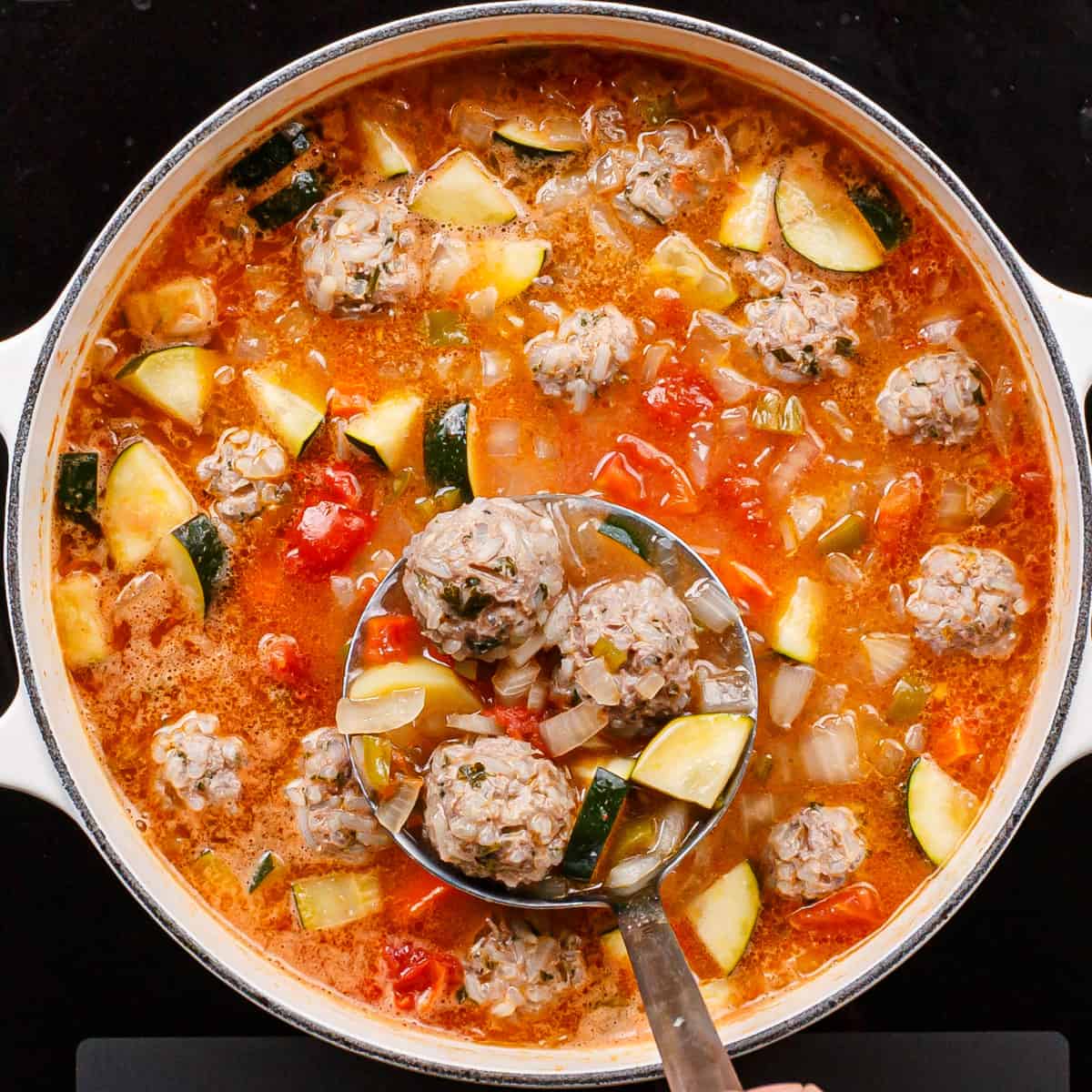 You can also cook this Albondigas soup in:
A slow cooker. Simply add carrots, potatoes, diced tomatoes, zucchini, onion, garlic, broth, and carefully dropped the meatballs into the slow cooker. Cook on low for 8-10 hours or on high for 4-5 hours.
An Instant Pot. First, brown the meatballs in 2 tablespoons of oil for about 1-2 minutes on each side. Next, saute the onion, garlic, carrots, and diced tomatoes as mentioned above. After that, add the chicken broth, water, potatoes, and meatballs. Select Pressure Cook or Manual on High and set the cooking time for 3 minutes, wait 10 minutes to manually release the remaining pressure.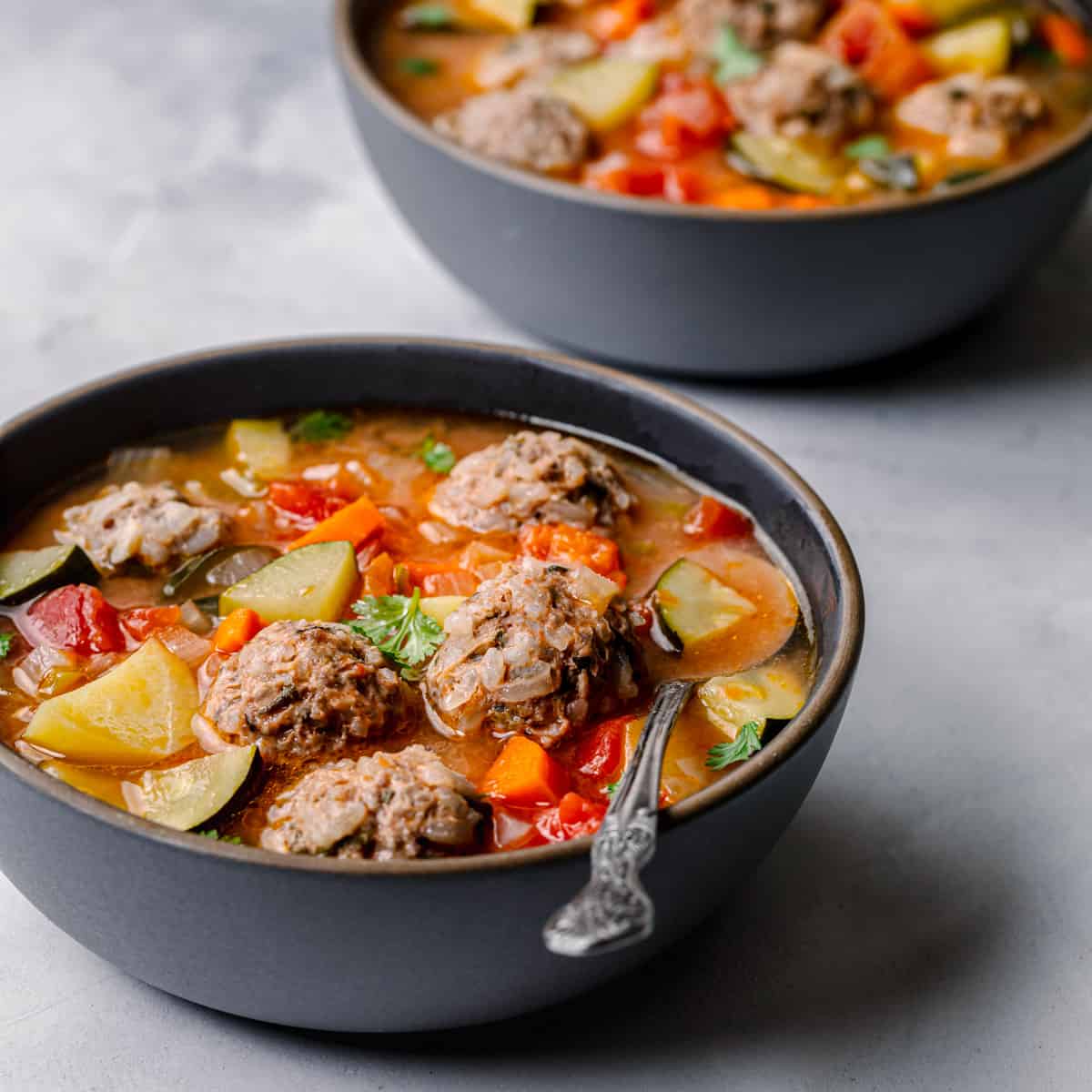 CHECK MORE TASTY SOUP RECIPES:

Make-Ahead Meatballs
You can make the meatballs in advance. Store the raw meatballs in the refrigerator for up to 24 hours until ready to use. Or, freeze the meatballs on the parchment-lined baking sheet for 2 hours, then transfer to a freezer-safe container. Properly stored, they will maintain the best quality for 3 to 4 months but will remain safe beyond that time.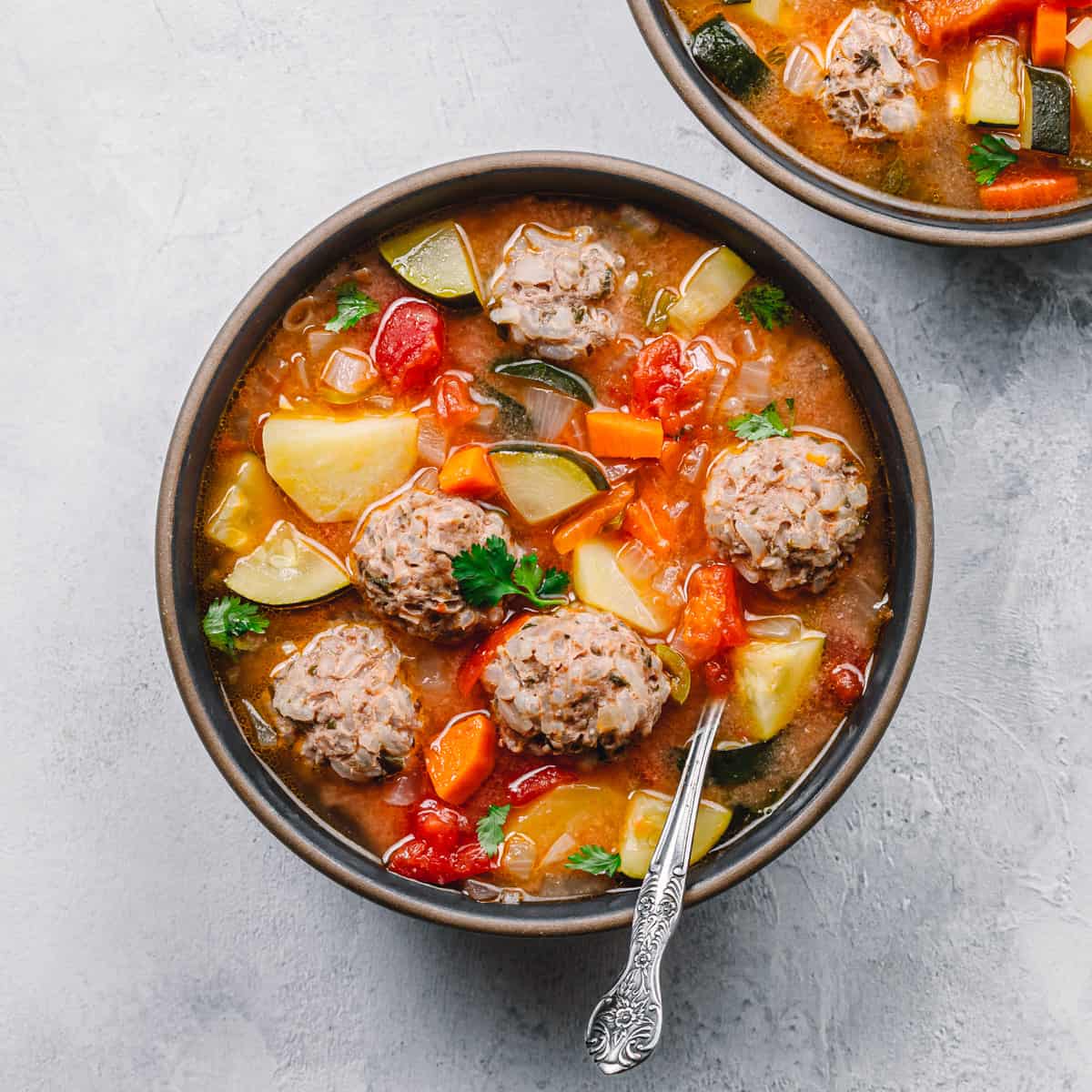 How to Store the Leftovers:
This Albondigas soup makes great leftovers and even tastes better the next day! Properly stored, cooked meatballs and vegetable soup will last for 3 to 4 days in the refrigerator.
Well, I really hope that you will enjoy this Caldo de Albondigas recipe! Please let me know if you have any questions or suggestions! And, If you try it, don't forget to rate and leave a review on the recipe card/comment box below.