Healthy Baked Chicken Tenders recipe. The best way to cook chicken tenderloins (aka chicken strips) is in the oven. They get so crispy and tasty. This Oven-baked chicken fingers recipe with parmesan cheese is the perfect quick meal for lunch or any weeknight dinner.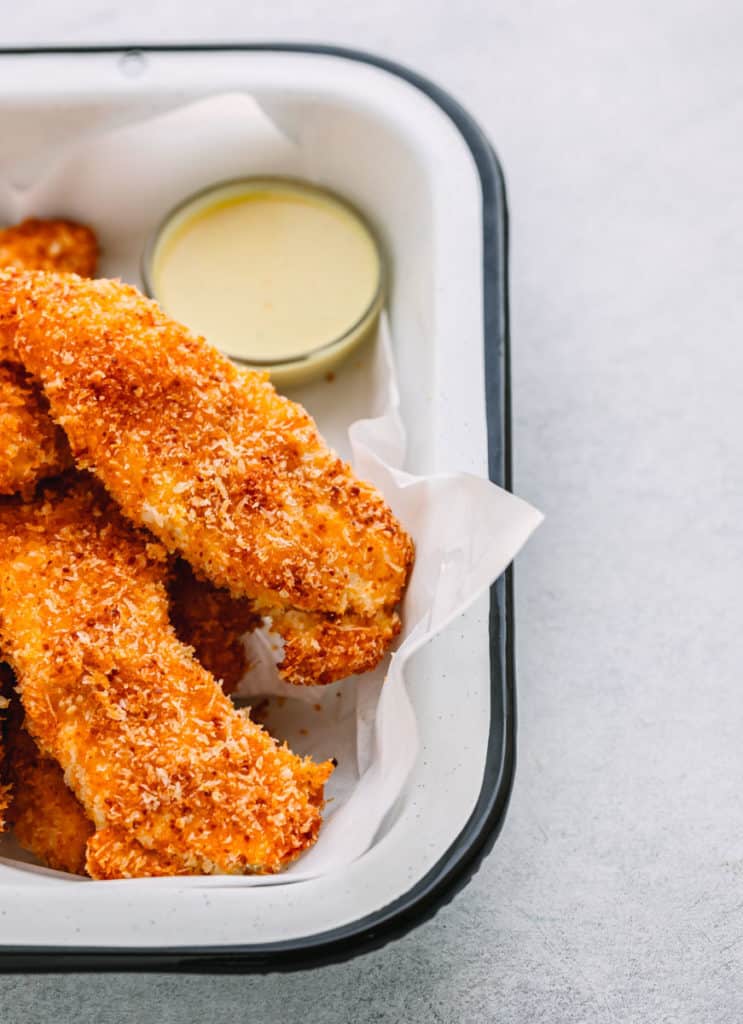 Are you looking for baked chicken tenderloin recipes? Try these healthy baked chicken tenders with parmesan and panko breadcrumbs. I served the crunchy chicken strips with homemade honey mustard dipping sauce. Insanely delicious, my kids really enjoy this recipe and even asked me to make more for lunch the next day!
Also, check out more recipes with parmesan cheese here:ROASTED YELLOW SQUASH WITH PARMESAN CHEESE AND HERBS, GARLIC KNOTS WITH PARMESAN, PARMESAN ROASTED CAULIFLOWER (WITH ADOBO SEASONING), SUMMER SQUASH CASSEROLE – CHEESY AND HEALTHY, EASY KETO CREAMED SPINACH – SO CHEESY!, CHEESY SCALLOPED POTATOES – CREAMY AU GRATIN, ITALIAN CHOPPED SALAD WITH SALAMI & PEPPERONCINI PEPPERS, POTATO GNOCCHI RECIPE WITH PROSCIUTTO & KALE, SEAFOOD PASTA WITH GARLIC AND SUN-DRIED TOMATOES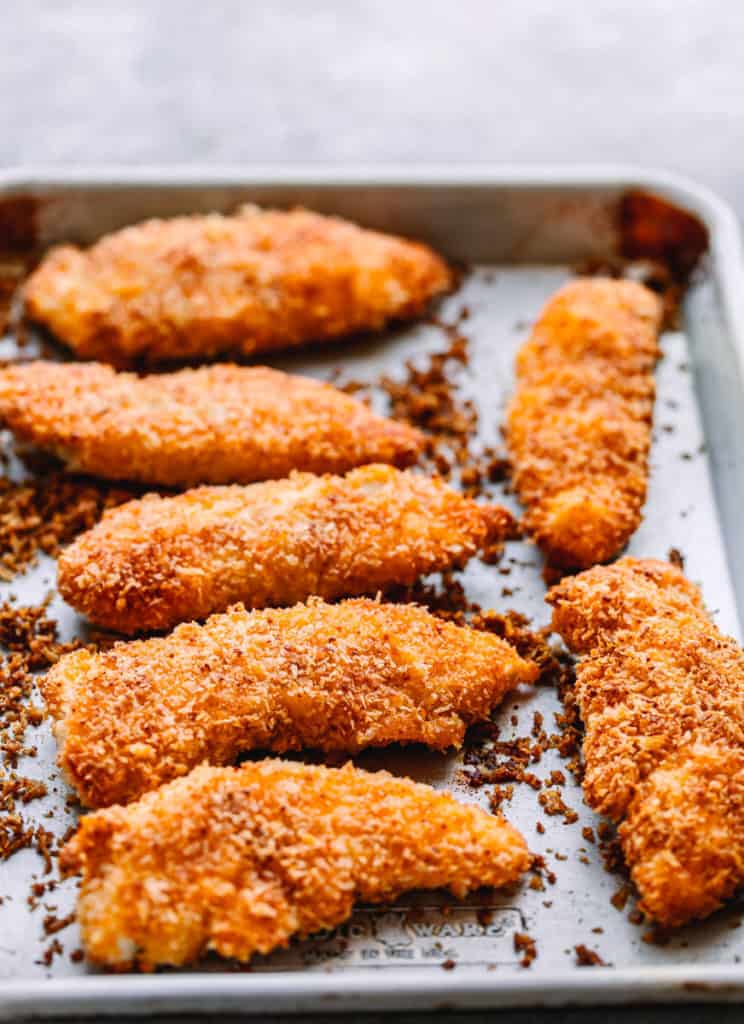 Who doesn't love crispy fried chicken tenders? Chicken tenders are my favorite comfort food that always reminds me of my childhood. I still remember how I always begged my parents to buy some KFC fried chicken or KFC chicken tenders every weekend. Fried chicken is cheap, delicious and always comforting!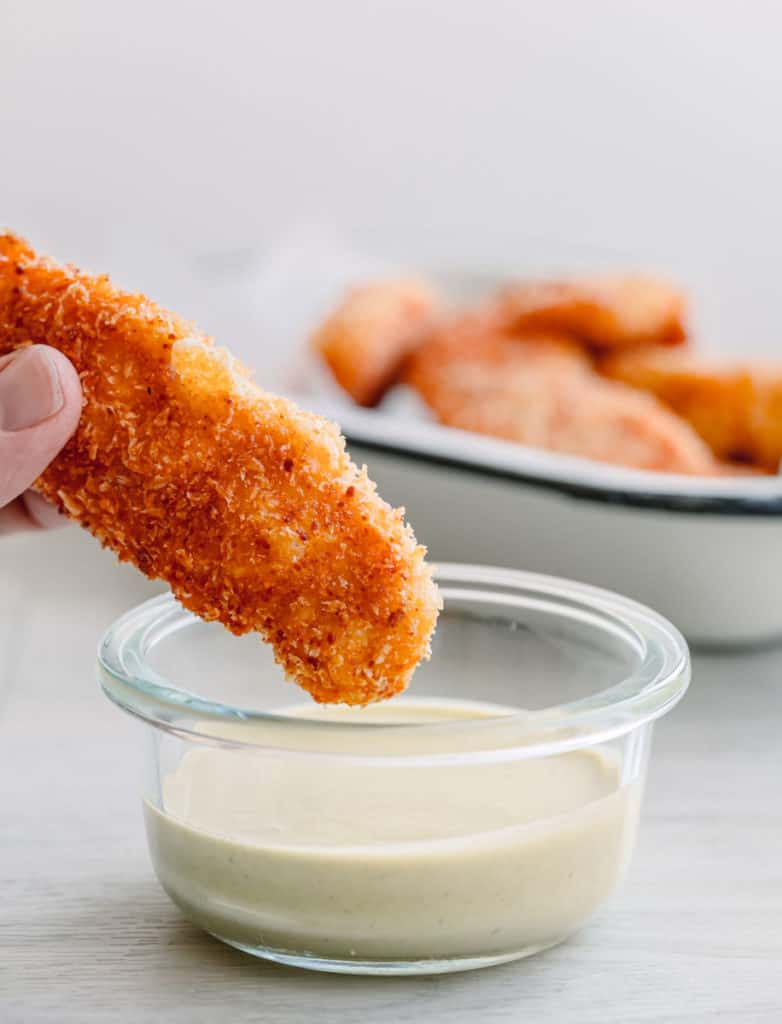 If you love Fried chicken, you are not alone! Today, I am going to show you how to make a healthier version of fried chicken tenders. We are going to cook the chicken tenderloins in the oven. This oven-baked chicken tender recipe is made with simple ingredients and is very easy and quick to make.
Baked Chicken Strips Ingredients:
For this recipe, I highly recommended using pre-cut chicken tenders. The pre-cut makes the cooking preparation so much easier and faster. However, if chicken breast is your only available option, feel free to use that. To make chicken tenders from chicken breast, you just need to cut the chicken breast into long strips. Just be sure to cut the strips into the same size so they can cook evenly at the same time.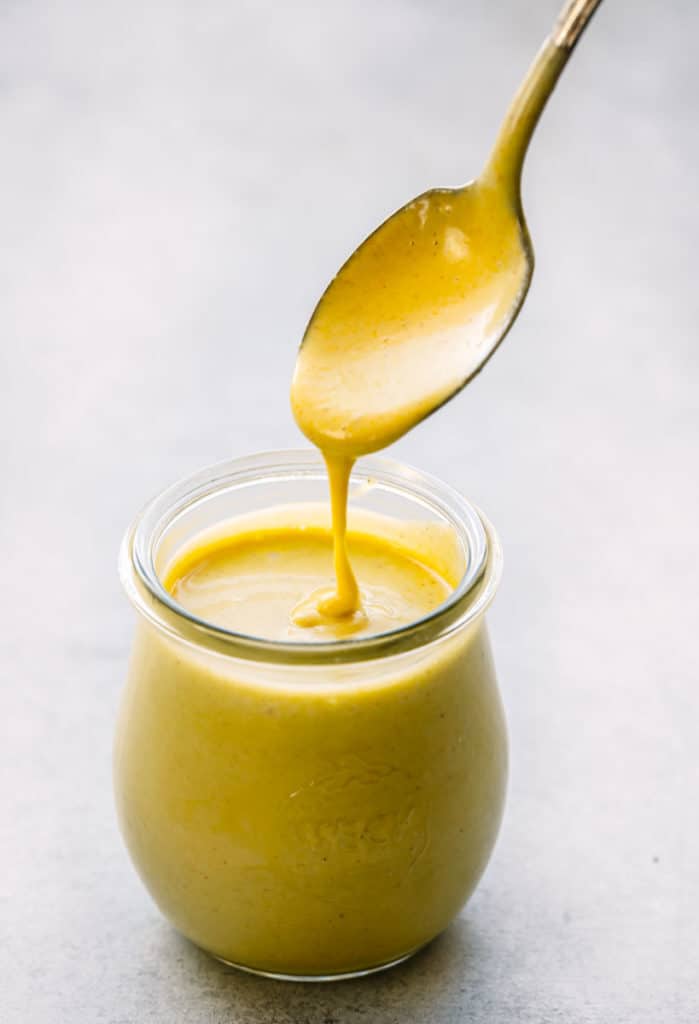 To make this chicken fillet recipe, you will need chicken tenders, grated Parmesan cheese, panko breadcrumbs, egg, all-purpose flour, oil, paprika and a pinch of salt.
Panko is a Japanese breadcrumb. It's traditionally used as a coating for deep-fried foods such as tempura or tonkatsu. Panko has a light, airy and delicate texture that helps it crisp as it cooks. As a result, you will get crispier and crunchier food.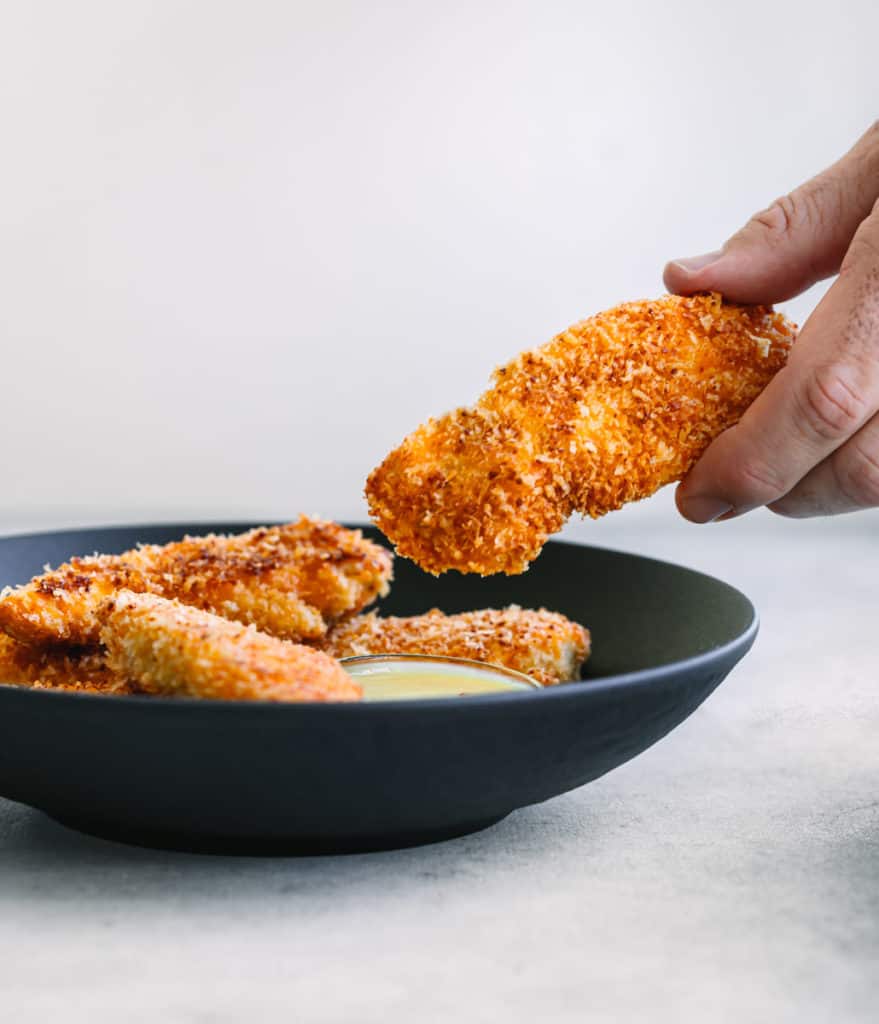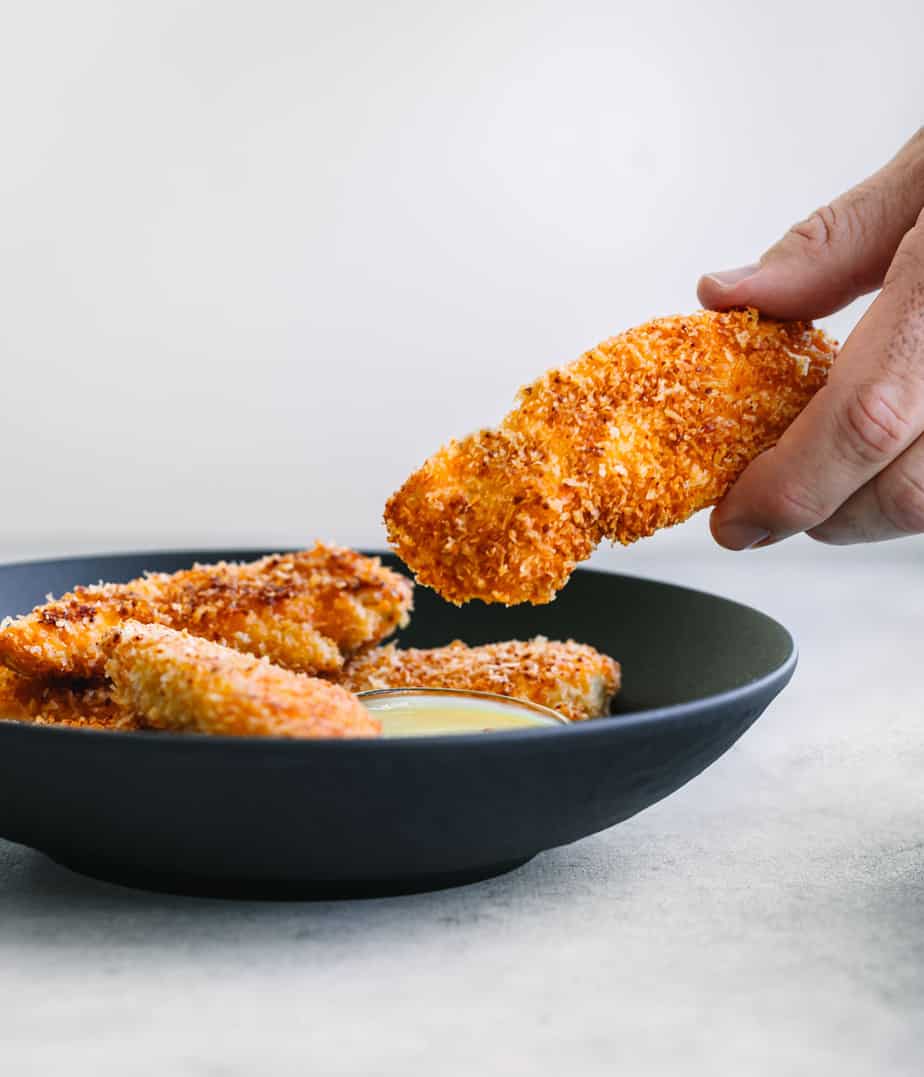 Also, check out more recipes with panko breadcrumbs here: PANKO BREADED CHICKEN KATSU, SUMMER SQUASH CASSEROLE – CHEESY AND HEALTHY, CRISPY CHICKEN BREAST WITH CREAMY ARTICHOKE SAUCE
I purchased the Panko breadcrumbs at my local Trader's Joe for under $2 per 7oz bag. Please keep in mind that Panko is definitely not gluten-free.
Chicken tenderloin is white meat. It's located on either side of the breastbone, under the breast meat.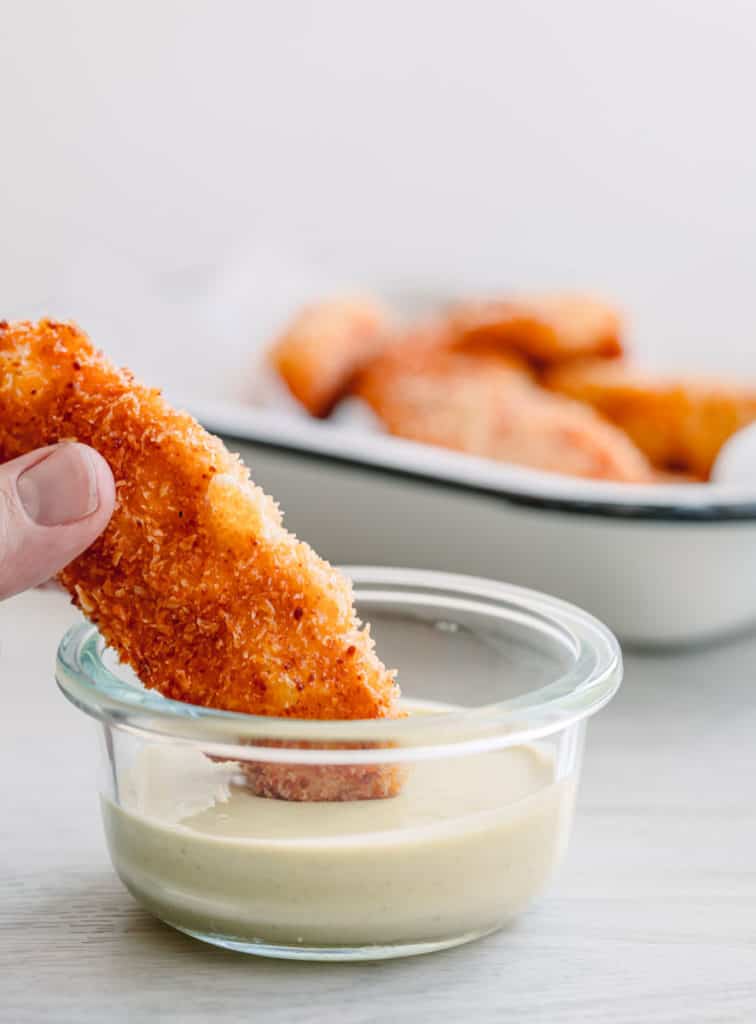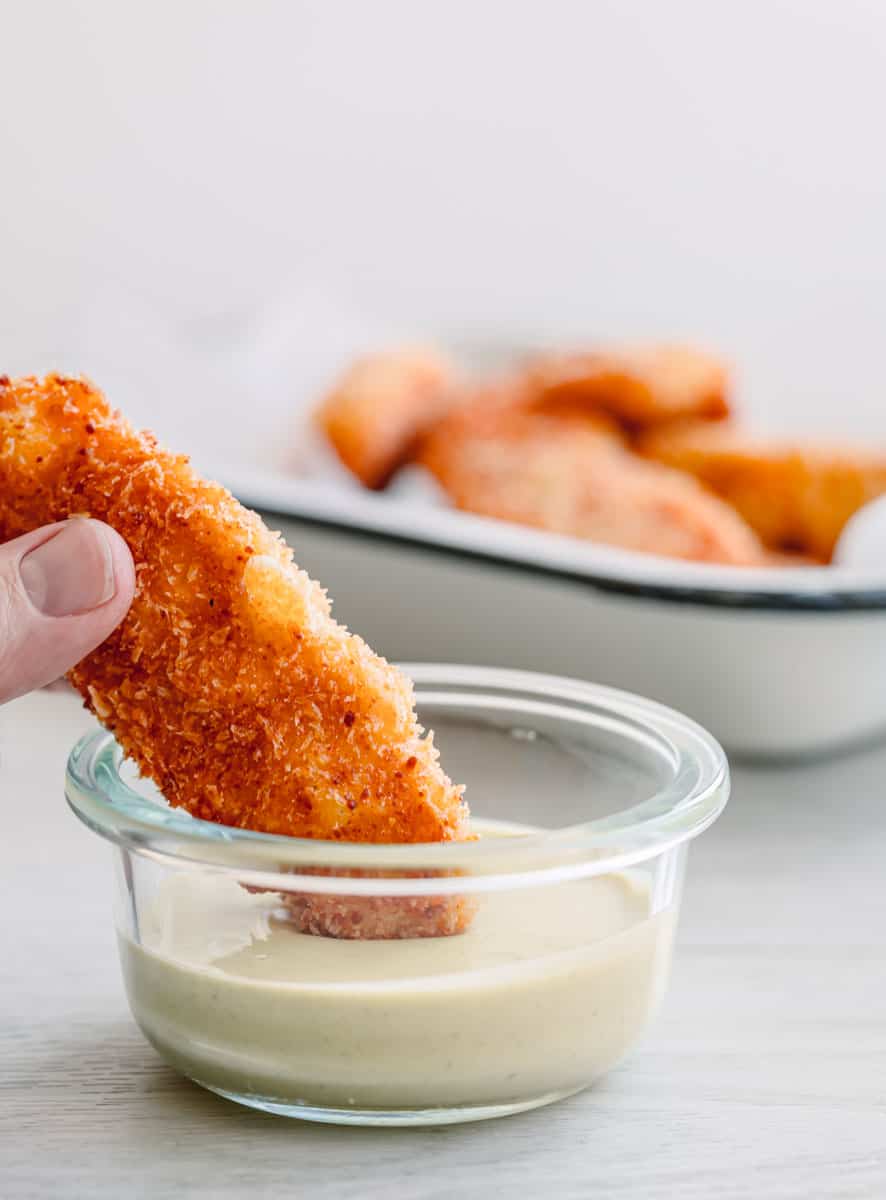 How to Make Oven-Baked Chicken Tenders:
To make these crispy chicken strips, you only need to follow these simple steps:
Coating the chicken tenders with all-purpose flour
Dipping the chicken tenders into the egg-paprika mixture
Coating the chicken tenders with the panko-parmesan and oil breadcrumb
Lastly, you need to bake for about 8 minutes then flip the chicken and bake for another 8 minutes or more at 425F.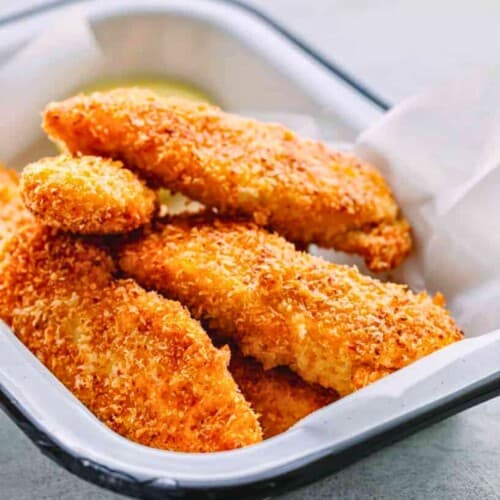 Healthy Baked Chicken Tenders
Healthy Baked Chicken Tenders recipe. The best way to cook chicken tenderloins (aka chicken tenders) is in the oven. 
Print
Pin
Rate
Ingredients
1

pound

chicken tenders

(about 6-7 medium pieces)

½

cup

all-purpose flour

1

egg

(lightly beaten)

½

tsp

smoked paprika powder

1

cup

panko breadcrumb

½

cup

grated parmesan cheese

3

tbsp

olive oil
optional:
¼

tsp

salt

a pinch of pepper
Instructions
Preheat the oven to 425°F

In a large plate, place the flour. In a shallow dish, beat the egg, and season with paprika. In a third shallow dish, mix panko bread crumb, Parmesan cheese, olive oil and add the optional salt and pepper if needed.

First, dry the chicken tenders with paper towels and coat the chicken tenders with the flour. Give a little shake to remove excess flour.

Dip the chicken into the egg mixture. Then coat with bread crumbs and press down to adhere.

Place all chicken tenders on a lightly greased baking sheet.

Bake for about 8 minutes. Then turning the chicken tenders, continue cooking for 8 more minutes or until the chicken is no longer pink or cooked through and the coating is golden brown.

Serve with homemade honey mustard dipping sauce.