How to Make Crispy Baked Tofu
Tofu is great source of protein for vegans (and everyone else). It's an affordable protein and can be found in different varieties: Soft Tofu / Silken Tofu, Firm Tofu or Extra Firm Tofu. I prefer to use the firm/extra firm for stir fry tofu with vegetables and soft tofu for smoothies, Chinese hot-pot recipes, Asian soups and vegan desserts. This crispy baked tofu recipe is so easy to make and much healthier that any deep-fried tofu recipes. It's so quick to make, the result is also amazing, soft on the inside and crispy on the outside.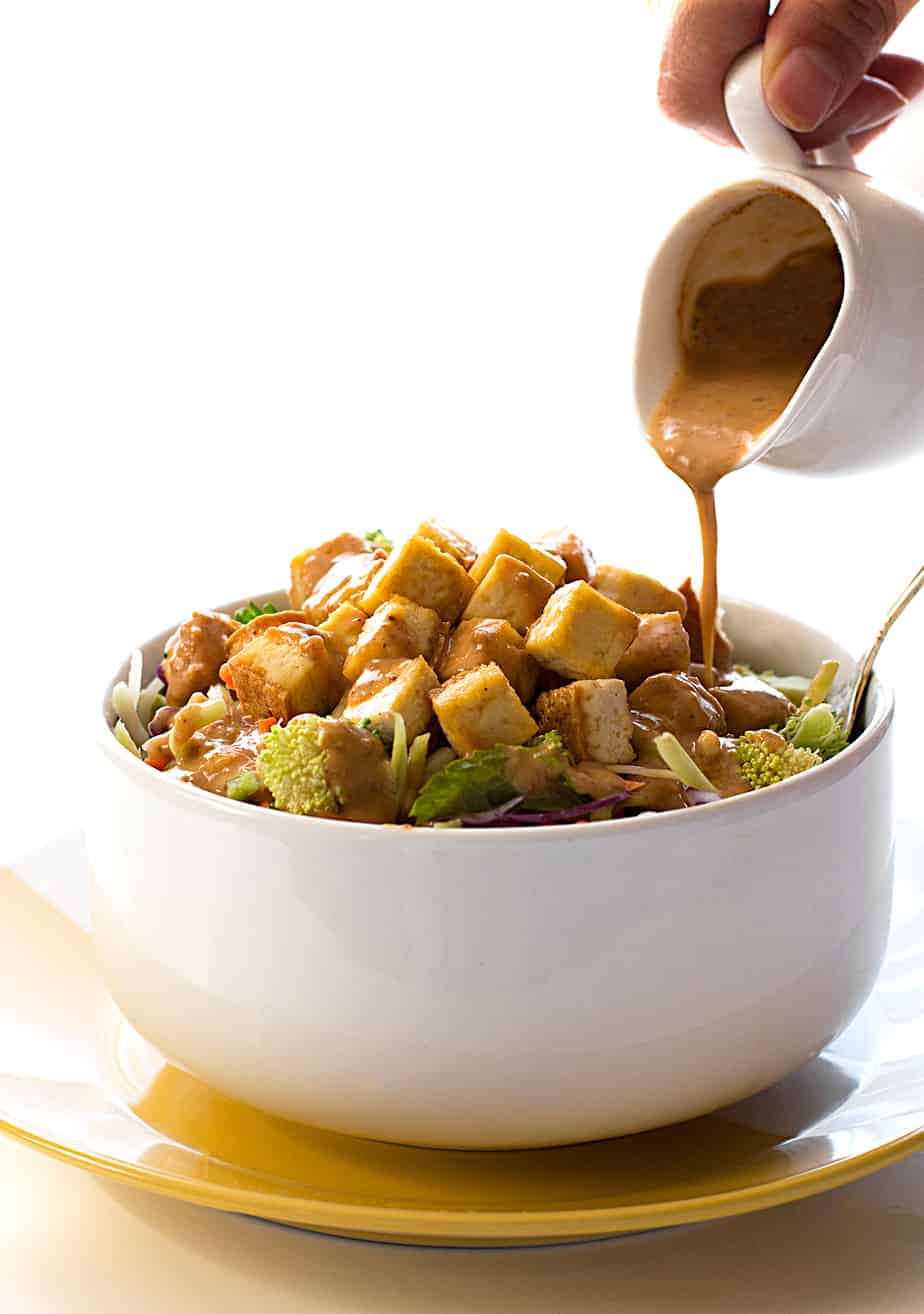 On my lazy days, I often bake tofu with salt and pepper, then use my favorite Asian sweet chile sauce as a dipping sauce. Today I am going to show you how I use baked tofu as the main protein ingredient for my salad, which great for lunch or dinner. This salad also features my favorite Asian Peanut Butter Sauce (Thai Salad Dressing) , also healthy and a good source of protein. Learn how to make crispy baked tofu without a ton of greasy oil and great flavor that the whole family will love! This baked tofu is the perfect addition to your salad or as your quick snack food that high in protein.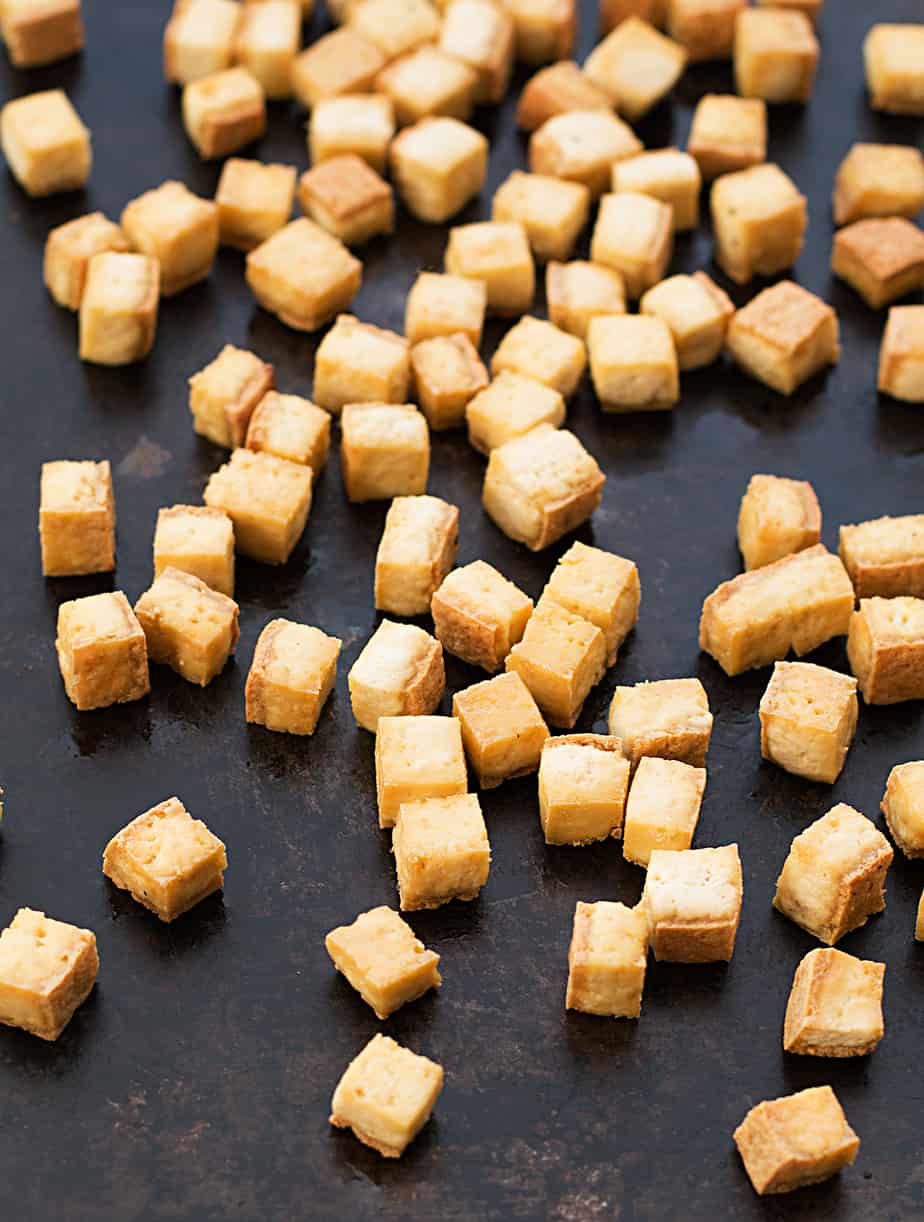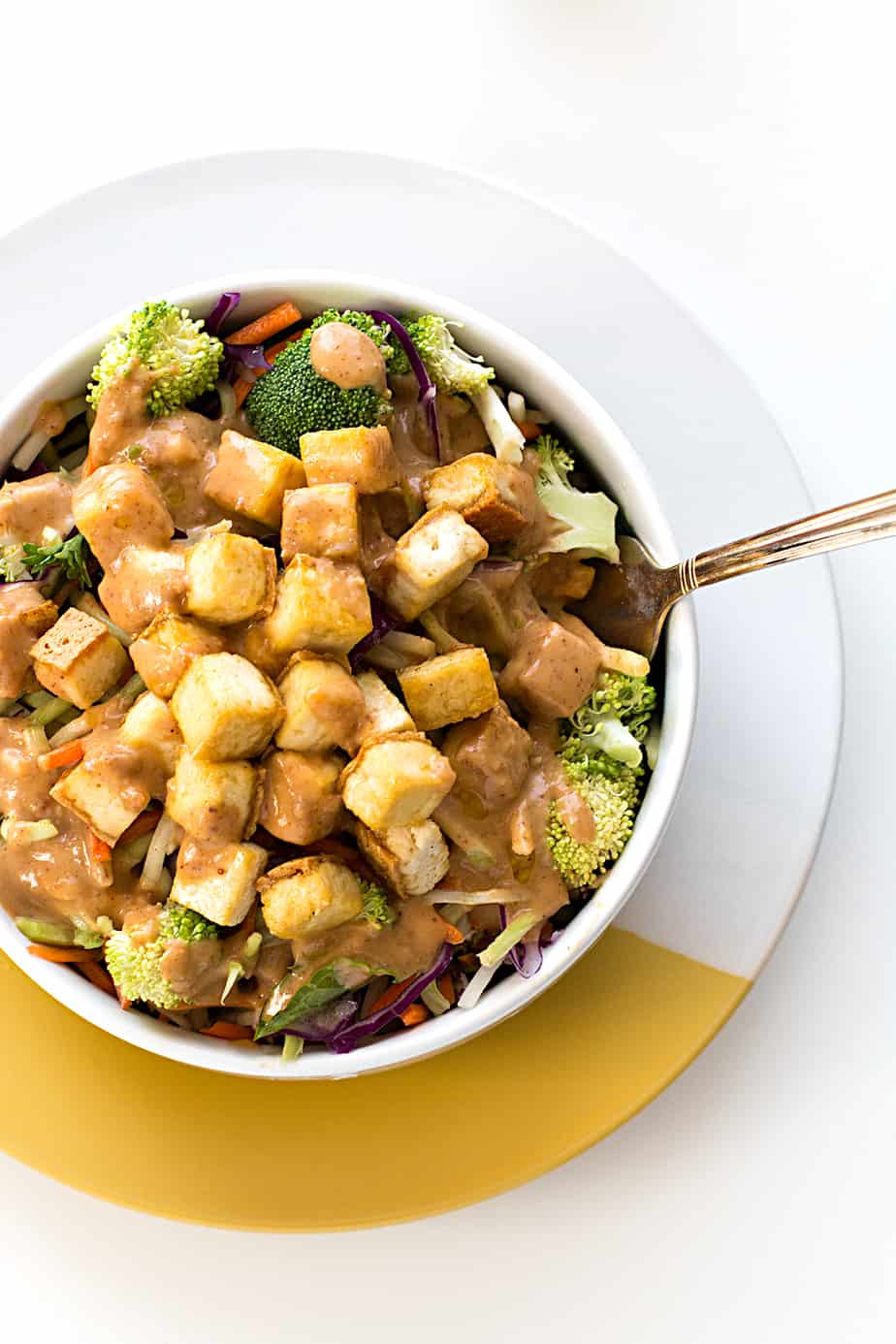 📖 Recipe
Crispy Baked Tofu Salad with Thai Salad Dressing
Ingredients
To make Crispy Baked Tofu:

14

oz

Extra Firm Tofu

1 - 1 ½

teaspoons

Salt,

or more according to your liking

1

teaspoon

garlic powder

Black Pepper to taste

Thai Salad Dressing/ Peanut Butter Dressing

For Salad :

Bag of mixed shredded broccoli and carrots

,

you can find this pre-packed at most stores

½

fresh lime

,

juiced

leaves

Fresh mint
Instructions
Remove the tofu from its packaging and pat dry with paper towels

Weigh the tofu down with the bottom part of a clean frying pan (use paper towel in-between if needed)

Leave the pan weighing down on tofu for at least 15 minutes, until almost all the liquid is drained from the tofu

Cut the tofu into pieces (I made small cubes this time)

Sprinkle tofu with salt, garlic powder and black pepper. Let marinate for at least 10 minutes

Preheat the oven to 400F

Arrange the tofu on the baking sheet, lightly spray tofu on all sides with cooking spray. Be sure to leave enough space between tofu cubes and bake for about 7-10 minutes. Flip the tofu and keeping baking until the outside is golden and looks crispy, for about 7-10 more minutes

Check on the tofu and do not over bake as it will then be chewier and harder.

To make Salad:

Arrange the shredded broccoli and carrots in a salad bowl

Add fresh lime juice

Add Crispy Baked Tofu

Add some fresh mint