This post is sponsored by Crock-Pot® Slow Cooker and Mirum Agency. The opinions stated are my own. Thank you for supporting the brands that keep Posh Journal cooking. Hope you'll enjoy this Easy Slow Cooker Chicken Taco Soup, Hearty Comfort Food!
A slow cooker chicken taco soup is the best recipe to warm up a winter holiday and a great way to please the game day crowd. The first time I tried a chicken taco soup was many moons ago, rushing into a restaurant while freezing rain was pouring down. I couldn't have picked a better meal for that cold day; the bowl was huge and I enjoying each spoonful of hot, hearty comfort food. My recipe still today draws from that memory, but accentuates what I feel are the best parts of the soup.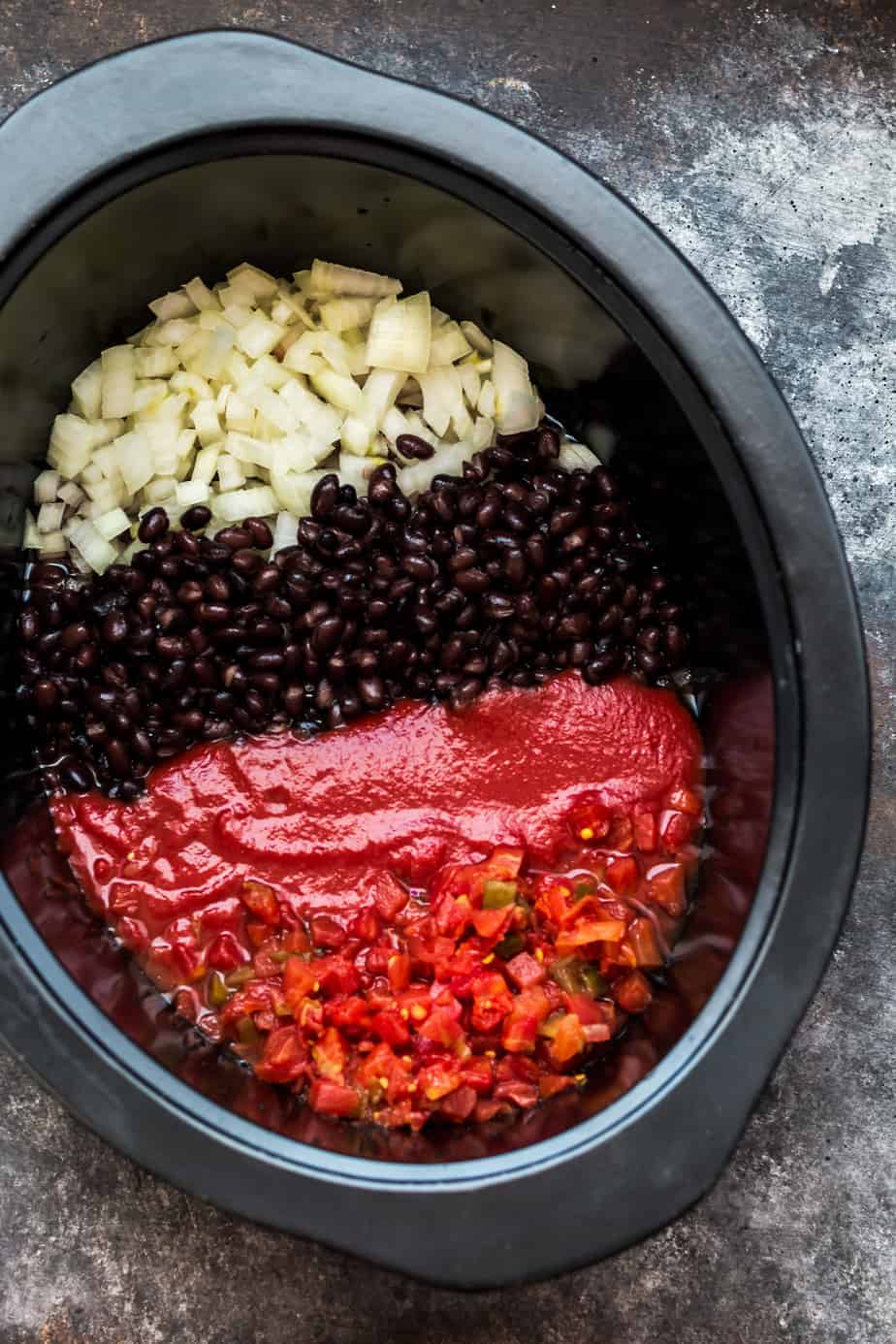 Crock-Pot® Soup
One of my things about this soup is that I can toss the contents into my Crock-Pot® and then shift gears to something else in the kitchen or better-yet to relax. I keep going back to my Crock-Pot® as it elevates the taste of just about every dish I throw its way. Many claim that they don't like chicken breasts as much as other cuts of the chicken but their outlook will change when it's been slow cooked in broth, taco seasoning and onions. I actually prefer breast meat to thigh meat in this recipe with its textured, shredded, pieces. The perfect meat for soup!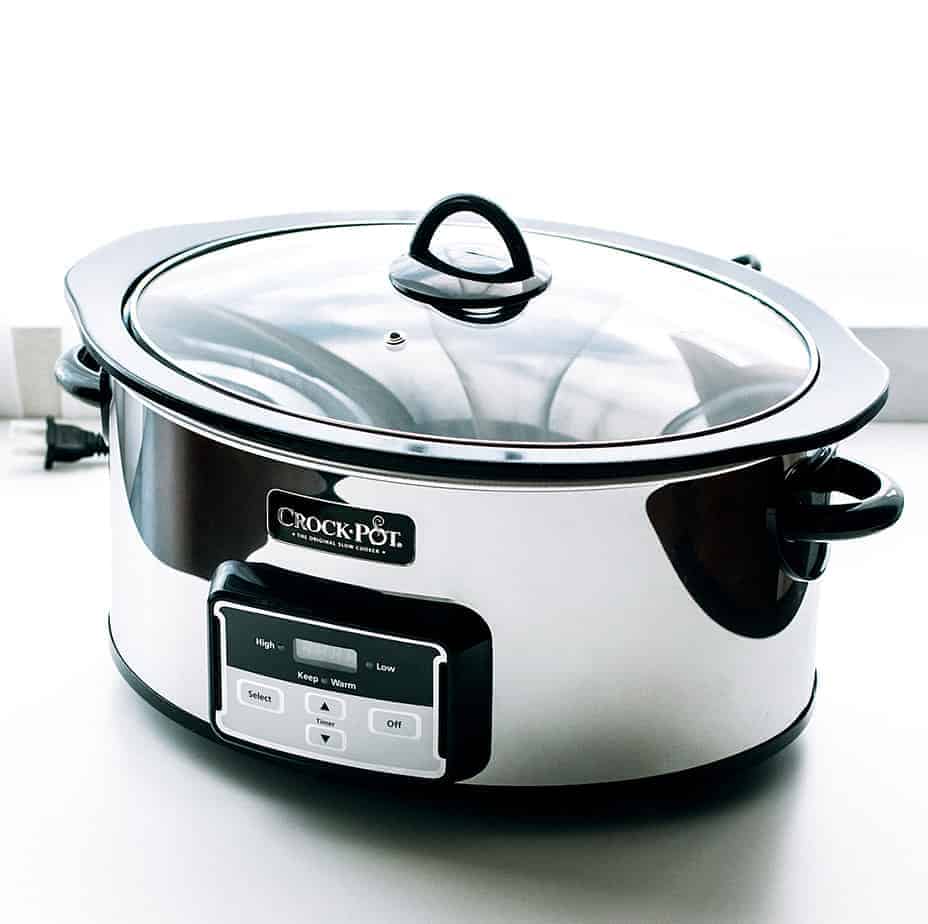 A Healthy Soup Option
Easy slow cooker chicken taco soup quite a healthy option, especially compared to other game day recipes. In-fact those same ingredients can be found in some of my protein bowl recipes. For those of you cutting way down on carbs you could cut out chips or tortillas completely from the dish. When I do so I simply load up more on veggies, especially the avocados.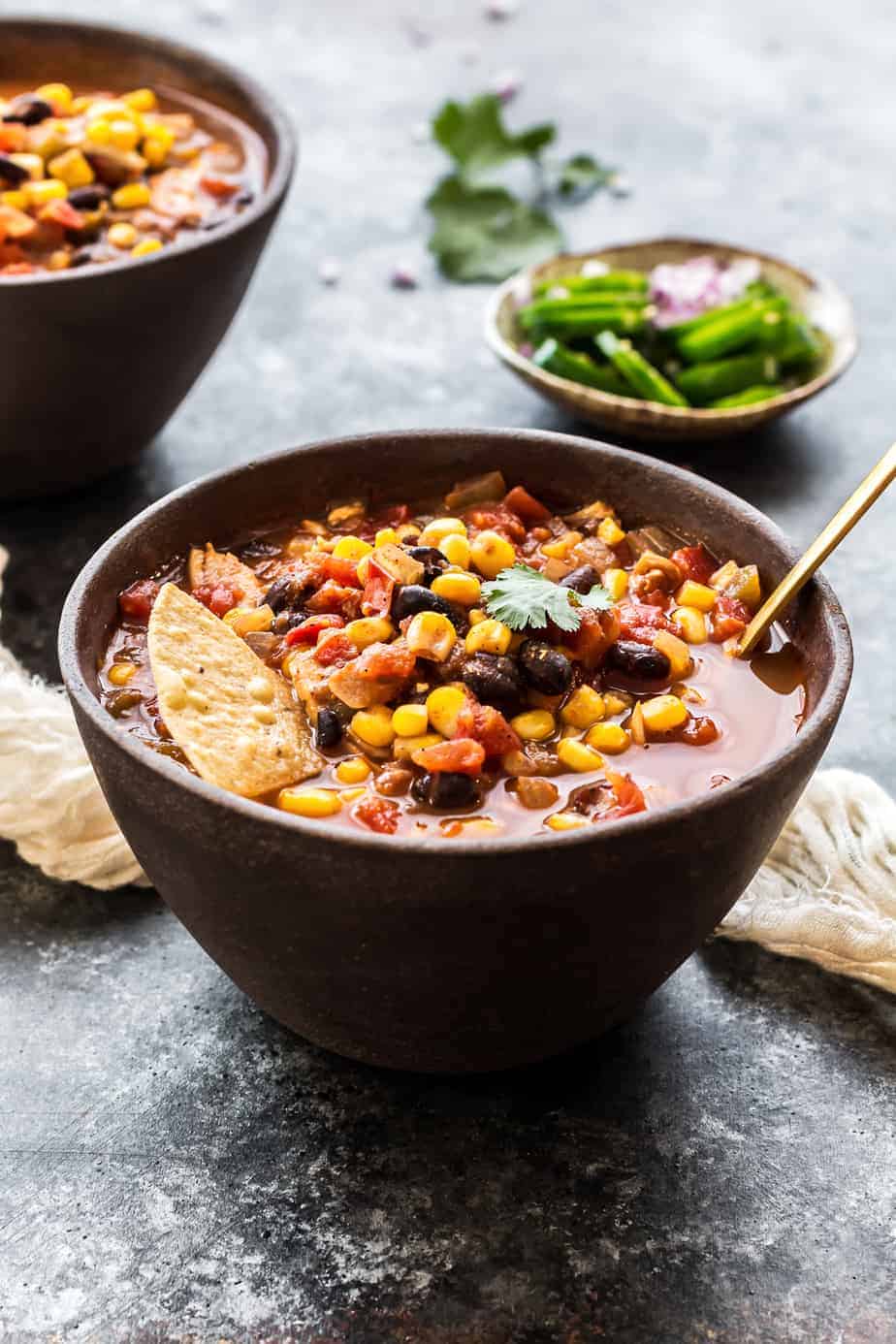 Best Soup for Kids
Is a chicken taco soup great for kids? It can be with a couple of simple tweaks. If you're preparing this for the family you can easily adjust the ingredients to make it more kid friendly by holding off from adding any chilies and opting for non-spicy seasoning. My kids loved it and wanted seconds, and with white meat, black beans and veggies I was proud and happy to oblige.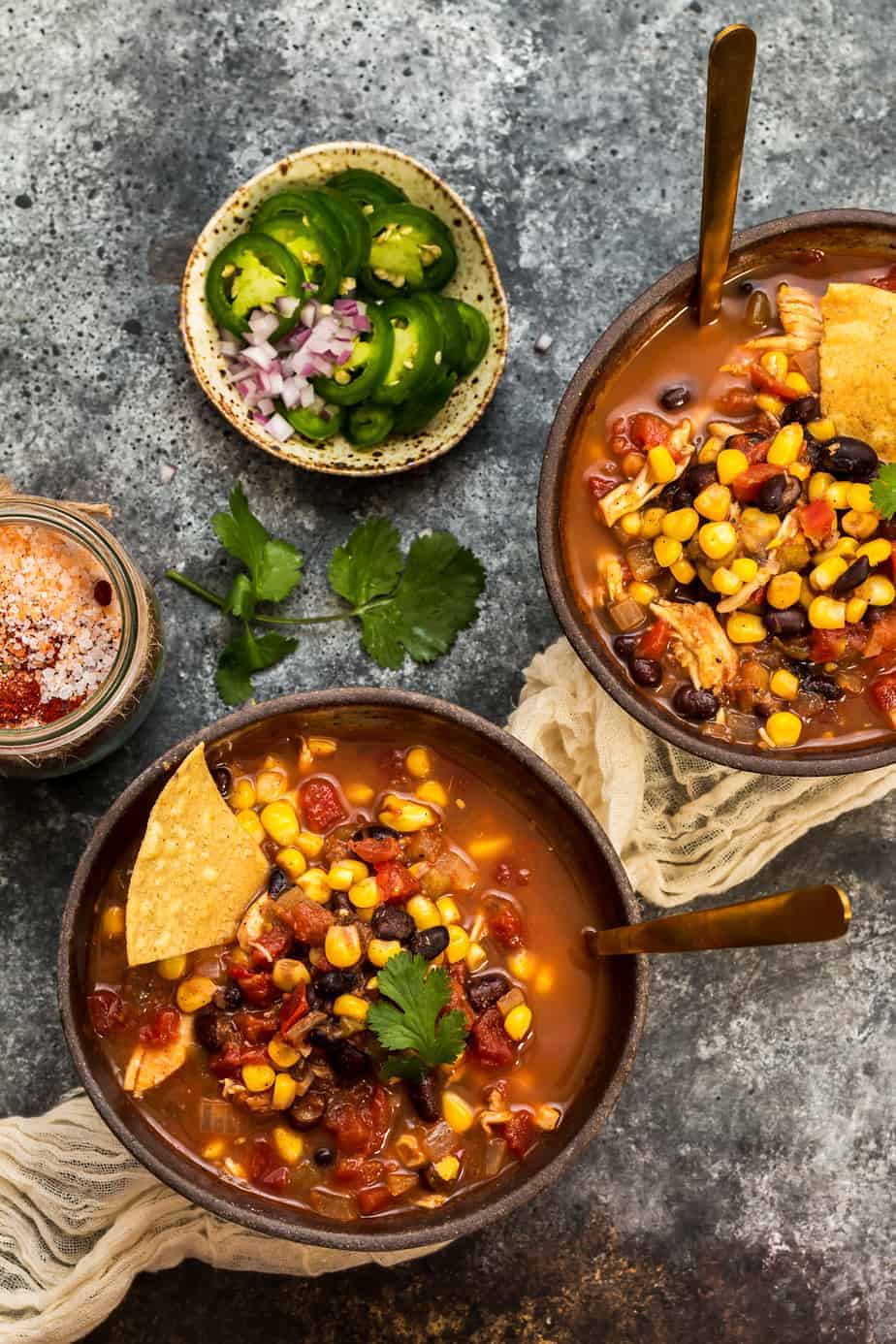 My Crock- Pot® slow cooker allows me to cook on a high or low setting, My Crock- Pot® slow cooker has a timer that automatically switches over to "Keep Warm" in case I forget to turn it off. Slow Cooker with Stovetop-Safe Cooking Pot, which acts like a jack of all trades as I use it to brown, sear and sauté ingredients directly on the stovetop before placing it into the Crock-Pot® slow cooker. So there's less mess and less cleaning time! I seared the chicken using the same pot for a crispy outside and juicy flavor inside. The pot features DuraCeramic™ nonstick coating to prevent food from sticking. It's PTFE and PFOA free, which is extremely important to me. It's also easy to clean!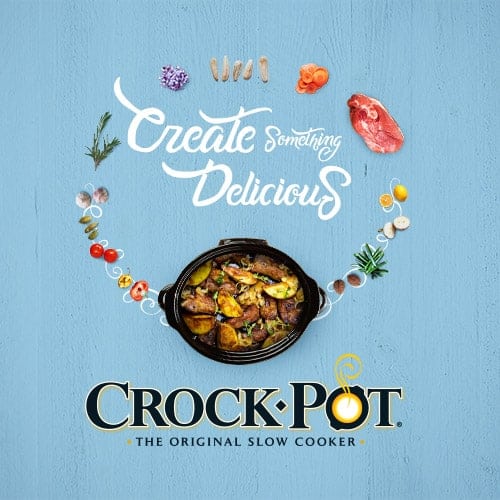 Ingredients
1

medium size

onion

1

(16 oz)

whole kernel corn

canned or frozen

1

can (4.5 oz)

green chiles

(optional)

2

cans (10 oz)

diced tomatoes with green chiles

1-2

cans (15.5 oz)

black beans

low sodium or unsalted (remove the juice)

1

can (8 oz)

tomato sauce

3

medium size

chicken breast

1

package (1.25 oz)

taco seasoning mix (store bought or homemade)

1

teaspoon

garlic powder

½

teaspoon

cumin

16 oz

chicken stock

(or more if you like to have more broth)

salt/pepper

according to your liking
Toppings
cilantro

jalapeno

sliced

corn tortilla chips

avocado
Instructions
Place the onion, corn, green chilies, diced tomatoes with green chilies, black beans, tomato sauce in a slow cooker. Add taco seasoning, garlic powder, cumin and broth, stir well.

Lay chicken breasts on top of the mixture

Cook on low for 7-8 hours or cook on high heat for 4 hours

Remove the chicken from the slow cooker, use fork and shred the chicken into small pieces. Place the chicken back into slow cooker. Add salt/pepper to taste

Turn off the slow cooker and serve with cilantro, jalapeño, corn tortilla chips or other toppings of your choice
Nutrition
Nutrition Facts
Easy Slow Cooker Chicken Taco Soup
Amount Per Serving
Calories 449
* Percent Daily Values are based on a 2000 calorie diet.
Ingredients
1

tablespoon

chili powder

1 ½

teaspoons

cumin

ground

1

teaspoon

black pepper

1

teaspoon

kosher salt

1

teaspoon

corn starch

½

teaspoon

paprika

½

teaspoon

garlic powder

¼

teaspoon

onion

dried

¼

teaspoon

oregano

dried

⅛

teaspoon

cayenne pepper
Instructions
Mix all the ingredients in a mixing bowl and blend well
Nutrition
Nutrition Facts
Homemade Taco Seasoning
Amount Per Serving
Calories 5
* Percent Daily Values are based on a 2000 calorie diet.