Learn How to Make Watercress Salad in Easy Steps
My husband and I have been big fans of watercress for a few years now. We try to eat at least 3 cups of fresh watercress per week by juicing, making our own watercress salad or sandwich recipe, or cooking it in soup. This green leafy vegetable is very rich in essential vitamins and antioxidants that offers a boosting in immunity, cancer prevention, and thyroid support. Not a bad trio? We usually buy our organic watercress from our local Jimbo's market, but recently found the same product also sells at Costco for a reasonable price.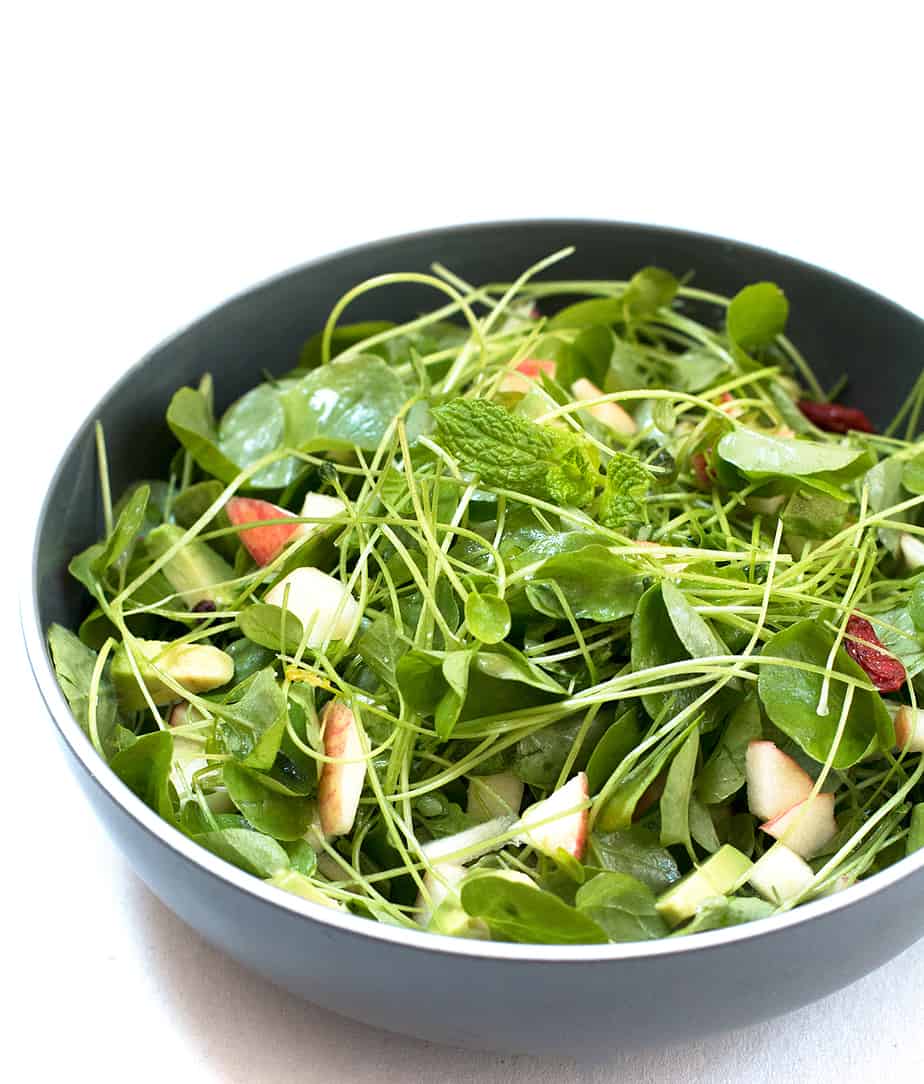 Watercress belongs to the same family as Brussels sprouts, broccoli, cauliflower and cabbage. It tastes a bit bitter, especially with its aftertaste, so it can be a tricky to prepare. I give it a little extra thought when watercress is in my dish as I like to offset the bitterness with another ingredient or two. Whether you love it or hate it, you cannot deny that this vegetable offers a ton of health benefits that cannot be ignored. I highly recommend younger watercress leaves for salad, juicing or soup. You may also find Chinese watercress from your local asian market which is perfect for your stir fry and soup recipe. The Chinese watercress has a darker green color and crisper stem. Watercress is about as healthy a vegetable on Earth. In-fact, the superfood sets the bar (scores 100) in this article by the Washington Post which ranks powerhouse fruits and veggies. Watercress is the latest wonder food in battle against aging, source DailyMail
Today I am going to show you how to create a healing watercress salad recipe using fresh and simple ingredients. As with many other recipes that I post it is extremely easy to make and very affordable.
Don't forget to check out this Scrambled Tempeh and Watercress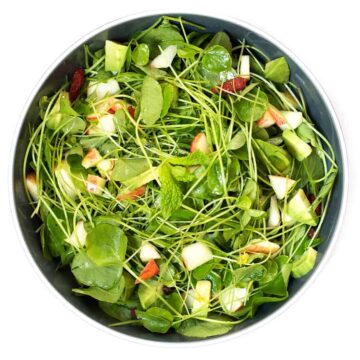 Healing Watercress Salad
Ingredients
6

cups

young watercress with thin stems

1

medium avocado

,

chopped

½

cup

fresh apple

,

chopped

fresh mint

2

tablespoons

goji berries

3

tablespoons

olive oil

¼

cup

apple cider vinegar

1

tablespoon

liquid amino or soy sauce

1

tablespoon

agave nectar

1

teaspoon

fresh ginger

,

grated

1

teaspoon

fresh lime

,

juiced

salt/pepper to taste
Instructions
In a medium bowl, whisk together olive oil, vinegar, soy sauce/liquid amino, agave nectar, ginger and lime juice to create dressing.

Toss watercress, apple, goji berries, fresh mint and avocado in a salad bowl. Add dressing to coat.