Flavorful Homemade Sloppy Joes recipe! This sandwich consists of minced beef simmered in a seasoned tomato-based sauce and it's cooked in a skillet. The homemade Sloppy Joes sauce is made from scratch, without Manwich! The sauce is pretty similar to BBQ sauce but much lighter. It just has the perfect touch of sweetness and tanginess.
Sloppy Joes are a classic American sandwich recipe. This super easy Homemade Sloppy Joes recipe makes for a comforting meal. It can be ready in less than 30 minutes and is the perfect sandwich for a crowd or just as a quick meal on a busy weeknight. This ground beef dish is an easy one-pan meal for the whole family.
Sloppy Joe sandwiches are a little messy but also very tasty. The loose meat in a tomato-based sauce on a bun is one of my favorite burgers. It's so easy to make, inexpensive. and made from ingredients that you can find in your pantry! It's delicious for my kids and my husband always wants seconds, too.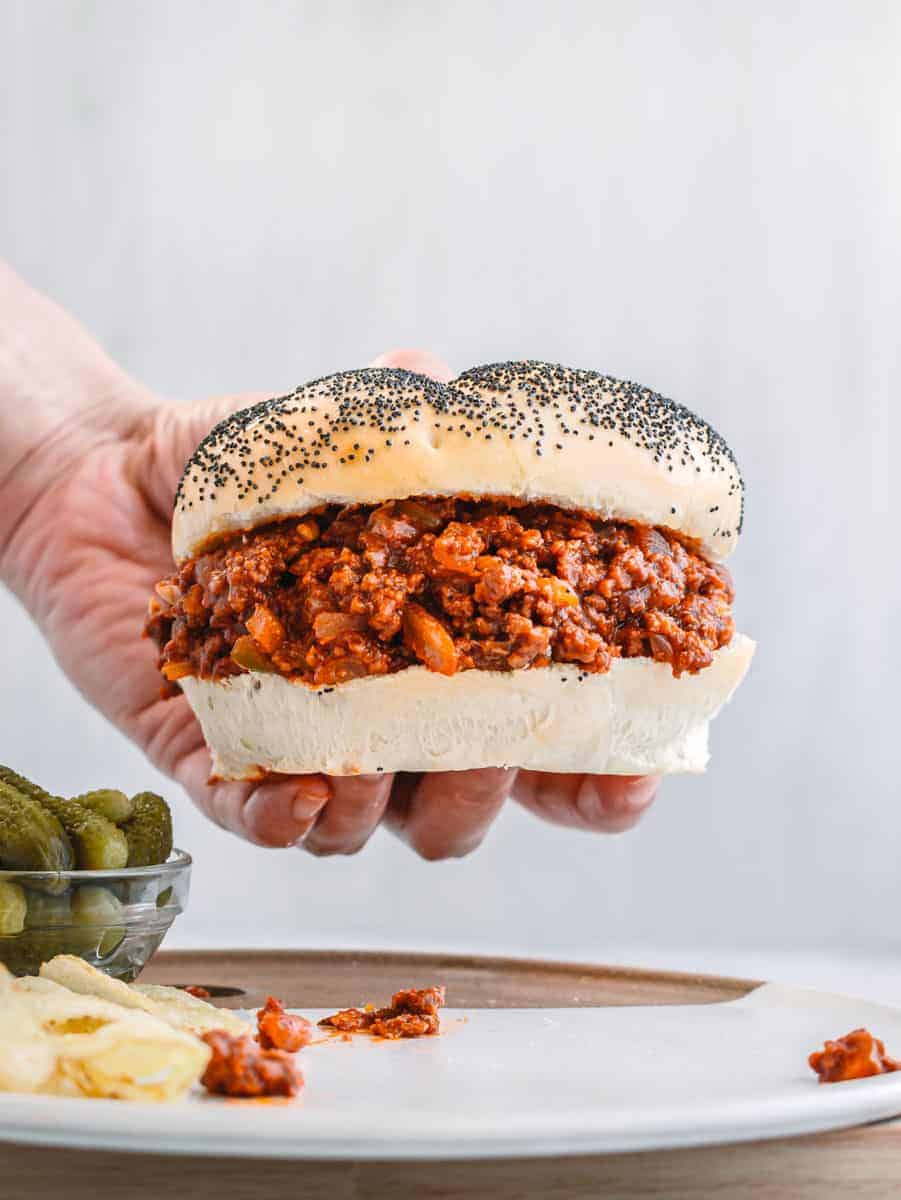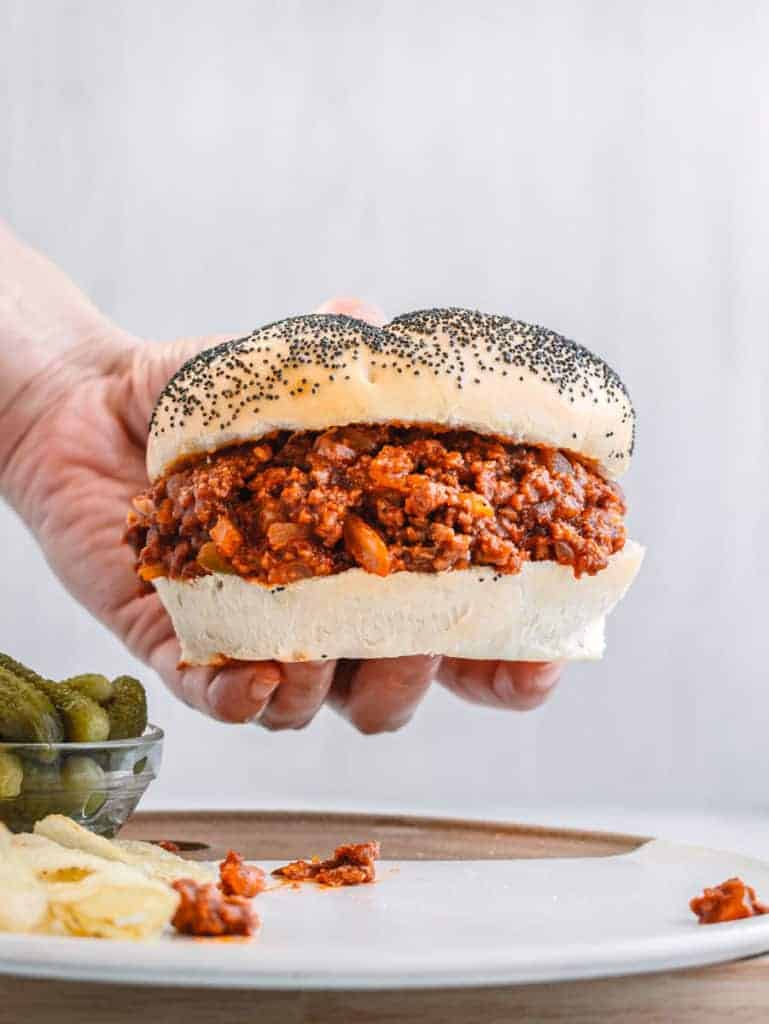 Check Out These Delicious Recipes: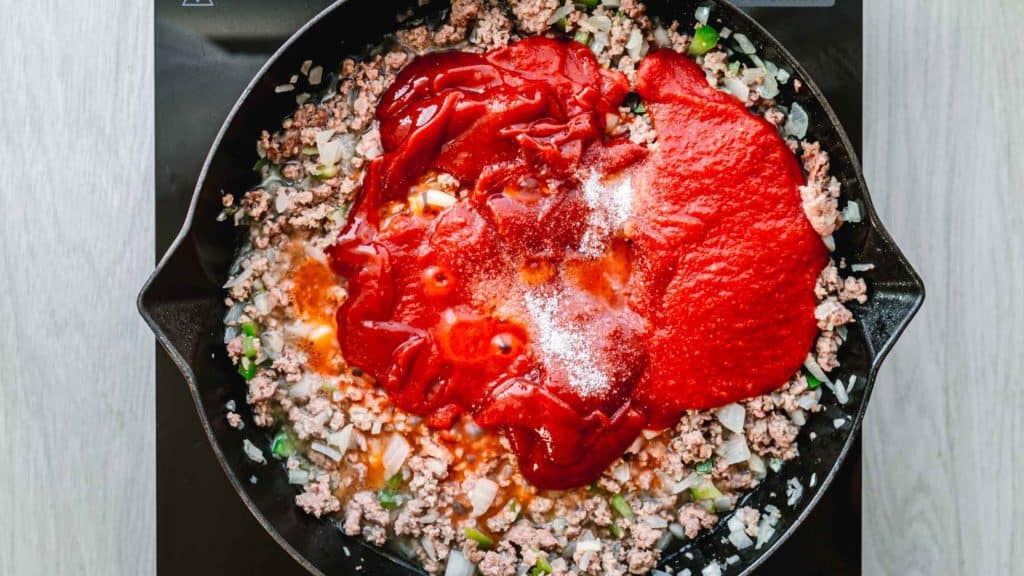 Homemade Sloppy Joes Ingredients:
To make old fashioned Sloppy Joes you will need the following ingredients:
Ground Beef / Minced Beef
Green Bell Pepper
Onion
Garlic
Ground Mustard
Worcestershire sauce
Brown Sugar
Ketchup
Canned Tomato Sauce
Chili Powder
Red Wine Vinegar
Salt and Pepper to taste
Hamburger Buns (or any bun of your choice) for serving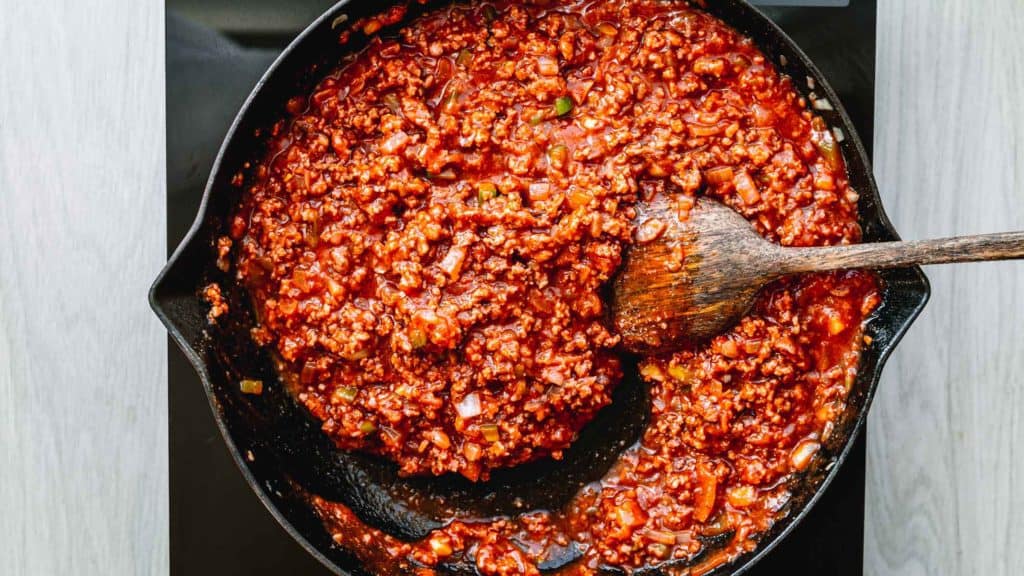 How to Make a Tasty Homemade Sloppy Joes:
To make a Sloppy Joes Sandwich is super easy and takes less than 30 minutes.
First, you need to brown the beef in a skillet for a few minutes.
Second, you need to add the solid ingredients and cook for a few more minutes.
Third, you need to simmer the meat in a tomato-based sauce for about 15-20 minutes.
Finally, just serve the Sloppy Joe Sandwiches on a bun. Easy-peasy!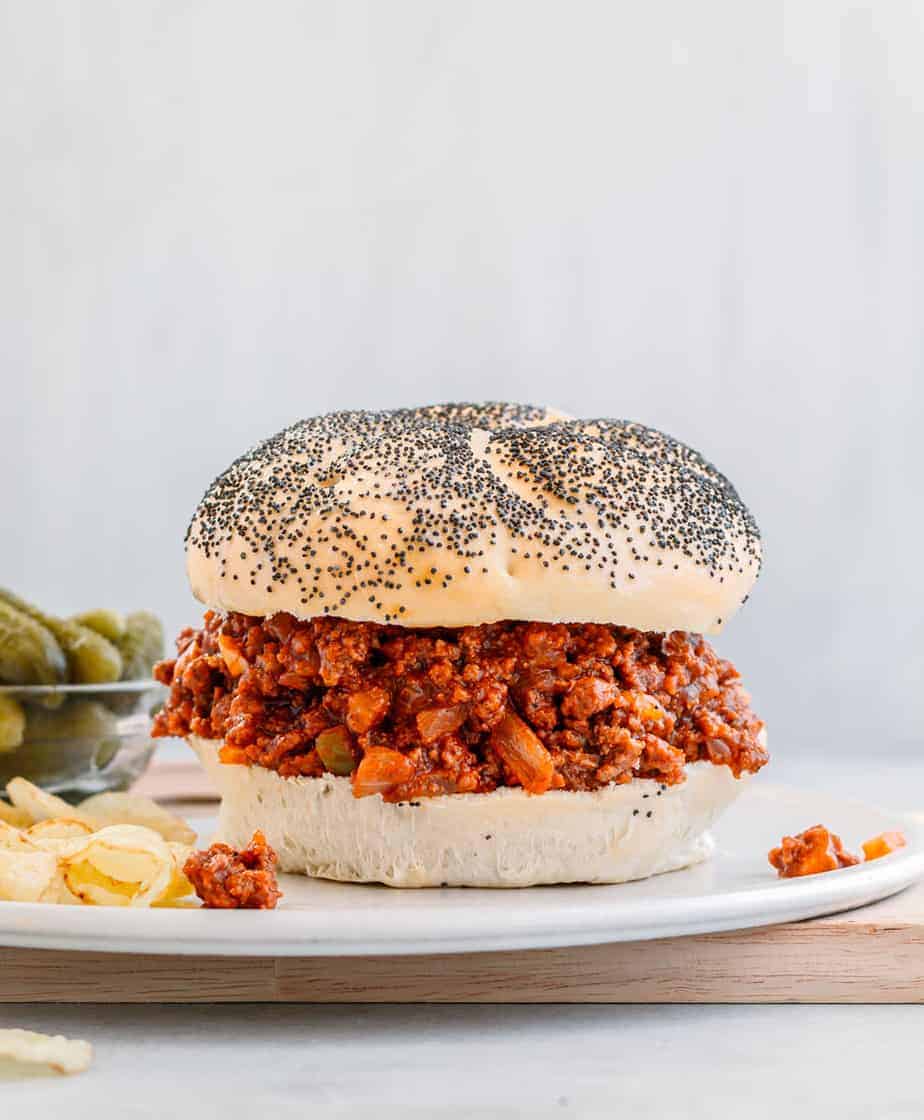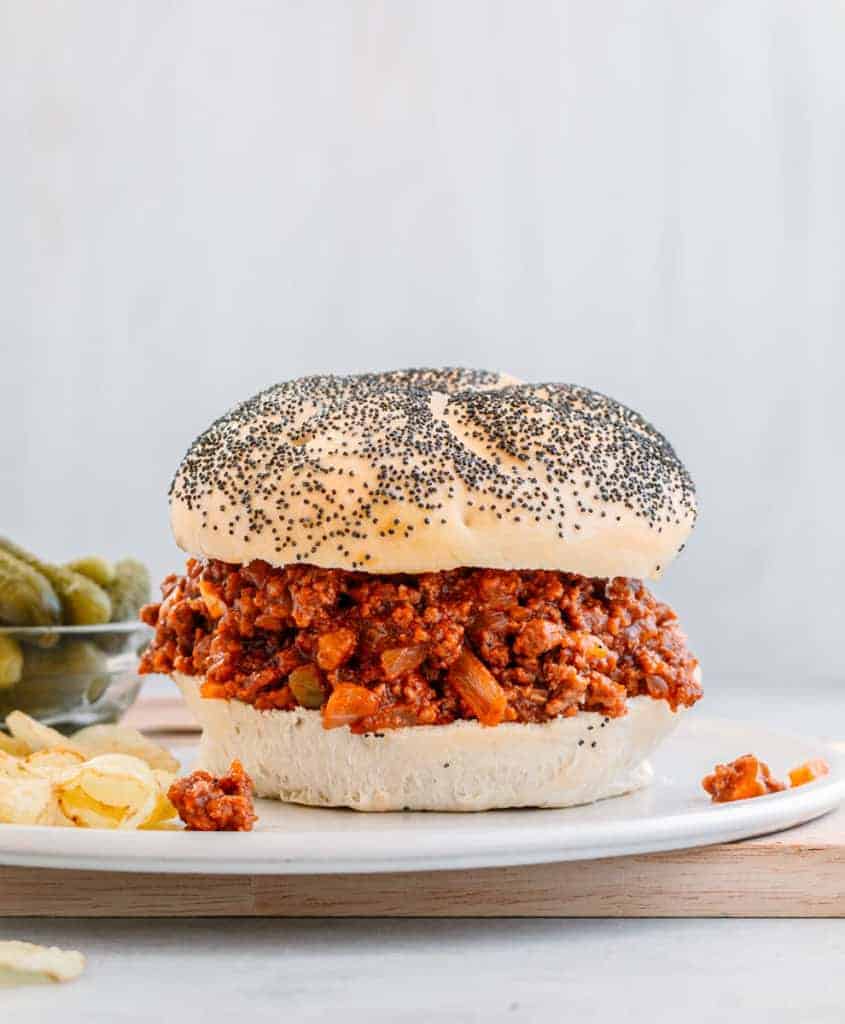 Storing Your Sloppy Joes Leftovers:
A Sloppy Joes Sandwich is one of those recipes that you can thankfully make in advance. If cooked and properly stored in an airtight container, this cooked ground meat will last up to 4 days in the refrigerator.
You can also further extend the shelf life of cooked ground beef like that in a Sloppy Joe by freezing it. Just be sure to cool the Sloppy Joe meat completely in the fridge before you freeze it. Then put it in covered airtight containers or freezer bags. It should last up to 3-6 months. You can find more info about when to throw leftover out here
Sloppy Food and Kids
As mentioned my kids really enjoy this one, they both like meat and the sauce on this one is definitely to their liking as well. They're getting better about not making a complete mess while eating Sloppy Joes, too.
I love stuffing these sandwiches pretty high and coached my kids on how to best hold the sandwiches (their first instinct is to hold it with just one hand and that doesn't end well!).
From my standpoint, if Sloppy Joes spill that's fine, just as long as it lands on their plate. They're at that age when they sometimes devour food and don't have the best table manners, but I take advantage of every meal (fancy or casual, clean or messy) to try to instill some better table manners while keeping our meals fun. This is a good one for that!
Don't forget to come back here to review this recipe and share it on social media!
📖 Recipe
Homemade Sloppy Joes
Flavorful Homemade Sloppy Joes recipe! This sandwich consists of minced beef simmered in a seasoned tomato-based sauce and it's cooked in a skillet. The homemade Sloppy Joes sauce is made from scratch, without Manwich!
Ingredients
1

pound

minced beef or ground beef

1

cup

chopped yellow onion

¼

cup

chopped green bell pepper

1

tablespoon

minced garlic

8

oz

canned tomato sauce

,

(unsalted)

½

cup

ketchup

1

tablespoon

light brown sugar

1

tablespoon

red wine vinegar

1

teaspoon

mustard powder

1

teaspoon

Worcestershire sauce

1

teaspoon

chili powder

¼

cup

water

½

teaspoon

salt

½

teaspoon

black pepper
Instructions
In a large skillet over medium-high heat, brown the ground beef for about 1 minute on one side undisturbed. Then flip, continue cooking, and using a wooden spoon or heatproof spatula to break up the meat into equal-size pieces as it cooks for about 1-2 minutes.

Add onion, garlic and green bell pepper, cook for about 2-3 minutes.

Add tomato sauce, ketchup, brown sugar, Worcestershire sauce, mustard powder, chili powder, water, red wine vinegar, salt, and pepper. Stir to combine, and simmer over medium-low heat, stirring occasionally for about 15-20 minutes or until the mixture has thickened to your liking. Adjust seasoning with salt and pepper if needed.
Notes
*If you are using medium -fat ground beef, you need to drain the grease to reduce the fat and calorie content.
The extra lean ground beef doesn't need to be drained after browning but if you see grease, feel free to remove to make it even a healthier dish. You can tilt the pan and use a paper towel to absorb much of the fat from browned ground beef. A little fat goes a long way with flavors but it's your choice and it will taste great even without the extra fat.
Nutrition
Calories:
416
kcal
Carbohydrates:
43
g
Protein:
20
g
Fat:
18
g
Saturated Fat:
6
g
Cholesterol:
54
mg
Sodium:
952
mg
Potassium:
518
mg
Fiber:
3
g
Sugar:
10
g
Vitamin A:
388
IU
Vitamin C:
11
mg
Calcium:
84
mg
Iron:
4
mg