A simple Instant Pot Bacon Lentil soup recipe. It's absolutely delicious, hearty, healthy, nutritious and easy to make. No soaking needed!
Looking for more Instant pot Soup recipes? This pressure cooker bacon lentil soup is the perfect comforting soup for chilly days. This soup is very filling and inexpensive to make! It is also a low calorie and high in fiber soup!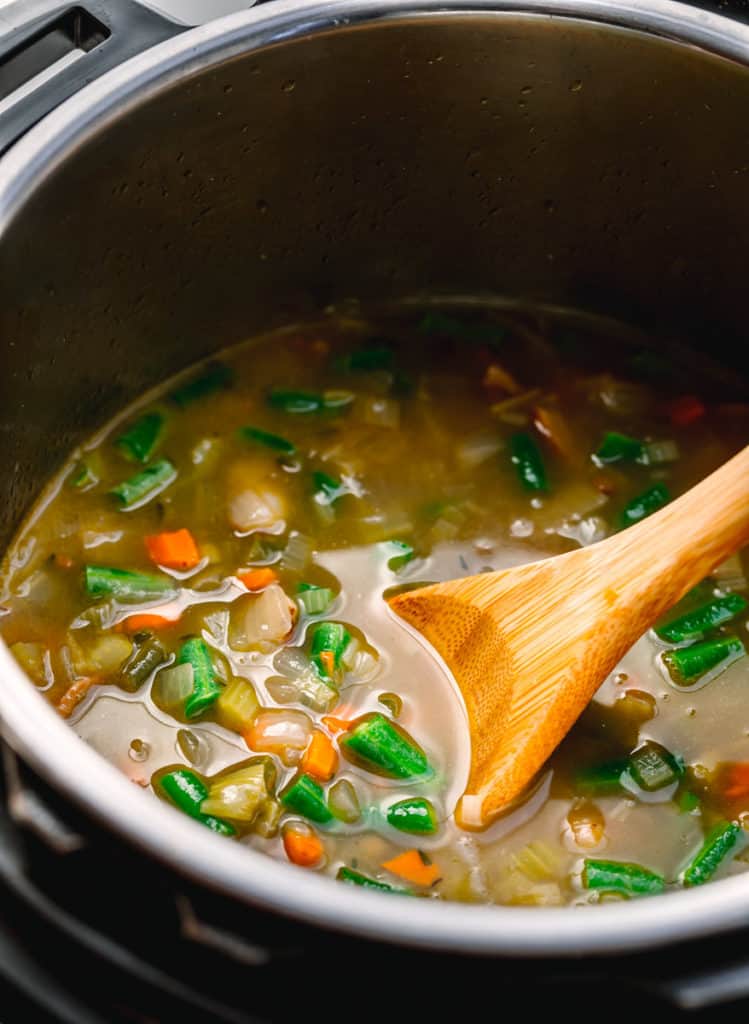 Instant Pot Bacon Lentil Soup:
This Instant pot bacon lentil soup is not only tasty but is also loaded with healthy vegetables. The soup is seasoned with simple herbs which I think go perfectly with the lentil taste.
The broth is made with a simple clear broth, not a tomato base as most that you'll find. That was one of my main objectives for this recipe as two members of my family don't deal well with acidic recipes and are always searching for other options.
Lentils are so tasty and tomatoes are just one of many foods that compliment them, I was excited to showcase another option for them.
Also, be sure to try this creamy CARROT AND LENTIL SOUP (HIGH IN PROTEIN!)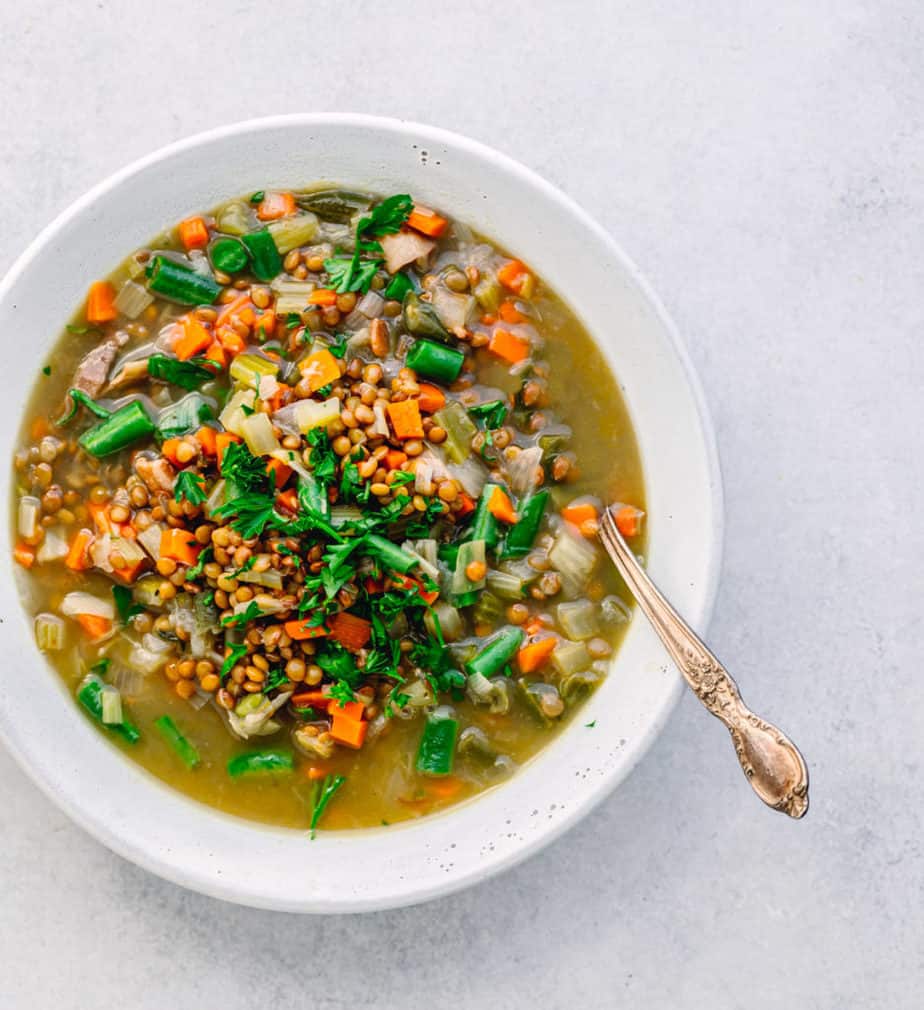 This Lentil Soup is Good for You!
Lentils are an edible legume and highly nutritious food. They are rich in fiber, vitamins, and minerals. They are widely cultivated throughout Europe, Asia, and North Africa.
Lentils are an excellent source of folate and manganese. They are are also a good source of protein. A ½ cup serving of cooked lentils provides about 12 grams of protein. They are easy to prepare, versatile and very inexpensive! Lentils are a staple ingredient to so many recipes from soups to salads!
Lentils are high in fiber and complex carbohydrates, while low in fat and calories. For that reason, lentils will fill you up without adding extra calories to your meals!
In addition, this soup is loaded with fresh vegetables, like carrots, leeks, and green beans. Therefore, this pressure cooker lentil soup is a great source of many essential vitamins and nutrients.
Which Lentil to Use:
Lentil comes in many varieties. For this recipe, I highly recommend using green lentils. Green lentils are a popular ingredient for salad and soup because they hold their shape very well after cooking. The only bad thing about green lentils is they do take the longest to cook of all the varieties of lentils. In general, you will have to spend about 45 minutes of cooking time without an instant pot.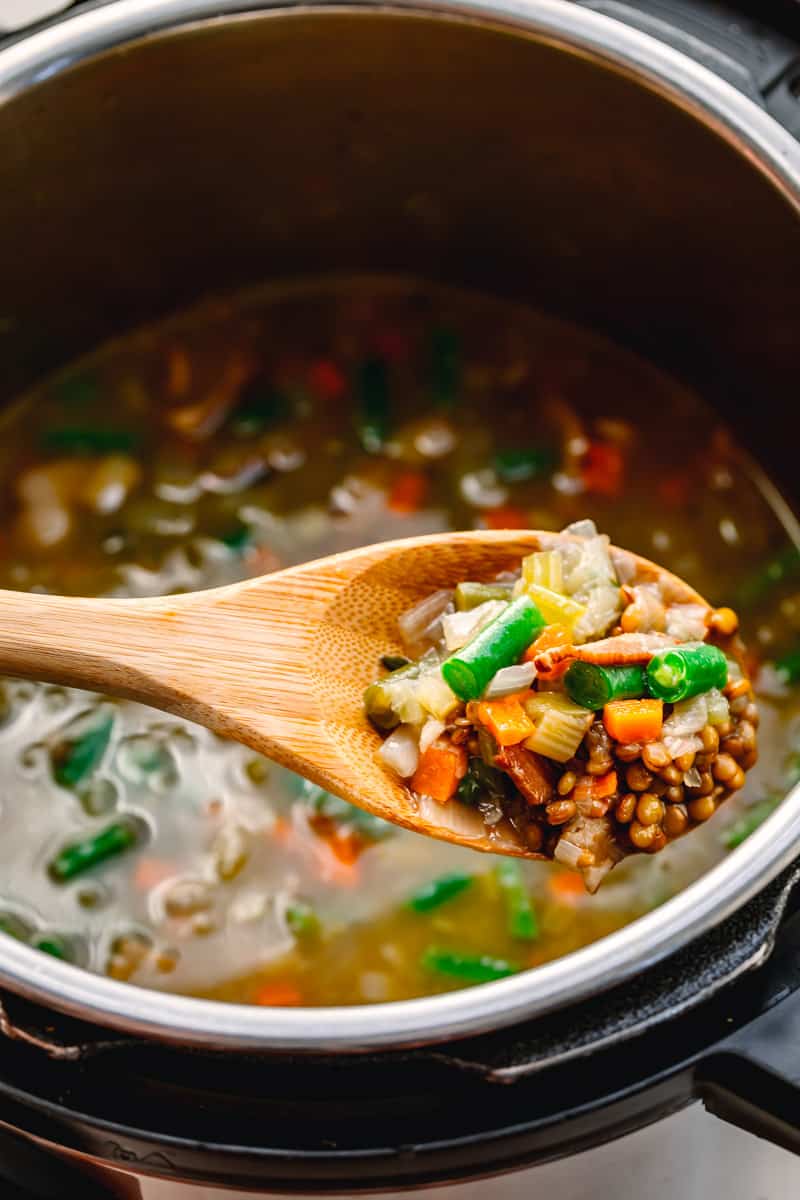 How about Using Canned Lentils?
Dried lentils are cheaper than canned ones. However, if you can only find canned lentils in your pantry or market, feel free to use them. Just open the can, rinse for a few minutes and add them to the instant pot. You may need to reduce the cooking time to 3 minutes on high pressure and reduce the amount of broth (liquid) to 4 cups! Don't worry, if the broth is too little, you can always add extra broth after cooking the soup at high pressure.
Please keep in mind that 1 cup (250 mL) of dried lentils will produce 2.5 cups (625 mL) of cooked whole lentils.
Why You'll Love this Instant Pot Bacon Lentil Soup recipe:
It tastes good. It's made with fresh vegetables and herbs!
It has a clear broth aka creamless soup!
This soup is made without tomato-based products! Meaning that it's less acidic.
The broth has a perfect touch of sweetness from onions, carrots, and leeks!
It's a low-calorie soup.
The soup is easy and affordable!
It's so quick to make! It only required 10 minutes of cooking time at high pressure!
Lentils do not require soaking like other pulses.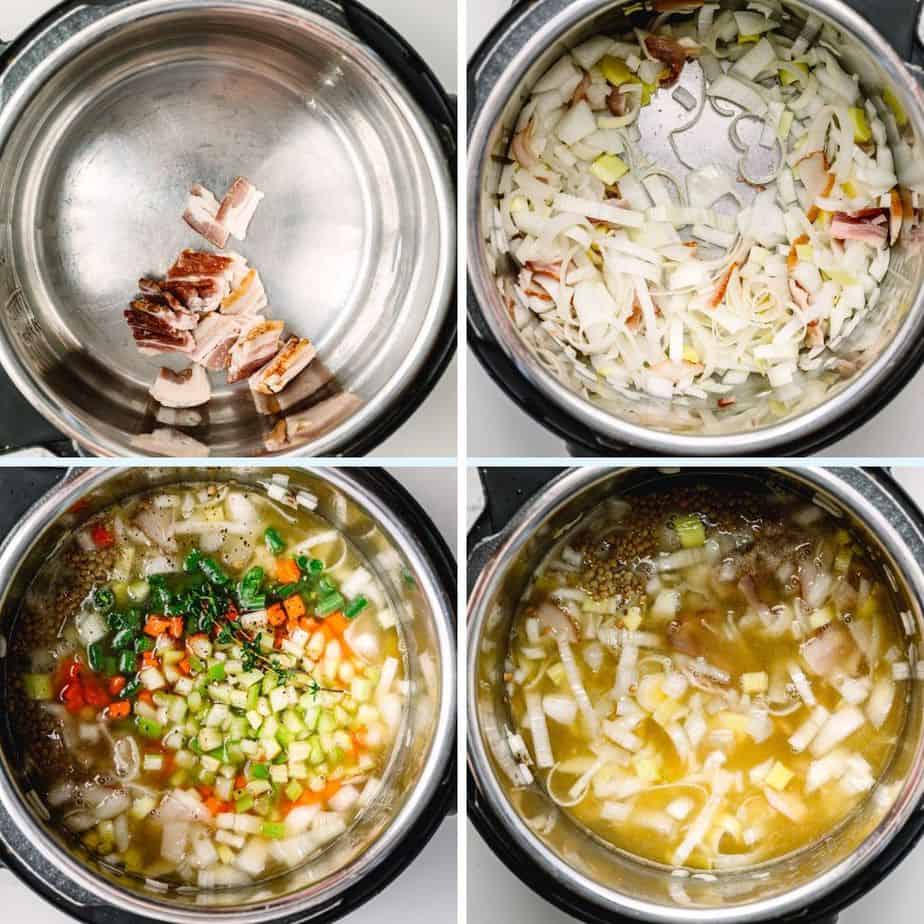 How to Make this Instant Pot Lentil Soup:
First, I start off with cooking the bacon for about 2 minutes.
Next, I add the other soup base ingredients: onion, garlic, and leek and cook until tender (for about 5-6 minutes).
Then I simply add the broth, lentils, thyme, and vegetables into the instant pot.
Lastly, I cook the soup for 10 minutes at high pressure with an additional 10 minutes of natural release.
To make this soup more vegan-friendly, feel free to skip the bacon. As an alternative, you can use a small amount of oil instead of bacon.
Lentils in Summer and Winter Recipes
Lentils are also a food that you can enjoy year-round. They do well in a winter bowl and a hot lentil soup will fill you up, comfort you and warm your body in the cold winter months. In warmer months lentils can pair well with the lighter flavors and not bog you down with heaviness.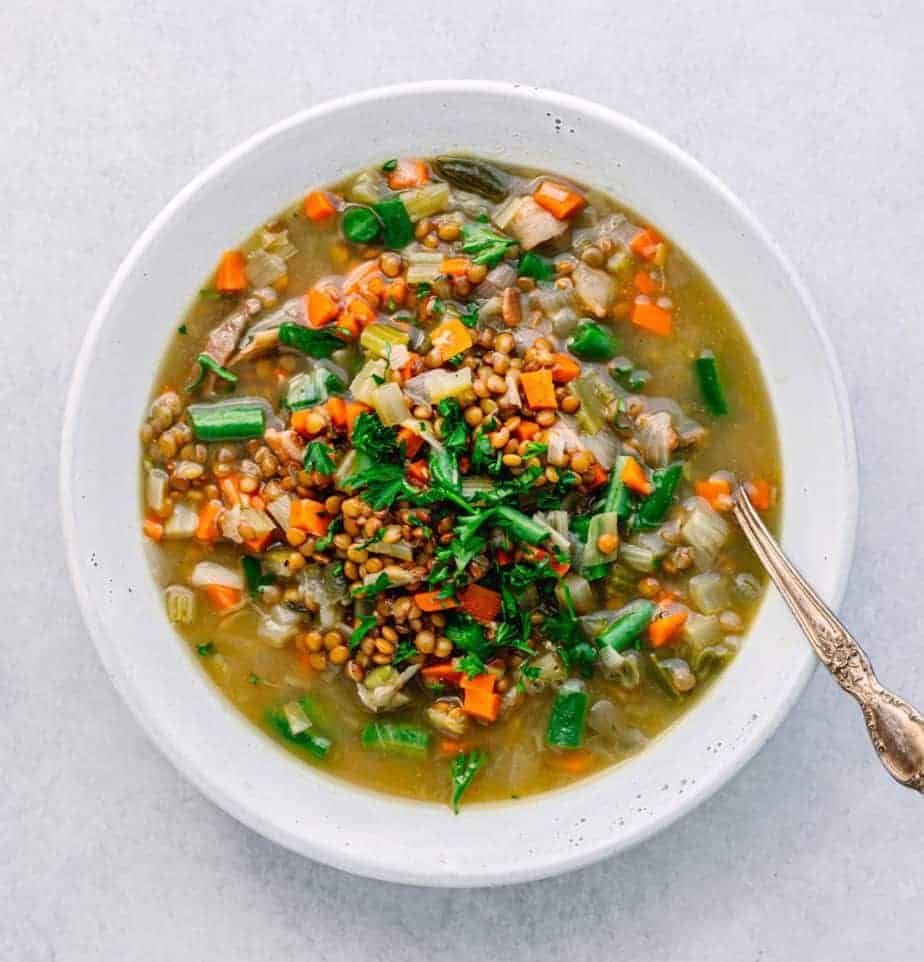 How to Store Soup:
Properly stored, cooked vegetable soup will last for 3 to 4 days in the refrigerator. This lentil soup can be frozen for up to 3 months.
Check Out More Instant Pot Soup Recipes:
Instant Pot Bacon Lentil Soup
A simple Instant Pot Lentil soup recipe. It's absolutely delicious, healthy, nutritious and easy to make. The perfect comforting soup for chilly days. This soup is very filling and inexpensive to make! It is also a low calorie and high in fiber soup!
Ingredients
1

cup

dried green lentils

,

(rinse and remove any dust, debris or stones)

3

bacon slices

,

(regular cut - chopped)

1

tablespoon

minced garlic

1

cup

chopped onion

½

cup

chopped leek

½

cup

chopped carrots

½

cup

chopped celery

½

cup

chopped green beans

5

cups

broth

3

springs fresh thyme

salt and pepper to taste
Instructions
Select the "Saute" setting. Add bacon and cook until the fat is rendered and the bacon is crisp for 4 to 5 minutes.

Add leek, onion, and garlic, cook until soft and translucent for about 5-6 minutes.

Add broth, lentils, and stir to combine. Add green beans, carrots, and thyme. Place the lid, choose "soup" and set to "10 minutes".

Once the cooking is done, allow pressure to naturally release for 10 minutes, then quick-release any remaining pressure. Adjust seasoning with extra salt and pepper if needed. Remove the thyme before serving. Enjoy!
Nutrition
Calories:
194
kcal
Carbohydrates:
28
g
Protein:
10
g
Fat:
5
g
Saturated Fat:
2
g
Polyunsaturated Fat:
1
g
Monounsaturated Fat:
2
g
Trans Fat:
1
g
Cholesterol:
7
mg
Sodium:
875
mg
Potassium:
460
mg
Fiber:
11
g
Sugar:
5
g
Vitamin A:
2441
IU
Vitamin C:
7
mg
Calcium:
42
mg
Iron:
3
mg