Cooking with instant pot is my new obsession. Instant pot is the perfect cookware for such a wide variety of recipes, especially for soups and stews! This winter season, I want to share a hearty Instant Pot Barley Soup that is made with barley, corn, carrots, celery, zucchini, canned tomatoes, pumpkin puree, garlic, basil, turmeric, onion, broth and smoked paprika.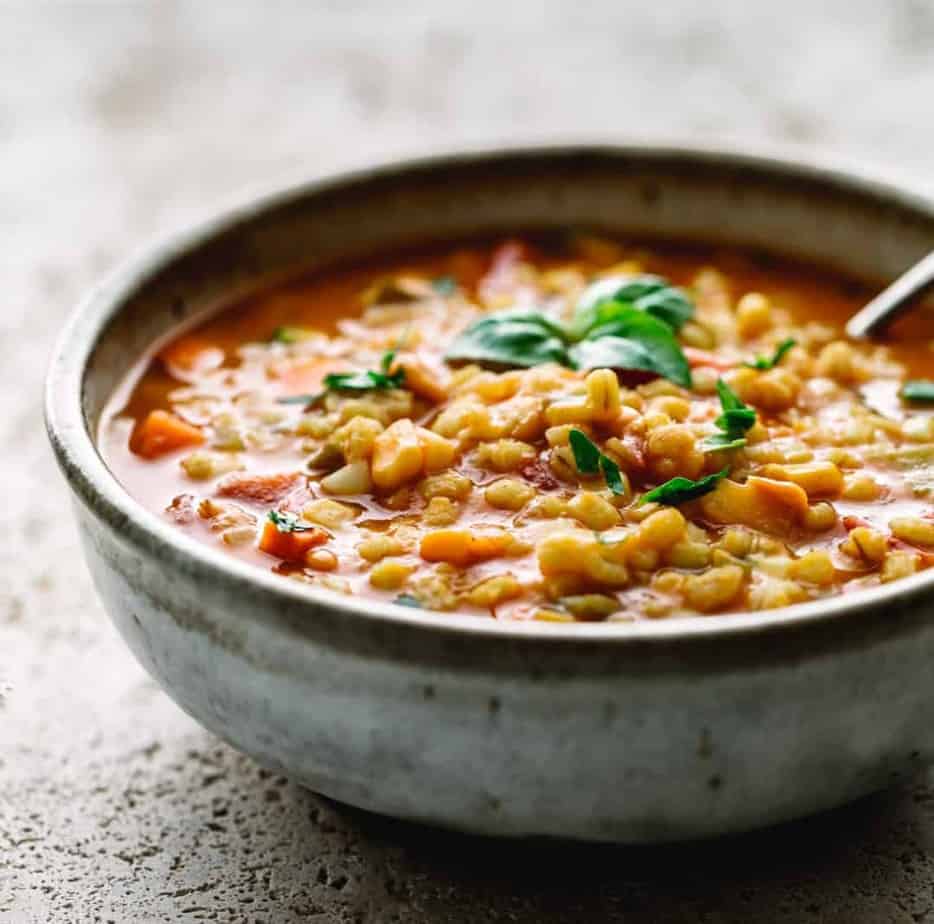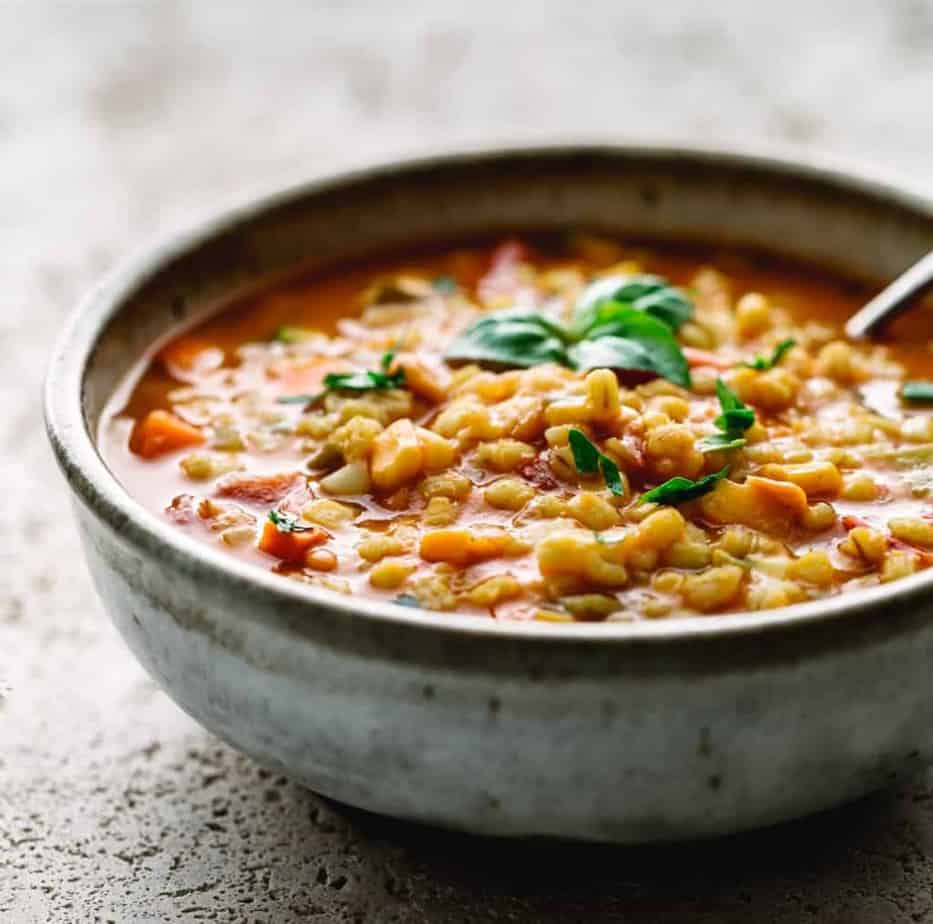 Most soup recipes can be cooked in instant pot for about 15 minutes but for this Instant Pot Barley Soup recipe, I only need to cook it for 10 minutes (just enough so that the barley is soft but not mushy; finding that perfect texture is key).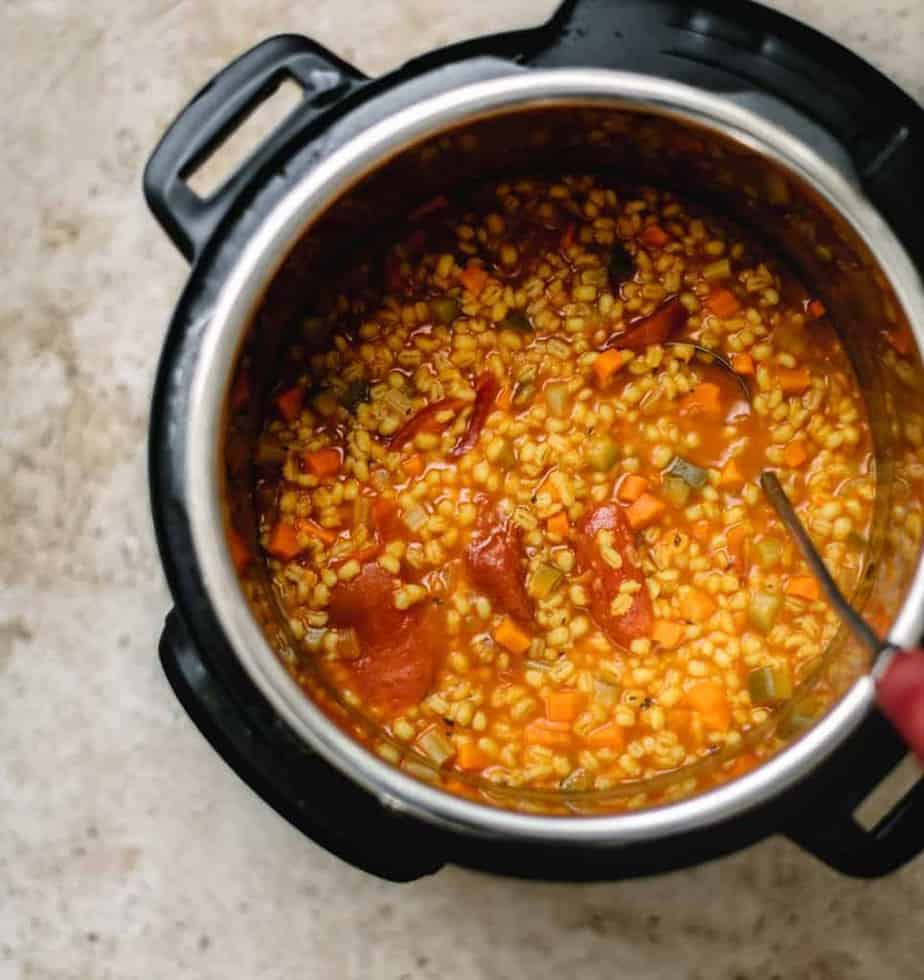 This Instant Pot Barley Soup is so healthy and delicious. Loaded with vegetables and seasoned with aromatic seasoning, garlic and basil. This is an affordable soup recipe that can be made in a big batch, and can be kept in the fridge for up to 3 days. To extend the shelf life, you can freeze it in a heavy duty freezer bag for up to 2-3 months.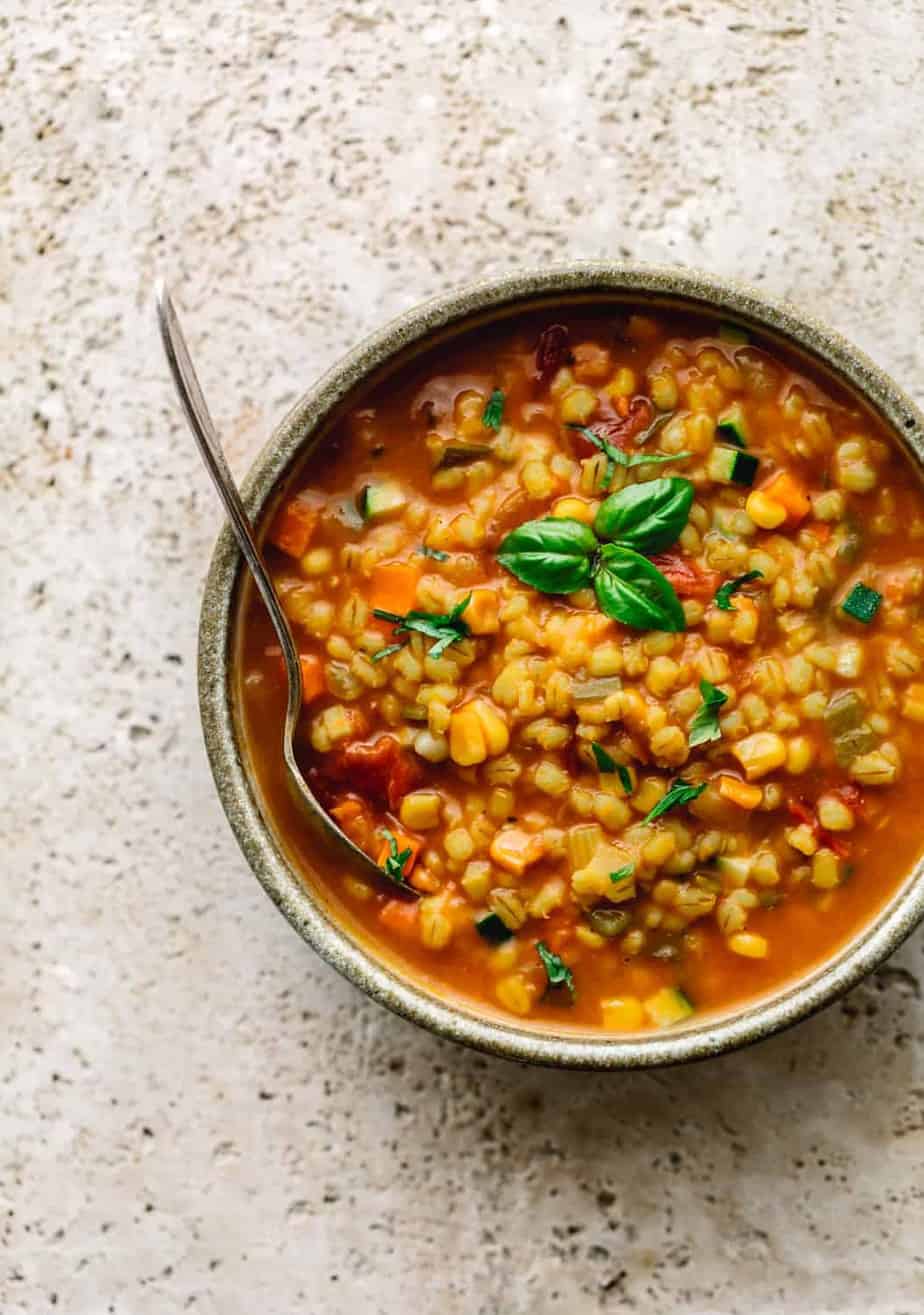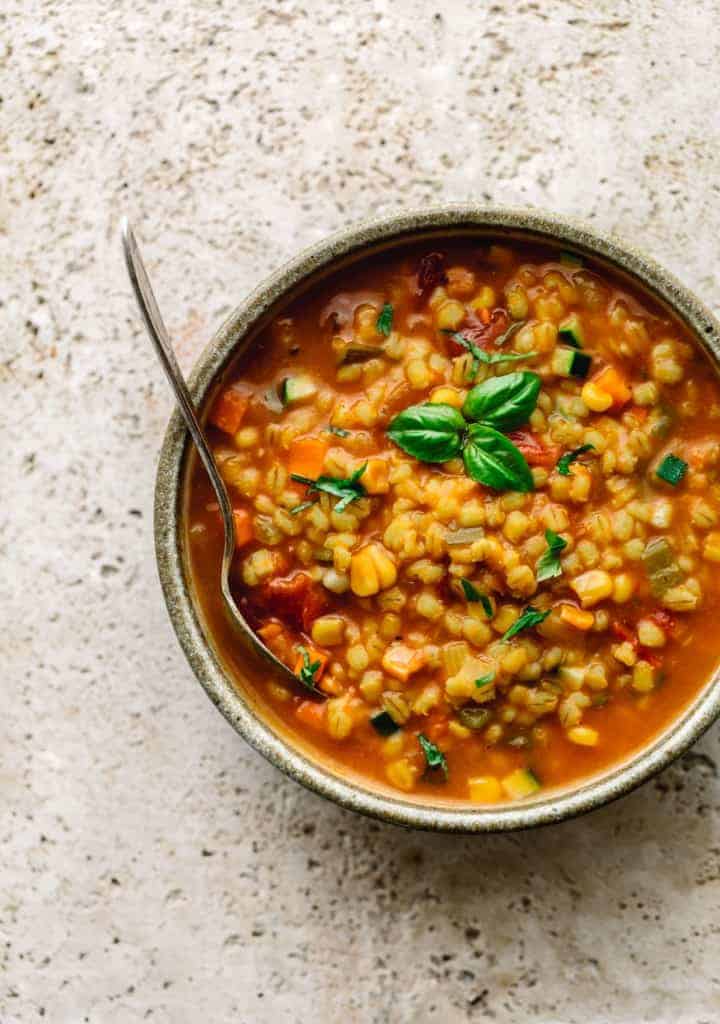 Barley is high in fiber, potassium, folate, and vitamin B6 content. It also lacks cholesterol, which is perfect to support a healthy heart. I like to add turmeric, the A yellow-colored powder ground that offers many powerful antioxidants and also acts as an anti-inflammantory agent. I added pumpkin puree to get a touch of winter/fall flavor. Pumpkins are so affordable and good for the heart. They provide a solid amount of fiber, potassium, and vitamin C. It's great to intake for the treatment of hypertension or high blood pressure.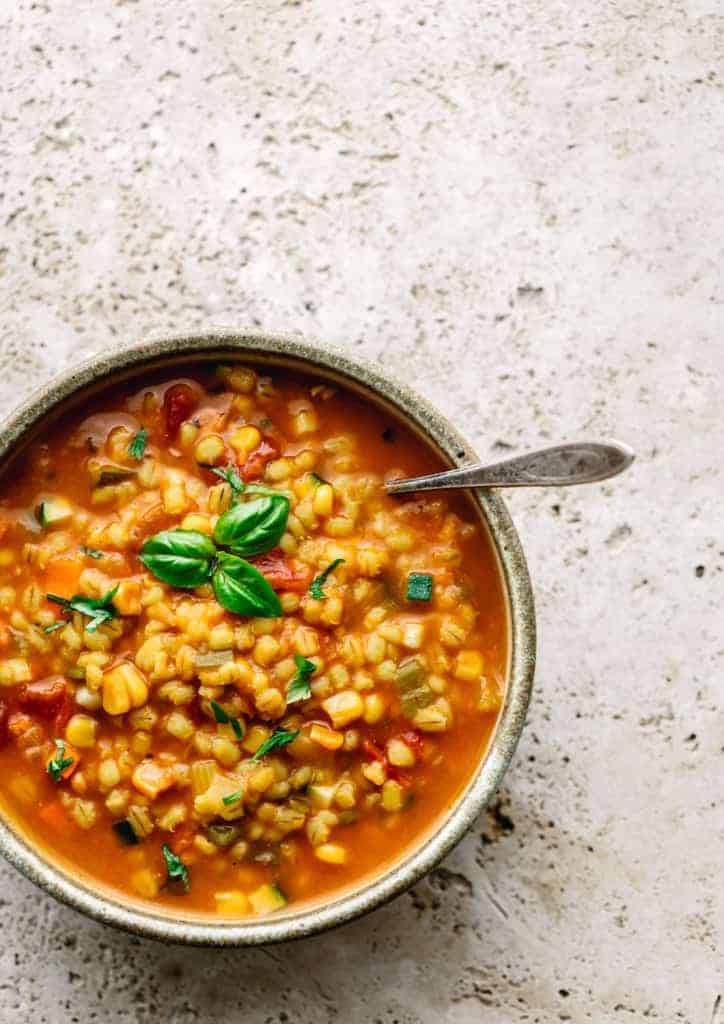 This soup recipe will also act as a nice holiday detox. I can already see my husband taking in a few NFL football games on the couch around thanksgiving, and watching plenty more college football around New Years. I know that he'll feast on some junk food and fried food and won't deny him that, but at least I can also pepper in healthy options that he enjoys like soups and stews. The pumpkin, garlic and paprika in this Instant Pot Barley Soup recipe are all ingredients that he enjoys and make a dish more memorable. Also I'm a fan of him getting his veggies in through other meals than just salads. When he asks for dishes like this one that are veggie based I know I'm winning the battle!


Ingredients
1

cup

uncooked barley

1

tablespoon

olive oil

1

medium onion

2

garlic cloves

2

carrots ?

(chopped)

2

celery stalks

(chopped)

1

zucchini

(chopped)

1/2

teaspoon

turmeric ground

1/2

teaspoon

dried basil

3/4

cup

corn kernel

1/2

teaspoon

garlic

12

ounces

tomato diced

canned

3/4

cup

pumpkin puree

(100% pure with no sugar added) Notes: If you don't have pumpkin puree, please skip this part and increase the tomatoes diced from 12 ounces to 14.5 ounces.

1

quart

32 oz vegetable broth (or chicken broth)

1

teaspoon

ground paprika

1

teaspoon

white sugar

1

teaspoon

salt

add more according to your liking

Black pepper to taste

1

bay leaf

optional : 1 teaspoon Worcestershire sauce
Instructions
Turn a 6-quart Instant Pot® to the high sauté setting.

Add the oil and once hot add the onion, garlic, celery and carrots. Cook until the vegetables are soften for 3 minutes.

Add the remaining ingredients into the pot and follow the manufacturer's guide for locking the lid and preparing to cook.

Change the setting to "manual" and cook for about 10 minutes.

After the pressure cook cycle is complete, follow the manufacturer's guide for quick release .

Serve the soup and enjoy!
Notes
If you don't have pumpkin puree, just skip it and increase the diced tomatoes from 12 ounces to 14.5 ounces.