"This post was sponsored by a2 Milk® as part of an Influencer Activation for Influence Central. I received complimentary products to facilitate my review
My husband grew up in Minnesota, where dairy farms stretch as far as the eye can see and milk is consumed three times a day.
Even at age 40, his favorite snack is still either milk and cereal or milk and cookies, which he sometimes sneaks when he thinks I'm asleep at night. As much as he loves milk, it often gives him discomfort in his chest.
He isn't as inquisitive as me about health and had never really looked into it more, rather he just chalked it up as "one of those things". If he had done some research, he would have found that 1 in 4 Americans actually have discomfort after drinking milk. Only 5-7% of the population has been clinically diagnosed with a lactose intolerance medical condition.
Great news from a2 Milk® Company™ is that folks like my husband don't have to live with that discomfort or do away with milk altogether. Their a2 Milk® tackles the issue with most of the conventional and even organic milks on the U.S. market, which is that they have A1 protein. This A1 protein leads to many people's discomfort, and the a2 Milk® Company™ takes this head-on by specially selecting a2 cows whose milk is naturally free of the A1 protein.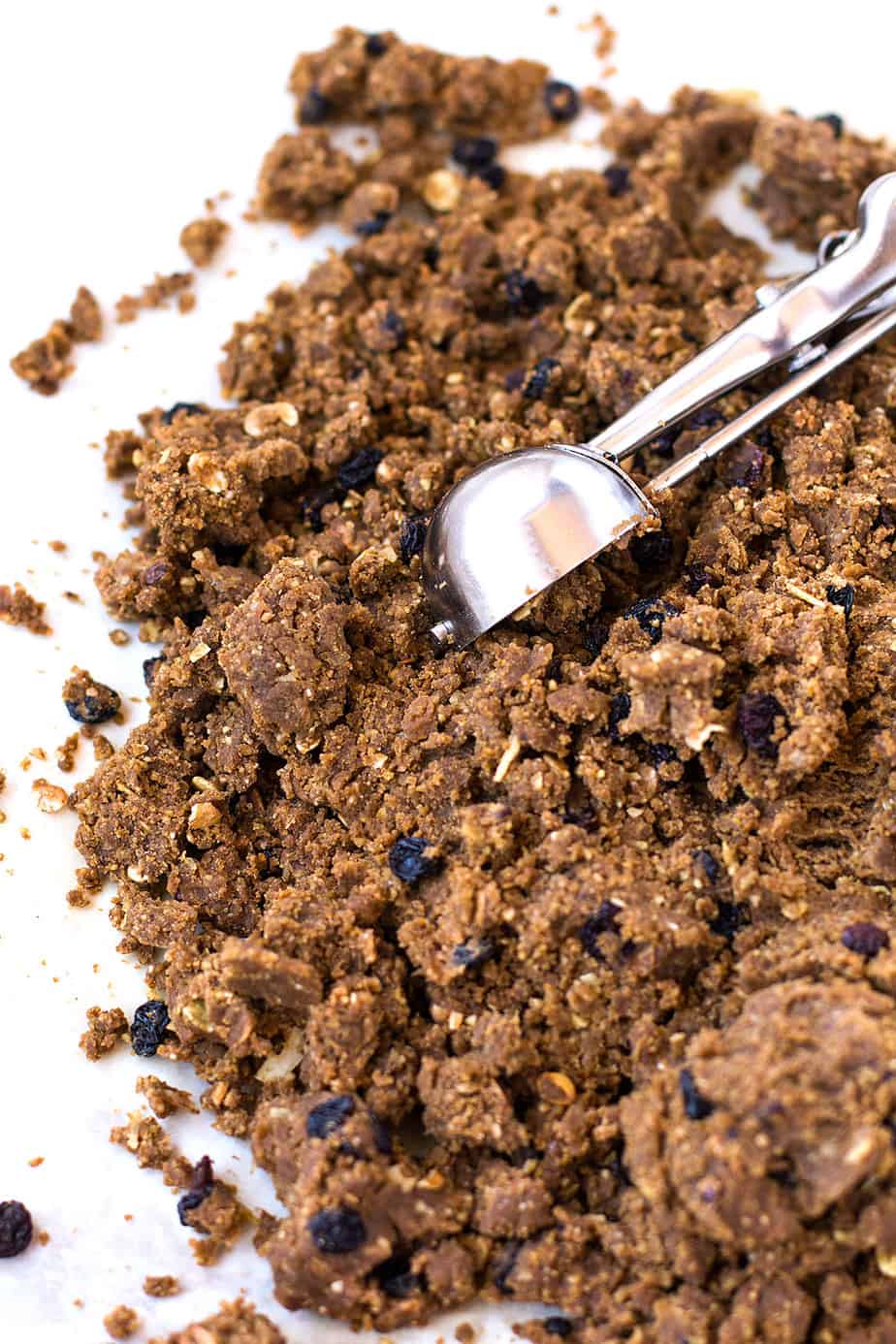 The difference in a2 Milk® from other brands is in its taste, too.
The purity shines through for a smooth and unadulterated taste. It's some of the best milk that me and my husband I have ever tasted. After one sip I think you'll will see exactly what I mean. Another big differentiator in a2 Milk® is how much healthier it is compared to other alternatives.
There is 6x the amount of calcium as soy beverages, approximately 8x the protein of almond beverages and 6x the potassium levels of rice beverages.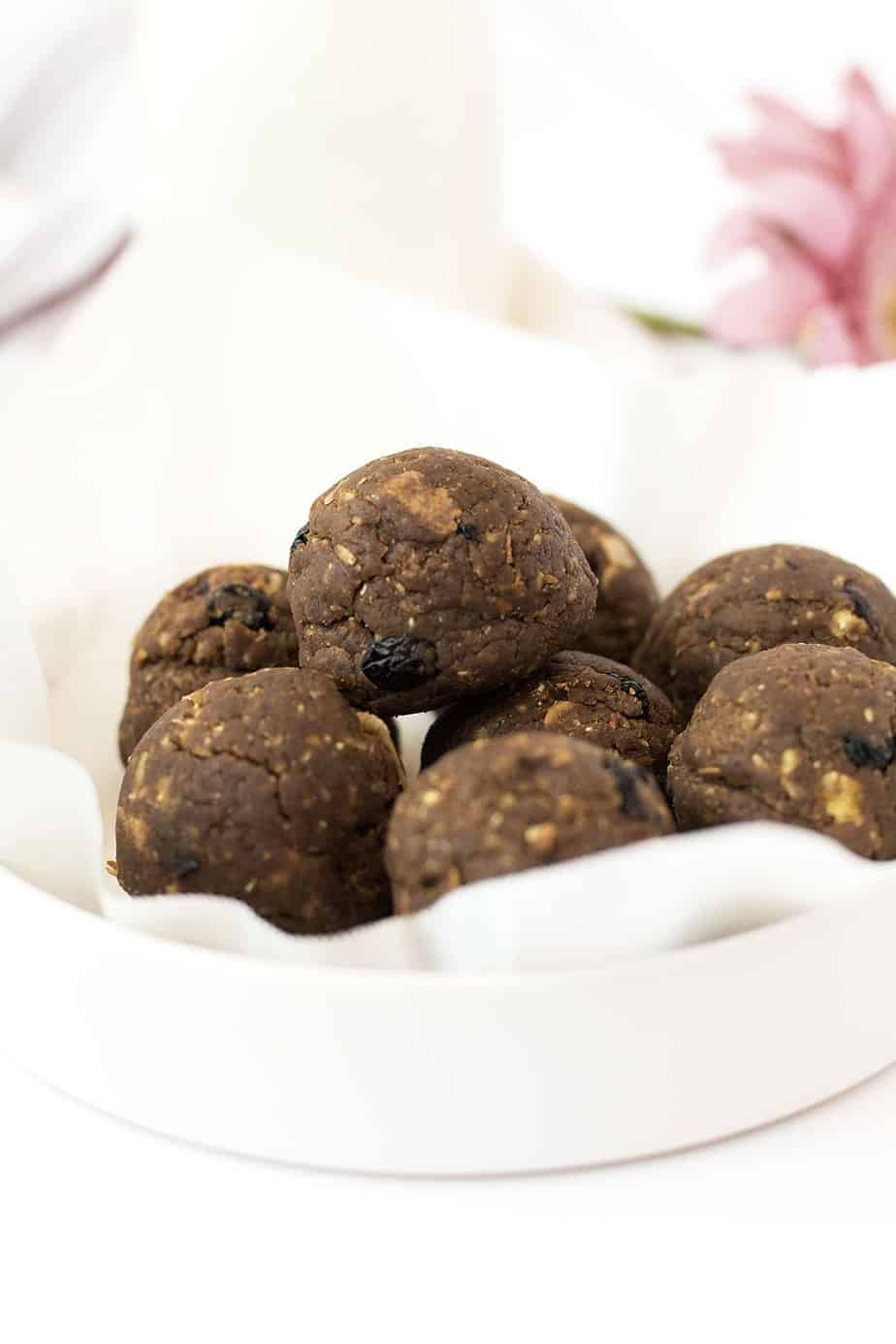 a2 Milk® makes having the classic snack of milk cookies a pain and discomfort free option again for millions of people. Below see my No-Bake Protein Balls Cookie Recipe, perfect to enjoy with a tall glass of milk. You will love that the recipe has no sugar added and is a completely no-bake option. It's so easy to make and can be ready in less than 15 minutes. I enjoy high protein foods for just about any meal, or for a pre/post-workout or for a healthier-option snack.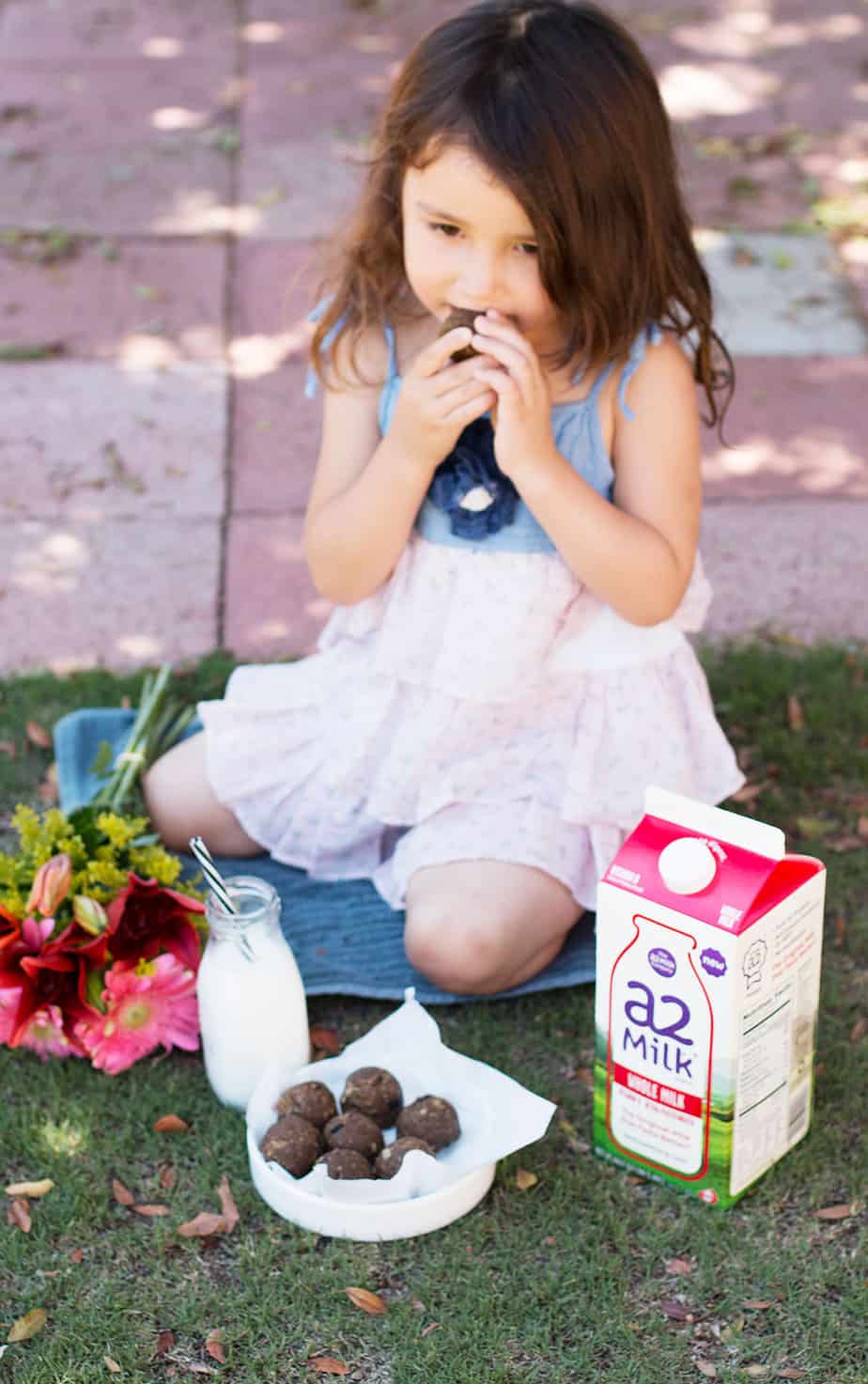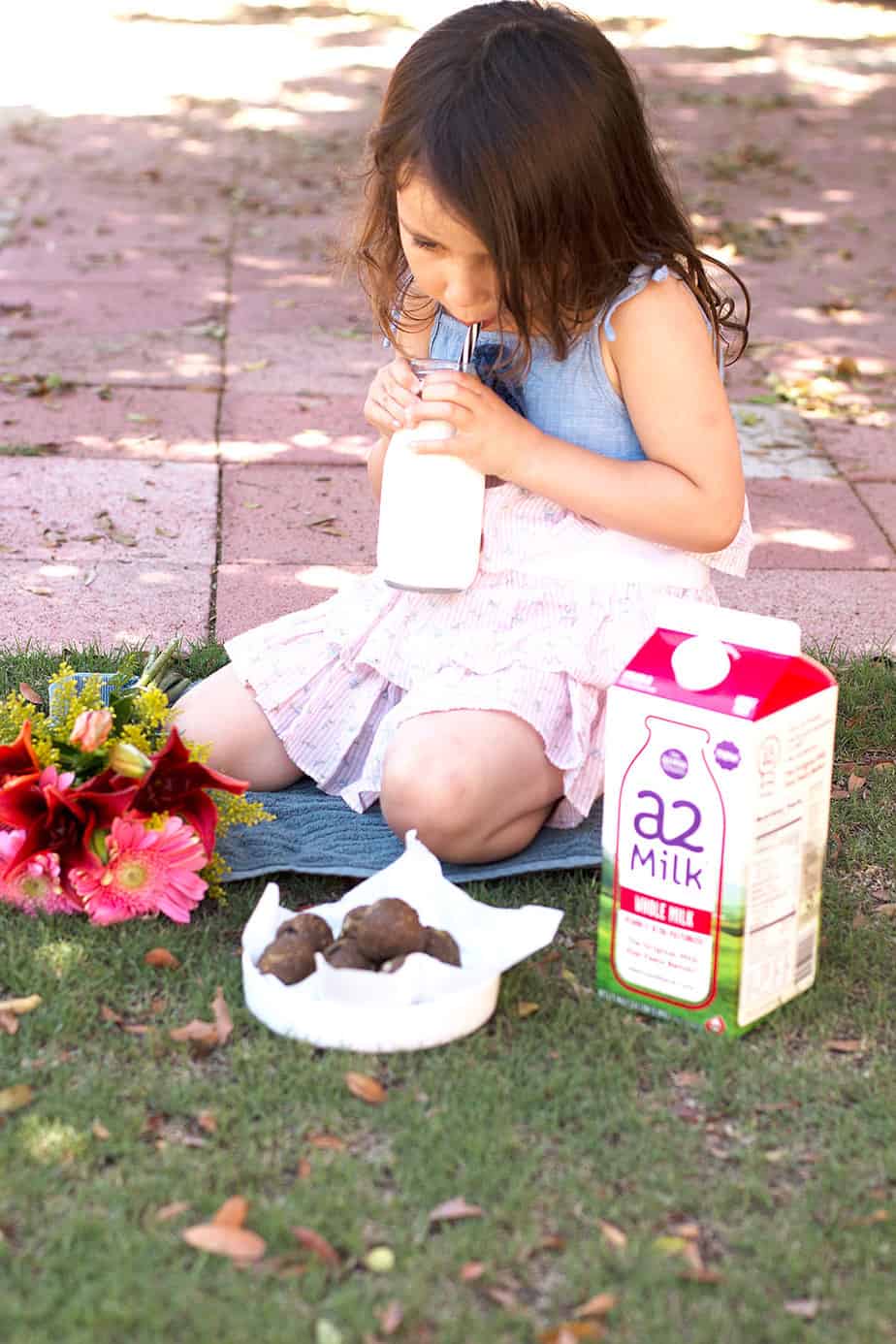 For more information and updates :
a2 Milk® Website: https://www.a2milk.com/
a2 Milk® Store Locator: https://a2milk.com/find/
a2 Milk® Facebook: https://www.facebook.com/a2milkUSA/
a2 Milk® Twitter: https://twitter.com/a2milk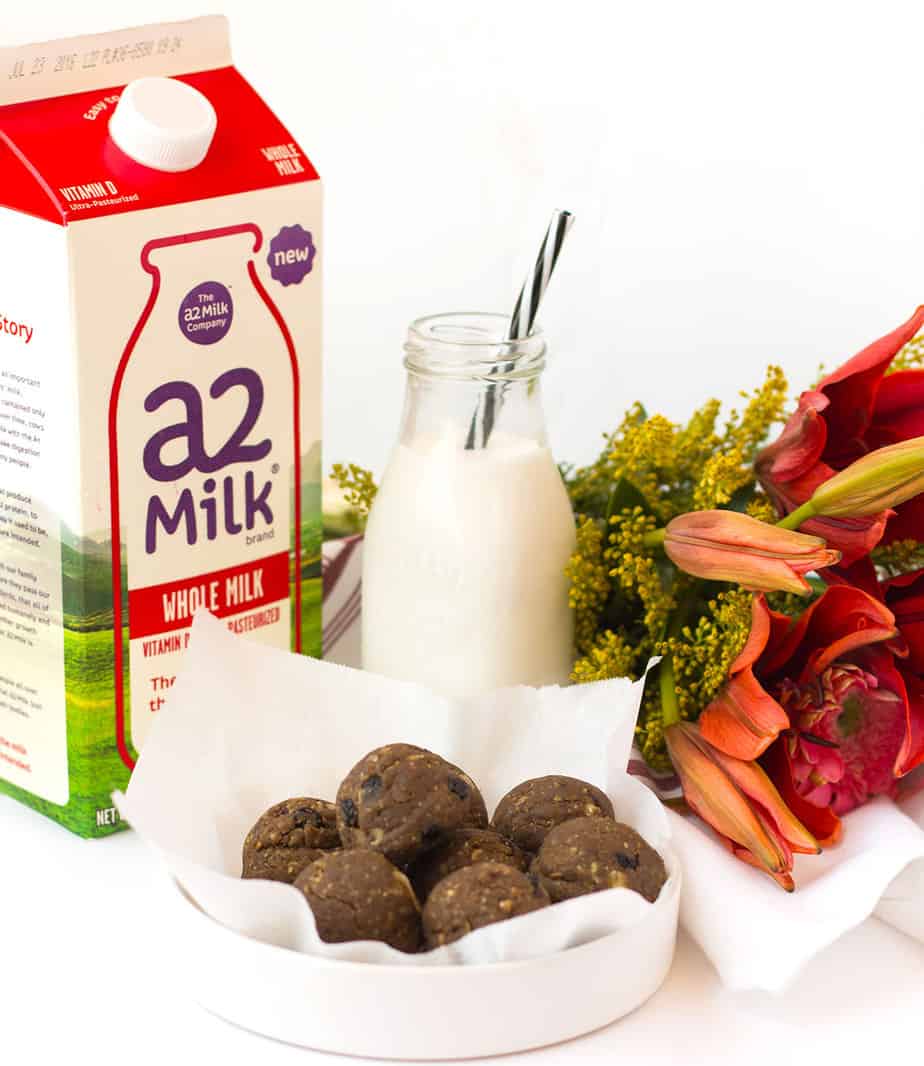 📖 Recipe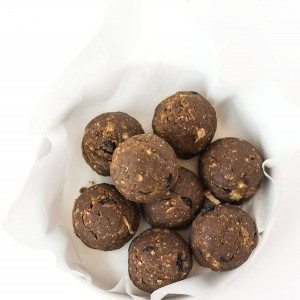 No-Bake Protein Balls
Ingredients
2

cups

uncooked/unsweetened high fiber oat

2

ripe large bananas

1

cup

almond butter/peanut butter

,

(no sugar, no salt added)

1

cup

vanilla or any protein powder of your choice

,

(preferably unsweetened)

½

cup

dried black currants or raisins

1

teaspoon

vanilla extract

1

teaspoon

ground cinnamon

3-4

tablespoon

hemp oil/coconut oil

,

(if you don't have any of these, just use the oil from the almond/peanut butter)
Optional:
½

cup

dried unsweetened coconut flakes

agave nectar/honey/maple syrup

,

(if needed)
Instructions
Mix all the ingredients above in a food processor, then blend until smooth.

Fill a cookie scooper scoop with the dough tightly and scrape the excess off with your hands. It's important to press tightly with your hands so it's very compact. Release the ball from the scooper, then use your hands to mold the dough into a ball by pressing gently on all sides. Let the balls sit for about 15 minutes then roll them into smoother looking balls.

You can also chill the mixture in the fridge for about 1-2 hours before molding them into balls to make them stick together more easily. Repeat this process for each ball.

Serve immediately or keep cold until serving.
Nutrition
Calories:
115
kcal
Carbohydrates:
9
g
Protein:
5
g
Fat:
7
g
Saturated Fat:
2
g
Cholesterol:
6
mg
Sodium:
7
mg
Potassium:
139
mg
Fiber:
2
g
Sugar:
2
g
Vitamin A:
14
IU
Vitamin C:
1
mg
Calcium:
43
mg
Iron:
1
mg