This is a sponsored conversation written by me on behalf of Veetee. One Pot Beef Stew Slow Cooker Recipe with Veetee Dine In Rice
Here's a great easy beef stew to add into your slow cooker recipe collection. This one-pot beef stew consists of fresh vegetables: carrots, onion and a high in antioxidant tomato sauce. The cooking process is very simple: using your favorite slow cooker, just dump all of the ingredients into one pot, then cook on low for 6-7 hours or 4-5 hours on high. The beef stew meat comes out so tender and the herbs bring a good amount of flavor for the broth. I served this beef stew with my favorite Veetee Dine in Rice. It's so delicious, microwavable rice that is ready in just 2 minutes!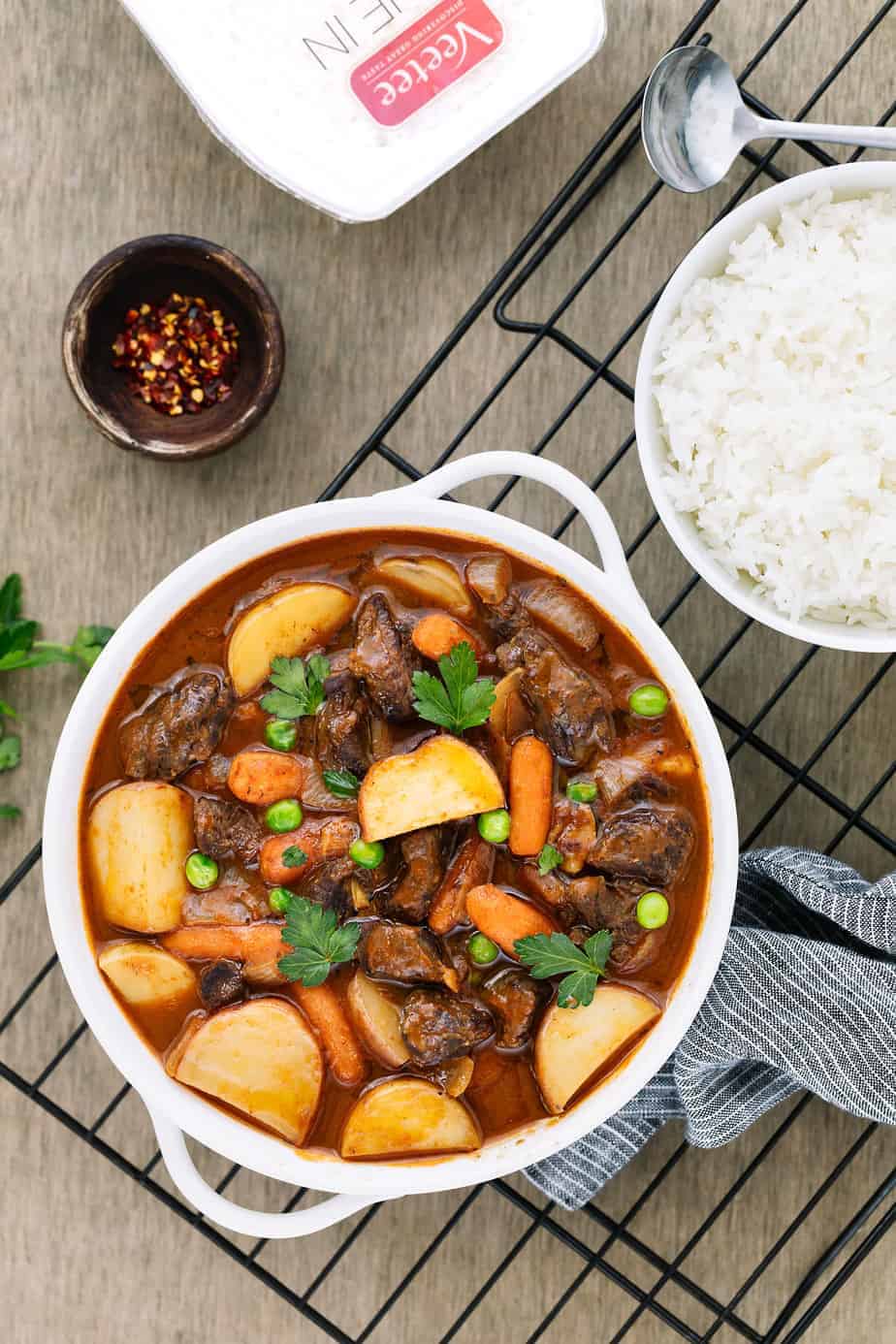 Coming from an Asian family I have pretty high standards in the rice that I have in my kitchen. While the way that my mom showed me on preparing rice will always be my favorite, I don't always have time to cook up rice (alongside all of the other food I need to prepare alongside it, be it a stir fry dish, hot-pot dish or something else). Veetee really stands out from any competitor brand for their solution to the chore of spend a long time cooking rice. The difference isn't just in the preparation time, but in the flavor as well with the best types of rice (like Thai Jasmine Rice, which is my favorite flavor from Veetee as it has always been a hit for my entire family). They have other types too: Basmati, Whole Grain Brown Rice (with or without Quinoa!) and a lot more. My dinner has become so much easier and I love that I didn't have compromise on taste. As a blogger and mom I only have a small amount of active time in the kitchen. I have to cook for my blog and also prepare other meals for my family so of course kitchen solutions are very welcome in my house. The slow cooker revolutionized cooking for me and I've never looked back. Veetee Dine In Rice falls in the same bucket and I am thrilled about it.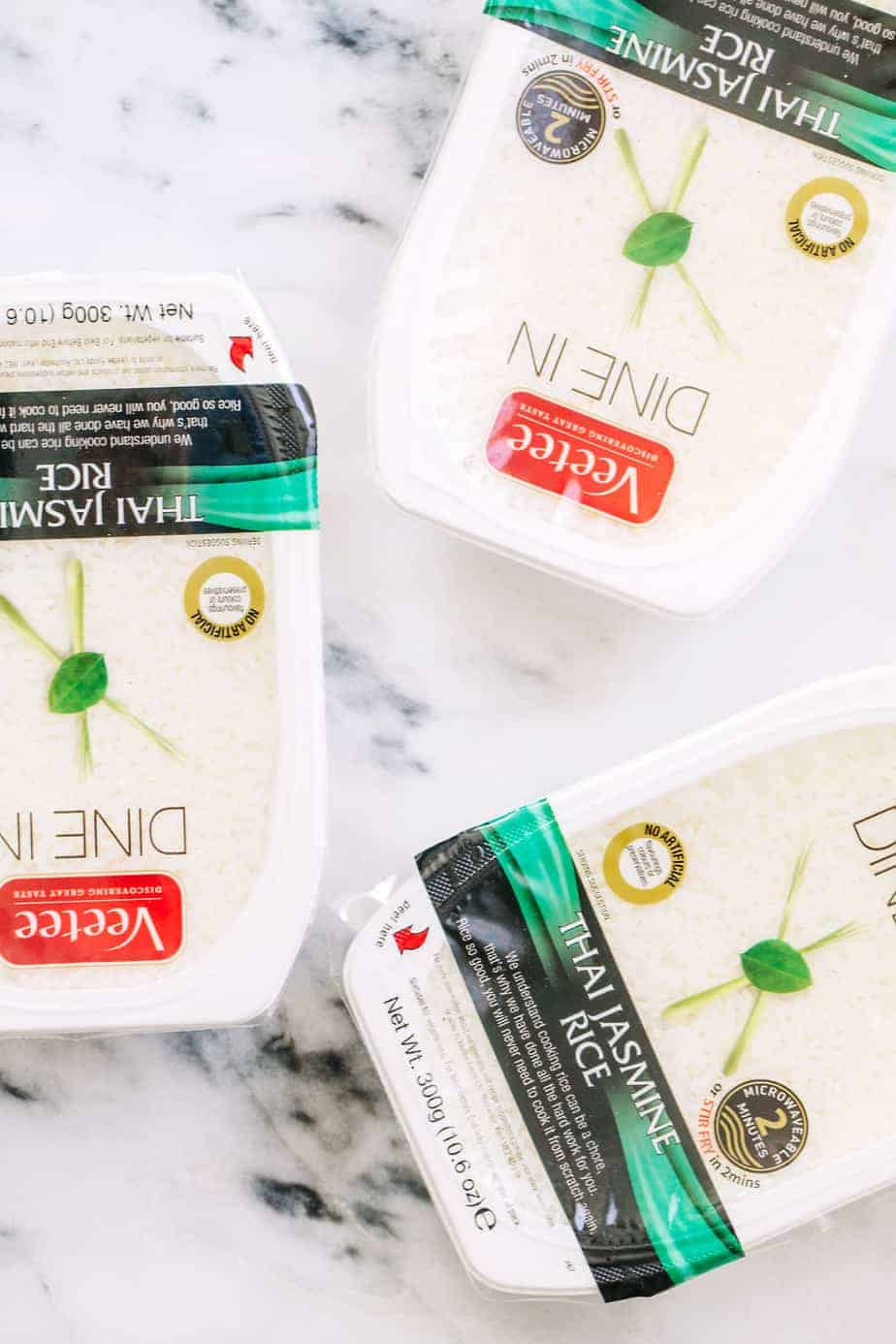 Congratulation to Carol Sue!
You can learn more about Veetee here and Don't forget to enter a giveaway:
One winner will win two (6-packs) Veetee rice. Ends 4/5/2017. US only.
Visit Veetee and sign up for Veetee's newsletter
What is your favorite rice? Please leave your answer on the comment box below.
Share this post on social media, you can leave the link on the comment box below.
Optional : follow Posh Journal on Facebook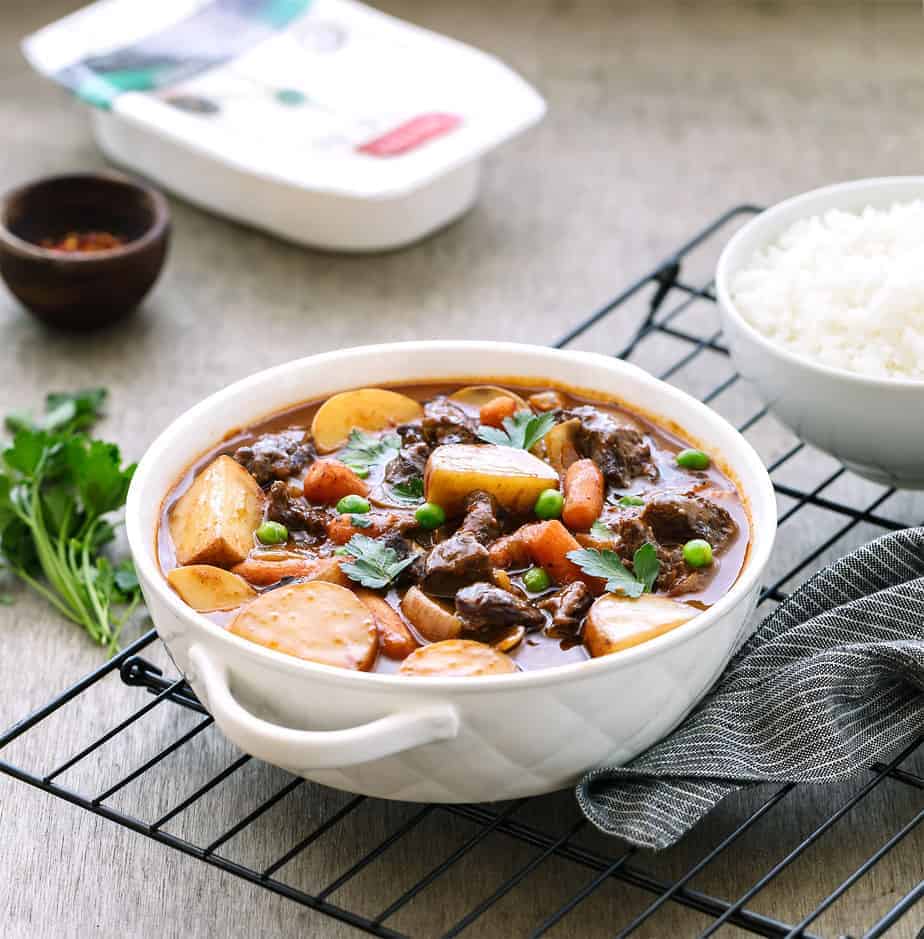 Hope you'll enjoy this easy dinner recipe : One Pot Beef Stew - Slow Cooker!
📖 Recipe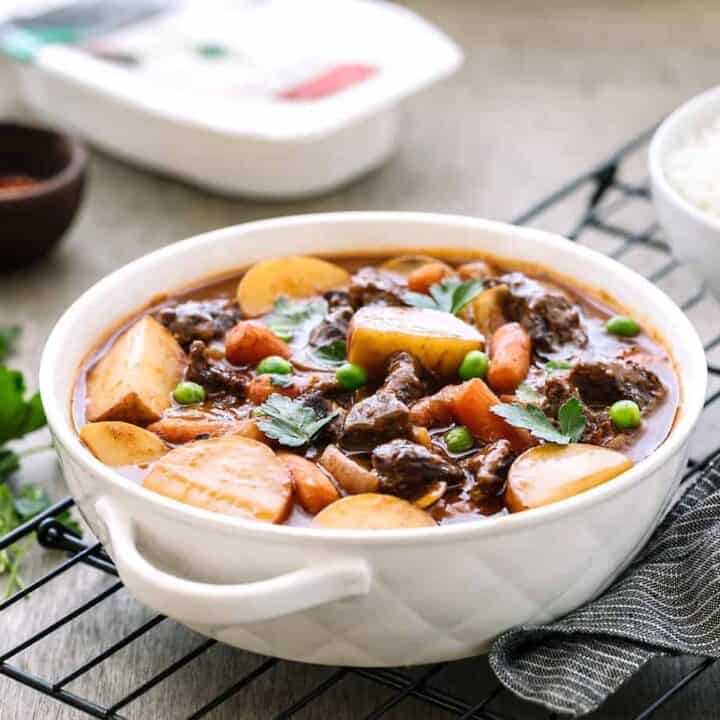 One Pot Beef Stew Slow Cooker
Instructions
In a mixing bowl, combine together all-purpose flour and black pepper. Add the beef and toss to coat.

In a large Dutch oven, heat the oil and cook the beef stew until browned. Transfer to the slow cooker.

Add chopped onion, garlic cloves, tomato sauce, red wine, beef/vegetable broth, carrots, potatoes, Worcestershire sauce, paprika, bay leaves, Italian seasoning into the slow cooker.

Cook for 6-7 hours on low or 4-5 hours on high heat.

Add salt/pepper to taste.

Serve and enjoy with Veetee Dine In Rice