This is a sponsored post written by me on behalf of RAGÚ® Homestyle Pasta Sauce. All opinions are entirely my own. The Best Pizza Soup Recipe for The Big Game!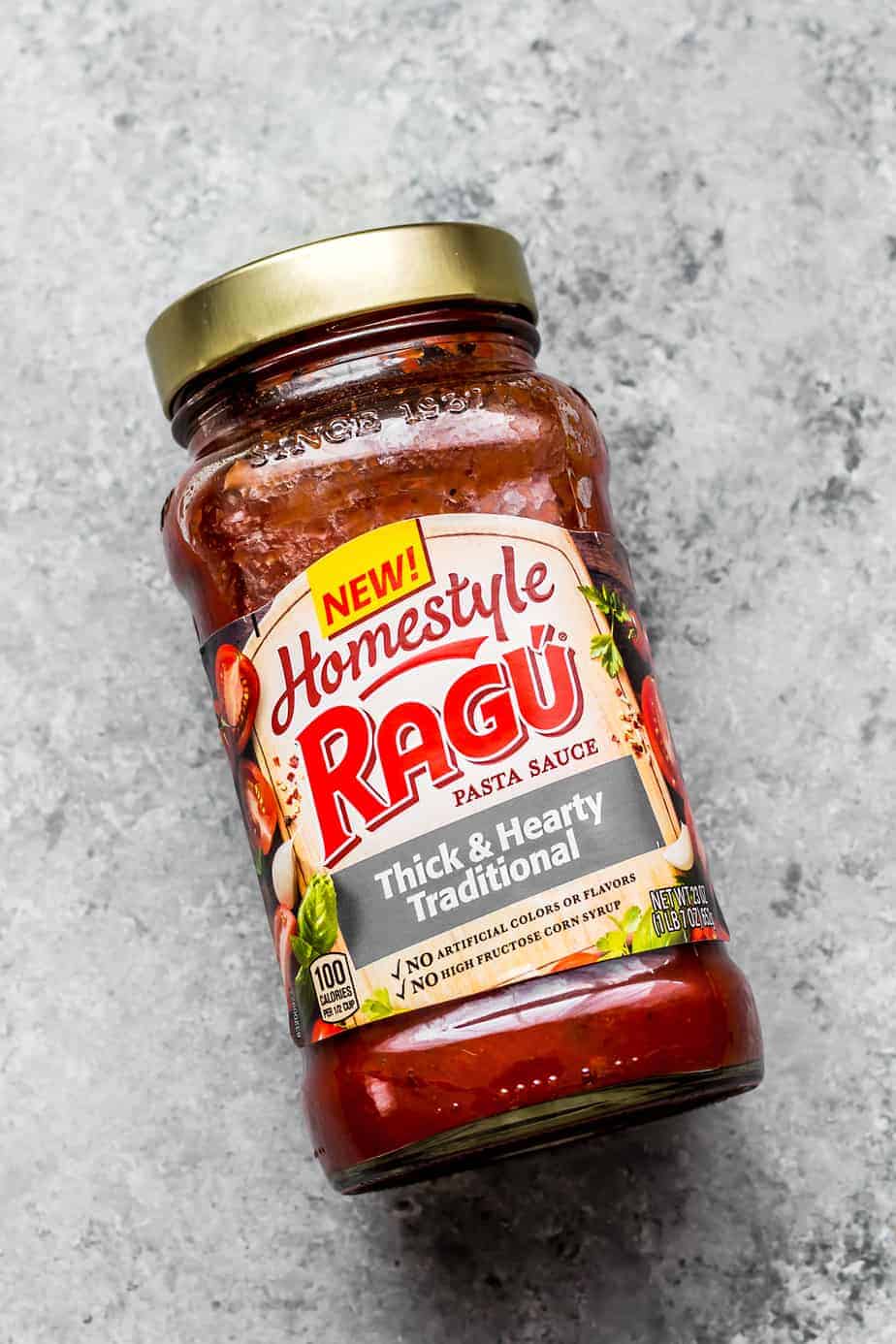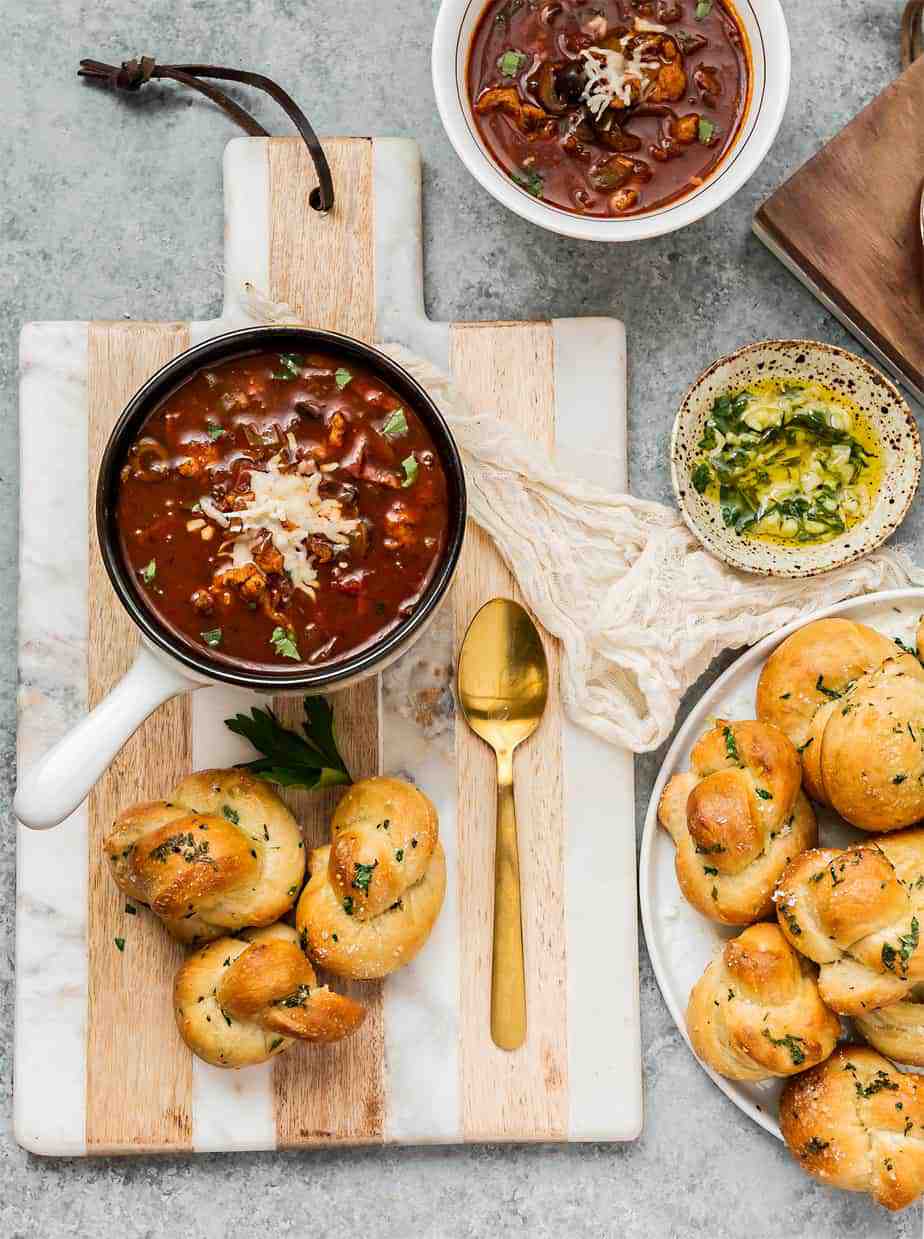 This Slow Cooker Meat Lovers Pizza Soup recipe is a sure hit for the tailgating (homegating) party that we have coming up for The Big Game. My house will be filled with hungry football fans who'll want filling, hearty food, and I want them to enjoy something unique and different from the run of mill game day food. I think this is the best pizza soup recipe for my needs as it loads up on flavorful ingredients yet is low carb, so those watching their diet can dive in and still have a bowl. We are big fans of meat lovers pizzas, and in a soup it is even better, so don't feel confined to having to choose between sausage and pepperoni. I used chicken sausage which is a bit different than a traditional Italian pizza, but went back to basics on the veggies with black olives, mushrooms and onions.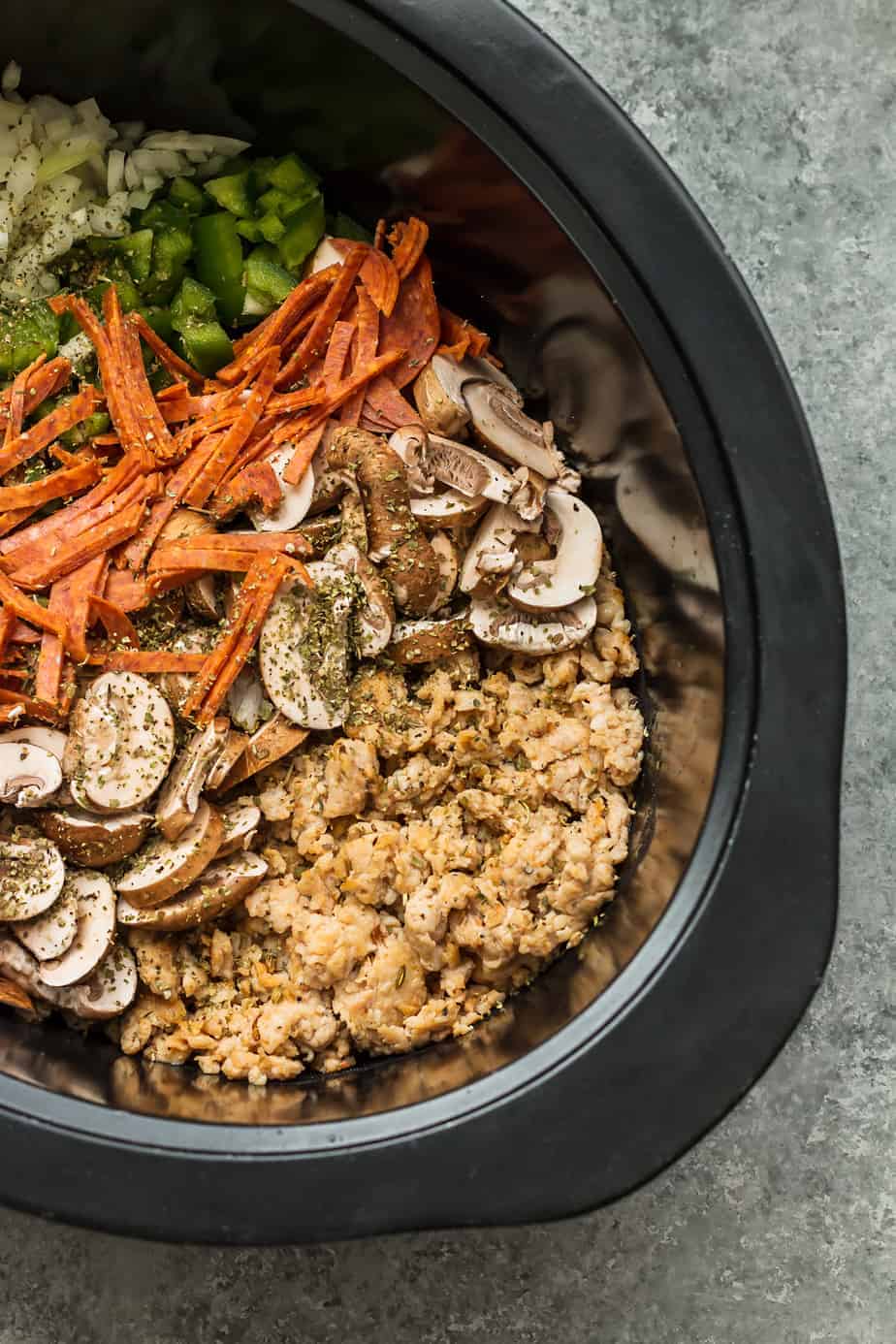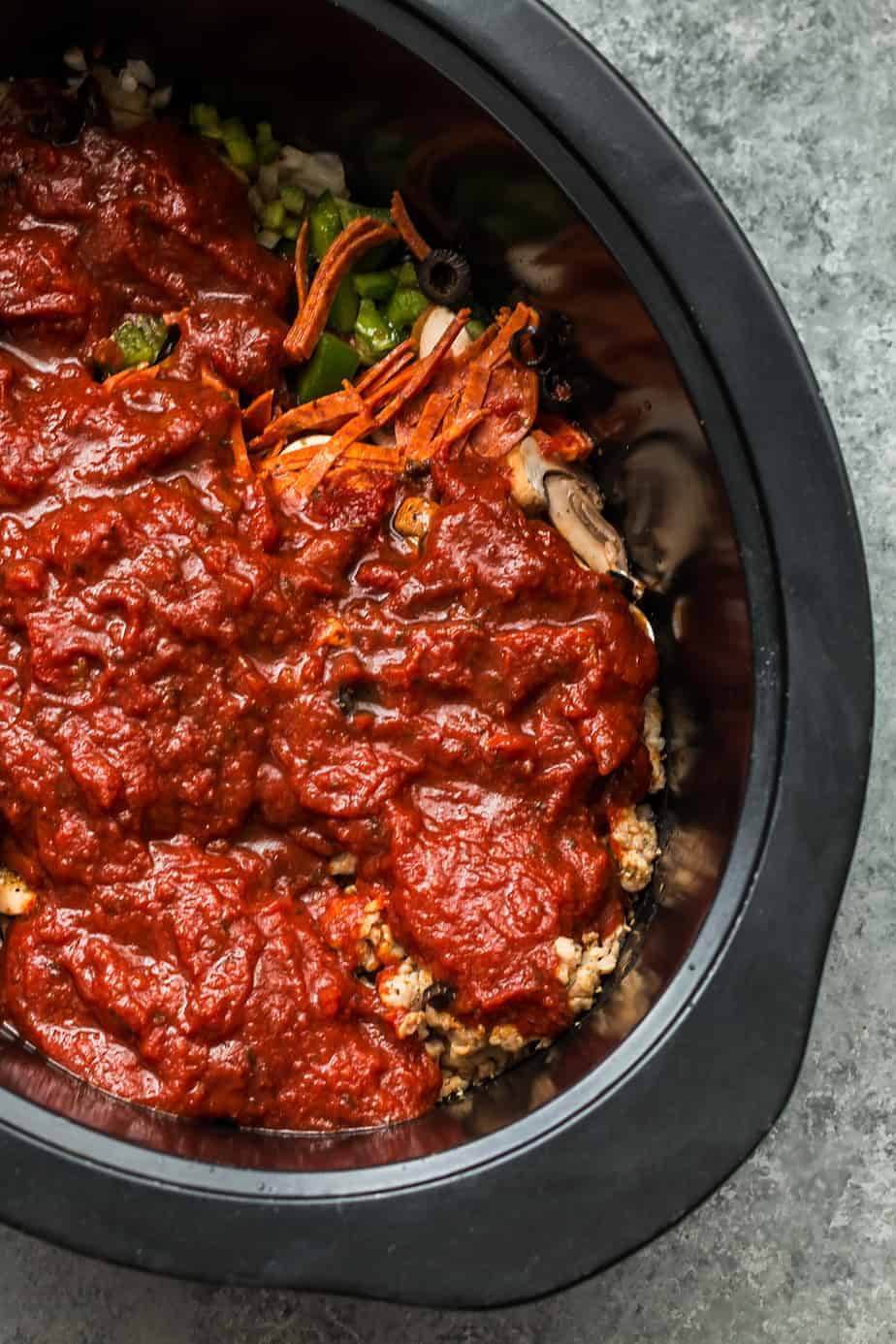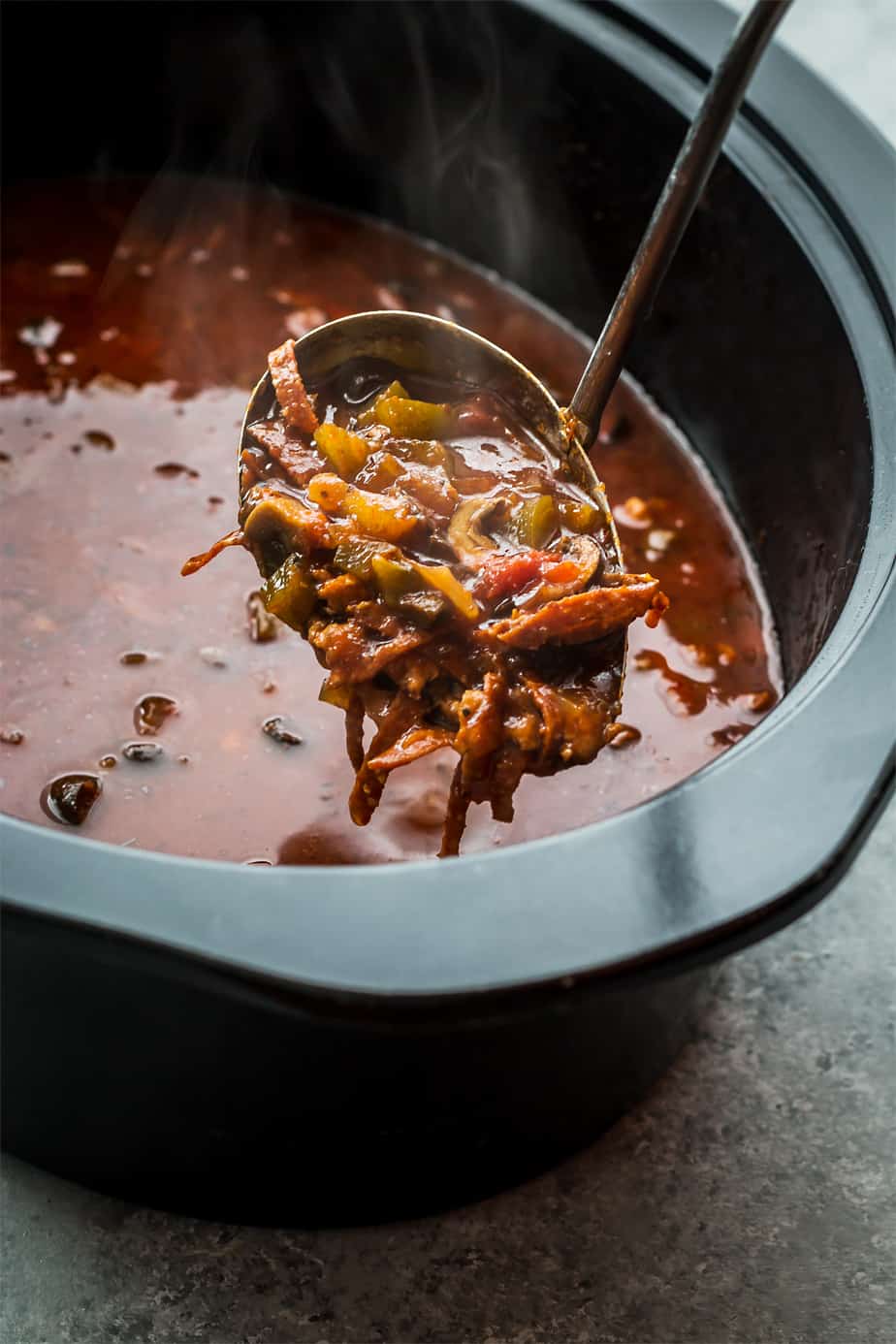 A Healthy Pizza Alternative
Pizza Soup is a healthy pizza alternative that gives my family the pizza ingredients and flavors that we all crave. My kids ask for pizza more than any other meal for lunch and dinner, but we try to keep our pizza intake to just once every week or two. Pizza soup conjures up the reaction of pure jubilation with my kids, yet they're getting more veggies and meats and less of the carbs and fat. This is a multifaceted win for me as a mom, as they're eating better and I also gain leverage in my kids doing chores, etc. every time that I give them pizza anything.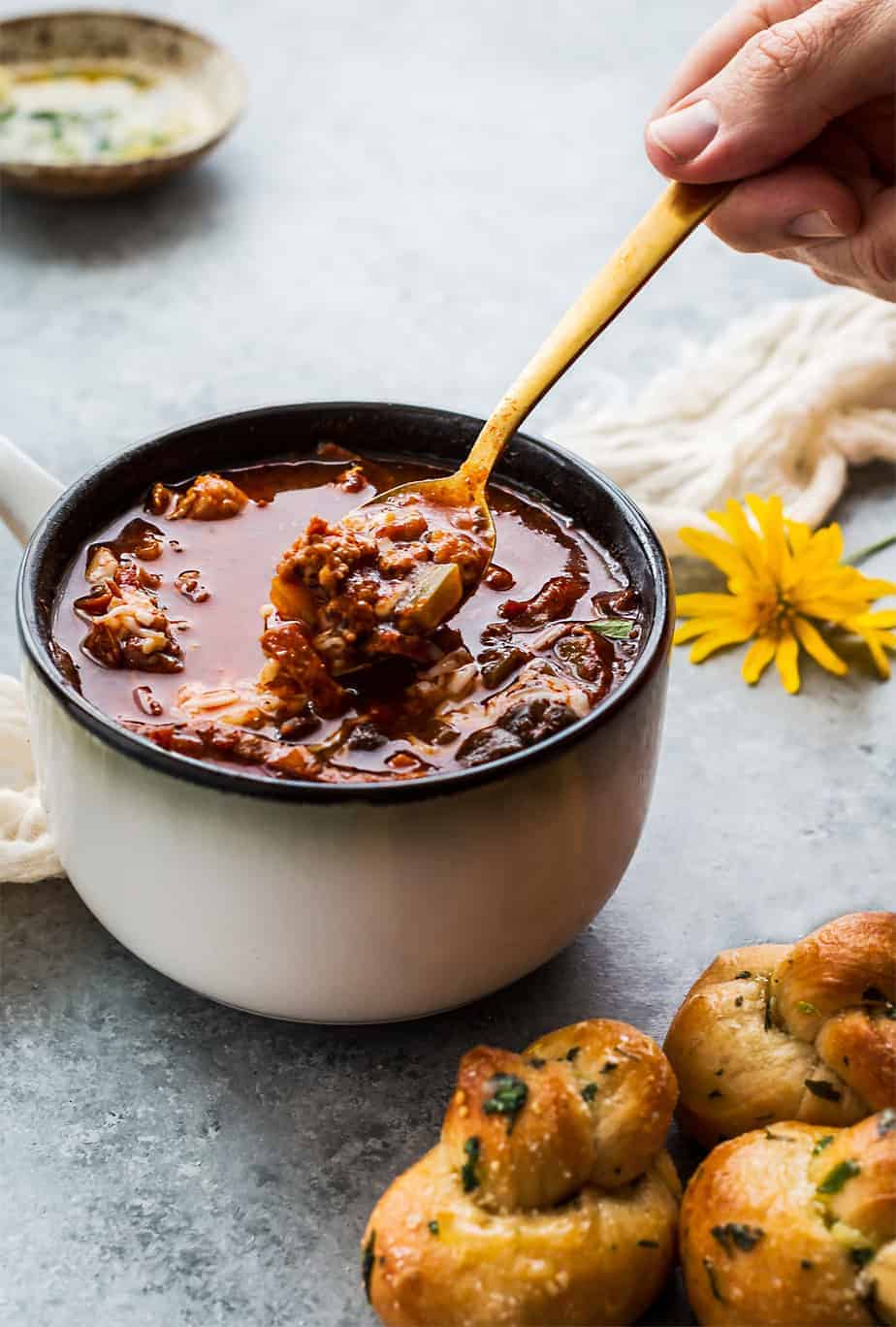 A Pasta Sauce Recipe (that is Not Pasta!)
· RAGÚ® Homestyle Pasta Sauce was clutch in this recipe, as it has the same sweet and savory tastes that you want in a pizza soup. The tomato taste is rich without being overly sweet so I really enjoy it in pasta and non-pasta dishes. The whole line of RAGÚ Homestyle pasta sauces have worked well for me in everything from meatloaf to cocktail sauce to paninis. Of the four flavors available I probably reach for the Roasted Garlic bottle the most as I'm a garlic fanatic, you can find all four at your local Kroger. RAGÚ Homestyle Thick & Hearty Traditional Sauce uses peeled, chopped and simmered ingredients to create a delicious meal.
RAGÚ Homestyle Traditional Pasta Sauce 23 oz.
RAGÚ Homestyle Cheese Pasta Sauce 23 oz.
RAGÚ Homestyle Meat Pasta Sauce 23 oz. ·
RAGÚ Homestyle Roasted Garlic Sauce 23 oz.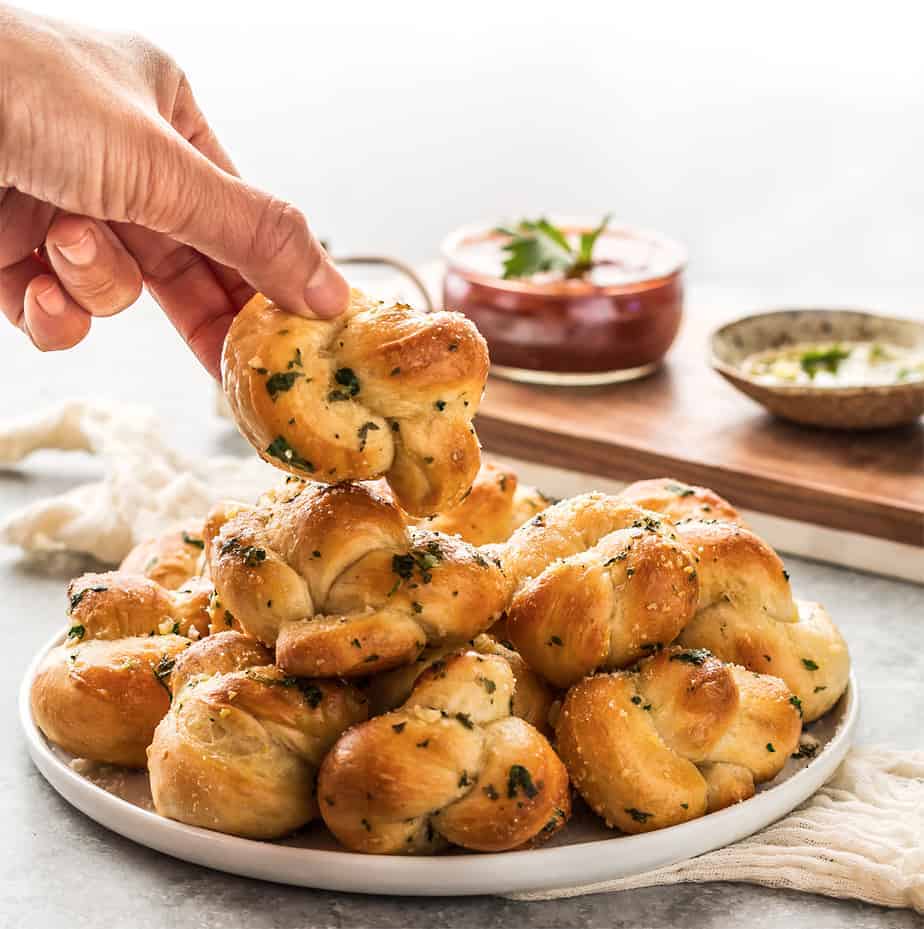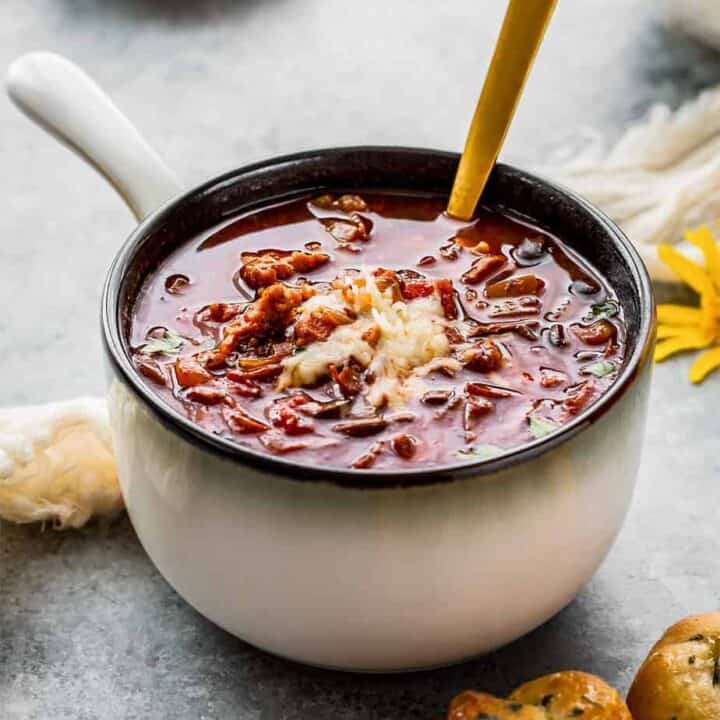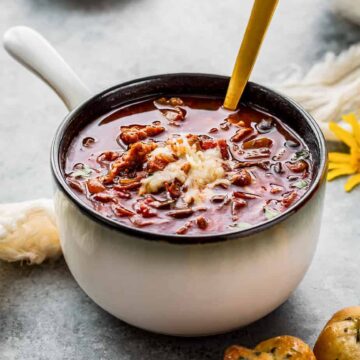 Pizza Soup in a Slow Cooker
Ingredients
1

tablespoon

olive oil

1

pound

Italian chicken sausage

,

chasing removed or buy bulk

1

can (3.8 oz)

sliced black olives

1

jar (23 oz)

RAGÚ Homestyle Traditional Pasta Sauce

1

medium

fresh green bell pepper

,

diced

3

oz

pepperoni

,

cut into thin slices (add more according to your liking)

4

cups

beef broth

,

(or use 5 cups if you want a thin broth)

1

medium

onion

,

chopped

1

tablespoon

Italian seasoning

1

teaspoon

garlic powder

½

pound

fresh bella mushrooms

,

cut into thin slices

salt/pepper

,

to taste

part-skim mozzarella cheese
Instructions
Heat the oil in a skillet over medium heat, cook onion until translucent for about 1-2 minutes. (or put the raw chopped onion into a slow cooker to save time).

Add the chicken sausage and cook until browned. Remove from the heat.

Place all the ingredients (except cheese) into a slow cooker.

Cook on low for 7 hours or on high heat for 3-4 hours

Add salt/pepper to taste if needed

To serve: Sprinkle the soup with mozzarella cheese while its still warm and enjoy with homemade garlic parmesan cheese bread on the side.
Nutrition