Here's a quick Orzo Pasta Salad with a homemade, light, yogurt vinaigrette dressing. This orzo salad is very refreshing and healthy. The yogurt dressing is a great replacement for cheese that's often used on salad recipes.
I love using Orzo in many recipes from salad, side dish to soups. Orzo can be served alone and still taste so good! This orzo pasta salad recipe is using simple ingredients. I reduced the amount of calories and fat by eliminating feta cheese. I used greek yogurt for this dressing recipe to add an extra protein for my diet. If you need a boost in Vitamin E (for a sunburn or just glowing skin in general) this salad provides a healthy dose of it.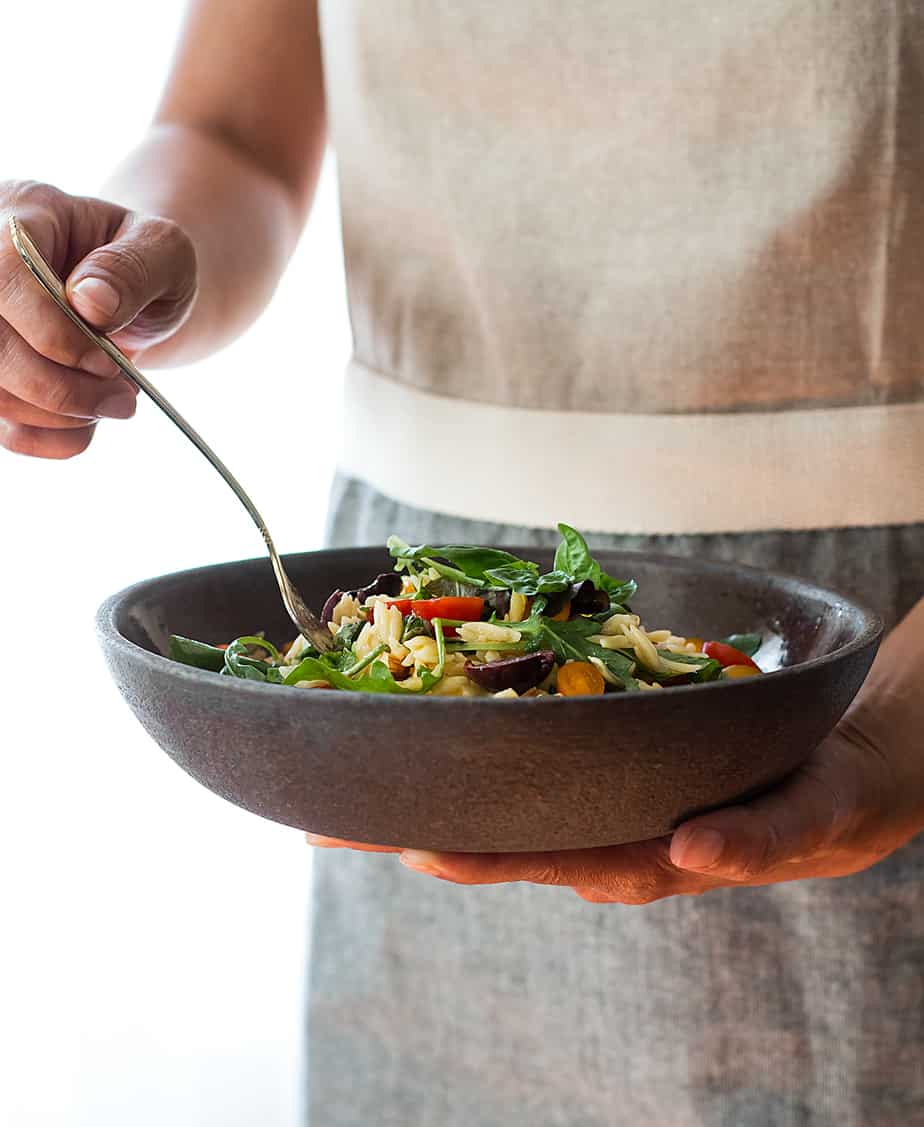 This orzo pasta salad recipe is also perfect for picnic or pot luck. You can make this orzo salad in a big batch and fridge it overnight with or without salad dressing. This is the perfect summer salad recipe, very light and refreshing. If you have Gluten Intolerance, don't worry as you can find many Orzo products that are Gluten Free or Wheat Free at local grocery markets or online, such as Amazon.com.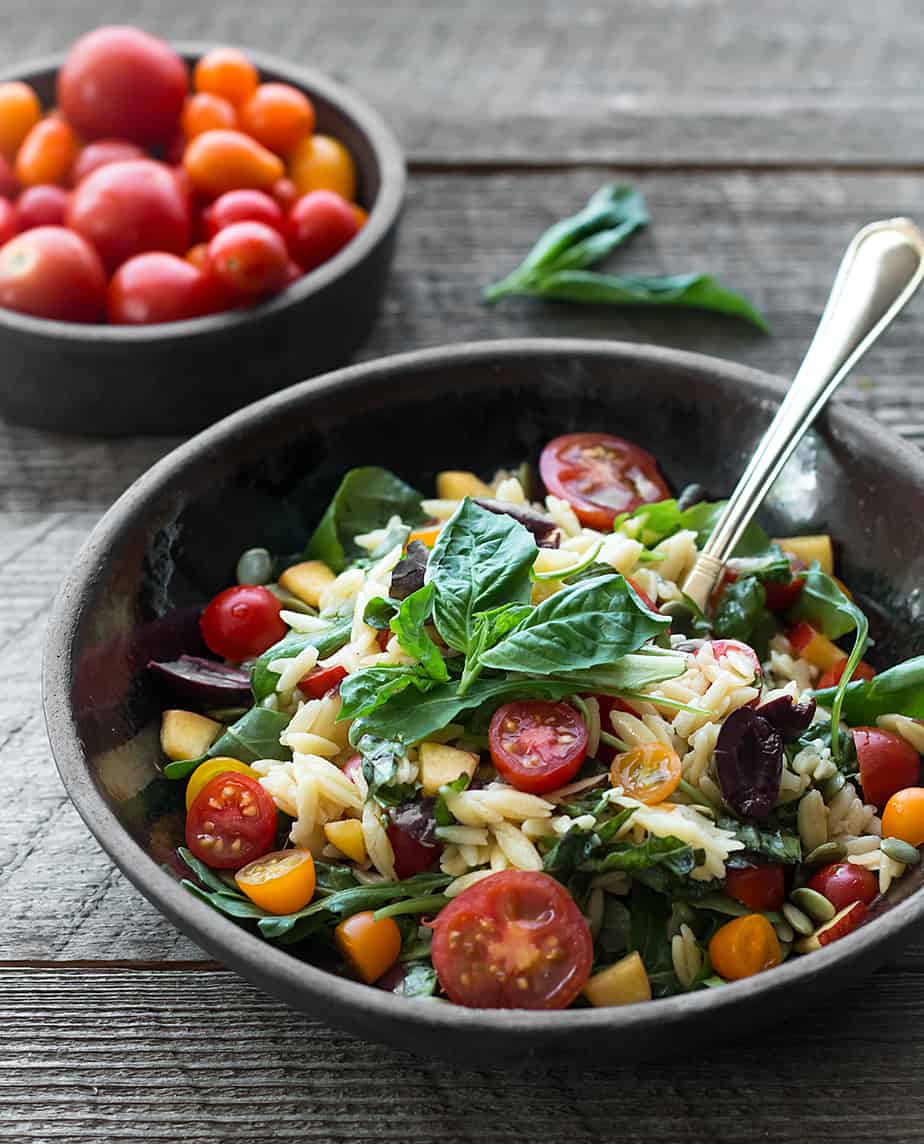 In this orzo pasta salad recipe I also added some black olives. To reduce the amount of sodium of black olives, I washed and quickly dried the olives. I hope you enjoy this orzo recipe, I plan on bring you more in the wintertime! Orzo has a unique texture that looks closer to rice than other forms of pasta. I love how the oil, vinegar, lemon juice and tomatoes bring a juiciness that matches so well with this orzo, and I think the yogurt dressing puts it over the edge and amongst my favorite salads. The basil, nectarine, almonds and pumpkin all bring unique flavors that make it even more memorable.
📖 Recipe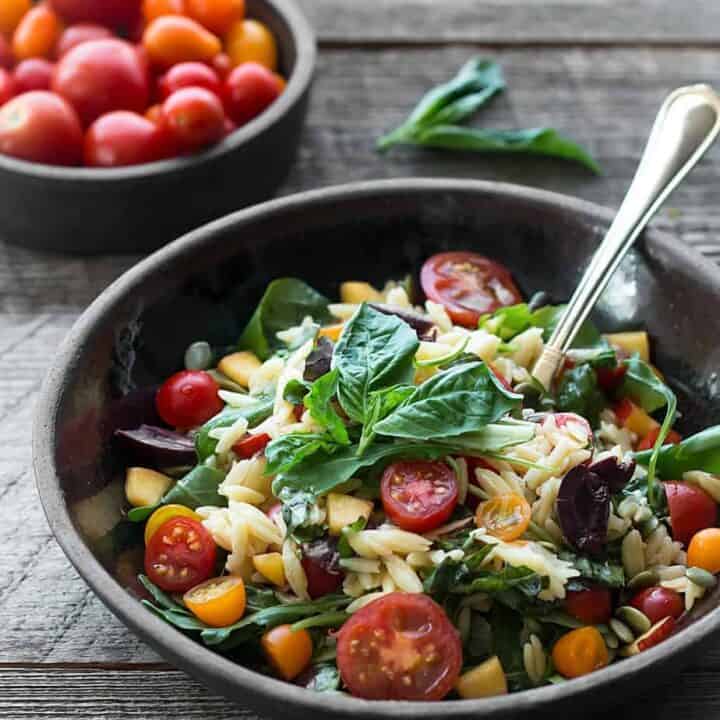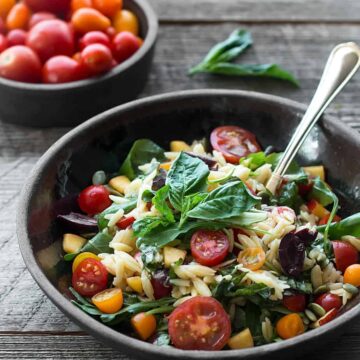 Quick Orzo Pasta Salad
Ingredients
2

cups

cooked Orzo

,

see packaging for directions on cooking the Orzo

1

cup

fresh tomatoes

½

cup

fresh chopped basil

½

cup

fresh nectarine

1

cup

fresh mixed greens (arugula

,

spinach, red lettuce)

1

tablespoon

sliced almonds

1

tablespoon

pumpkin seeds

2

tablespoons

black olives

,

wash and drain

For Yogurt Vinaigrette Salad Dressing:

½

cup

extra virgin olive oil

¼

cup

red wine vinegar

½

to 1 lemon

,

juiced

1

tablespoon

yogurt

1

teaspoon

honey,

or more according to your liking

½

teaspoon

salt

a pinch of freshly ground black pepper
Instructions
Whisk together all dressing ingredients. Add more salt, honey and pepper if desired.

Place cooked orzo, tomatoes, chopped basil, nectarine, mixed greens, sliced almonds, pumpkin seeds and black olives in a serving bowl.

Pour in the yogurt vinaegratte dressing and stir until well combined.

Serve immediately or fridge until ready to use.