Here's a delicious, roasted garbanzo beans salad with refreshing and tangy veggies that make it unforgettable.  This is a high protein salad that will actually fill you up. I added fresh curly parsley, mint, tomatoes, red onions and a surprise ingredient of goji berries, with a refreshing homemade sumac honey-lemon salad dressing.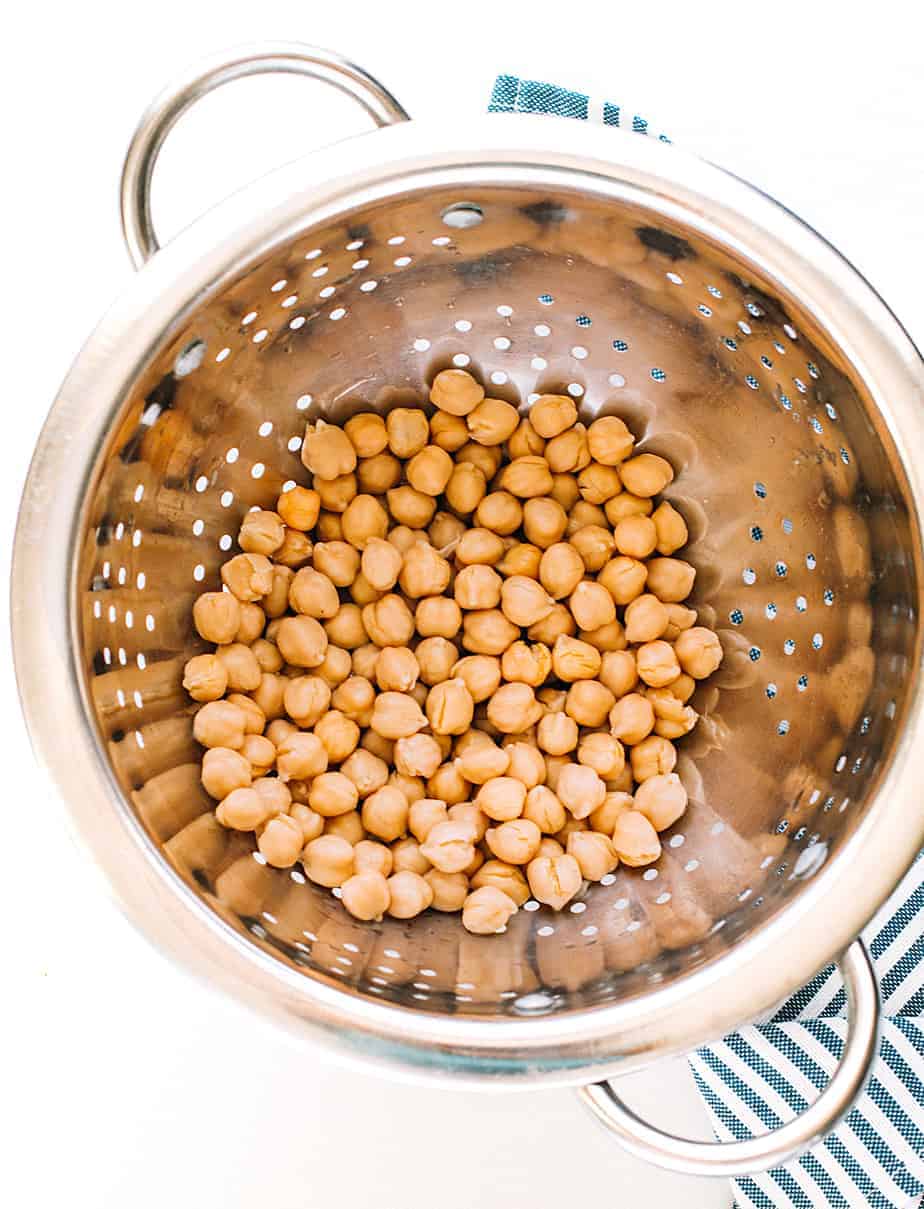 Roasted garbanzo beans are my favorite healthy snack and bring a nice texture and taste for a salad. Garbanzo beans are filling and low in saturated fat and cholesterol, but contain high amounts of folate and manganese. Garbanzo beans have long been valued for their fiber and protein content.  I would recommend buying Garbanzo beans with no salt, added and if you are buying canned Garbanzo beans, be sure to look for a BPA-FREE 0r Non BPA lining can.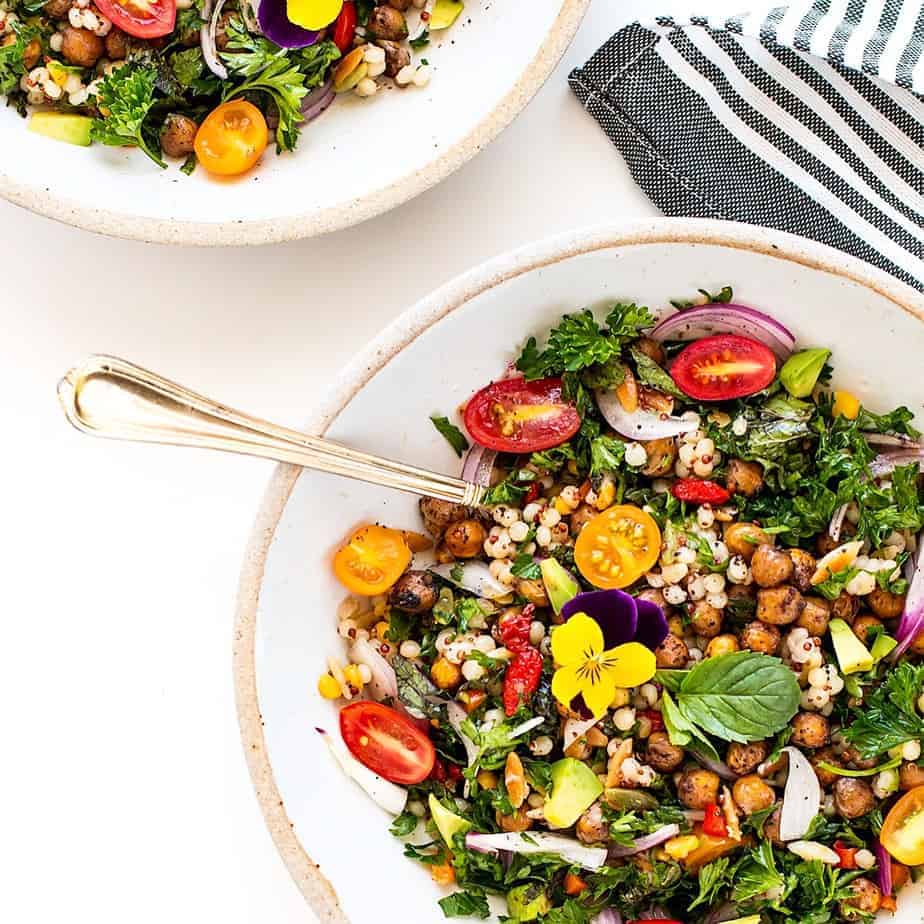 I roasted the Garbanzo beans in light olive oil, salt and sumac powder. Sumac powder has tangy lemon flavor, yet it is more balanced and less tart than lemon juice.
Sumac is a very popular condiment in Turkey and Iran and is an essential ingredient in Middle Eastern cooking.  Purchase sumac from Amazon.com or at many international markets. I bought my Sadaf Sumac Powder (pure sumac without any other ingredients) at local market for less than $5 per 12.5 oz.
Ingredients
1

can Garbanzo Beans

wash and drain, unsalted

1

tablespoon

olive oil

or use olive oil cooking spray to help cut back the calories/fat

1

teaspoon

salt

2

teaspoons

sumac powder

2

cloves

garlic

minced

black pepper
Instructions
Preheat the oven to 425F

In a bowl, toss garbanzo beans/chickpeas with olive oil and season to taste with salt, sumac, garlic and black pepper

Spread on a baking sheet

Roast the garbanzo beans for 10-15 minutes. Watch carefully to avoid burning

You may also cook the chickpeas a bit longer to make them crispier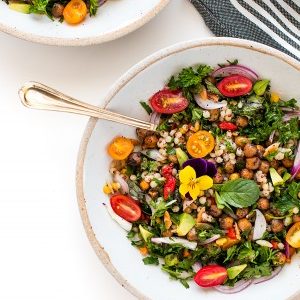 Ingredients
2

tablespoons

fresh lemon juice

or more according to your liking

1

teaspoon

finely grated lemon zest

1

tablespoon

honey

1

teaspoon

sumac

or more according to your liking

1/2

teaspoon

chopped thyme

1/4

cup

extra-virgin olive oil

salt and black pepper
Instructions
In a small bowl, whisk together all of the above ingredients.

Serve immediately or keep it in the refrigerator for up to 2 days.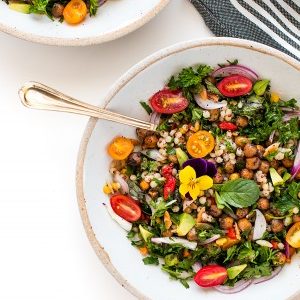 Roasted Garbanzo Beans with Sumac Honey Lemon Salad Dressing
Print
Pin
Rate
Ingredients
1 1/2

cups

fresh parsley

chopped finely

1/2

cup

fresh tomatoes

halved or quartered

1/2

cup

fresh mint leaves

chopped

1/3

cup

fresh red onion

thinly sliced

15

oz

roasted garbanzo beans

2

cups

cooked whole grains ( such as mixed couscous

quinoa or lentils)

2

tablespoons

dried goji berries

fresh avocados

chopped

Sumac Honey Lemon Dressing

Like many salads

this one is very customizable so feel free to remove parsley, etc. or add other ingredients to your liking.
Instructions
Arrange all the ingredients above in a large salad bowl

Drizzle with sumac honey lemon dressing and mix well

Serve immediately

You can also make this salad for the next day and keep it the fridge for up to 24 hours.

Pour the salad dressing when you are ready to eat.