This post is sponsored by Foster Farms. The opinions stated are my own. Thank you for supporting the brands that keep Posh Journal cooking.
I've been using Foster Farms Organic Ground Turkey to make stews and other crock-pot recipes for the last couple of weeks and couldn't be happier with the results. In recipes like this slow cooker ground turkey vegetable stew, I usually just toss the turkey and fresh vegetables into a crock pot, shake some spices and I'm already 90% of the way towards something delicious.
I'm probably the perfect target customer for Foster Farms as I am very health conscious and making strives to cook and eat better each day and month. As a mother of two beautiful children and a husband whose weight fluctuates up and down, I am always determined to make smarter decisions when it comes to our daily lifestyles. That includes food, exercise, the amount of sleep we get and other things that contribute to our overall well-being. Before I had kids, I spent a lot of time, energy and focus on the latest fashion trends and other indulgences that I still do like. These days I spend at least as much time focusing on things that affect my own healthy lifestyle and that of my family. Having a blog with a lot of recipes I also feel obligated to show my readers healthier approaches to eating and cooking. Probably the biggest change for me is my approach on food, and viewing it as fuel for our bodies rather than just something I need to pile into my body a few times a day.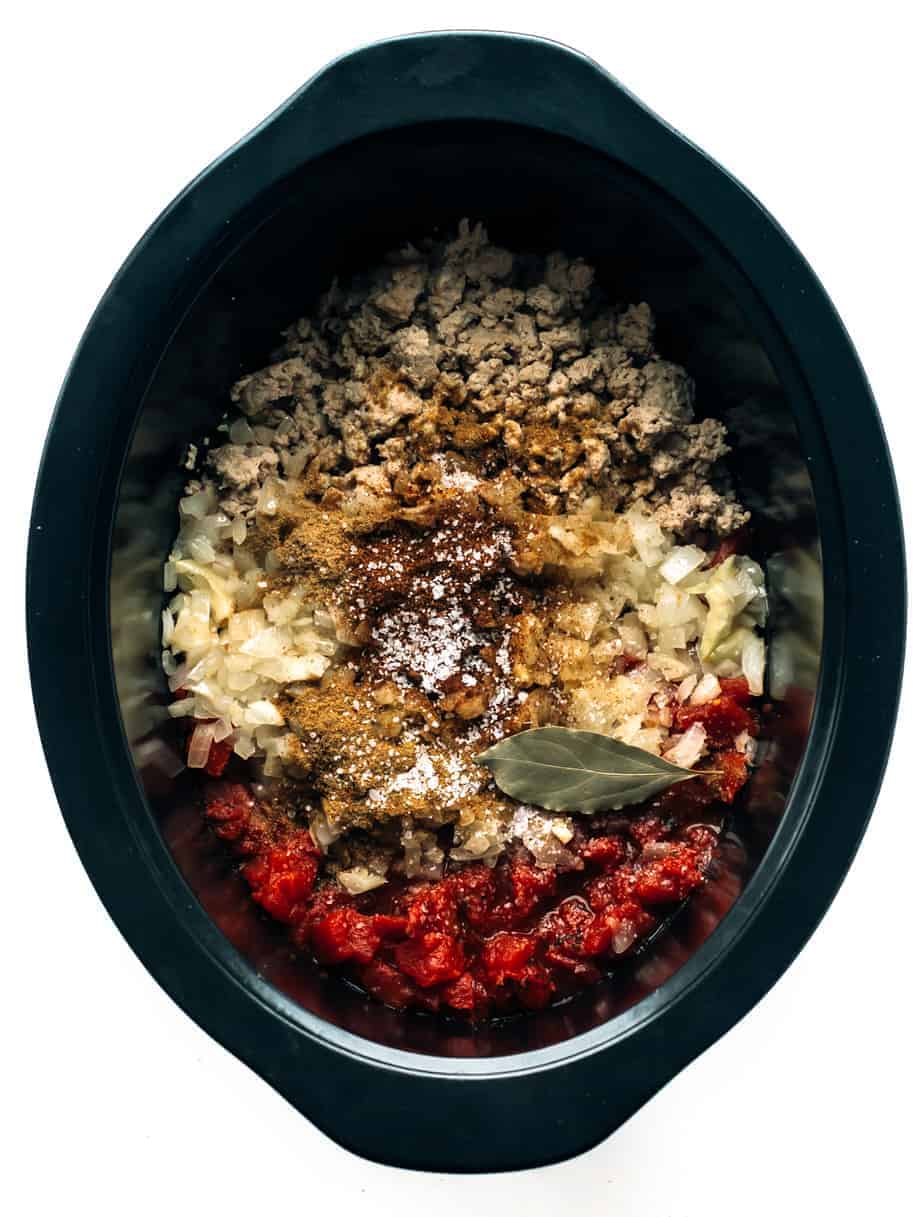 I am not following any strict diet right now, but I do try to educate myself on foods as much as possible. I actually really enjoy the fresh taste of healthier foods much more than those that are processed. I eat most everything (combination of meats, fish, veggies and dairy) and try to control my meal portions. Not too many rules, just an appreciation for the fresh and natural! Where food comes from is very important to me. Here in California we are lucky to access to great weather and fresh ingredients from beautiful markets. I buy local and organic veggies as much as possible. When buying meats, I make sure to read the labels to find out about the farm before making a purchase. Foster Farms is one of the recognizable names in the supermarket that I've trusted for many years. Foster Farms Organic Ground Turkey is local to California's Central Valley, on organic land and a vegetarian diet. They never use antibiotics and the turkeys are free range, two big additional plusses.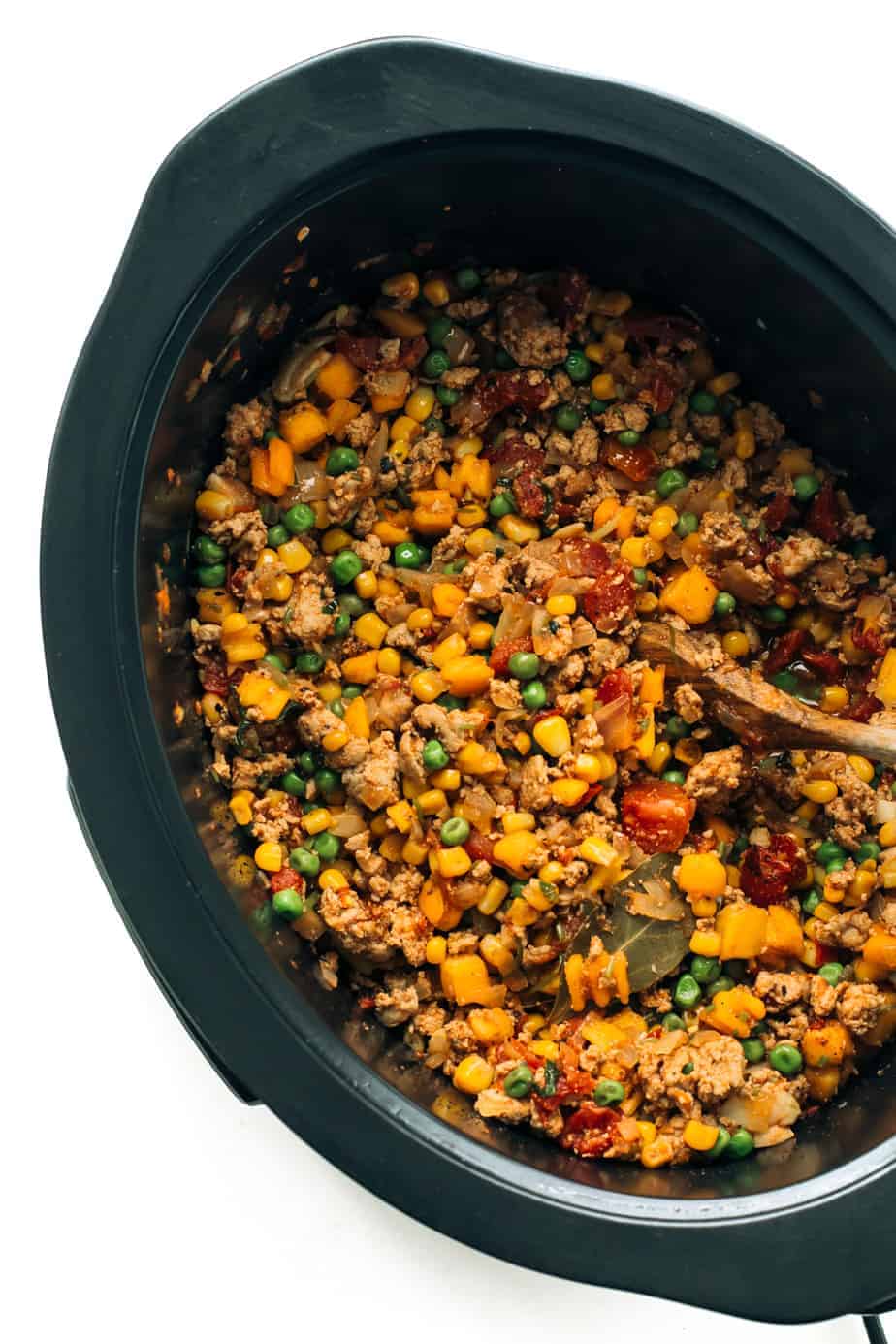 Today, I am going to share this slow cooker ground turkey recipe with butternut squash, corn and peas. I blended in Southwest spices which are customary with corn and tomatoes, but actually go amazingly well with the squash and ground turkey. Squash and slow cookers are a match made in heaven, it soaks in flavors and juices amazingly well. This stew recipe is so flavorful and you'll get a great dose of meat and veggies for the day. It's the perfect recipe for dinner or after a workout with a solid dose of lean protein.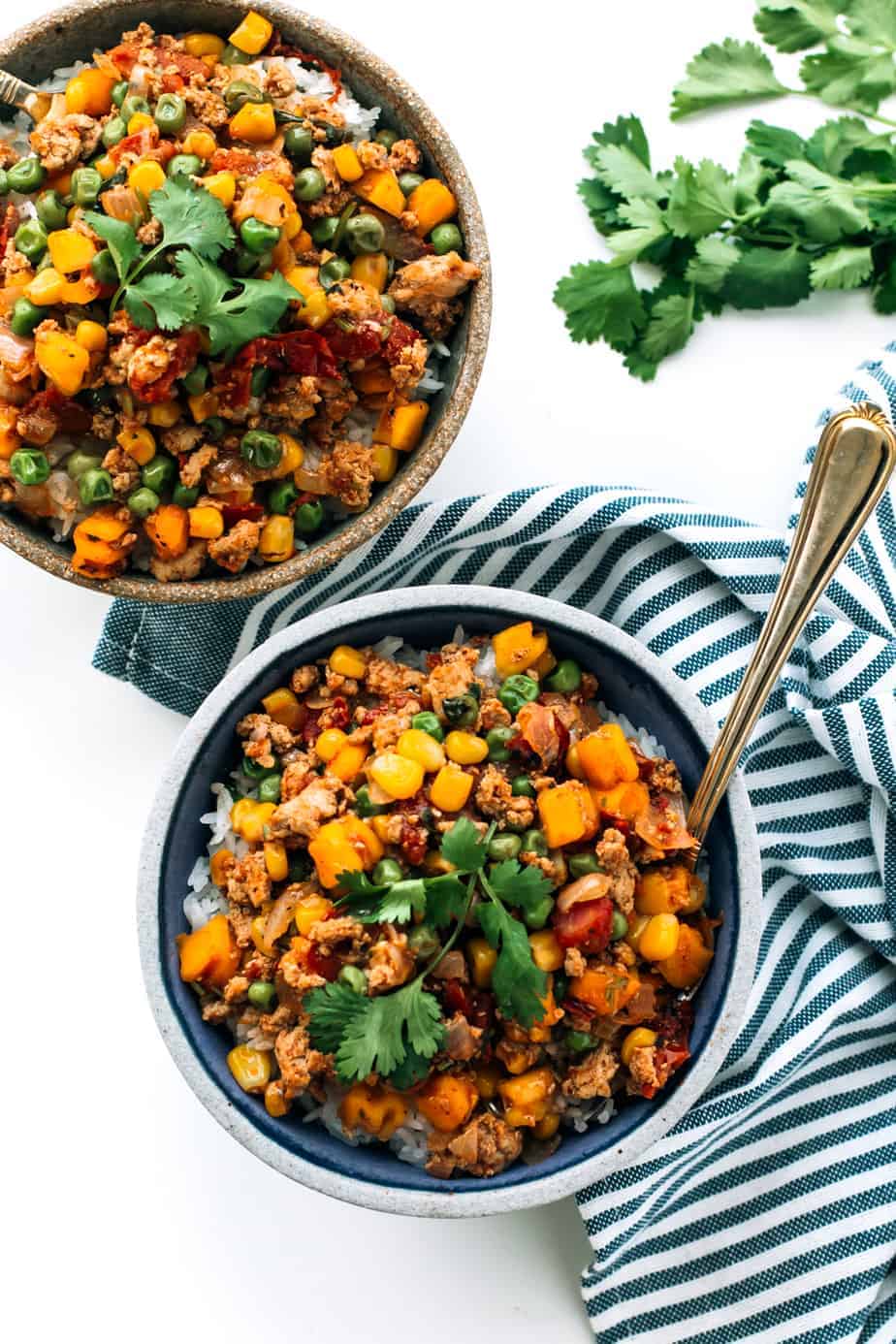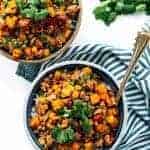 Slow Cooker Ground Turkey with Butternut Squash, Corn, Peas and Southwest Spice Blend
Ingredients
2

tablespoons

cooking oil

1

pound

ground Foster Farms Organic Ground Turkey

1

teaspoon

black pepper

1

medium white onion

chopped

6

cloves

garlic

1

can of diced tomatoes

fire roasted - unsalted, (remove juice)

1

tablespoon

cumin

1

teaspoon

coriander

1

teaspoon

southwest spice blend . Add more according to your liking</span>

see recipe below or use pre-made/store bought southwest spice blend or southwest chili mix

1

leave

bay

1

teaspoon

salt

add more according to your liking

black pepper to taste

3/4

cup

butternut squash

chopped

1/2

cup

frozen corn

1/2

cup

frozen peas
Instructions
Heat 1 tablespoon oil in a medium pan and brown the ground turkey . Add 1 teaspoon black pepper and stir

Remove and transfer to the crock pot

Heat 1 tablespoon oil in a medium pan, add onion and garlic, stir until fragrant. from the heat and transfer to the crockpot

Add diced tomatoes, cumin, coriander, salt, pepper, bay leave and southwest spice blend, then stir.

Turn the slow cooker on high and cook for about 2-3 hours

About an hour before turning the slow cooker off, add the butternut squash.

About 30 minutes before turning the slow cooker off, add the corn and peas.

Add salt/pepper to taste according to your liking.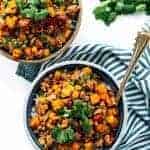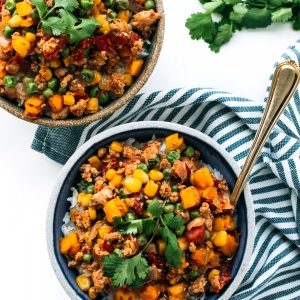 Southwest Spice Blend
Ingredients
1

tablespoon

ancho chili powder

1

tablespoon

chipotle powder

use 2 tablespoons chili powder if you don't have ancho and chipotle

1

teaspoon

cayenne pepper

1

tablespoon

garlic powder

1

teaspoon

onion powder

2

teaspoons

ground cumin

2

tablespoons

paprika

1

teaspoon

black pepper

1

tablespoon

ground coriander

1

teaspoon

crushed red pepper

1

tablespoon

salt

1

tablespoon

dried oregano
Instructions
Combine all the ingredients thoroughly.

Store in an airtight container

You may also use : pre made/store bought Southwest Chili Mix or Southwest Spice Blend powder