Thank you Idaho Spuds for sponsoring this post. VeggieMash mashed potatoes are a blend of 100% Idaho® grown potatoes and real vegetables for a new take on a family favorite!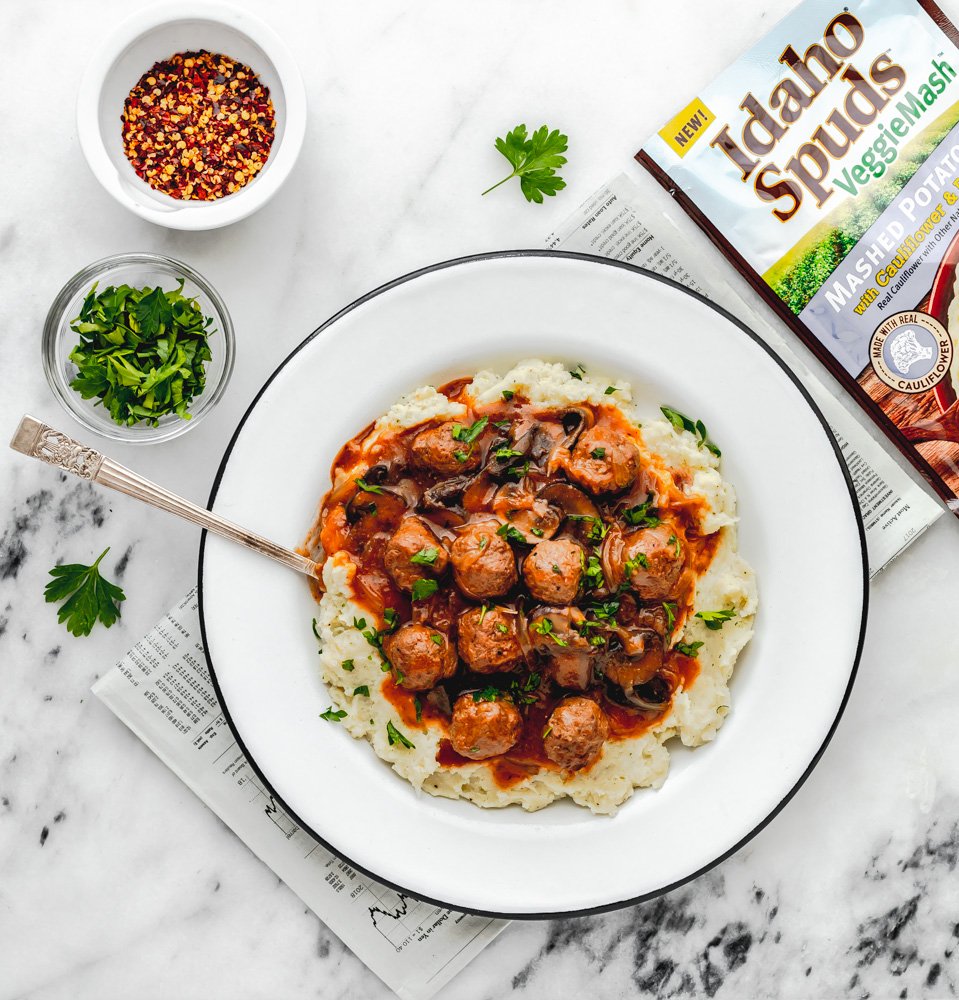 Be sure to click on the tags to shop directly from the photo
The ultimate comfort food: Salisbury Steak Meatballs that are made in a slow cooker, smothered in a delicious beef gravy and perfectly served on Idaho Spuds VeggieMash .
Meatballs and gravy with mashed potatoes…… it's the classic dish and the perfect meal to give you the right amount protein, carbs and more importantly, pure satisfaction!
Getting a family to eat more vegetables can be challenging. Some of the most common excuses are that we never have enough time to prepare them, or that we don't know how to work with veggies to create a delicious meal that the whole family can actually enjoy. In this post, I want to show the surprisingly simple way to get your family eat more vegetables with Idaho Spuds.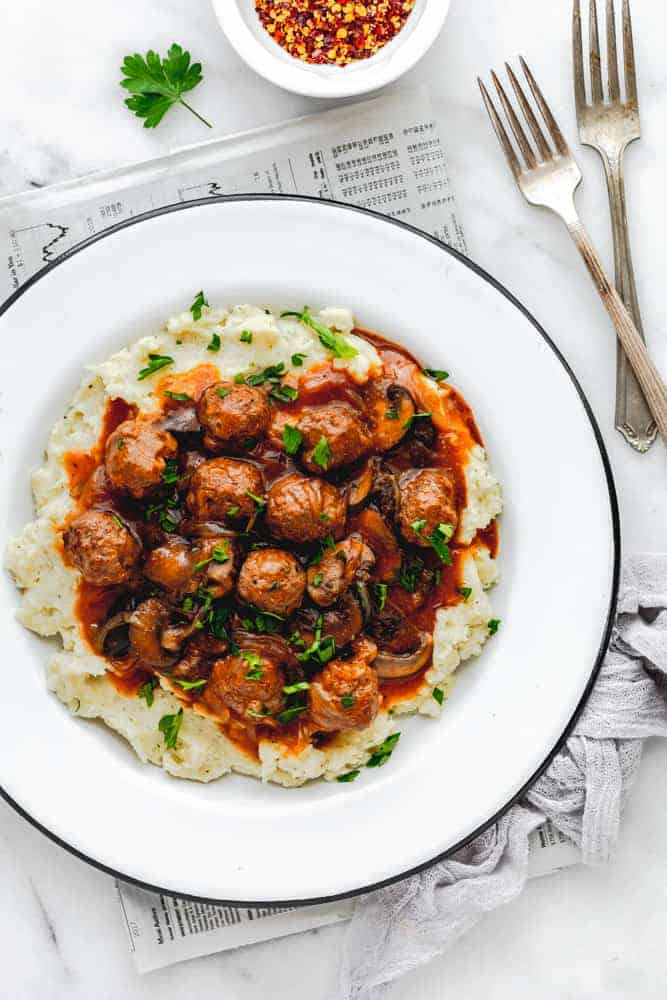 All Idaho spuds products start with 100% Idaho® Potatoes, something that makes perfect sense but is unfortunately rare these days. The Idaho Spuds VeggieMash is made using real vegetables, making this a solid choice all around. Idaho Spuds Idaho Spuds VeggieMash is the perfect staple addition to your pantry because they can be eaten on their own or as a start of a meal that is perfect for any weeknight dinners, family get-together, and those busy nights where the hours seem to get away from us!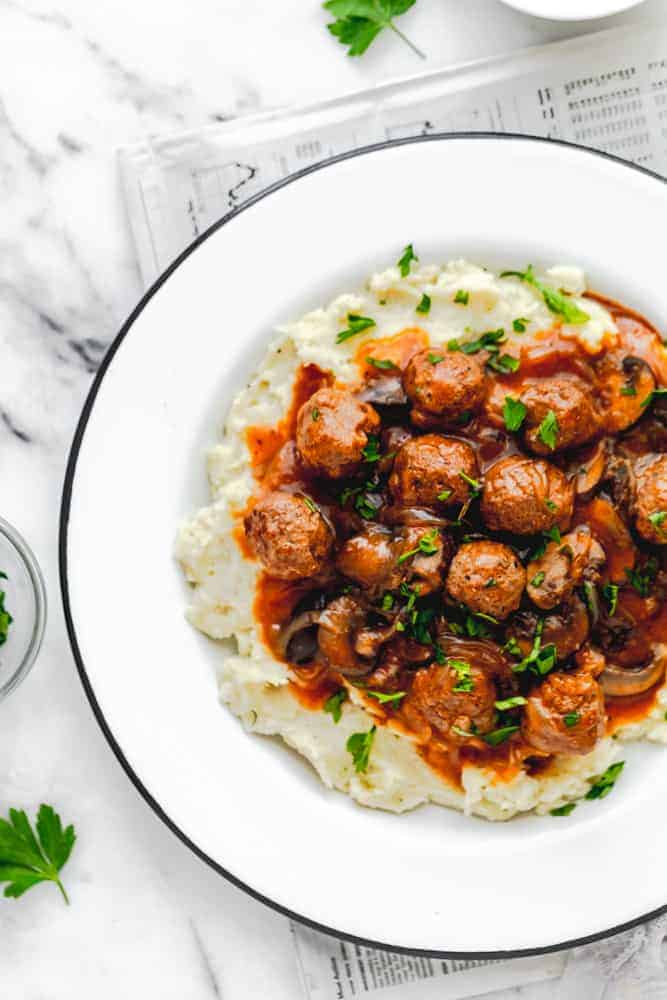 I cook this Salisbury meatball steak in crock-pot on high heat. Using simple seasoning, this dish will absolutely please the crowd. I used Panko breadcrumbs and 93% lean ground beef, with meatballs that I browned in a skillet before adding into the slow cooker.
Don't forget to enter the giveaway:
Entry Options: Readers may enter the giveaway via the widget with the following options:
o Repin any images from this blog post to pinterest and leave the link on the comment box below.
o Please click here to learn more about Idaho Spuds VeggieMash :http://clvr.li/2HliAMx
o Check out the Idaho Spuds Facebook page!
o Check out the Idaho Spuds Instagram page!
Notification: Winners will be randomly selected and notified by CLEVER by September 9
Terms & Conditions: The official Terms & Conditions are included in the widget; here is the high-level eligibility criteria:
o Age 18+
o US residents only
o Only one winner per household
📖 Recipe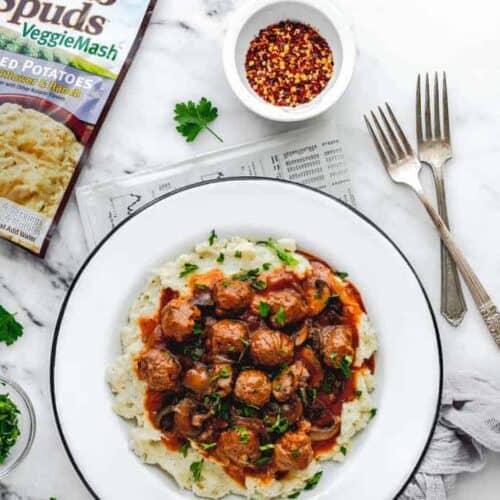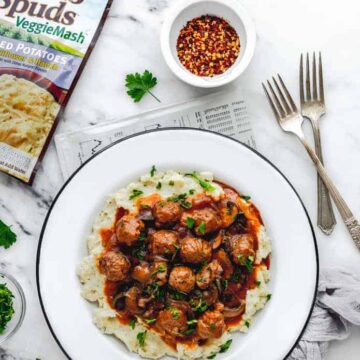 Slow Cooker Salisbury Steak Meatballs
Instructions
In a large mixing bowl, add ground beef, Panko bread crumb, egg, ketchup, mustard powder, Worcestershire sauce, steak seasoning, black pepper, onion powder and salt.

Knead until completely combined and form into medium sized meatballs. For this recipe, I just use ½ cup spoon and mold the meat into meatballs.

Heat a large skillet or dutch over medium heat. Add the meatballs and gently move around the pan to brown. Transfer the meatballs to the slow cooker.

Using the same skillet, add butter and cook onions for about 3-4 minutes until softened. Transfer them to the slow cooker.

Add mushrooms, ketchup, broth and Worcestershire sauce into the slow cooker and cook for about 2-3 hours on high or 4-5 hours on low.

In a small bowl, beat cornstarch and cold water. Quickly stir and pour the mixture into slow cooker and increase the heat to high until the sauce is thicken. Cook for about 5-10 minutes. Serve with Idaho Spuds VeggieMash and chopped parsley.

I was selected for this opportunity as a member of CLEVER and the content and opinions expressed here are all my own.