The Classic Baked Mac and Cheese with ultra cheesy sauce and topped with crispy buttery breadcrumb. It's the perfect side dish that goes well with any weeknight or holiday meal. It's so tasty and comforting! Kids and adults will enjoy it!
Skip boxed Mac and Cheese and make your own at home today! This Baked Mac and Cheese recipe is so good and easy to prepare! You can serve it with this roasted half-chicken or these crispy grilled chicken wings.
Jump to:
---
Creamy Baked Mac and Cheese
Mac and Cheese (aka macaroni and cheese) is one of my favorite comfort foods.
If you're on a health kick and don't have these delights often I think this one is worth every counted calorie!
The crisp topping and unique cheesy taste separate it from the rest.
So here's my favorite Baked Mac and Cheese recipe!
---
The Best Baked Mac and Cheese, Ever!
This Mac n Cheese is loaded with perfectly cooked elbow macaroni and creamy cheese sauce. It's a basic Mac and Cheese that you can serve with any toppings you like, such as lobster, bacon, or crab.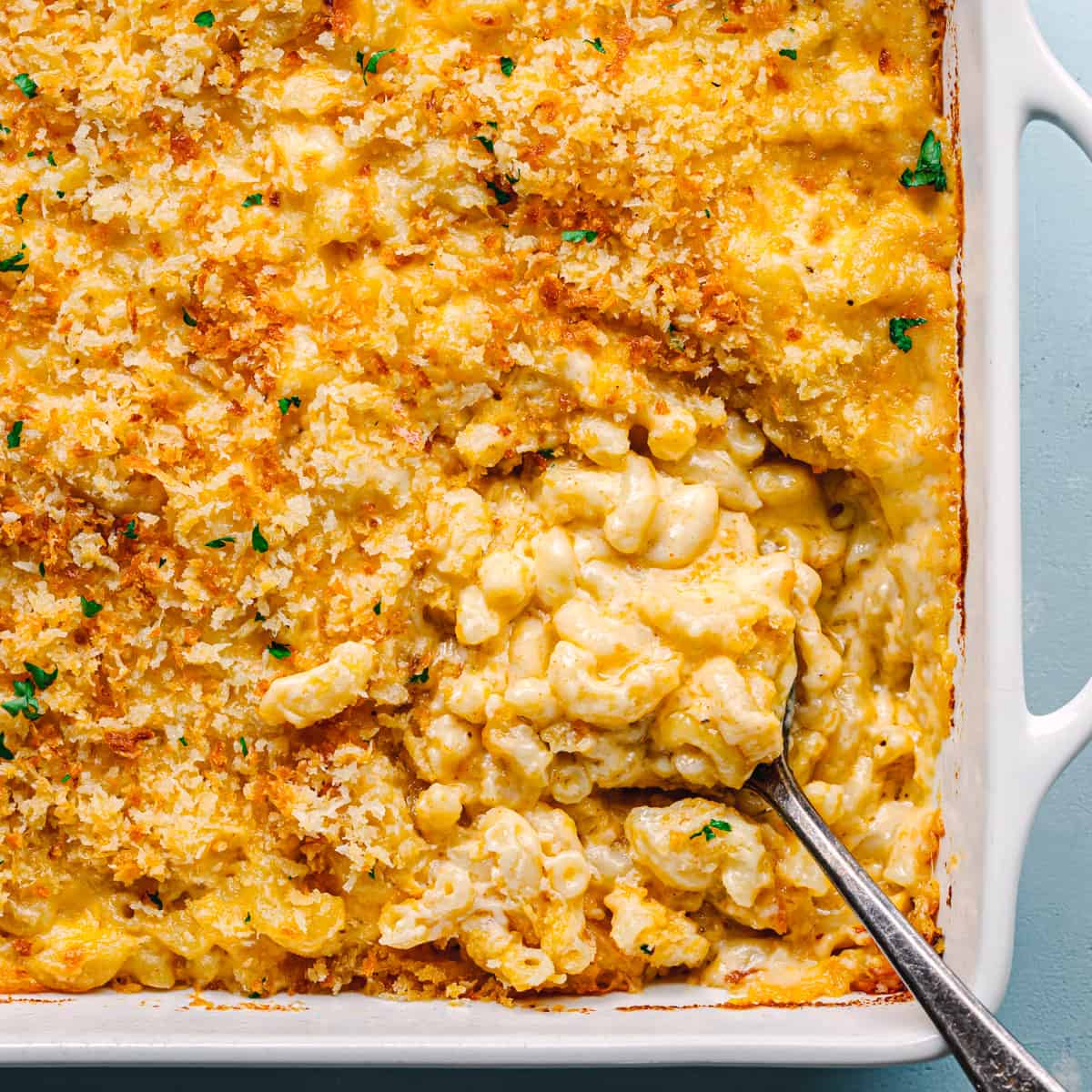 ---
Ingredients
To make this oven-baked mac n cheese, you will need the following ingredients:
Small elbow macaroni
Heavy cream
Milk
Sharp cheddar cheese
Gruyere cheese
Panko breadcrumbs
Unsalted butter
All-purpose flour
Mustard powder
Garlic
Paprika
Salt
Black Pepper
---
How to Bake Macaroni and Cheese to Perfection
This baked Mac and Cheese is so easy to put together. Here are some easy steps that you need to do:
Step 1. Cook the pasta and drain really well.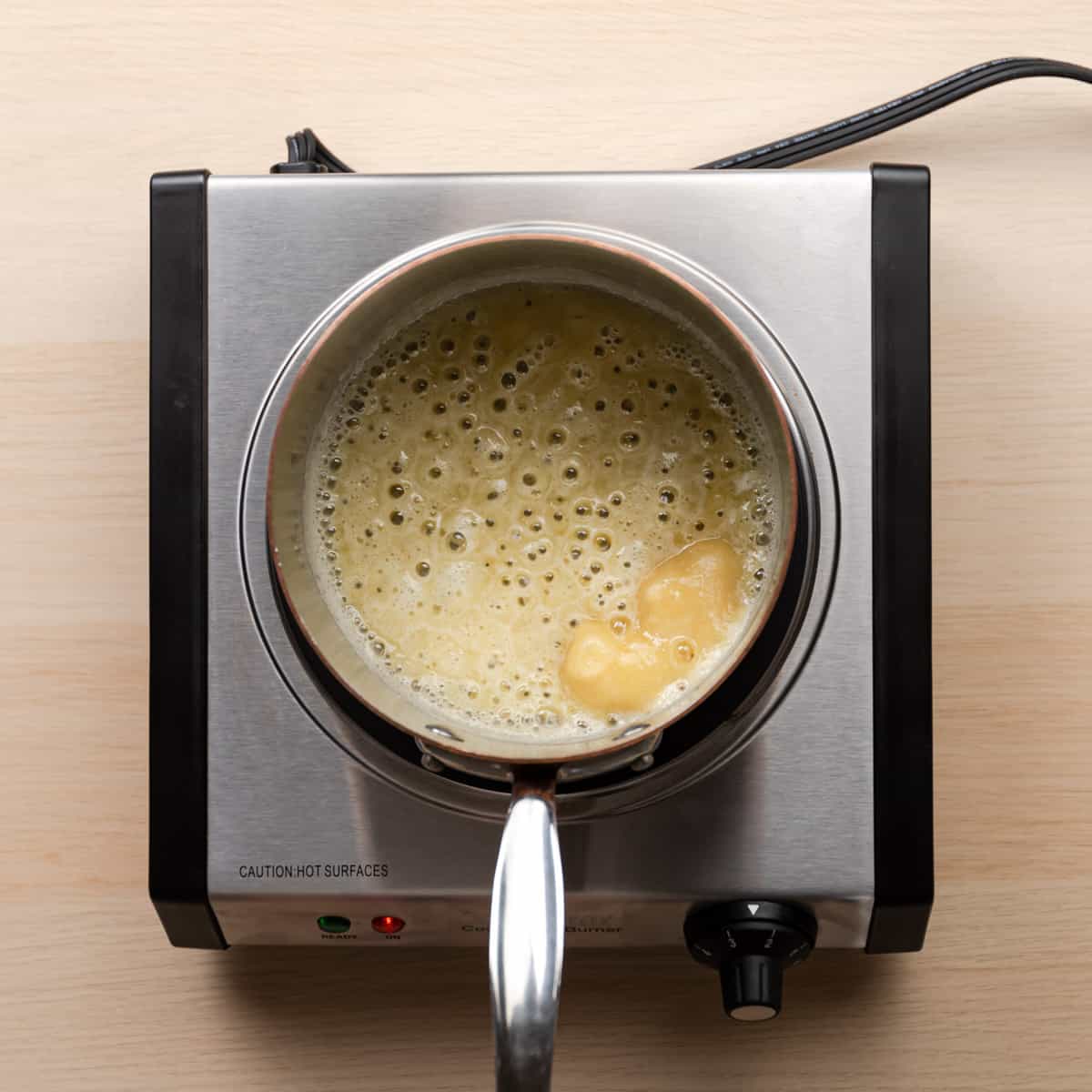 Step 2. Make the béchamel sauce by combining butter, all-purpose flour, heavy cream, and milk until silky smooth and creamy.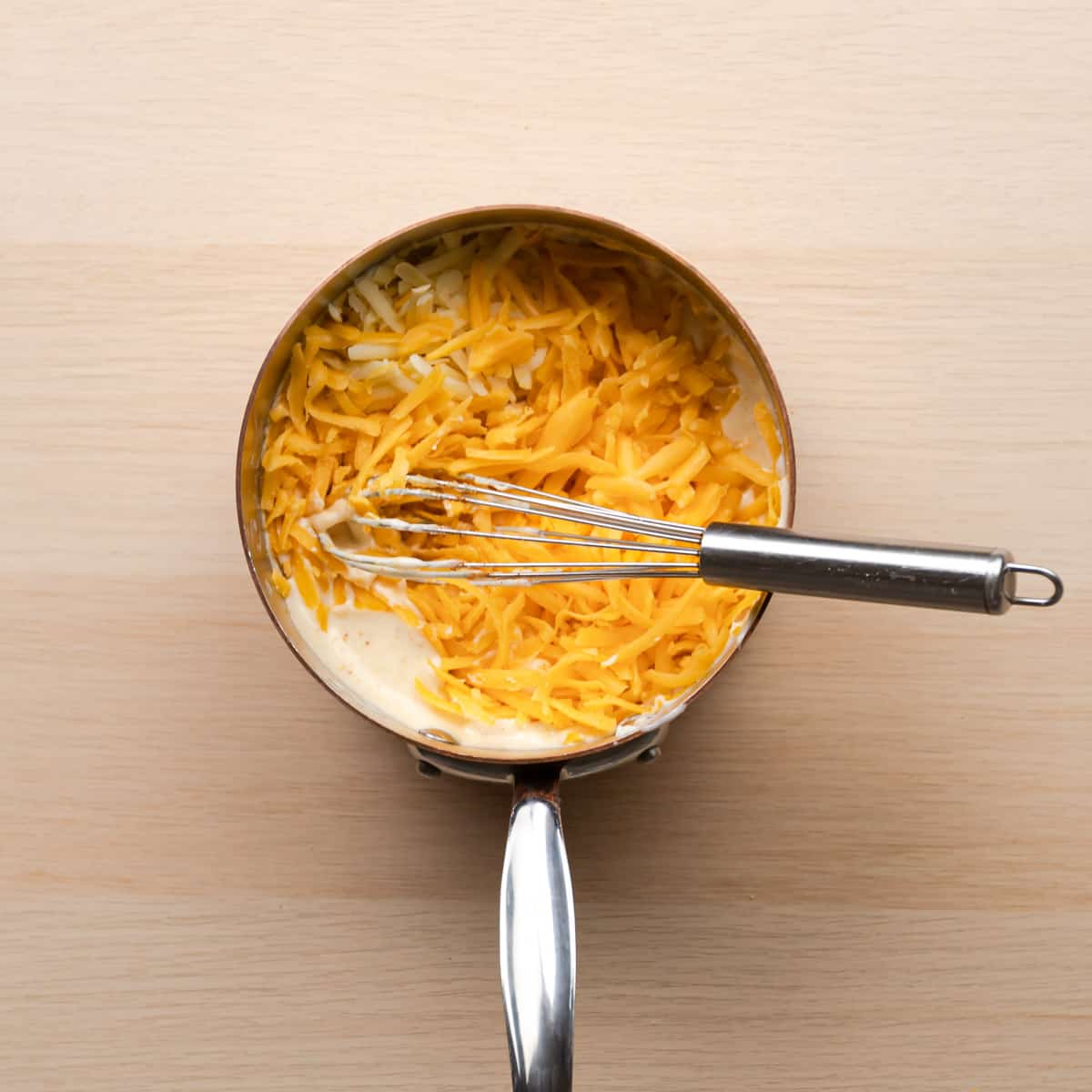 Step 3. Add spices and add cheese to the sauce.
Step 4. Combine cheesy sauce with pasta.
Step 5. Transfer the macaroni and cheese sauce mixture to a deep 9-inch or any medium-size baking dish.
Step 6. Mix melted butter with breadcrumbs and sprinkle evenly on top of the pasta and cheese mixture.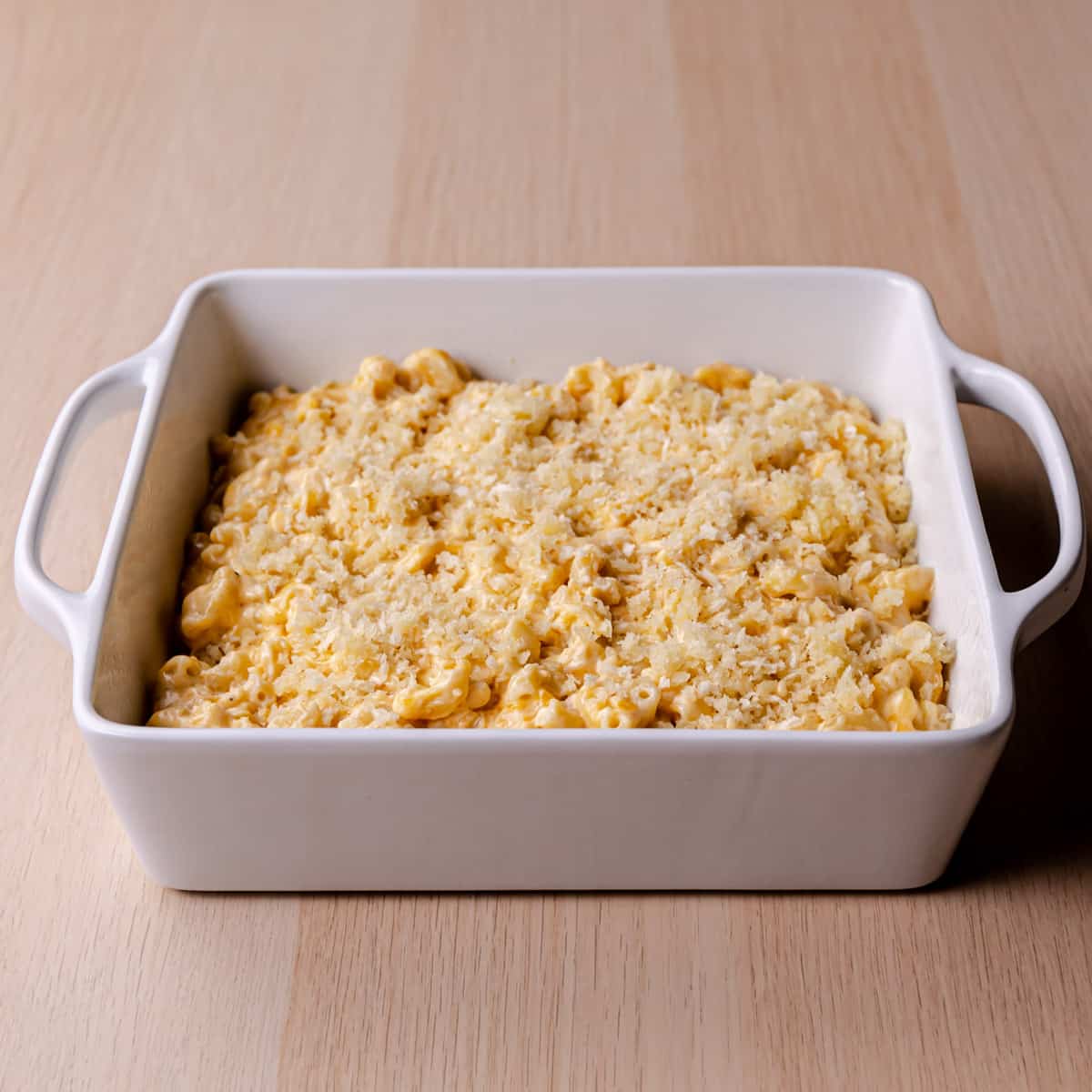 Step 7. Bake in the oven just until the cheese is melted.
---
Tips to Make the Best Mac and Cheese
#1. Do not overcook the pasta
I recommend cooking the pasta for 1-2 minutes less than the direction. Drain well then add about ½ tablespoon of butter or oil to the pasta to prevent them from sticking together.
#2. Use freshly grated cheese.
Buy a block of cheese and shred it with a grater. It tastes better and is cheaper than pre-shredded cheese.
Do not use pre-shredded cheese because they contain preservatives like potato starch to keep them from clumping together. This anti-caking agent makes the cheese shreds don't melt together. As a result, the sauce turns grainy and gritty.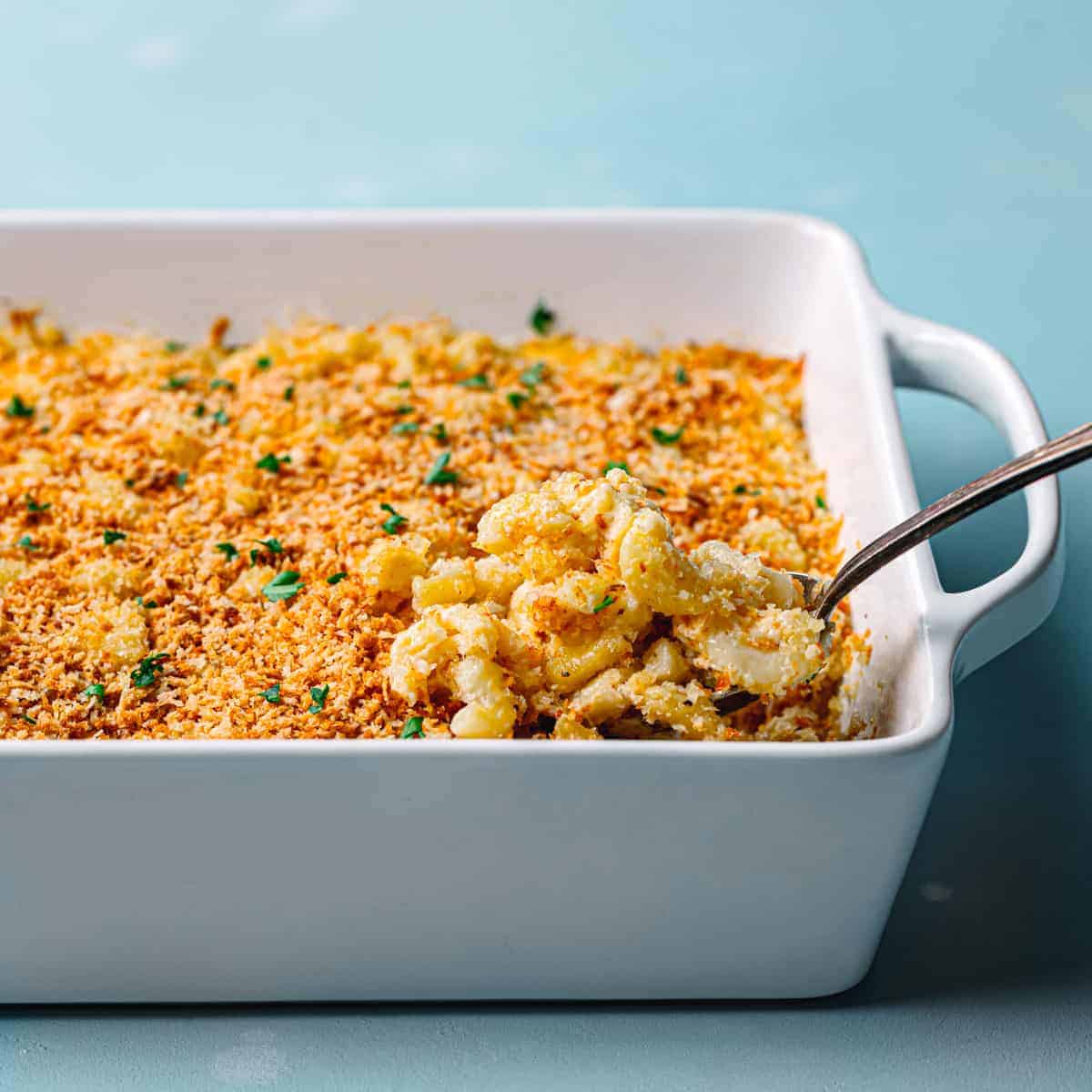 #3. Use warm milk and heavy cream
Using warm milk and heavy cream creates a smooth and fully blended sauce. Simply warm the milk and heavy cream for about 1-2 minutes in the microwave right before adding them to the roux mixture.
#4. Gradually add the milk and heavy cream and stir constantly!
---
How To Make Baked Mac and Cheese Ahead of Time
You can make this Baked Mac and Cheese recipe ahead of time. Here's how to do it:
Make sure that the elbow macaroni pasta has completely drained and cooled down.
Pour the cheese sauce into the pasta and mix well.
Add buttered panko breadcrumbs.
Transfer to a baking dish, and cover tightly with foil.
Put in the fridge for 1-2 days ahead or freeze.
---
Storage
Discard any leftover mac n cheese that has been left out for more than 2 hours at room temperature or 1 hour when the temperature is above 90°F. You can learn more here.
First, you need to cool the leftover mac and cheese completely.
After that, store it in an airtight container or separate individual serving containers for easy reheating.
Properly stored, the leftover will last 3-5 days in the fridge or up to 3 months in the freezer.
---
Reheating Leftovers
You can reheat the leftover mac and cheese in the oven or microwave.
How to Reheat the Mac and Cheese in the Oven:
Preheat the oven to 350°F.
Place the leftover mac and cheese in an oven-safe baking dish.
Add a tablespoon of milk per cup of mac and cheese.
Cover the baking dish with foil.
Reheat for 20 minutes or until hot.
How to Reheat the Mac and Cheese in the Microwave:
Place a single serving of mac and cheese in a microwave-safe bowl.
Drizzle with a small amount of milk.
Cover the bowl with a microwave-safe lid or plastic wrap with a small opening.
Reheat at 50% power (or medium setting) for 1 minute.
Remove mac and cheese from the microwave and stir.
I hope you'll enjoy this recipe and share it with friends! If you try it and don't mind, please leave me a comment and/or give this recipe a rating. Be sure to subscribe to receive weekly recipes and follow me on Pinterest.
📖 Recipe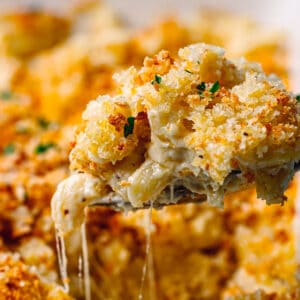 Baked Mac and Cheese
Creamy and cheesy baked mac and cheese! It's an easy side dish to accompany any meal!
Instructions
Preheat the oven to 400°F.

Cook the pasta in salted boiling water 1 minute less than the direction for al dente (cooked through but still firm). Drain well, add butter/oil. Set aside.

In a skillet, melt butter over medium heat. Add flour, stirring constantly until it turns pale brown for about 1-2 minutes.

Gradually pour in milk and cream, whisking constantly for about 4-5 minutes or until béchamel sauce is thick and coats the back of a spoon. Turn off the heat.

Add spices and cheeses. Stir to combine. The cheese doesn't need to melt.

Pour the cheese sauce into pasta, stir to combine.

Transfer the macaroni and cheese mixture into a medium-size baking dish (about 9-inch), sprinkle topping evenly over macaroni with panko breadcrumb, melted butter, and salt mixture.

Bake for about 15-20 minutes or until golden and bubbling.

If the pasta becomes bubbly before the top is golden, continue cooking under the broiler for a minute or two to crisp the topping.
Nutrition
Calories:
732
kcal
Carbohydrates:
41
g
Protein:
25
g
Fat:
53
g
Saturated Fat:
32
g
Cholesterol:
165
mg
Sodium:
780
mg
Potassium:
230
mg
Fiber:
2
g
Sugar:
3
g
Vitamin A:
1766
IU
Vitamin C:
1
mg
Calcium:
583
mg
Iron:
1
mg