Garlicky, buttery, and lightly spicy! This Chilli Garlic Noodles recipe is so delicious and will always satisfy your craving and let you stay on budget! It's highly addictive!
If you need a good dinner idea that doesn't break the bank, try this Chilli Garlic Noodles recipe. This easy meal contains a few easy ingredients but is loaded with flavors. It takes little time to make and can be ready in less than 20 minutes. A perfect recipe for your busy nights, with no stir-frying!
If you don't like any spicy food, skip the red chili!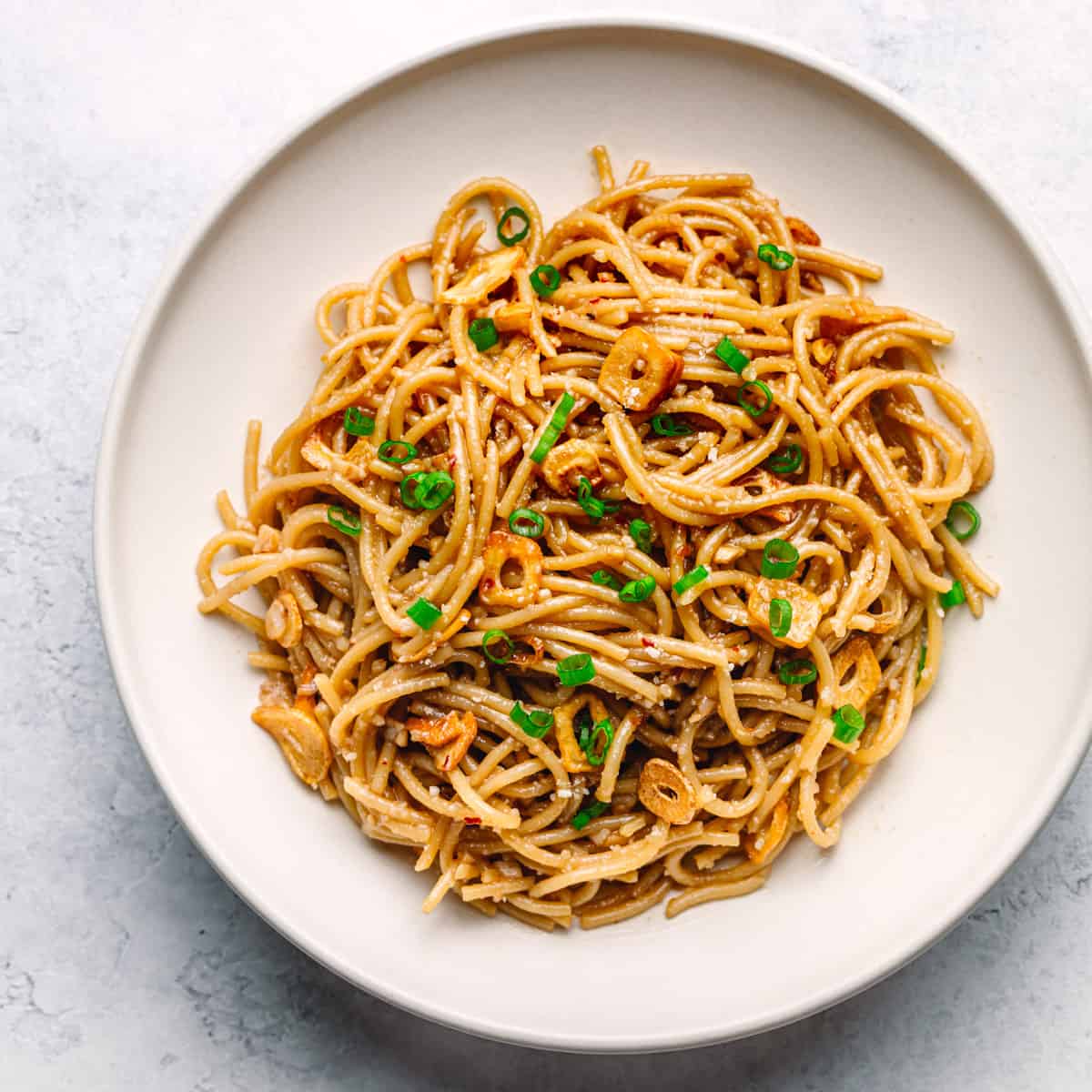 The Perfect Seasoning:
This simple Chilli Garlic Noodles dish is so flavorful and tasty because the noodles were seasoned with a combination of Western and Eastern seasoning blends.
The seasoning blend contains red chilli pepper flakes, Worcestershire sauce, parmesan cheese, garlic, sesame oil, soy sauce, and oyster sauce. The combination of these ingredients creates the umami taste and really brings out the best of the flavors. No MSG added!
Jump to:
Noodles:
To make this dish, you can use spaghetti or lo-mein. I personally used spaghetti because this time as it just happens to be the type of noodles available in my pantry right now.
Check Out More Tasty Noodle Recipes:
Oyster Sauce:
Oyster Sauce is a common condiment used in Asian cooking, especially for stir-fry recipes. It's made from oyster extracts, sugar, salt, and water, then thickened with corn starch. It has a sweet and savory sauce with a deep, earthy flavor. You can purchase oyster sauce at any grocery store or specialty market. A high-quality oyster sauce is naturally dark.
How to Make Garlic Noodles:
There is nothing complicated about this Chilli Garlic Noodles dish. The preparation and cooking process involves chopping, cooking the noodles until al dente, and making the sauce base. Anyone without cooking skills can make this dish.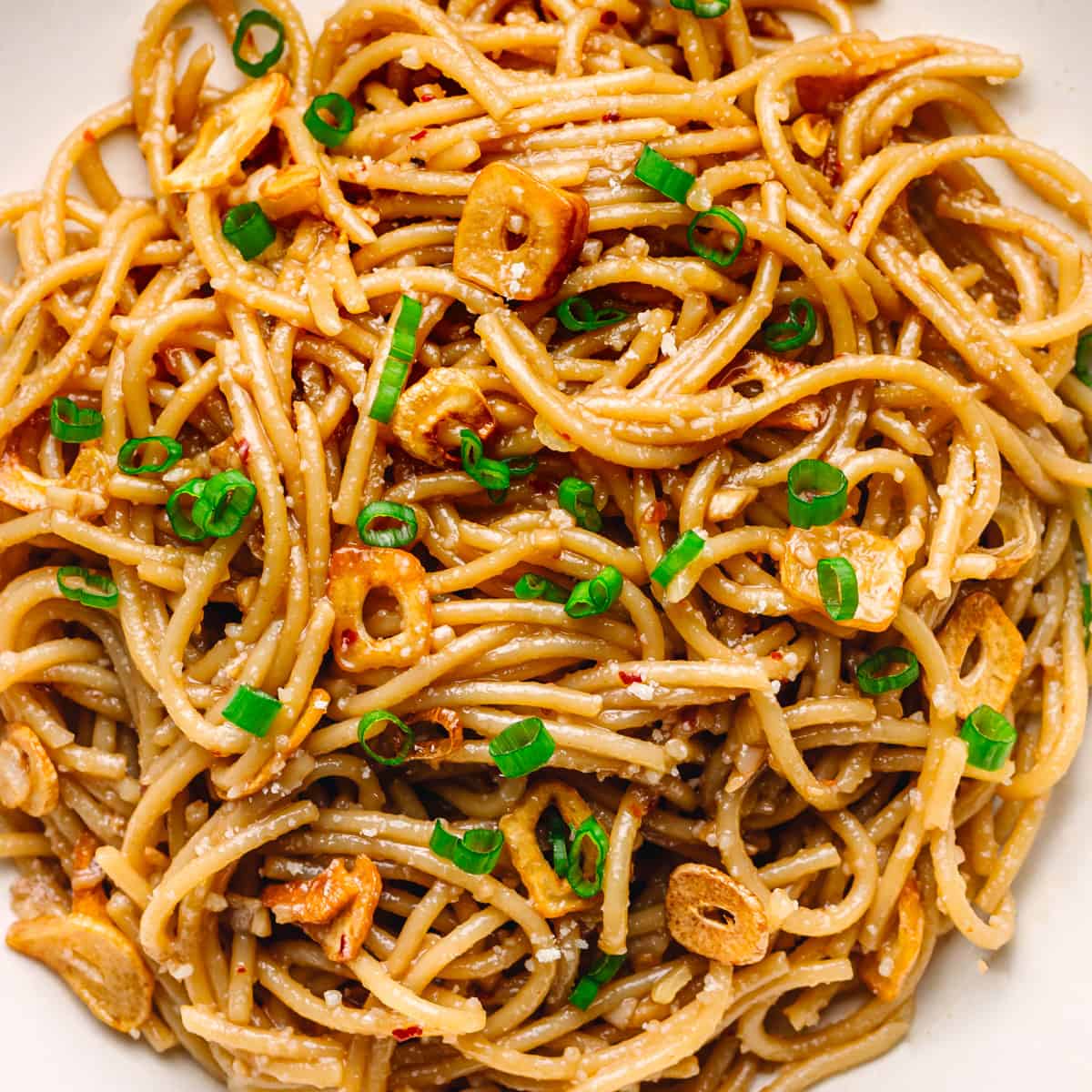 So here are some steps to follow:
First, cook the noodles in salted boiling water until al dente.
Second, make the garlic oil by bringing about ¼ cup of oil with ¼ cup of thinly sliced garlic to a boil at medium heat. Quickly turn off the heat and set aside. The garlic oil is optional.
Third, make the umami sauce by combining butter, red chilli pepper flakes and minced garlic in a cold saute pan. Set the heat to medium-high and cook for about 2 minutes, then add soy sauce, oyster sauce and Worcestershire sauce. Stir to combine, and cook until warm. Turn off the heat.
Fourth, in the same skillet, add the cooked pasta and stir to combine. Make sure the noodles are covered with the sauce evenly. No cooking is required!
Next, add the parmesan cheese, stir to coat.
Last, serve with chopped green onion, and some of the garlic oil.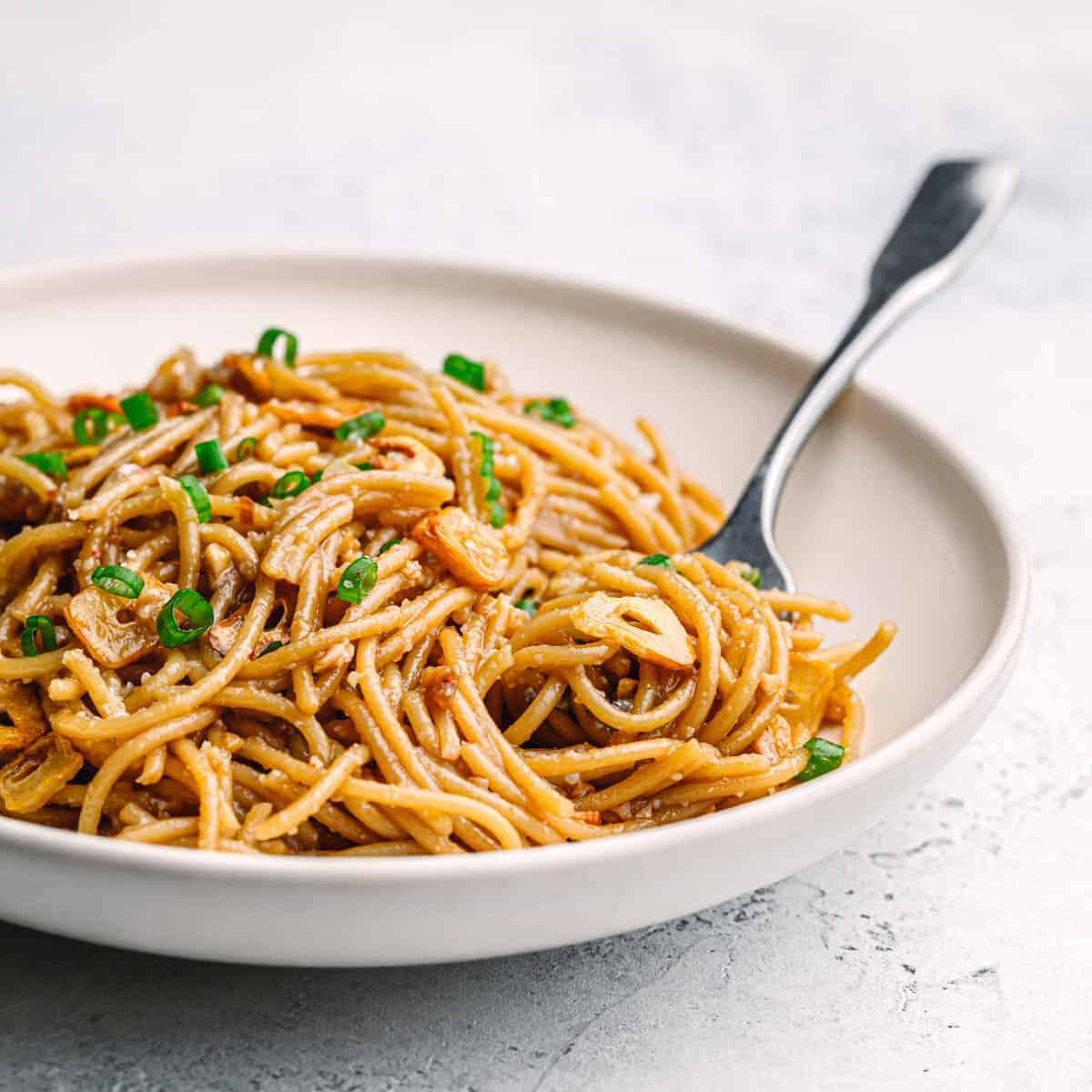 What to Serve With Garlic Noodles:
You can serve the garlic noodles dish by itself or with a protein of your choice, such as; leftover rotisserie chicken, or even just a boiled egg!
Storing Leftovers:
You can store the leftover cooked pasta in the fridge for 3-5 days. Just be sure to completely cool the noodles before you close the container.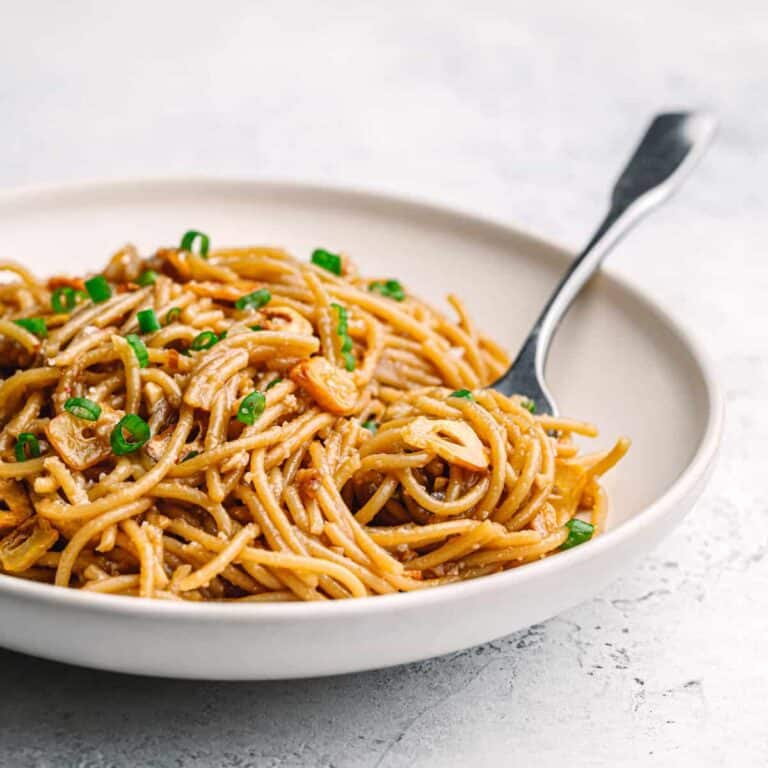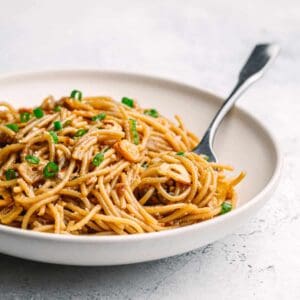 Chilli Garlic Noodles
Garlicky and buttery! This Chilli Garlic Noodles recipe will always satisfy your craving and let you stay on budget! It's highly addictive!
Ingredients
6

oz

spaghetti

¼

cup

unsalted butter

2

tablespoon

minced garlic

1

teaspoon

red pepper chilli flakes

,

(add more according to your liking)

½

tablespoon

soy sauce

1½

tablespoon

oyster sauce

1

teaspoon

Worcestershire sauce

1

teaspoon

sesame oil
Toppings:
2

tablespoon

freshly grated parmesan cheese

2

tablespoon

chopped green onion
(Optional) Garlic Oil:
¼

cup

neutral oil

¼

cup

sliced garlic
Instructions
Cook the Noodles:
Bring a large pot of lightly salted water to a boil. Cook the noodles until al dente according to the package instructions. Set aside about ¼ cup of pasta water.
(Optional) Garlic Oil:
In a small saucepan, bring the garlic and oil to a boil over medium heat. Cook for about 2-3 minutes or until the garlic is lightly browned.

Turn off the heat. Remove from heat and pour into a heat-proof bowl. The garlic will continue to cook.

You can keep the garlic oil for 1 week at room temperature.
Cook the Sauce and Add the Cooked Pasta:
In a cold saute pan, add butter, red chili pepper flakes, and garlic. Turn on the heat and set it to medium-high heat, cook and keep stirring for about 2 minutes. Do not burn the garlic.

Add the soy sauce, oyster sauce, Worcestershire sauce, stir to combine, and until warm enough. Turn off the heat immediately.

Add the cooked pasta and sesame oil into the skillet, stir to combine. Adjust seasoning with additional oyster sauce or soy sauce if needed.

Stir in the parmesan and add a small amount of pasta water if the pasta is too dry to your liking.

Serve the noodles with chopped green onion and the optional garlic oil (about 1-2 teaspoon or as needed). Enjoy!
Notes
The nutrition facts below are for the garlic noodles only. The garlic oil isn't included.
Nutrition
Sodium:
502
mg
Calcium:
63
mg
Vitamin C:
2
mg
Vitamin A:
739
IU
Sugar:
2
g
Fiber:
2
g
Potassium:
177
mg
Cholesterol:
44
mg
Calories:
393
kcal
Saturated Fat:
11
g
Fat:
19
g
Protein:
10
g
Carbohydrates:
46
g
Iron:
1
mg