I created this Chocolate Almond Bark Recipe post as part of a sponsored series with Socialstars and SPLENDA® Brand; all opinions are my own
My chocolate almond bark recipe with SPLENDA® Naturals Stevia Sweetener is a smart way to enjoy holiday baking without putting calories. I put a twist on the recipe by adding pistachio nuts, one of my favorites that I don't often see in chocolate recipes which is a shame! You can opt for dark chocolate to make the bark even healthier, just keep in-mind that the taste will be especially rich (something that I personally love). The dried cranberries give a nice texture and top off the taste. Similar to nuts are a healthy option when it comes to a dessert or snack. The sea salt balances out the sweetness.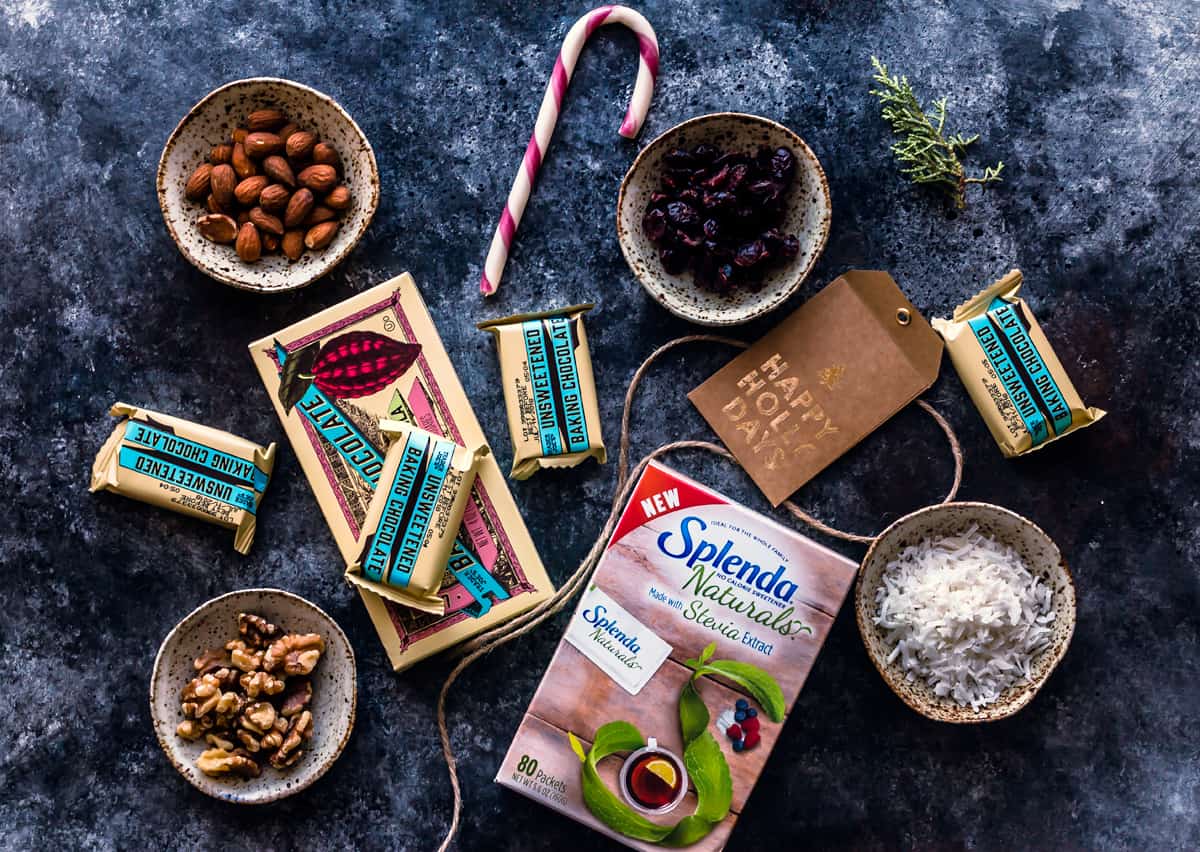 I've made a number of Splenda Stevia desserts and other recipes posted on my site and I am always impressed with the taste. It's been a great way for my husband to replace high sugar dishes and even drinks. He really needs to keep an eye on his sugar, and the entire family has been enjoying the meals as there's no compromise on taste. The no-calorie natural sweetener is my favorite as far as its taste, and I'm a big backer of it having no added flavors or colors and no preservatives. To boot it has only non-GMO ingredient. Baking up holiday treats is an annual tradition in our home, something that goes back generations as my husband's grandfather was a baker many years ago in New York City. The kids are home from school and cousins are visiting so our days are filled with board games, crafts and baking. I like going old-school for the holidays and keeping the tablets and phones to a minimum, although a sappy holiday movie or two always seem to find their way in, too.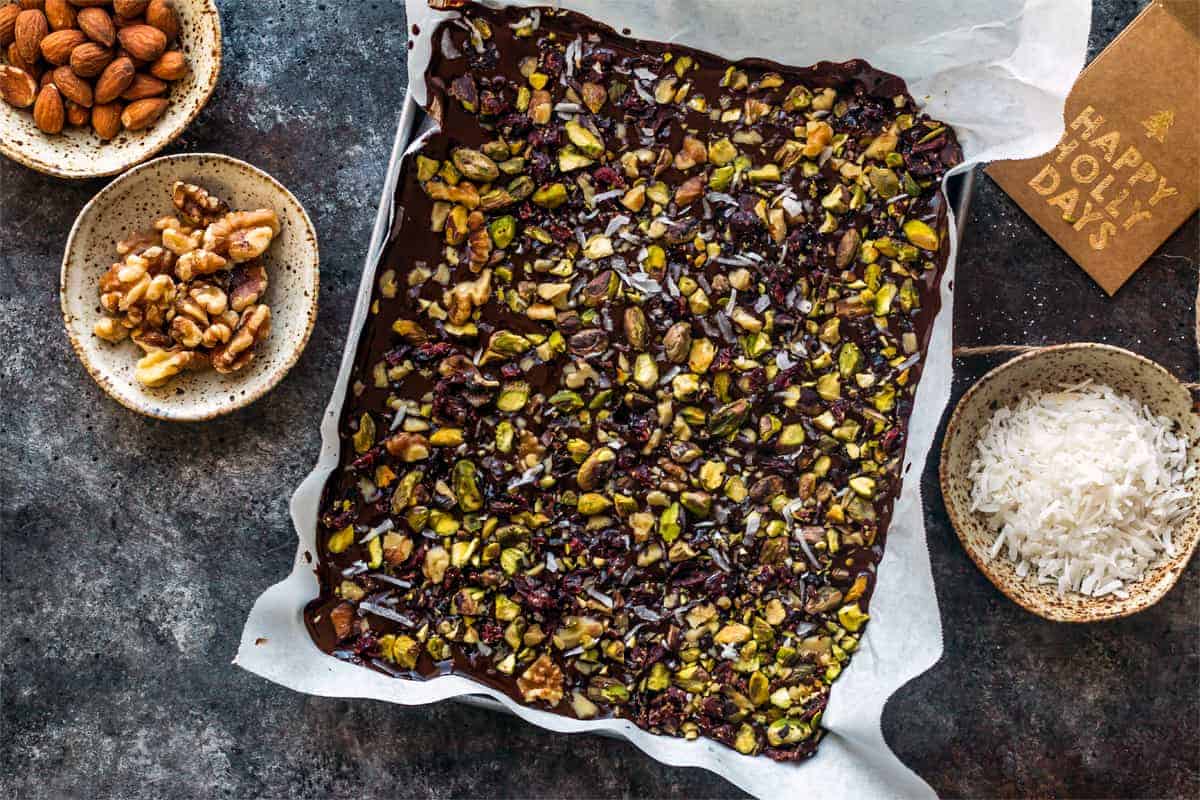 For more SPLENDA® Naturals Recipes, please visit : https://www.splenda.com/recipes/category/splenda-naturals. Think Sugar, Say SPLENDA®, Use SPLENDA®. Enjoy this Chocolate Almond Bark Recipe
📖 Recipe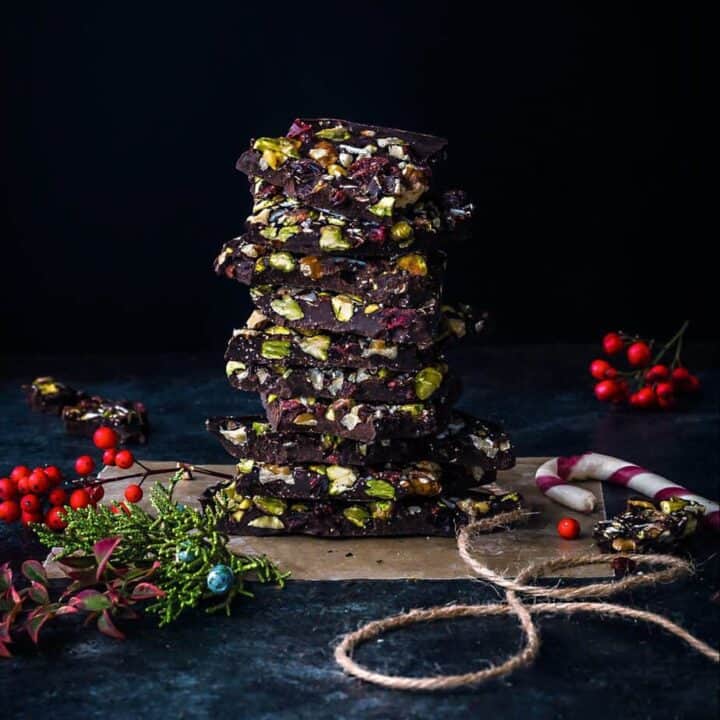 Chocolate Almond Bark
Ingredients
20-24

sachets

SPLENDA® Naturals Stevia Sweetener

⅛

teaspoon

kosher sea salt

,

add more according to your liking

2

packages (4 oz each)

unsweetened chocolate chips or bars

¾

cup

mixed nuts

,

(pistachio, pecan, almond, cashew)

¼

cup

dried cranberries

Optional

dried coconut flakes
Instructions
Melt the chocolates in a heatproof bowl over a pan of simmering water


Stir in the SPLENDA® Naturals Stevia Sweetener, salt and keep stirring until the chocolate melts and the Splenda Stevia fully dissolves

Cover the bottom of the 12-by-9-inch rectangle with the baking sheet

Pour the melted chocolate over a rectangular pan

Sprinkle with chopped mixed nuts and cranberries

Set aside for 2 hours or until it forms a firm bark

Cut or break the bark into pieces

Store airtight in the refrigerator for up to 2 weeks.
Notes
You may also use Bittersweet or Semisweet chocolates but make sure to adjust the amount of Splenda Stevia accordingly.
Nutrition