Learn how to boil lobster in salted water and a trick on how to cook live lobster humanely. This Easy boiled lobster came out delicious served with lemon garlic butter dipping sauce.
At the local market, I spotted some live, wild-caught Maine lobsters.  They were big and priced right… next thing I know I'm home boiling them in a salted boil water. The cooking process for lobsters is so simple and the result is amazing!  My husband and kids were pretty surprised to see me cooking up lobster but definitely enjoyed them for lunch.  I often think of lobster as fine dining or something that I should be cooking up only when having special dinner guests.  After cooking them on a whim so quickly and with such little effort I can definitely foresee us having more lobster lunches in the near future!
Hope you'd enjoy this easy boiled lobster recipe, served with delicious lemon garlic butter. With lobster's higher sodium and cholesterol levels it's not something you should consume every day.  Lobster does, however, act as a good source of protein, vitamins, and minerals.  It's good to strike up a conversation with the people at your markets to learn where your seafood is sourced from, and any other additional information they're willing to share.  Keep in mind that one market may have better fish while another may have better shellfish.  Being in a coastal city we sometimes have seafood vendors at our local farmer's markets, but they're often times sold out within the first hour or two.  Boiling lobster is a little quicker and the meat comes out of the shell more readily that when steamed.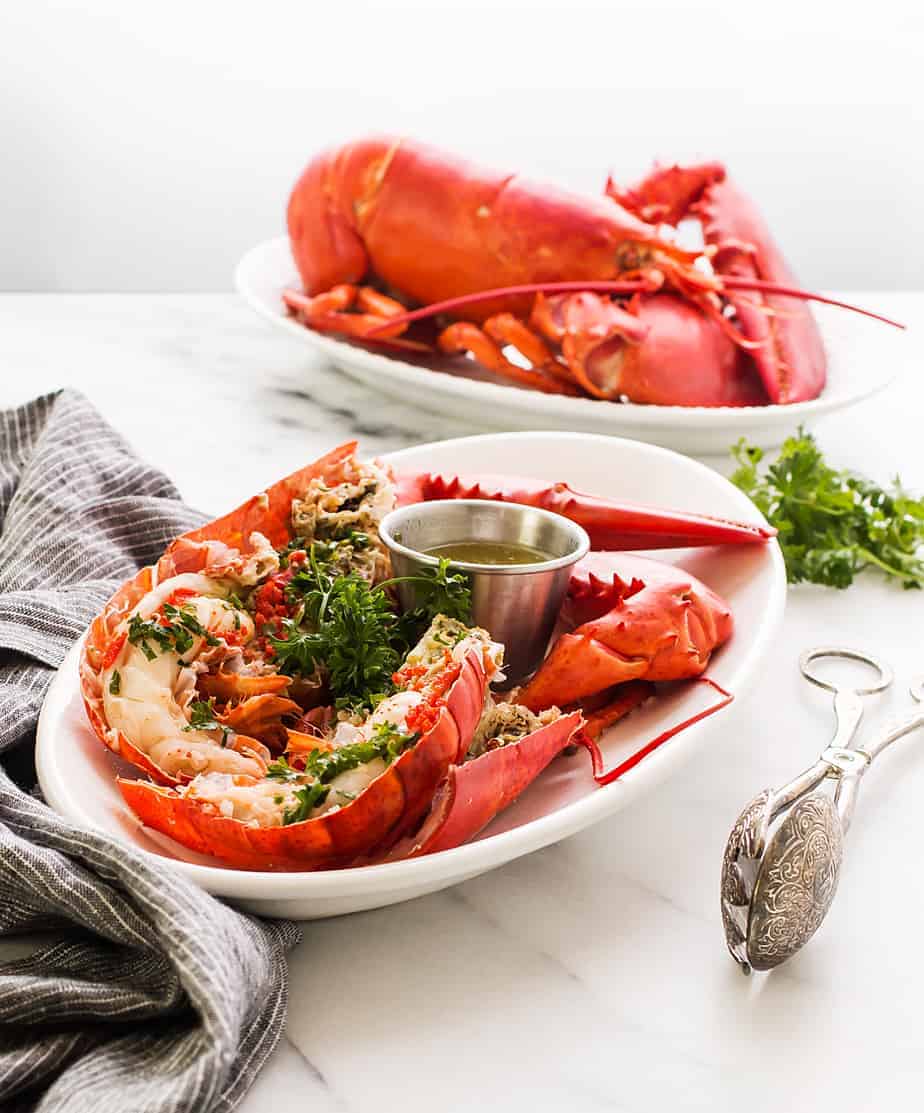 Easy Boiled Lobster Recipe: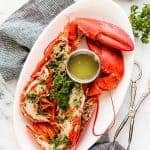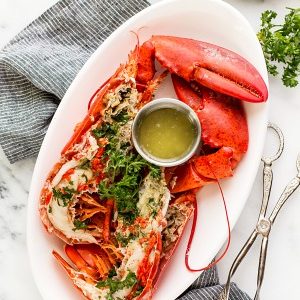 Easy Boiled Lobster with Lemon Garlic Butter Dip Sauce
To dispatch a Live Lobster Humanely : Put the live lobster in the freezer for 10-15 minutes to numb it.
Ingredients
1

lbs

lobster

about 1 1/2 - 1/14

water

salt

1

stick butter

1

teaspoon

garlic

1

teaspoon

fresh lemon juice

1

teaspoon

chopped fresh chives

1

teaspoons

fresh Italian parsley
Instructions
Pick a large pot, if you do not have one, cook lobsters in batches

Fill a large pot with 2/3 full of water and add about 1-2 tablespoons salt per gallon.

Bring water to a boil over hight heat

Place the lobster and cook for about 8-9 minutes for a 1 1/4 lb lobster or 9-10 minutes for a 1 1/2 lb lobster. When properly cooked, lobster meat is a creamy white color all the way through with no translucent areas.

Remove the lobster immediately from the pot to stop the cooking process, then set aside to cool in an ice bath.

For dipping sauce: Melt the butter in a sauce pan and add herbs, then quickly remove from the heat.