Easy Za'atar Roasted Chicken Breast
Today I am going to share this easy Za'atar Roasted Chicken Breast recipe, served with mixed harvest grains : Couscous, lentils, orzo, baby garbanzo beans and red quinoa.
Za'atar is a traditional Middle Eastern spice mix, which containing a combination of thyme, sesame seed, sumac (a tart and tangy spice made from ground sumac berries) and salt. You can purchase the pre-made Za'atar spice mix at any International market or make your own Za'atar spice at home. You can find the Za'atar spice mix recipe below. This particular spice mix offers a tasty and tangy flavor that's delicious and a  perfect addition into any recipe. You can use the spice mix to marinate chicken, for flavorful fish, sweet savory pastries, roasted vegetables or it can be sprinkled over bread or yogurt.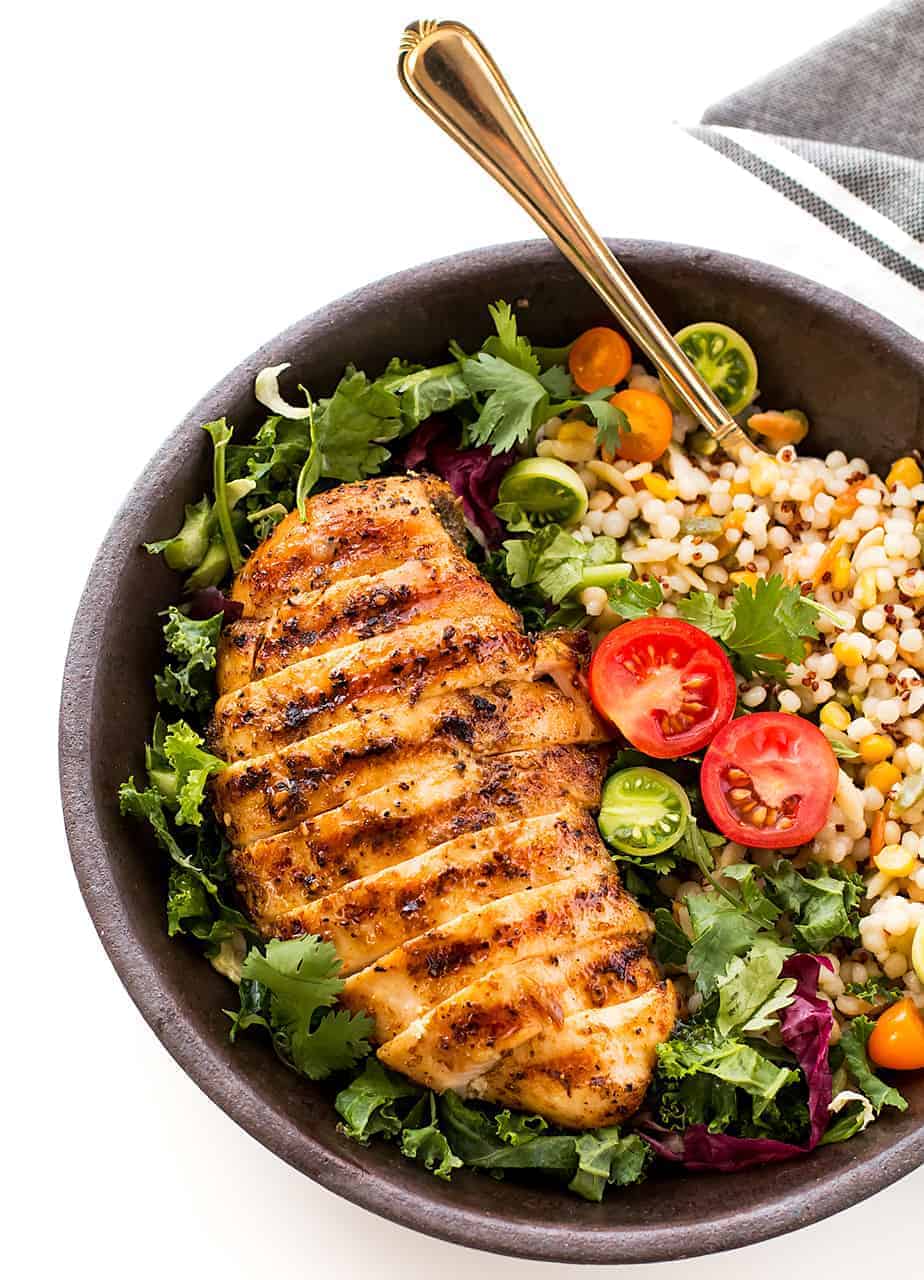 Easy Za'atar Roasted Chicken Breast
Ingredients
2 - 10

oz

chicken breasts

1

tablespoonZa'atar spice mix

1

teaspoon

kosher salt

1/4

teaspoon

black pepper

3

tablespoons

olive oil

1/2

teaspoon

smoked paprika powder

3-4

cloves

garlic

minced

4

slices

thin fresh lemon
Instructions
To marinate chicken breast:

In a medium mixing bowl, combine Za'atar spice mix, kosher salt, black pepper, olive oil, smoked paprika powder and garlic.

Add chicken breasts and massage marinade into meat until evenly coated.

Transfer the chicken into a ziplock bag and seal it. Place in a bowl and refrigerate for at least 2 hours.

Preheat the oven to 425° F

Place the marinated chicken onto a grill then sear on one side of the chicken for about 5 minutes to get the perfect grill marks.

Transfer the seared chicken with marinating sauce into a baking dish.

Place 2 lemon slices on the bottom of each chicken and 2 more on the top of each chicken.

Bake for about 30 minutes or until the chicken is fully cooked

Serve with whole grains and salad. Enjoy!