This Lamb Kofta Kebabs recipe is outstanding! It's one of my favorite Middle Eastern recipes. These spiced meatballs are made with lamb mince and loaded with spices that you can easily find in your pantry.
Middle Eastern Lamb Kofta Kebabs
If you are looking for Middle Eastern recipes that you can make at home, try this Lamb Kofta Kebabs recipe! These meatballs are loaded with flavors yet are so easy to make! The ground lamb is seasoned well with herb and spices that you may already have in your pantry.
These Middle Eastern Lamb Kofta Kebabs are gluten-free, low carb, and keto-friendly!
Jump to: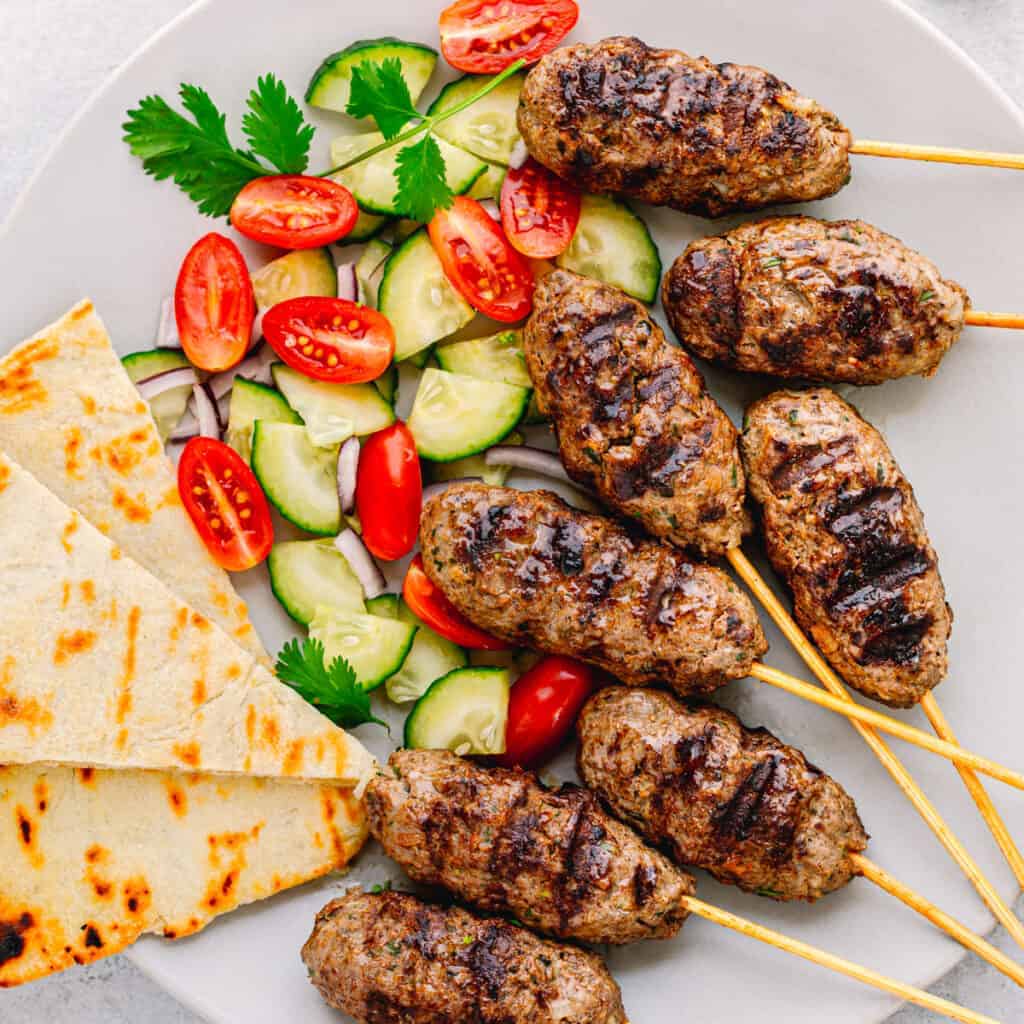 Lamb Kofta Kebabs Recipe:
Lamb kofta is one of the most popular Middle Eastern foods alongside shawarma and doner kebabs. This dish is also found in cuisines from the Indian subcontinent, South Caucasus, Balkan, and Central Asia.
Kofta is a delicious meat dish that is made from ground meat such as beef, chicken, or lamb and mixed in with aromatic vegetables and spices. The meat mixture is then shaped into football shapes or patties or sometimes made on the skewers.
Check Out More Middle-Eastern Inspired Recipes: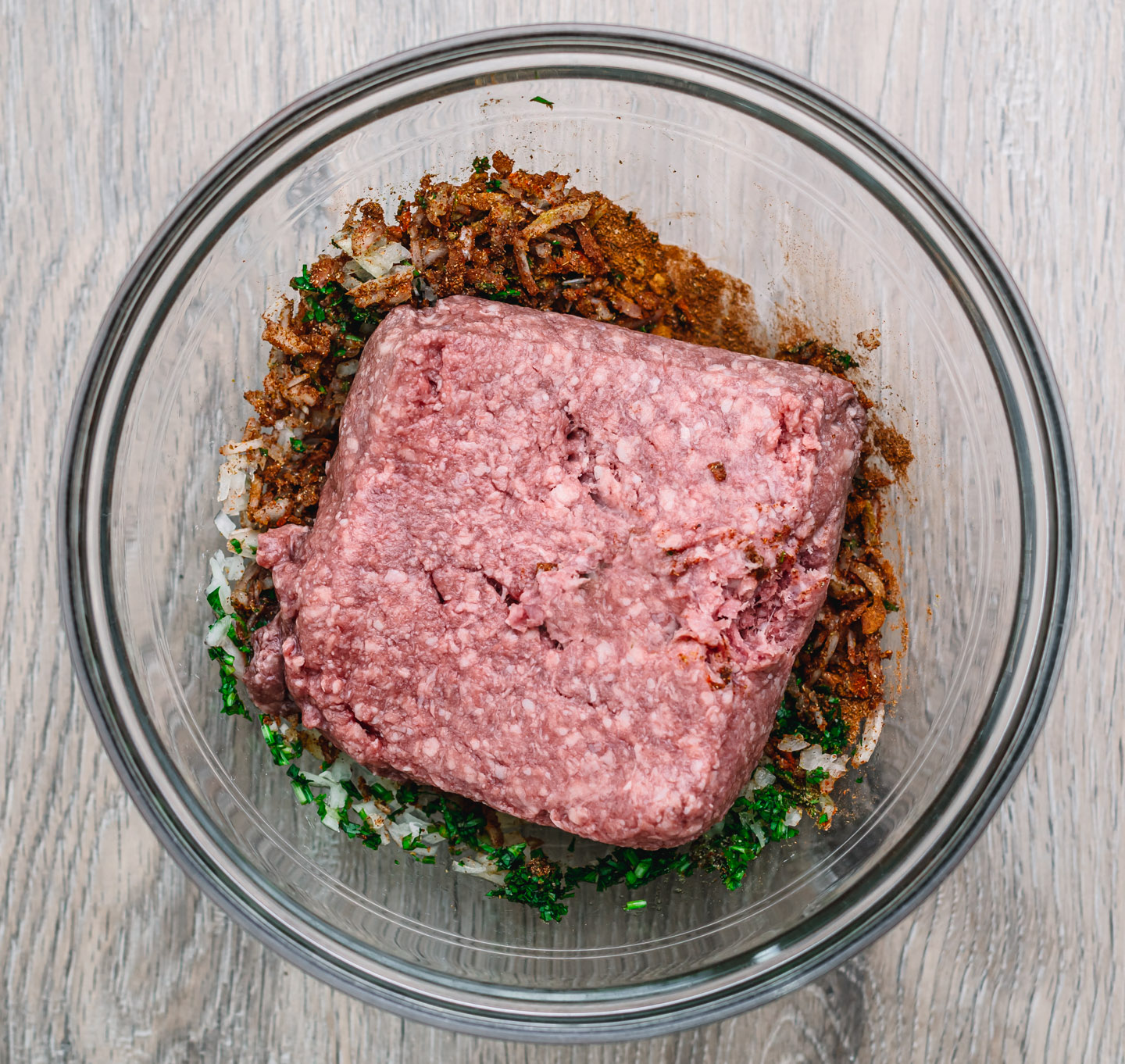 What to Serve with Lamb Koftas:
You can serve this Lamb Kofta with Middle East vegetable salad, hummus, flatbread, tabbouleh, Lebanese garlic dip (Toum), and/or rice pilaf. Or serve with this delicious Tomato Cucumber Salad recipe.
You can make these lamb koftas in a big batch, fridge or freeze them so you can have these ready for your next gathering or for any weeknight dinner.
CHECK OUT THESE DELICIOUS INSTANT POT RECIPES:
Koftas Seasoning and Ingredients:
These lamb koftas are made with minced lamb. The meat is seasoned with these fresh vegetables and spice mix: fresh onion, fresh cilantro leaves, fresh mint leaves, garlic, paprika, ground cinnamon, allspice powder, ground cumin, ground coriander, salt, and pepper.
I am sure that you can find most of these spices in your pantry. And, if you are not a big fan of Lamb meat, feel free to use ground beef instead!
Allspice:
This spice is made from dried berries of a plant known as Pimenta dioica, which is a member of the myrtle family. It's commonly used in Middle Eastern, Latin American, and Caribbean cuisines. It's similar in flavor to many different spices including cloves, nutmeg, and cinnamon.
If you don't have allspice powder in your pantry, feel free to skip or add a small amount of nutmeg and/or ground cloves to the mixture as replacement ingredients.
Cinnamon is commonly used in the Middle East and is in-fact an important part of Middle Eastern cooking. For that reason, cinnamon is in my opinion a must-have ingredient to make lamb koftas.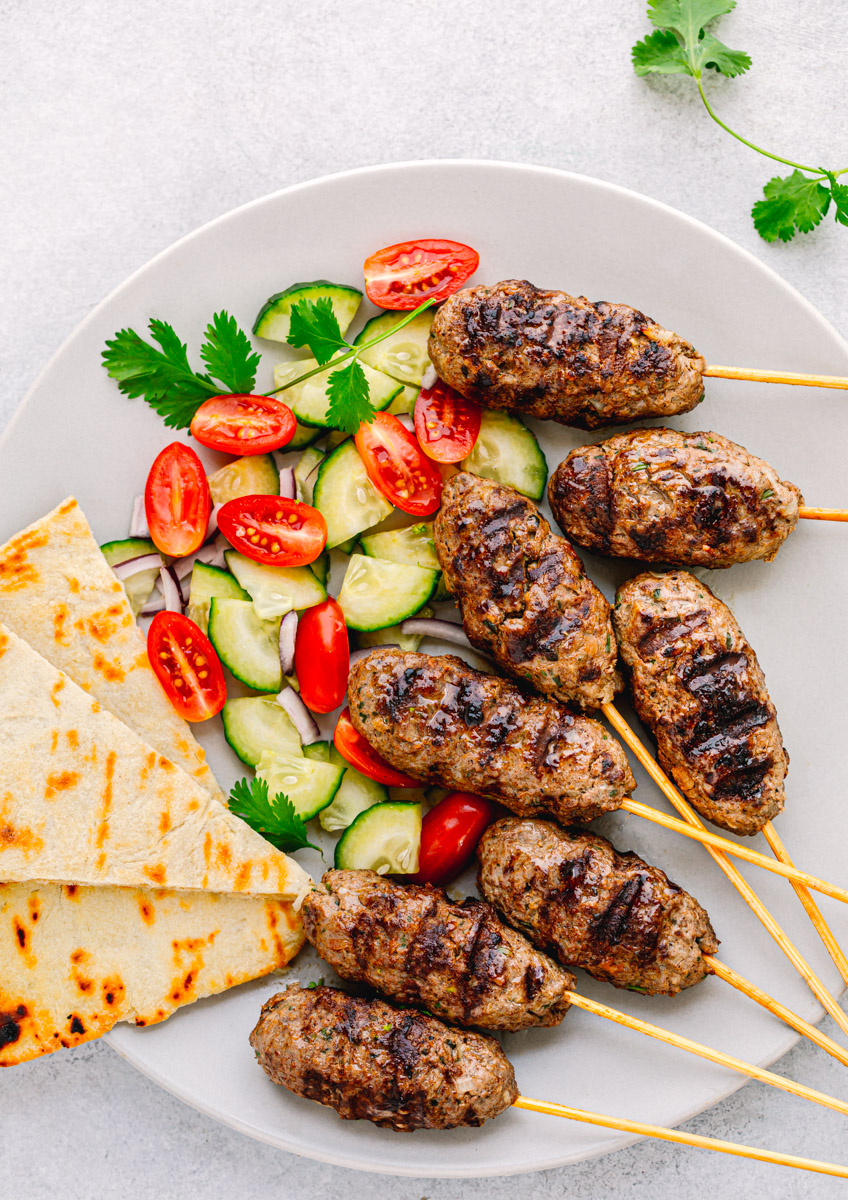 How to Make Kofta Kebabs:
The cooking process of these lamb koftas is very simple. Just be ready to get your hands dirty!
First, you will need to combine the meat with vegetables and spices. Use your hands to mix well!
Second, you want to roll the lamb mixture into football-shaped pieces then thread them onto skewers. Again, the skewers are optional. On lazy days, just shape the mixture into round balls, long cylinders, or flatten them into patties about 1 cm thick.
Third, cover and chill the lamb balls for about 10 minutes to firm up.
Fourth, place a griddle pan over medium-high heat. When it's hot, you can start grilling the koftas for about 3-4 minutes on each side (depending on the size and shape of the meatballs). Be sure to turn them halfway through so both sides are well browned and cooked.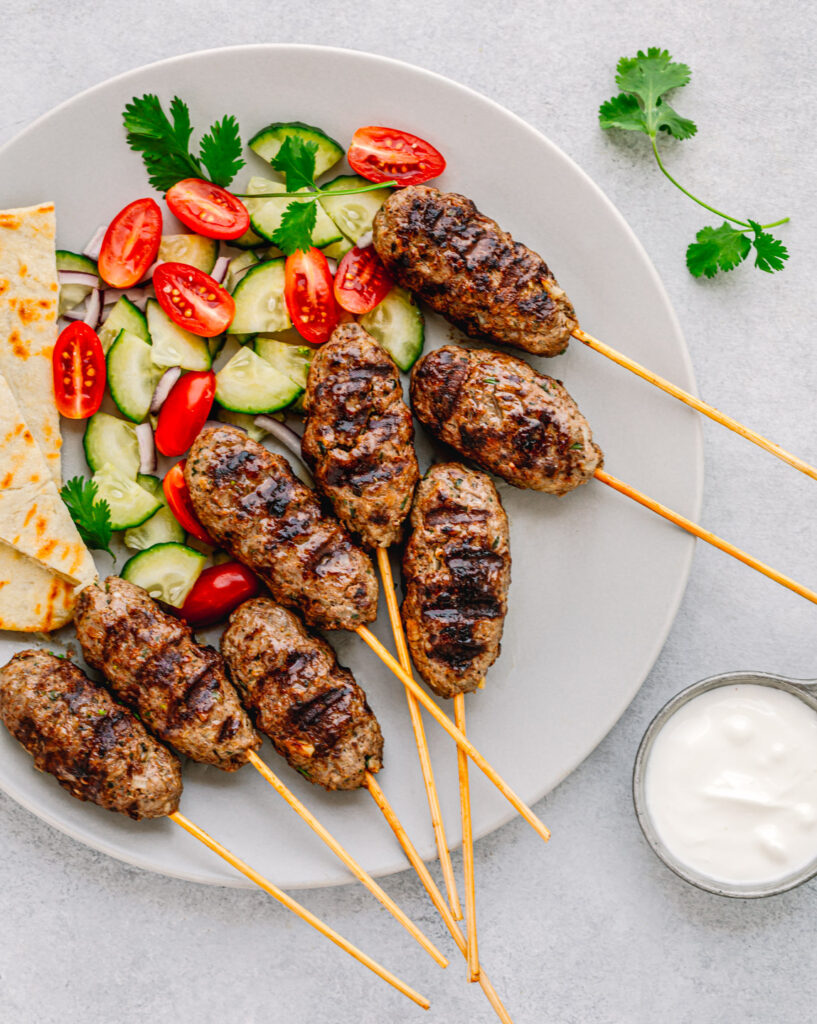 How to Prevent the Meatballs from Falling Apart:
Because these meatballs are made without bread crumbs, the meat won't hold together easily. So here are some tips to prevent the meat from falling apart when you cook them.
Chill the mixture for at least 10 minutes to firm them up before shaping the mixture into balls.
Make sure that you have a bowl of cold water ready so you can wet your hand before rolling each meatball. This will prevent stickiness.
Thread the meat onto the skewer and keep pressing and forming meatballs as quickly as possible. Don't worry about getting the perfect shape. Just make sure that they are roughly the same size. Set aside then keep working to shape the remaining meat into long cylinder meatballs.
Right before grilling, grab the meatball on the skewer. Reshape the imperfect balls one more time with wet hands by pressing the meat gently toward the skewer.
I hope you'll enjoy this Middle Eastern Lamb Kofta Kebabs recipe! Don't forget to share this recipe on social media and review it if you try it!
📖 Recipe
Lamb Kofta Kebabs
This Middle Eastern Lamb Kofta Kebabs recipe is outstanding! These spiced meatballs are loaded with aromatic spices that you can easily find in your pantry.
Ingredients
1

pound

lamb mince

¾

cup

freshly grated yellow onion

2

tablespoon

finely chopped fresh cilantro leaves

1

tablespoon

chopped fresh mint

3

teaspoon

minced garlic cloves

2

teaspoon

ground cumin

2

teaspoon

ground coriander

1½

teaspoon

ground cinnamon

1

teaspoon

paprika

½

teaspoon

ground allspice

1

teaspoon

salt,

(use more or less according to your liking)

½

teaspoon

ground black pepper
Instructions
In a large mixing bowl, mix all ingredients until well combined. Chill for at least 10 minutes. Using clean damp hands, mold them into oval patties on the skewers.

Preheat a grill pan over medium-high heat; brush grate with oil. Grill the koftas for about 3-4 minutes or longer on each side (depending on the thickness and size). Start turning when the meat is well sealed.
Nutrition
Calories:
174
kcal
Carbohydrates:
3
g
Protein:
10
g
Fat:
14
g
Saturated Fat:
6
g
Cholesterol:
41
mg
Sodium:
472
mg
Potassium:
174
mg
Fiber:
1
g
Sugar:
1
g
Vitamin A:
205
IU
Vitamin C:
2
mg
Calcium:
29
mg
Iron:
1
mg