Golden Milk latte with almond milk/cashew milk. This Turmeric tea offers a lot of health benefits. Spiced vegan milk tea with cardamon, ginger, cinnamon, black peppercorn, coconut oil, almond milk and fresh turmeric.
This golden milk recipe consists healthy ingredients and flavorful spices such as almond milk, cardamon, ginger, cinnamon, black peppercorn and the main ingredient: fresh turmeric.  I used fresh turmeric root for smoother texture.
If you can't find fresh turmeric, feel free to use cooking grade dried turmeric that is available at any grocery market.
This recipe has been made many times and you just can't beat the texture of fresh tumeric.  I have tried a varitety of tumeric powders and the final result can sometimes be bitter or have a chalky consistency.  After finishing my cooking when using the powder I have sometimes used a filter to remove the residue.
The cooking process is so simple, you can save a lot of money by making your turmeric tea rather than buying it from grocery stores. I find that many turmeric drinks sell at the stores for around $6.99 per small bottle, and they mostly contain other juice ingredients which may end up spiking your sugar consumption in one serving.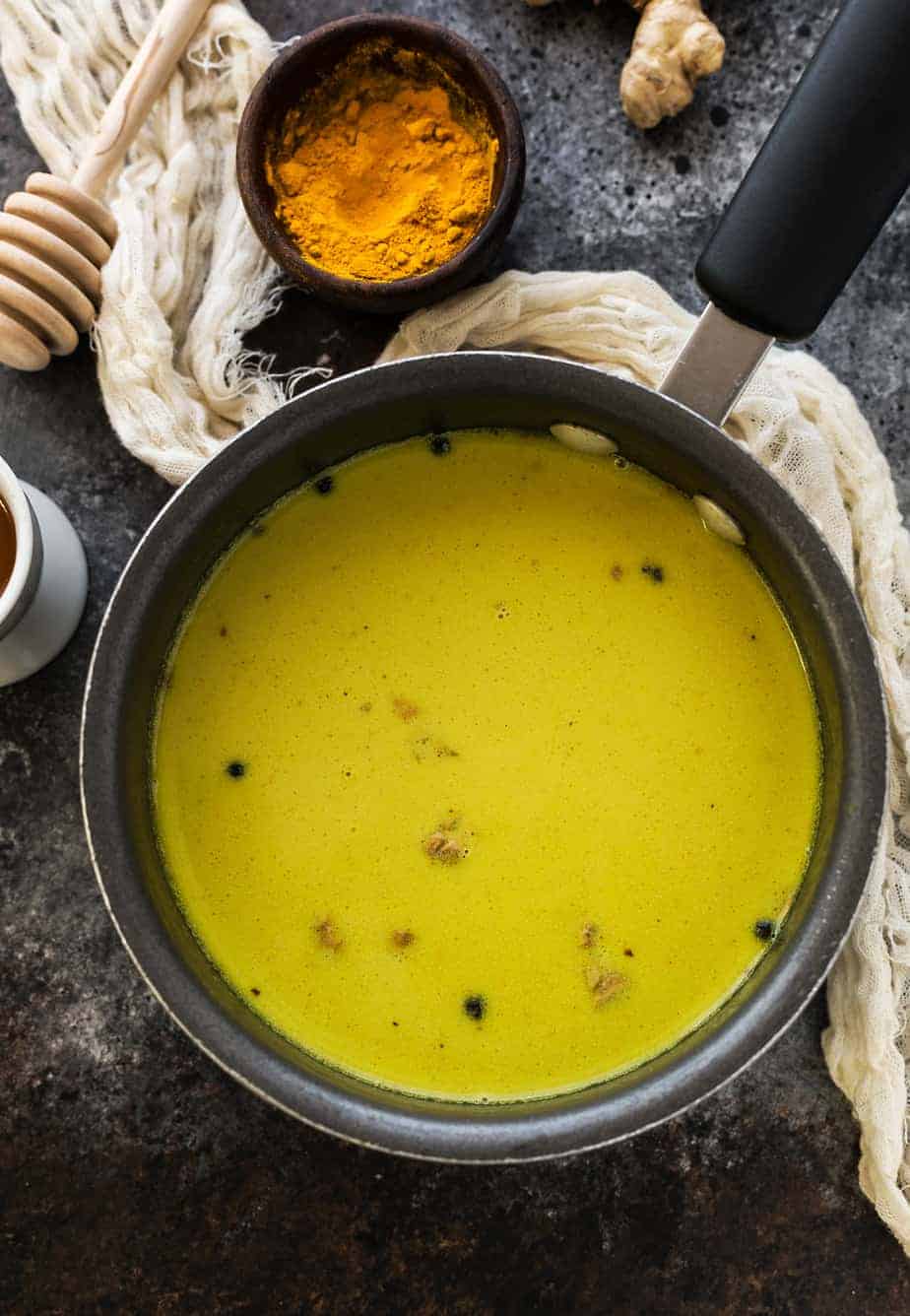 Anti-Inflammatory Golden Milk
Let's talk about the turmeric benefits. Turmeric grows wild in the forests of South Asia and Southeast Asia. Turmeric has been used for thousands of years as a spice and medicinal herb. In curry, turmeric gives the dish its yellow color. Turmeric has powerful anti-inflammatory effects and a acts as a strong antioxidant.  It helps repair damage in our body as well as protecting against cancer, heart disease, Alzheimer's, treating arthritis.  It also gives clearer skin and helps delay the onset of Type 2 Diabetes (in 2012 study).  That's quite a list, isn't it?
To boost turmeric blood levels in our body (and hence increase our cumin's bioavailability by 2000%), I added some peppercorn.  This helps to absorb turmeric and increases turmeric's health benefits. I added a small amount of coconut oil, which has those good fats that our body actually needs.  Don't worry, the turmeric milk will stay clear and not oily. You may not even notice these two ingredients in your milk. I use cinnamon to boost the flavor and make it sweeter.  The cinnamon has its own health benefits such as regulating our blood sugar.
My husband said this drink tastes similar to Chai tea but has some other flavors in there that make it even better.  I thought that was an interesting comparison, and am happy for him to drink this much more often than Chai tea, as a large cup of that could have more sugar than a candy bar.  My husband definitely has a sweet tooth and craves sweets about three times a day(after lunch, after work, and after dinner).  I think this recipe is a great example of using ingredients like cinnamon to satisfy those cravings.  Combined with the peppercorn, turmeric and even the almond milk (which is unsweetened) it brings a unique and tasty flavor that he'll happily reach for, and steer clear of an extra dessert for the day.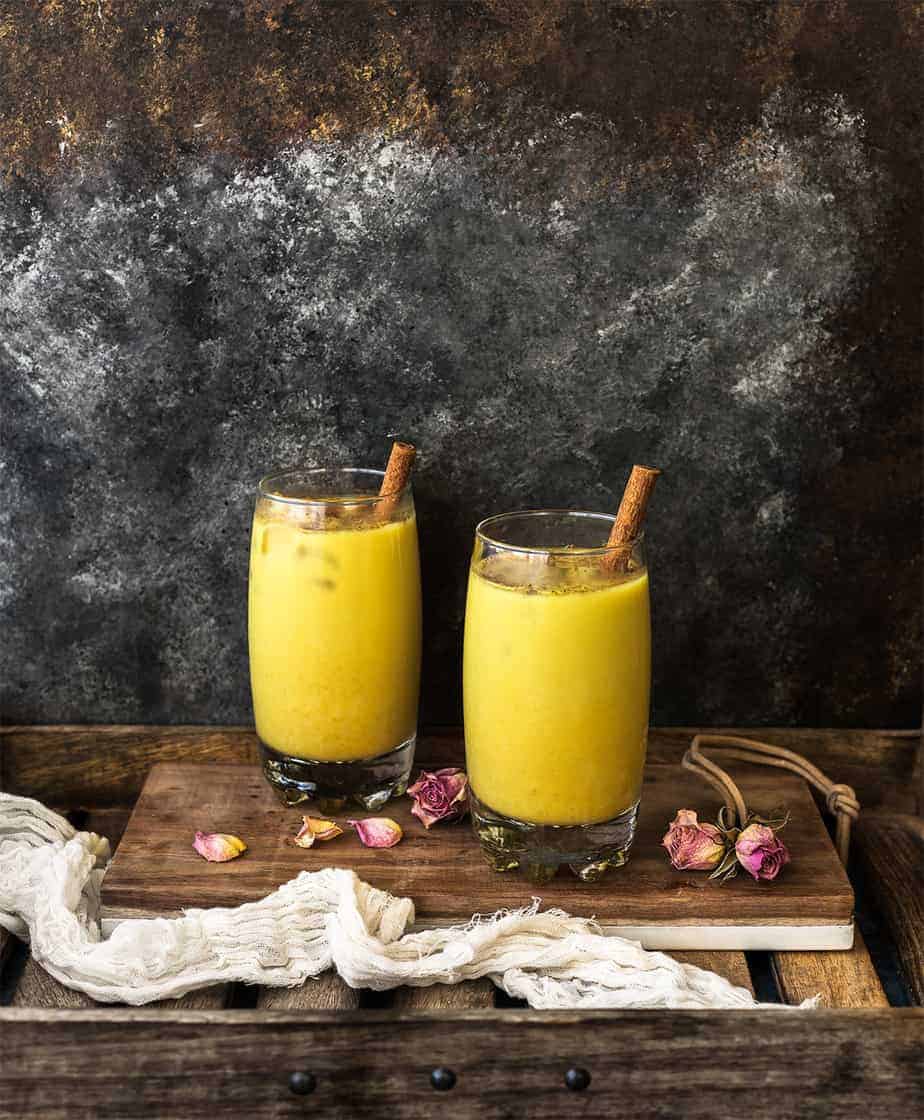 *Just a quick tip: As turmeric is also used as a coloring agent, be sure to keep your favorite clothes away from any turmeric residue. Hope you'll enjoy this  Golden Milk recipe with Turmeric and Almond milk.
Fresh turmeric root is recommended for smoother texture.
Golden Milk Recipe with Turmeric and Almond Milk
Ingredients
2

cups

unsweetened almond milk, cashew milk or hemp milk

4

inches

fresh turmeric root {recommended for smoother texture}

washed and grated (or use about 1 teaspoon dried turmeric)

1

inch

fresh ginger root (with skin)

washed and grated

1

stick

cinnamon

or use 1 teaspoon ground cinnamon

1

tablespoon

pure maple syrup

or honey (add more according to your liking)

1/4

teaspoon

whole back peppercorn

1/2

teaspoon

cardamon seeds

1/2

teaspoon

vanilla extract

optional

1/2 - 1

tablespoon

coconut oil

virgin
Instructions
Combine almond milk, turmeric, ginger, cinnamon, maple syrup, black peppercorn, cardamom, vanilla extract and coconut oil in a medium saucepan, bring to a boil.

Reduce the heat to low and simmer for about 3-4 minutes

Remove from the heat. Stir and Serve