Instant Pot Congee, an Asian comfort food, rice porridge recipe that can be made quickly using a pressure cooker. It's the perfect rice dish to warm up your winter or when you're under the weather and stuck in bed. Many people enjoy congee as daily breakfast, too.
If you are looking for instant pot recipes. Try this easy Instant Pot Congee 粥 with chicken. Congee is a porridge made of rice. It's a savory rice broth that is commonly eaten as a breakfast dish or cereal and is relatively low in calories.
Plain congee is also gluten-free and good for digestion, especially when you are sick.

This easy rice dish recipe is very easy to make and it's also a budget-friendly recipe. Congee is not very nutritionally rich, so be sure to add healthy protein and vegetables to boost the nutritional value.
How Do You Make Congee with Instant Pot
Making congee is pretty easy and requires very few ingredients. It can however take more than an hour to make the rice consistency like oatmeal.
For this reason, it's great to use Instant pot to make congee as it's much faster and the result is really quite similar. Cooking congee in an instant pot will only take about 20 minutes of cooking time!
Step 1. Rinse the rice
Step 2. Parboil the Chicken
Cook chicken drumstick in boiling water just until the foam rises to the top for about 5-7 minutes. Rinse the chicken, discard any liquid and clean the pot.
Step 3. Cook at High Pressure
Cook garlic just until fragrant. Add chicken, broth, rice, and ginger. Set it to manual and cook for 20 minutes. When the cooking is done, let the pressure release naturally.
Step 4. Shred the chicken
Remove the cooked chicken from the pot then shred. Set aside.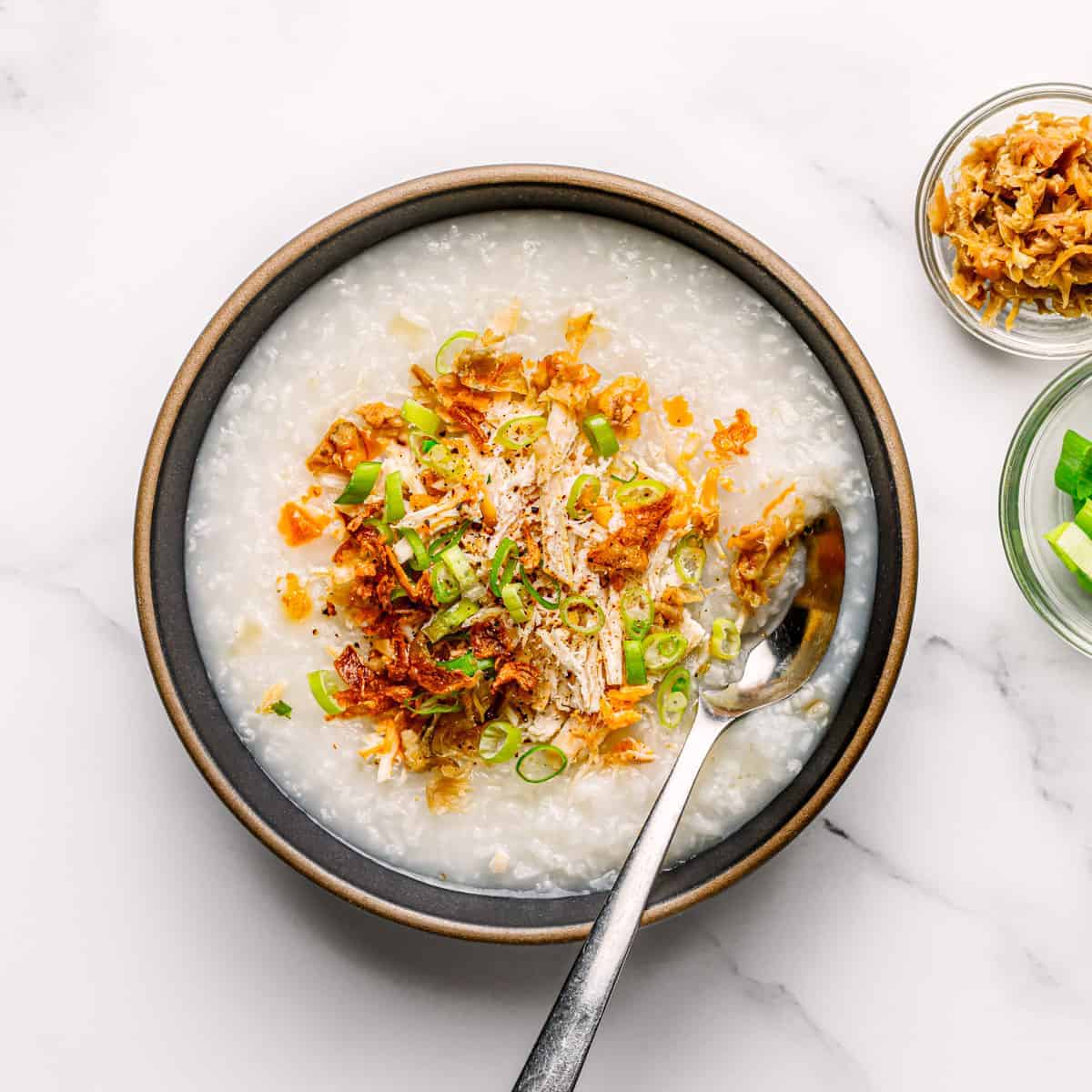 What to Serve with Congee:
The fun part of eating congee is that you can customize your own toppings. Some great options for toppings are hard-boiled eggs, preserved duck eggs, chopped green onions, shredded chicken, fish, ground pork, ground beef, roasted peanuts, pickled veggies, crispy fried or baked shallots, and much more.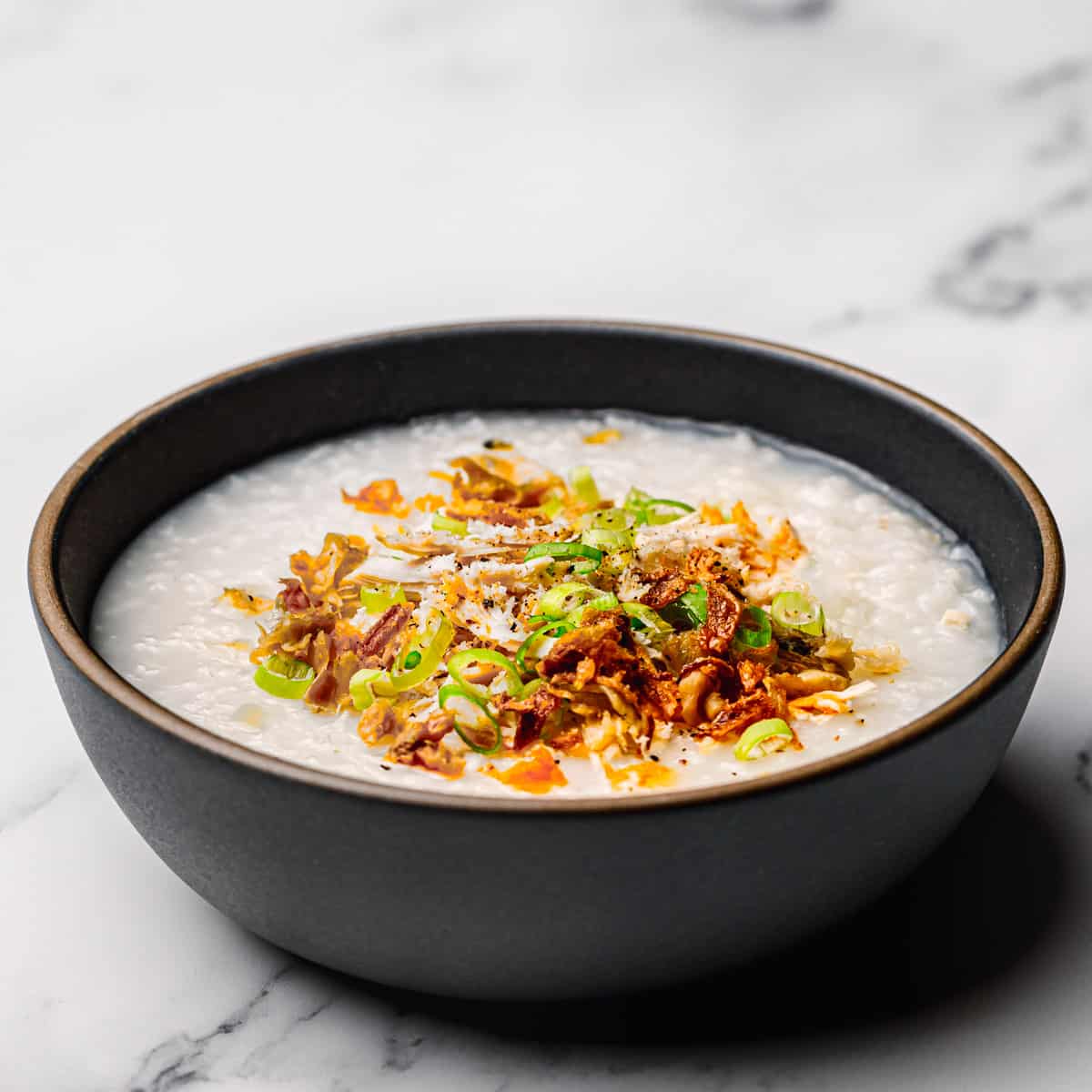 CHECK OUT MORE ASIAN RECIPES: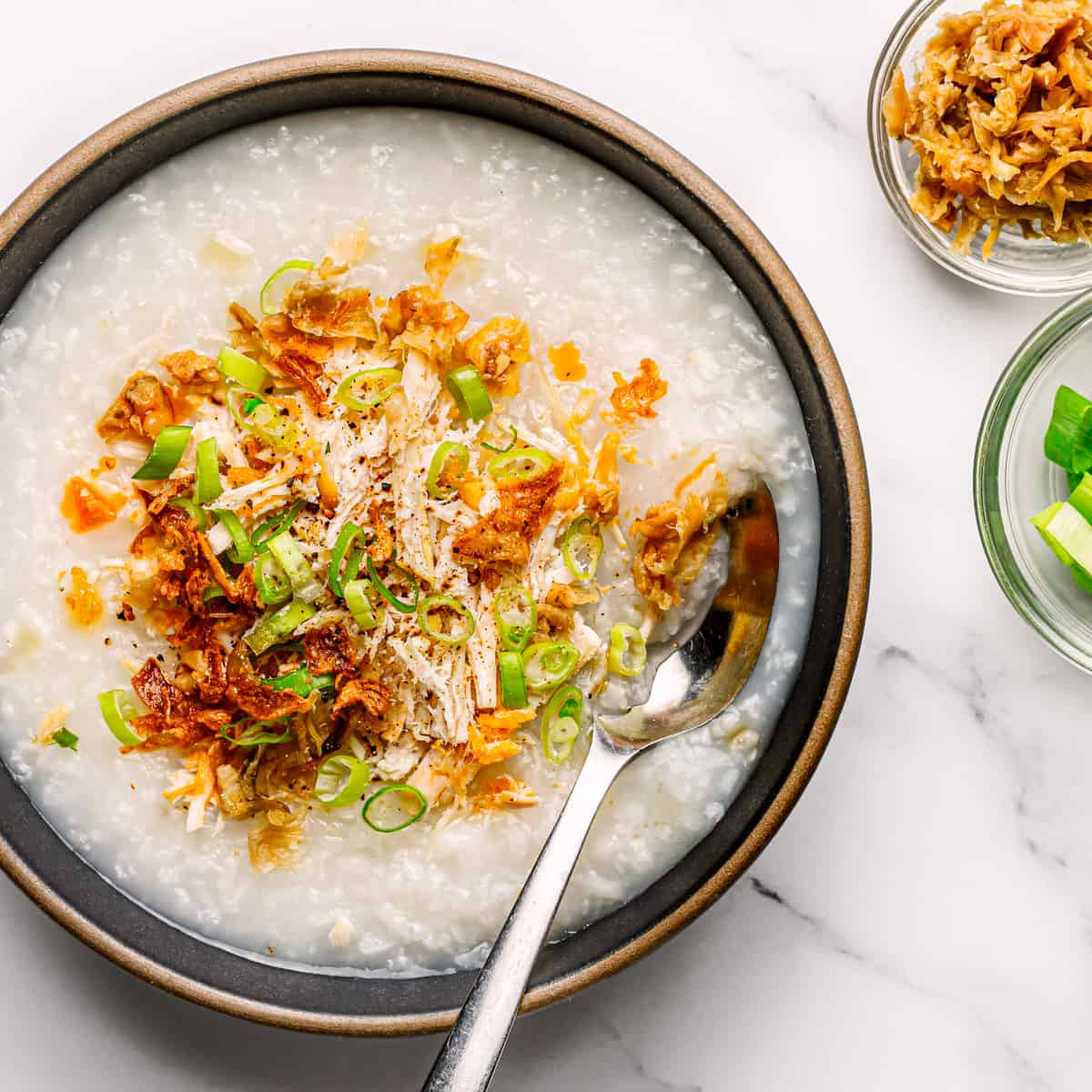 How Much Water and Rice Ratio for Perfect Congee
There is no specific ratio of rice to liquid when making Chinese porridge or congee. If you want thicker congee, the rice to liquid ratio is 1:6, and for medium thickness, the rice to liquid ratio is 1:7. I personally love a more watery consistency, so I actually stretch the rice to liquid ratio to 1:8.
If you are not so sure, you can start with a 1:7 ratio then add more liquid and extend the simmering stage for a longer period of time (until you reach a texture that you like).
What kind of rice is used for congee?
You can use short or long white rice or brown rice. I prefer to use long white rice such as Thai Jasmine rice. You can also use leftover rice.
Can You Store Congee in a Fridge?
Plain congee can be stored in the fridge for up to 5 days. Just be sure to reheat on a stove and keep stirring until it reaches the perfect consistency.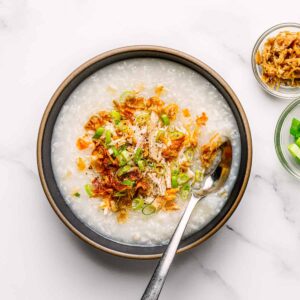 Instant Pot Congee
A quick Asian porridge, made with rice, garlic, ginger, chicken. A comforting dish on a cold day or even for breakfast.
Ingredients
1

cup

jasmine rice

,

(rinse and drain)

8

cups

water

1

tablespoon

canola oil

3

garlic

,

minced

5-6

pieces

of chicken

,

drumsticks

1-

inch

ginger

,

(peeled and sliced)

½

tbsp

salt

,

(add more according to your liking)
Recommended Toppings:
fried shallots

green onion

,

(chopped)

fresh cilantro leaves

shredded chicken

Original Tianjin Preserved Vegetable Salted Cabbage

chili oil

sesame oil

ground white pepper
Instructions
For cleaner broth. In a medium-size pot (or an instant pot), boil 5 cups of water over high heat. Cook chicken just until the foam rises to the top for 5-7 minutes. Remove chicken from the pot, rinse and discard any liquid.

Set the instant pot to "saute" setting. When it's hot, add 1 tablespoon of oil and cook the garlic just until fragrant for 15 seconds.

Add chicken, 8 cups of water, rinsed rice and ginger. Close the lid. Set the instant pot to "Manual" setting for 20 minutes. When it's done, let the pressure release naturally.

Using tongs, remove the chicken and transfer to a cutting board. Use forks to shred the meat into small pieces and remove the bones.

Set the instant pot to "saute" setting and keep stirring the congee until desired consistency. Season with salt as needed.

Remove congee from the instant pot and serve with shredded chicken, green onions, and other toppings of your choice.
Nutrition
Calories:
138
kcal
Carbohydrates:
25
g
Protein:
2
g
Fat:
3
g
Saturated Fat:
1
g
Cholesterol:
1
mg
Sodium:
605
mg
Potassium:
41
mg
Fiber:
1
g
Sugar:
1
g
Vitamin C:
1
mg
Calcium:
21
mg
Iron:
1
mg