Thank you Decoy for sponsoring this post. Celebrate International Merlot Month this October by using the hashtag #MerlotMe on social! 
Instant Pot Lamb Stew with Apricots recipe. The best lamb stew ever! It's so hearty and comforting. It's a one-pot meal with simple ingredients, perfect for any weeknight or special occasions. A delicious lamb stew that is made without flour or butter.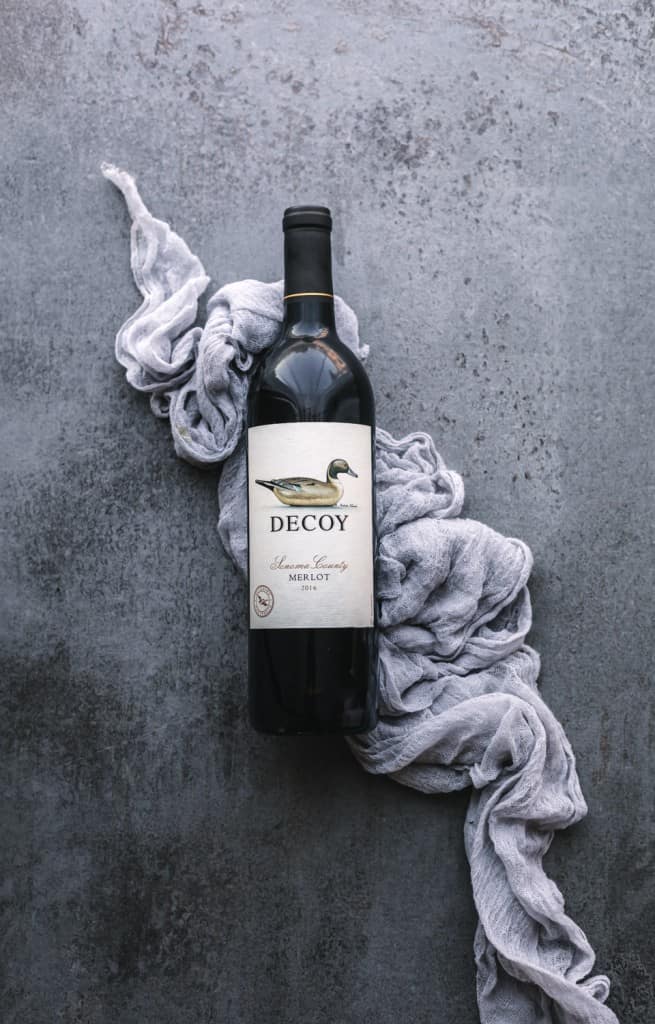 If you are looking for an Instant Pot Lamb Stew recipe then keep reading. This stew recipe that will keep you warm this fall and winter. This instant pot lamb stew is the perfect comfort food on a chilly evening.  I'm proud of how this recipe comes out, I think it will be a keeper and atop your recipe list for lamb stew!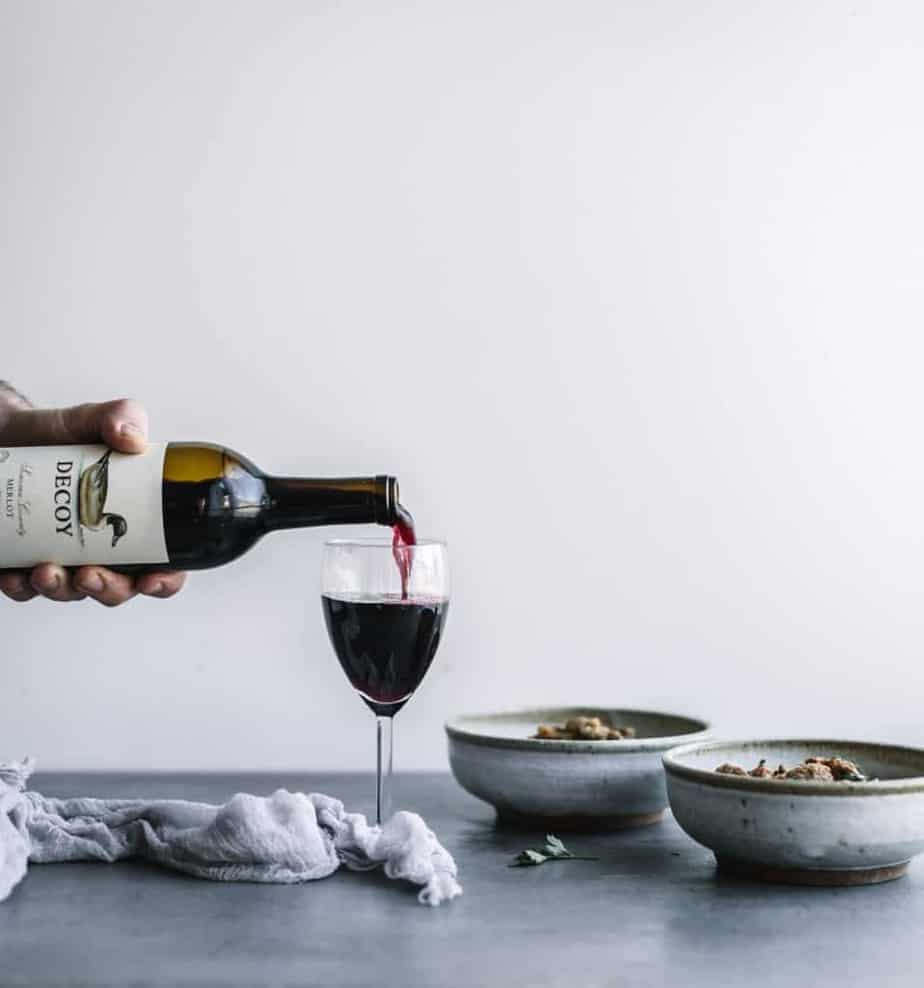 Tender Instant Pot Lamb Stew:
The tender lamb meat will fully melt-in-your-mouth, and the broth has a deep and rich flavor  This one-pot meal of instant-pot lamb stew is loaded with hearty and healthy ingredients, perfect for any weeknight or special occasions.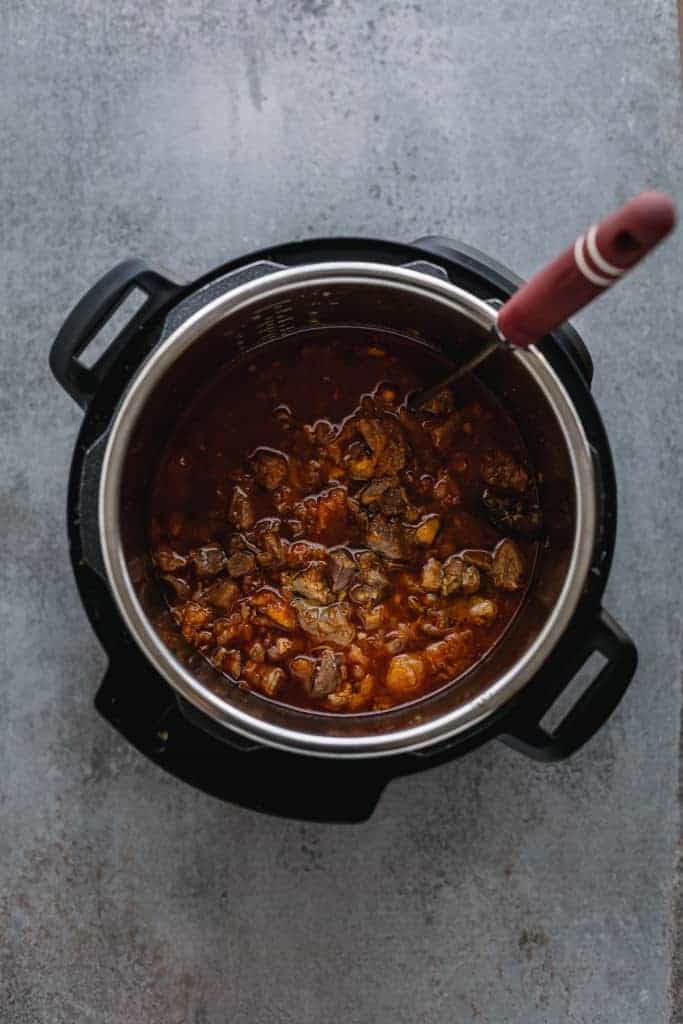 This lamb stew is not a traditional stew but don't worry because you only need simple ingredients that you can easily find in your pantry: cinnamon, coriander, salt, black pepper, ginger, turmeric also some fresh ingredients of: boneless lamb leg, beef broth, onion, garlic, tomato paste, fresh ginger, and also dried apricots.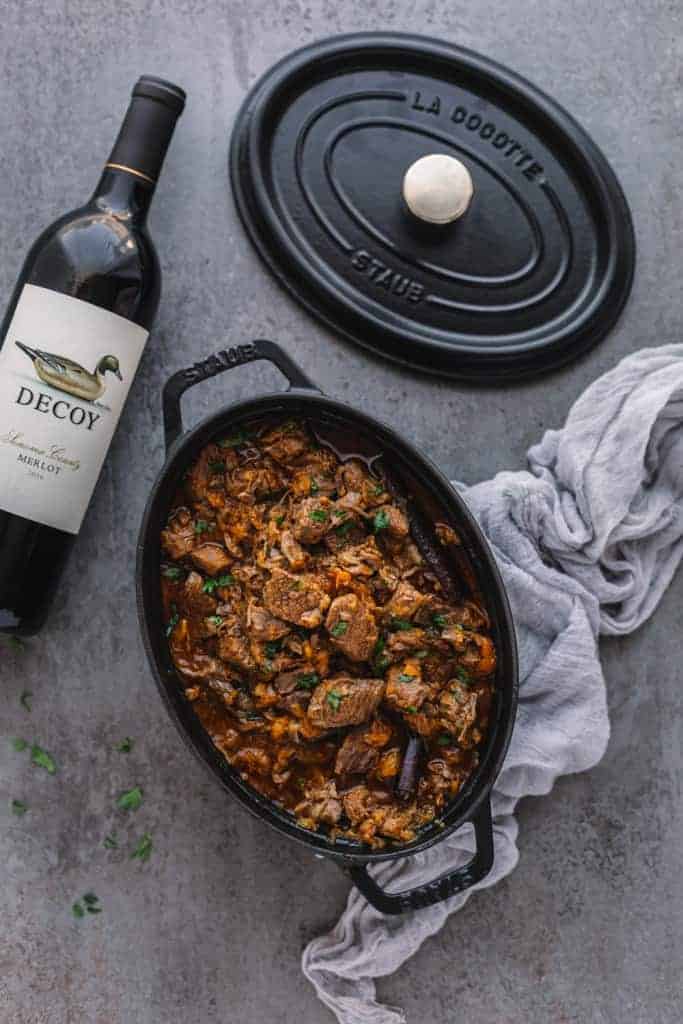 This Instant Pot Lamb Stew with Apricots recipe is fast and easy but is packed with slow-cooked flavor and tenderness. Make this stew using instant pot and you will spend less time in the kitchen and it can be ready in about 45 minutes. This lamb stew contains no flour and no wine, but the sauce has a great consistency. If you have some leftover lamb meats, be sure to try these  Slow Cooked Lamb Ragu  Slow Cooked Lamb Shanks recipes.
October is International Merlot month, a global industry event celebrating the noble Merlot varietal all month long. Over 100 Merlot producers from around the world participate. How to be part of the merlot movement? Get your hands on a fine bottle of Merlot, obviously! Merlot goes down well at home or out at a restaurant. Attend a #MerlotMe tasting. Just get some Merlot in your glass! The best part about #MerlotMe is finding something new to try, or finding others who love the same Merlot as you. Follow the hashtag and chat with others who are sharing their #MerlotMe moments as well.
Decoy Sonoma County Merlot is an outstanding choice for a bottle this season.  A case may be a better way to go as their tagline is that it's the "everyday bottle for the well informed".  The bottle boasts complex but smooth layers of black cherry, blueberry, and cassis, with hints of both vanilla and cocoa.  My palate for wine is not as refined as those in the industry but we like to have a glass before reading about the flavors, then have another glass (or more) after learning about the wine.  As big fans of black cherry in-particular this bottle was a pleasure to drink.


There are a number of things that I appreciate about Duckhorn Vineyards, the makers of this fine bottle.  For one, they've been around for over four decades fine-tuning their craft.  That is something to definitely look for in the complex wine industry.    A second thing that I enjoy is the details they share on their website about their wine varieties.  This Merlot was a 2016 and I was able to read about the rain and sun for that crop, and how it affected the richness and acidity, color and concentration.  Lastly, I appreciate their location. I worked in the restaurant industry for some time in Sonoma and Napa and was fortunate to have many a bottle of outstanding wine up there…. nothing quite compares to it!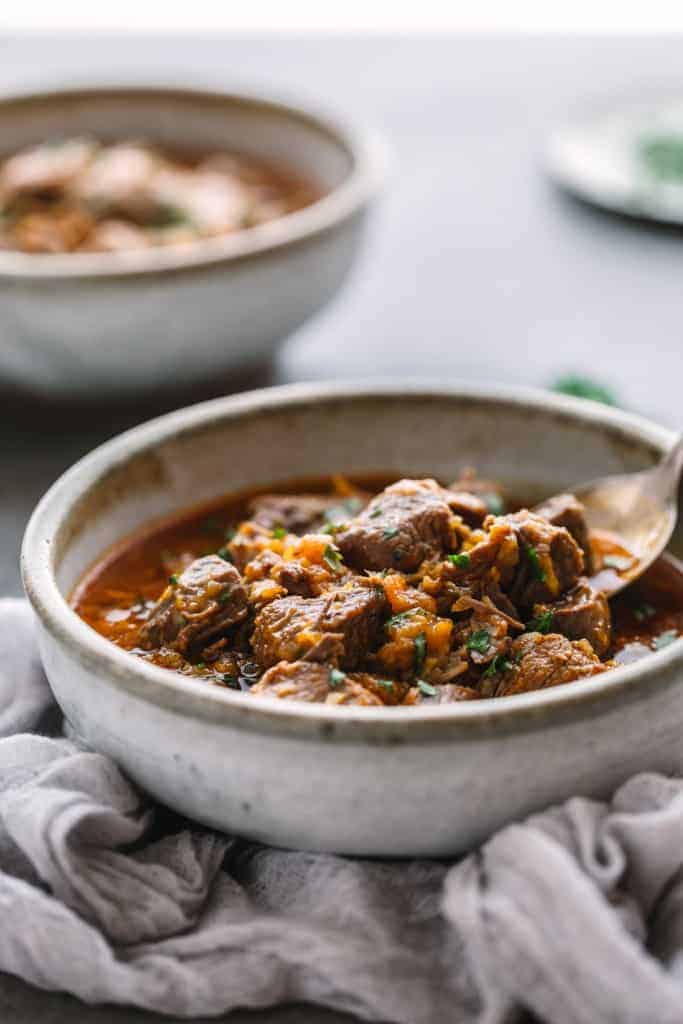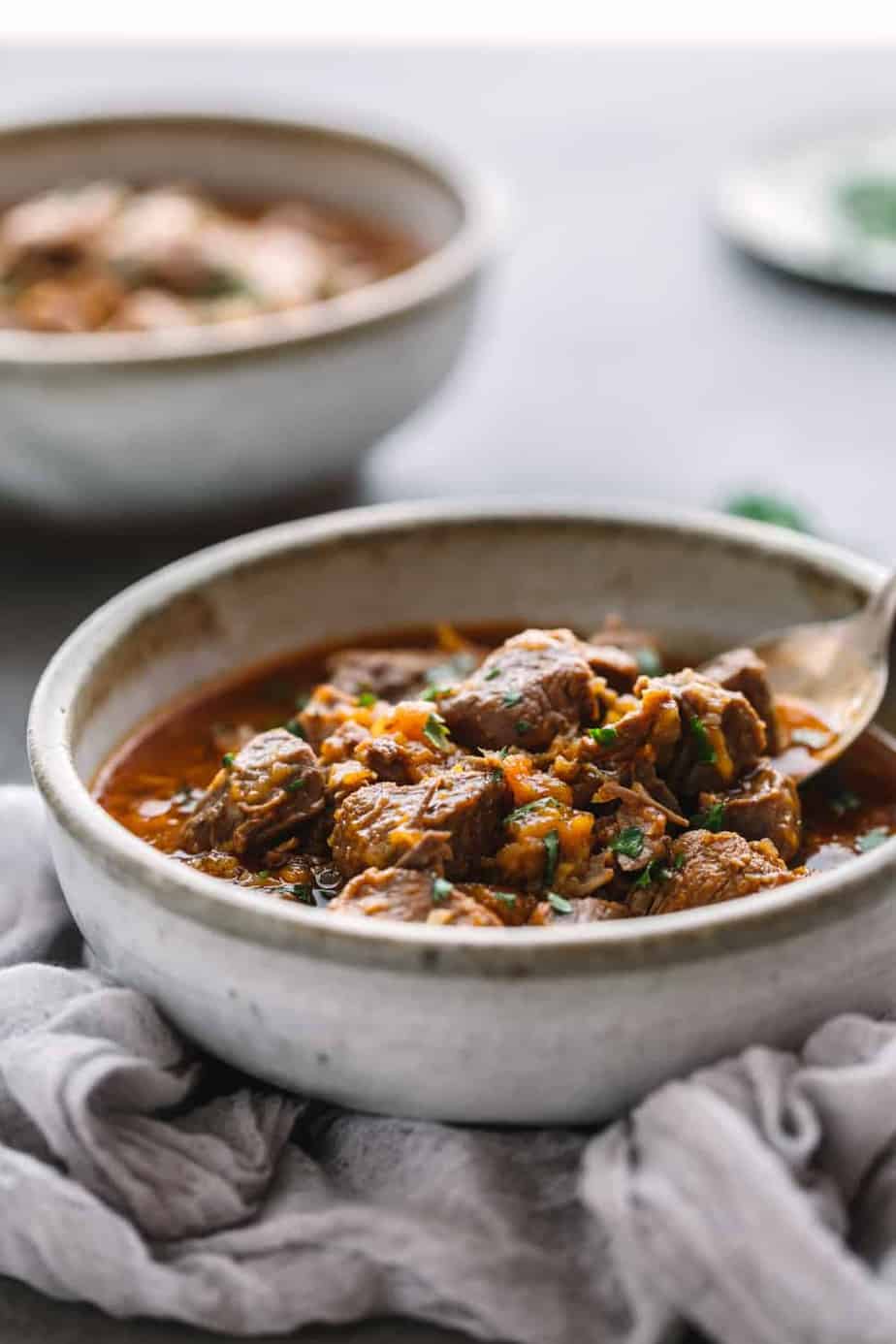 Speaking of red wine, people often use it as a component in a stew.  The following Instant Pot Lamb Stew with Apricots recipe does not, so you can just enjoy your glass of Decoy Merlot as a pairing instead of as an ingredient, yum!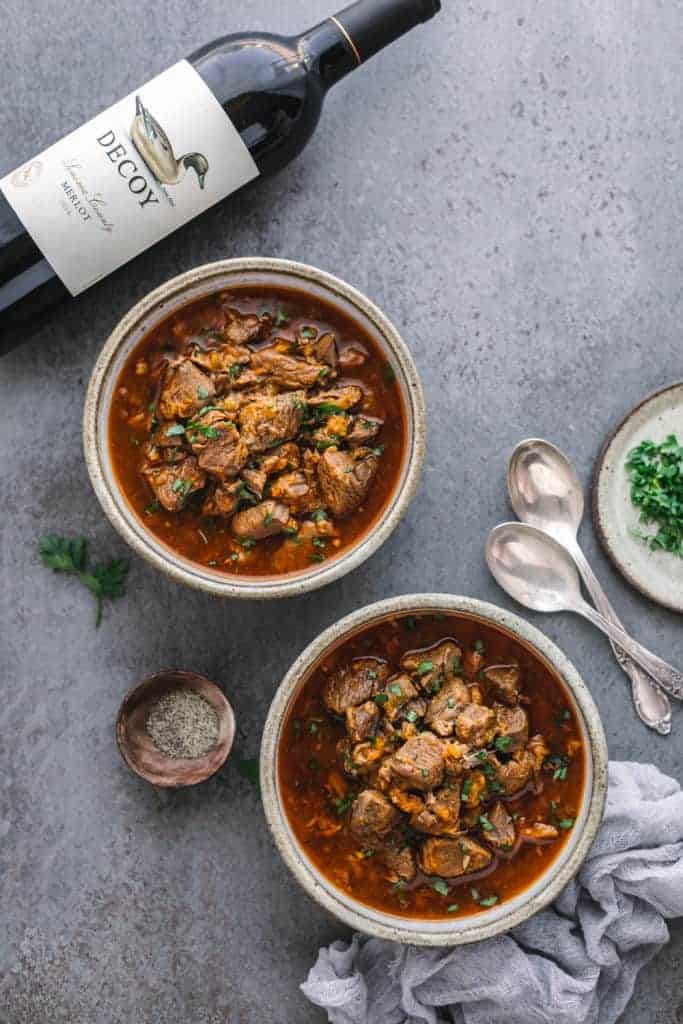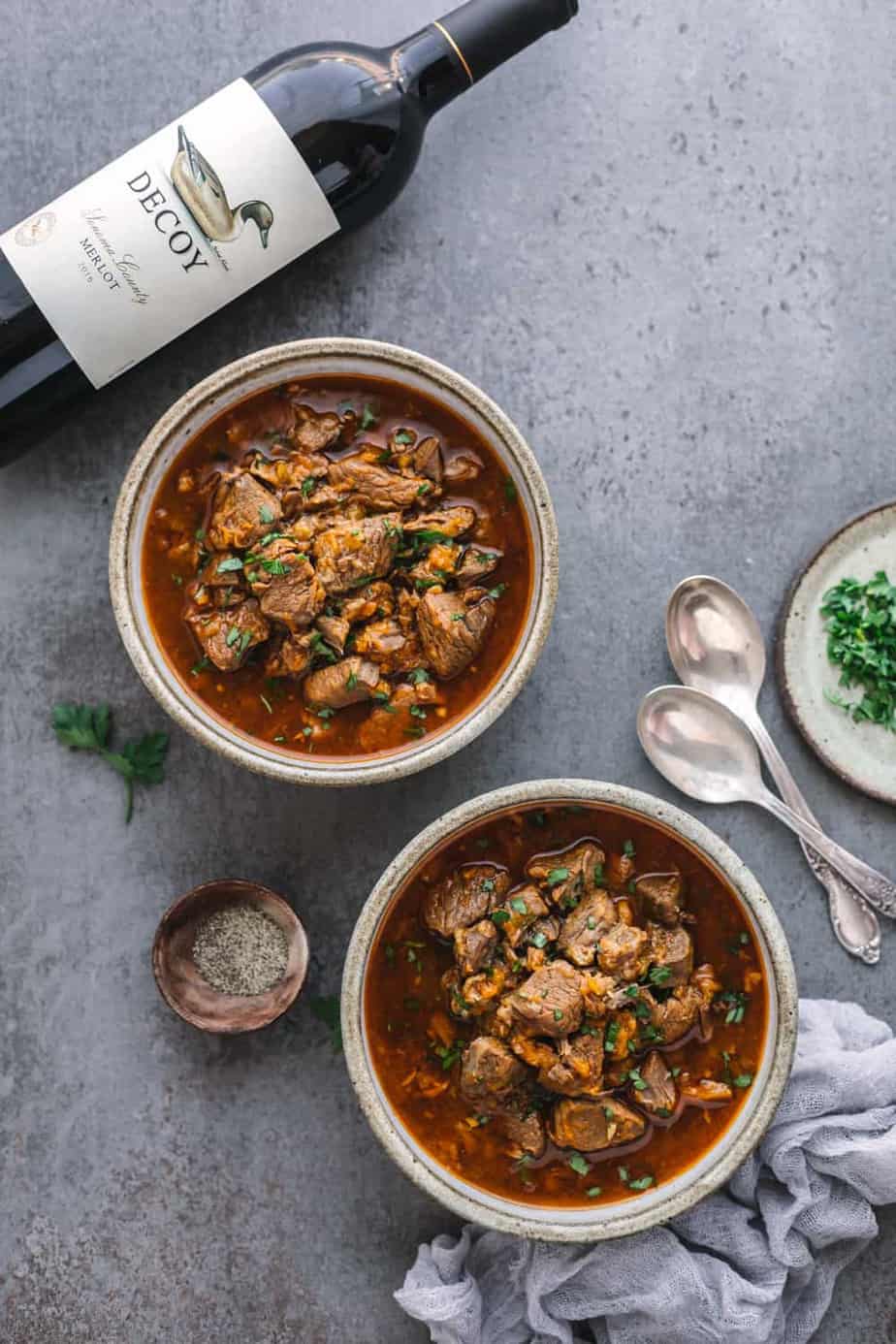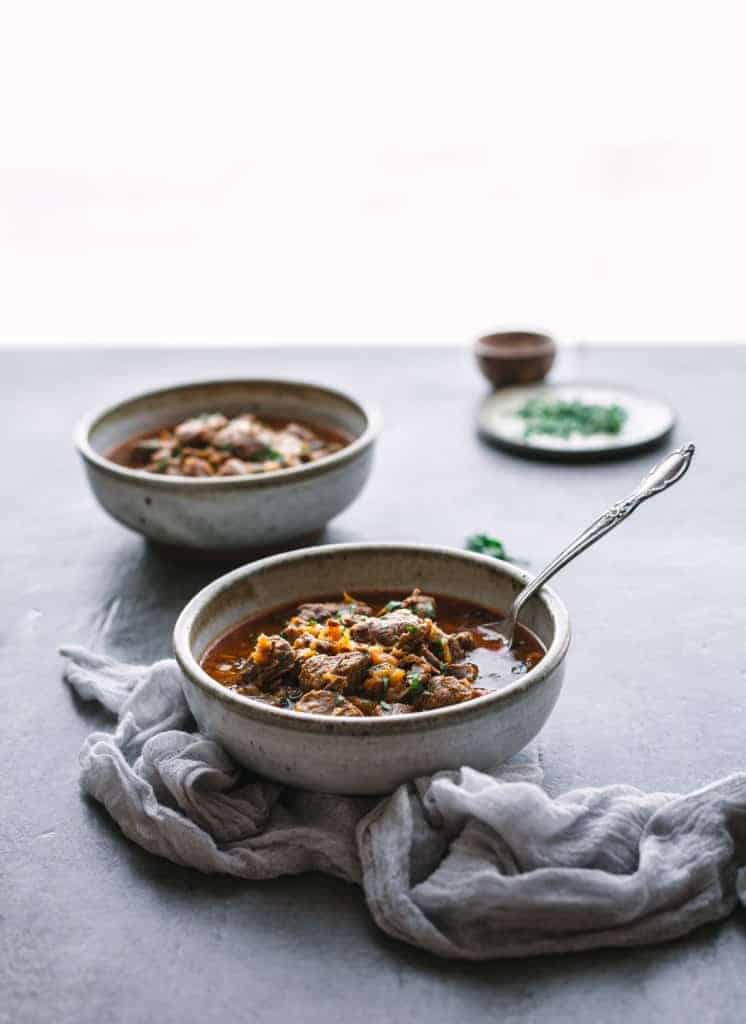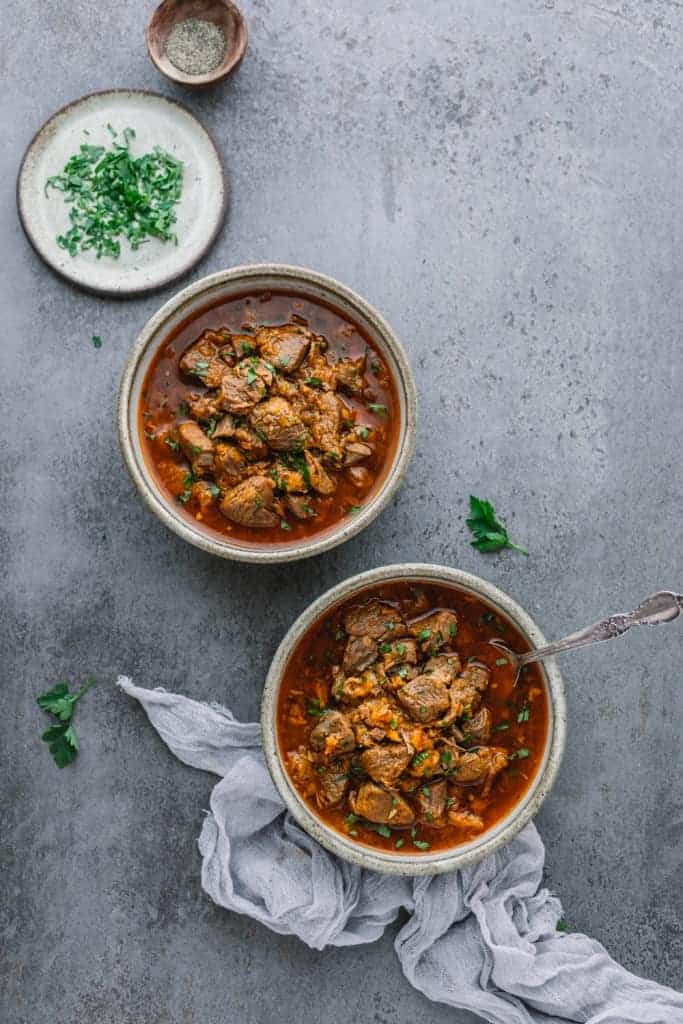 I was selected for this opportunity as a member of CLEVER and the content and opinions expressed here are all my own.
Instant Pot Lamb Stew with Apricots
This Instant Pot Lamb Stew is packed with flavor and so easy to make! The perfect comfort food for any weeknight or special occasions
Print
Pin
Rate
Ingredients
3

pounds

lamb leg - boneless

cut into stew-bite size

1 3/4

cup

beef broth

2

tablespoons

canola oil

1

onion

chopped

2

garlic cloves

minced

1

teaspoon

ground coriander

1

teaspoon

tomato paste

3/4

teaspoon

black pepper

1

teaspoon

salt

(add more according to your liking)

3/4

teaspoon

ground turmeric

1/4

teaspoon

ground ginger

1/2

teaspoon

fresh grated ginger

1/4

teaspoon

ground cinnamon

1

cup

whole dried apricots

1

large cinnamon stick
Instructions
In a skillet over medium heat, cook the lamb until browned for about 5 minutes per batch. Set aside.

Turn the instant pot setting to "Saute", add oil, garlic and cook until fragrant.

Add chopped onion and cook for about 30 seconds. Add cinnamon stick, coriander, black pepper, salt, turmeric, ground ginger, grated ginger, salt and ground cinnamon. Keep stirring until fragrant for about 15 seconds.

Add browned lamb leg cubes into the instant pot. Stir for a few seconds.

Add dried apricot, cinnamon stick and the broth, turn off the "Saute" setting, close the lid and set to "Manual" for about 35 minutes.

Release pressure using the natural-release method. Unlock and remove the lid.

Serve the lamb stew immediately with rice.
Notes
You may also brown the lamb meat using instant pot. 
Leg of lamb is great for barbecue or roasted and it works really well as a stew or curry. If you can't find leg of lamb, use Lamb shoulder instead.