Easy Lemon Garlic Butter Shrimp recipe with a touch of basil, coconut milk and honey! It's one of the easiest and quickest way to prepare shrimp, all ready within 20 minutes
This lemon garlic butter shrimp recipe is a perfect way to cook up shrimp in a tasty and unique way. The shrimp is cooked with four different flavors that come together extremely well: honey, garlic, lemon and basil. Sometimes adding too many flavors in one dish can result in a confusing taste going in too many directions, I don't find this to be one of those dishes. Lemon is practically a given ingredient when eating seafood, and lemon with garlic is always welcome in my book. The savory basil is aromatic and the honey adds a sweetness and slight texture change that brings a hint of Asian flare. I like that the honey balances out the tanginess from lemon.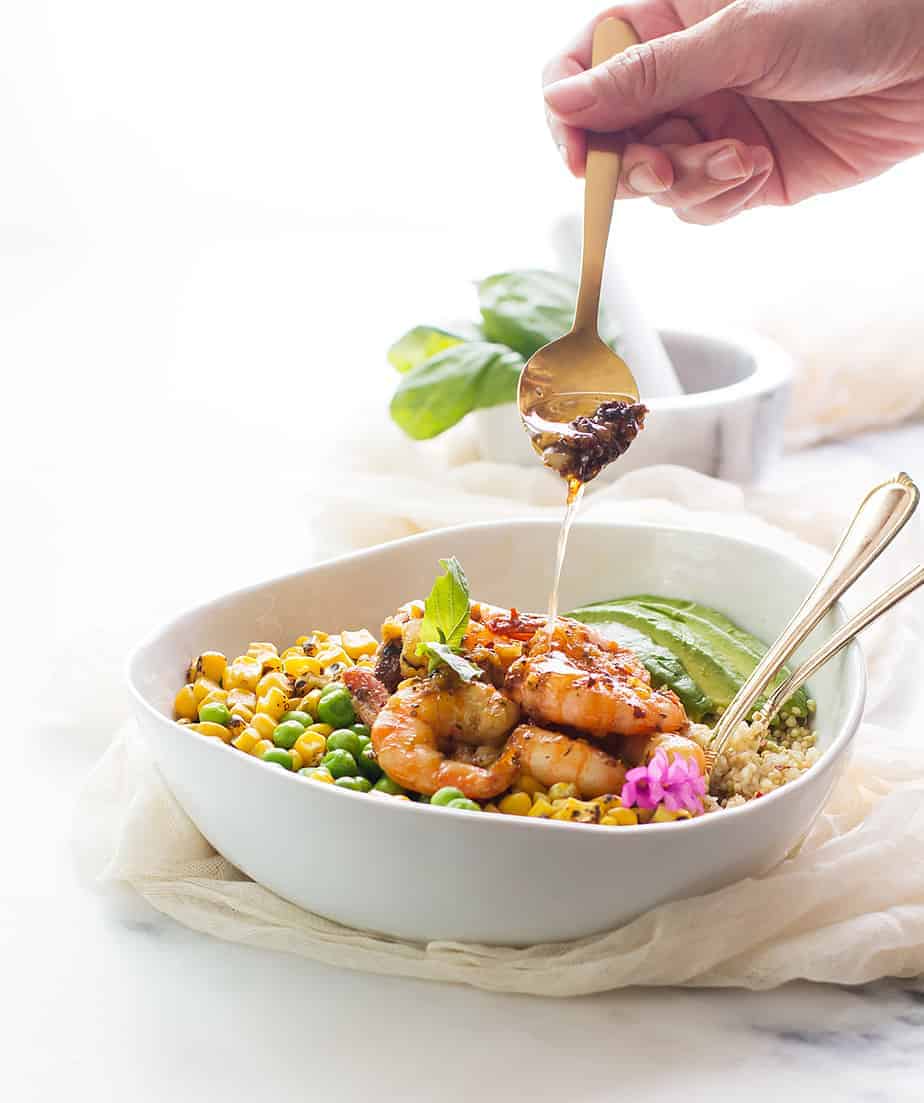 With the shrimp having a high protein content and quinoa added to the dish I consider this to be a great option for a shrimp protein bowl. It definitely mixes it up a bit from the more common chicken and other common protein bowls that you'll find out there. I didn't feel like going to the store today so I just grabbed a few other veggies that were on-hand, which included peas and corn (since I have two toddlers I always seem to have a bag of those around!).
You can enjoy this lemon garlic shrimp with rice or follow my lead with it on top of your favorite salad. Either should taste great.
📖 Recipe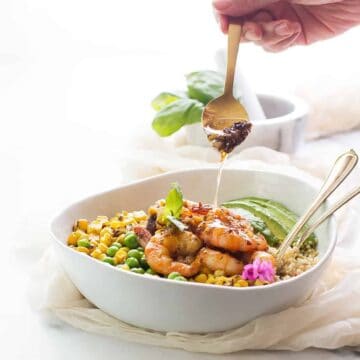 Lemon Garlic Butter Shrimp
Ingredients
12

pieces

of extra-large shrimp

1

tablespoon

olive oil

4-5

cloves

garlic

1 ¼

tablespoons

butter

2

tablespoons

lemon juice

1

teaspoon

honey,

or more according to your liking

1

teaspoon

chopped basil

,

I used mydorot

tablespoons

Optional: 2 coconut milk

,

full fat

salt/pepper to taste
Instructions
Heat olive oil in a skillet over hight heat. When it begins to smoke, place shrimp in a skillet and cook for one minute without stirring

Season shrimp with salt and pepper to taste

Stir in garlic and chopped basil, cook for about 1 minute

In a small mixing bowl, add lemon juice, honey and coconut milk quickly stir

Next stir in the lemon juice, coconut milk, honey mixture and ¼ tablespoon butter

Cook until the butter is melted, then turn the heat to low and add the remaining butter

Keep stirring until the shrimp is well cooked, then stir in chopped parsley and turn off the heat.

Serve with rice, salad or quinoa with veggies of your choice.