One of my favorite healthy snack recipes! Oven Roasted Shishito Peppers recipe with lemon, ginger, salt and black pepper. This popular Japanese appetizer is so easy to make at home. Roast the shishito peppers for about 6 minutes or until the peppers become fragrant and begin to blister. Ready to eat in less than 10 minutes.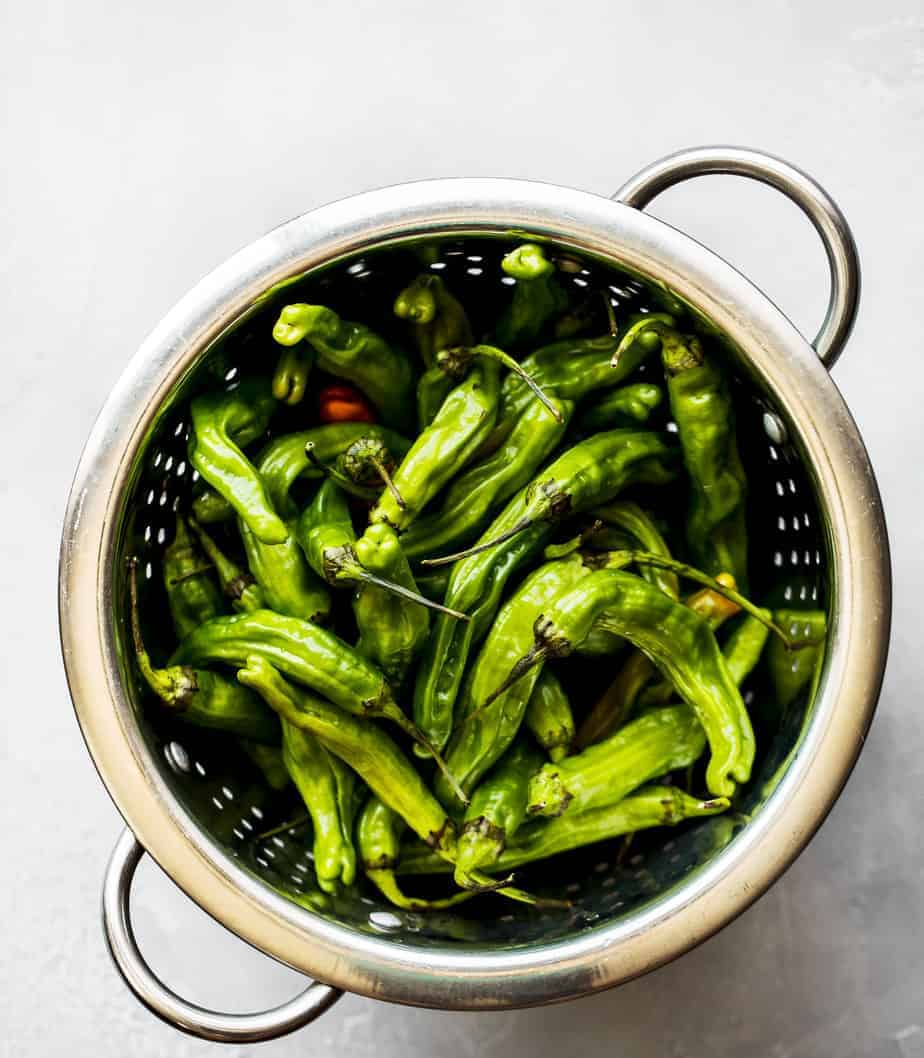 What is Shishito Pepper:
It's a Japanese sweet pepper that produces handfuls of finger-long fruits. This pepper is small and very mild in flavor.
How Hot is a Shishito Pepper?
Based on Wikipedia, only one out of every ten peppers is spicy. Shishito peppers are perfect whether broiled, grilled, pan-fried and can even be eaten raw in a salad.

Where to Buy Shishito Peppers:
I found fresh shishito peppers at my local Trader's Joe, Ralphs, Sprouts here in San Diego. Each 6 oz bag is around $1.99 which is quite inexpensive. You can find these peppers at most Asian grocery market or purchase them cooked as an appetizer at many Japanese restaurants.
How to Grow Shishito Peppers:
Growing Shishito peppers requires full sun and these plants are perfect for growing in containers. They are a summer crop so the hotter months are best. When buying these at a restaurant they can be especially expensive, so if you're inclined to grow your own I'd say go for it!
This Oven Roasted Shishito Peppers recipe is also a kid friendly snack due to its sweet and mild taste. My kids have been around quite a lot of Asian food and based on prior experiences with peppers were very hesitant to try it, but after a small bite, they realized that these peppers had a very mild taste. Even my four-year-old daughter was really enjoying them!
Also be sure to check out: BLISTERED SHISHITO PEPPERS WITH CHIPOTLE SEASONING
How to Oven Roasted Shishito Peppers:
📖 Recipe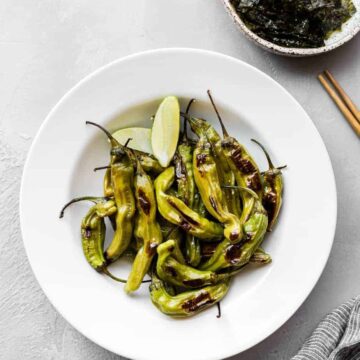 Oven Roasted Shishito Peppers with Ginger
Ingredients
6-8

oz bag

Shishito Peppers

1

tablespoon

olive oil

⅛

teaspoon

ginger powder

black pepper to taste

1-2

teaspoons

squeezed lemon juice

⅛

teaspoon

coarse sea salt

,

(use less or more according to your liking)
Instructions
Preheat the oven to 450F.

In a mixing bowl, combine Shishito peppers, olive oil, and ginger powder.

Spread the mixture on a baking sheet and roast for about 5-6 minutes, until the peppers become fragrant and begin to blister. Remove from the heat.

Transfer the peppers to the bowl, toss immediately with squeezed lemon juice and sea salt.