This is a sponsored conversation written by me on behalf of The J.M. Smucker Company. The opinions and text are all mine. #PBLove Panda Peanut Butter and Jelly Sandwich. The perfect kids' meal is one that is easy for me to make, puts a smile on their face, and is eaten in its entirety without my having to nag them. Some things never change, and the traditional peanut butter and jelly sandwich that I grew up with is still a hit all these years later. It likely always will be, too. Some things never change, and that goes for kids' personalities, too. As much as my kids both love PB&J they love it, even more, when I get into "customize mode" and transform their sandwich into a boat, a baseball or in this case, a panda.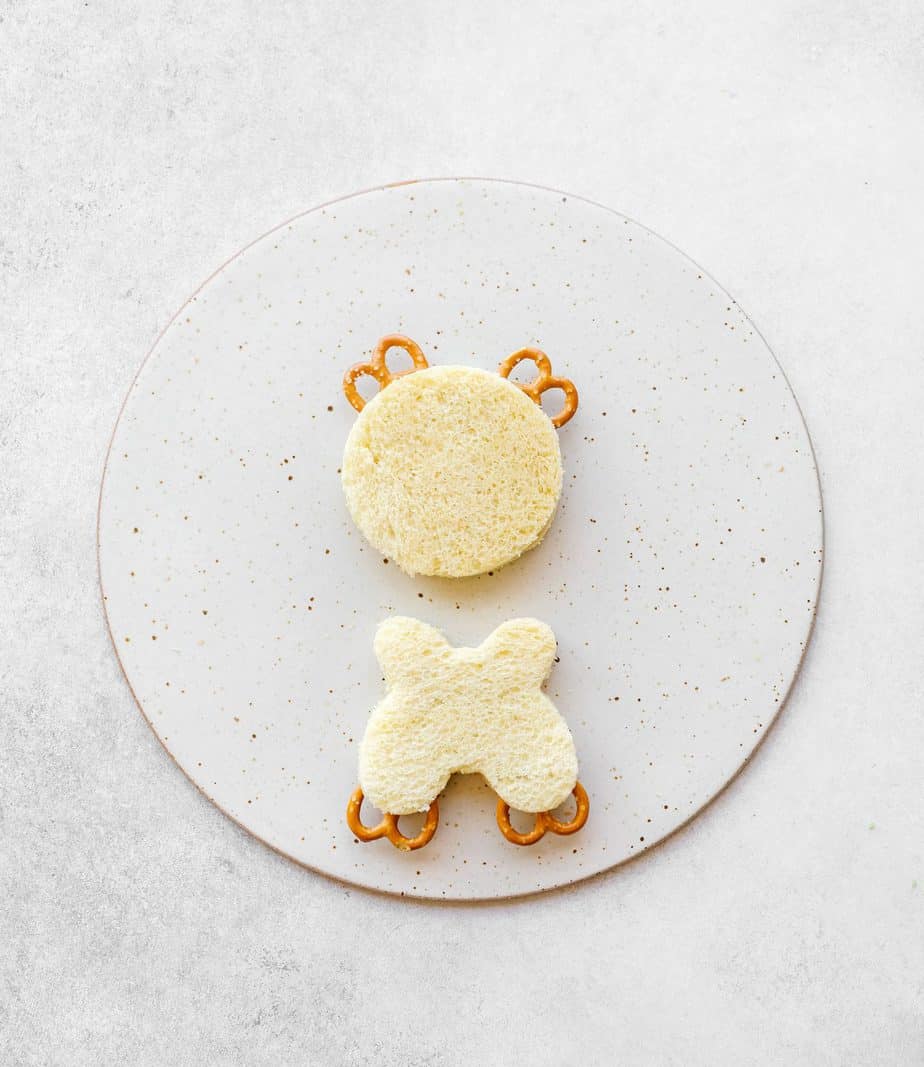 I often times just wing it with creations for my kids. I had the berries handy to use for eyes, but if I didn't then a veggie or other fruit would have worked out just fine. The star shape for the cucumbers around the edges could have been any veggie in any shape, but this one came to mind and my daughter went crazy for it. Really the only constant is some good bread, Jif® Creamy Peanut Butter and Smucker's® Strawberry Jam (although we rotate Grape in every now and then, too). It's great to see the same trusted brands out there that I had growing up. They taste great and I'm a creamy peanut butter person as are my kids, while my husband is all about the Jif® Crunchy Peanut Butter.
My son is older than my daughter so I thought he might be past the stage of wanting a Panda Peanut Butter and Jelly Sandwich. Boy, was I wrong! I quickly made him a similar plate and all was good. Both pandas were consumed and the kids had fun doing it… biting off their peanut-buttery arms one by one, and so forth. After it, all their plates were completely clean which makes me just as happy as them. The Jif® Peanut Butter has 7 grams of protein, which powers their day and keeps them going strong.
These sandwiches are easily portable and can be thrown in a baggy to take on a field trip or road trip. I picked up the Smucker's® and Jif® at Walmart. You can read up more at www.jifsmuckerspbj.com
Other dishes are fun to modify, and it never ceases to amaze me how much more my kids are willing to eat something once it goes into a more fun form. I can ask my kids if they want celery and ten out of ten times they'll say "No." However, if I add on some Jif® and add some raisins then I suddenly have "ants on a log," and my kids will eat no less than 4 stalks each. Thanks mom for giving me those as a kid, they're still a hit!
A funny story is that my husband asked my kids last week if they wanted to eat a banana and each said no. He then asked if they want "banana sushi." They said sure, so he just cut a banana into about 6 different pieces, much like a sushi roll would look. It still had the banana peel on each piece. They were so excited to unpeel each individual piece. They shared two more bananas, and have been asking for banana sushi ever since. It's so easy to put in that extra effort and get them excited about good things. This, of course, carries over to other parts of life too, but I know so many parents that struggle to get their kids eating well so the kitchen is a great place to start. My kids are getting their palettes used to good foods, getting their bellies full and at the same time having fun.
📖 Recipe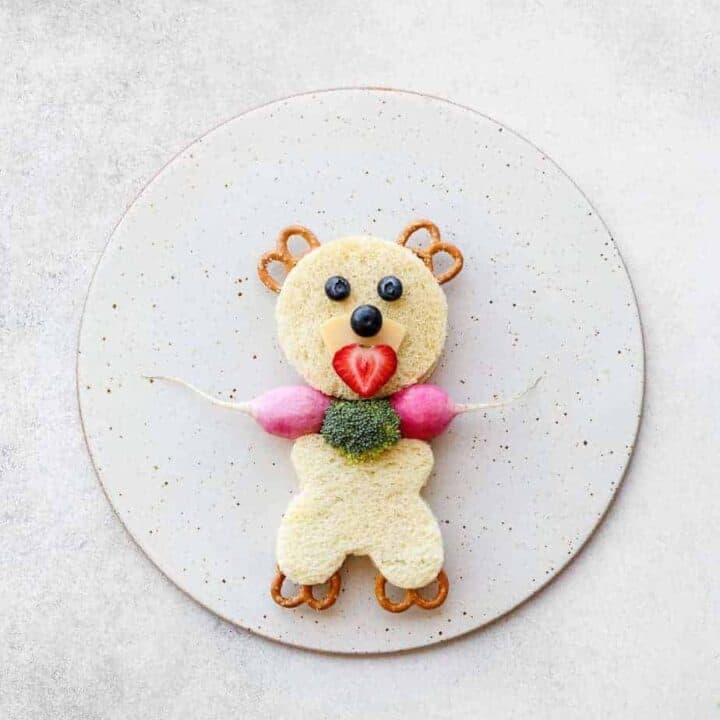 Cute Panda P&J sandwich
Ingredients
a round shape cookie or sandwich cutter

a butterfly shape cookie or sandwich cutter

4

slices

of breads

Jif® Creamy Peanut Butter

Smucker's® Strawberry Jam

3

pieces

of fresh blueberries

a slice of fresh strawberry

4

pieces

of pretzels

a small brocolli floret

a small piece of cheese of your choice

2

small radishes
Instructions
Cut 2 slices of breads using a round shape cookie/sandwhich cutter, set aside

Cut 2 slices of breads using a butterfly shape cookie/sandwhich cutter, set aside
To make the head:
First slice: Apply a thin layer of peanut butter on one of the slices of the round shape bread and also be sure to apply on the edge

Apply a generous amount of strawberry jam to center of the first slice

Second slice: Spead a thin layer of peanut butter on the edge.

To make ears: Place one pretzel on the upper left of the round shape and one on the upper right side.

Stack the second slice on top of the first slice, set aside
To make the body:
First slice: Apply a thin layer of peanut butter on one of the slices of the butterfly shape bread and also be sure to apply on the edge

Apply a generous amount of strawberry jam to center of the first slice

To make feet: Place one pretzel on the bottom left of the butterfly shape and one on the bottom right side.

Second slice: Apply a thin layer of peanut butter on the edge.

Stack the second slice on top of the first slice, set aside
To build the panda:
Place the head on the plate

Dip each bluberry into peanut butter and put on top of the panda head to create a pair of eyes

Dip a triangle shape of cheese into peanut butter and put it on the bread

Dip another blueberry into peanut butter and put on top of the cheese, to create a nose

Dip a slice of strawberry into peanut butter and put on top of the cheese, to create a mouth

Put a small piece of brocolli floret between head and body
To make hands:
Place one small radish on the left side of the body part and one small radish on the right side