Here's a perfect summer recipe, skillet fried corn. This pan-fried corn side dish is made with fresh corn cob, butter, and flavored with thyme and oregano. It's so aromatic and the perfect side dish for any meal.
Try this skillet fried corn recipe that is so easy to prepare, delicious, and fragrant. It is a tasty vegetable to accompany the main course or entrée. This sauteed corn can be ready in 15 minutes.
Skillet Fried Corn Ingredients:
To make this skillet fried corn, you just need 4 main ingredients, fresh corn, unsalted butter, thyme, and oregano. Then use a pinch of salt and pepper to adjust the taste according to your liking.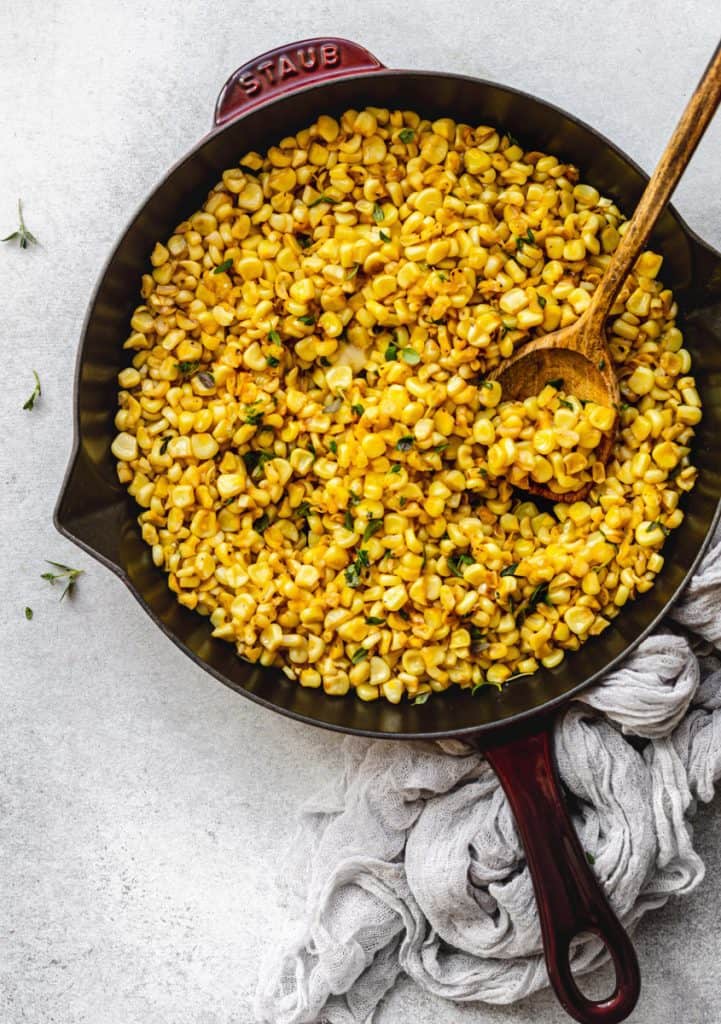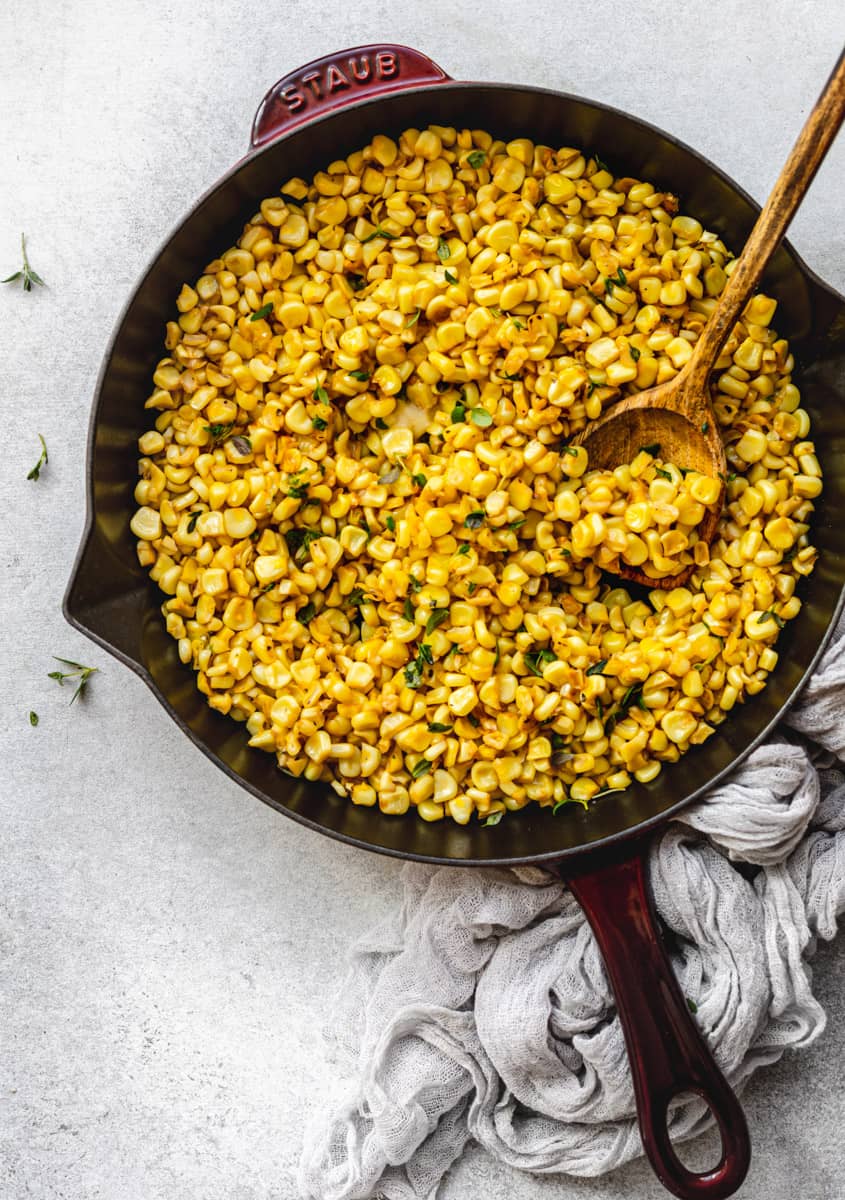 Best Seasoning for Skillet Fried Corn:
What is the best seasoning for corn? Tough question! I used thyme and oregano for the corn as they work well with each other and the juicy sweet corn flavor. I'm someone who loves spicy seasoning as well and it's obviously easy enough to switch it up in a recipe like this. Modifying the pepper type is another easy way to mix up the corn's flavor or add some extra kick. Or you may want to try something spicy like this: SPICY CAJUN ROASTED CORN SALAD
Fresh Corn or Frozen Corn :
Corn is very versatile and goes well with nearly everything. It's one of my favorite summer vegetables. In this recipe, I used fresh corn because it's a great season to buy fresh sweet corn.
Feel free to use frozen corn instead of fresh corn, just make sure to thaw the frozen corn and remove the water before use. Or, you can place the frozen corn in a colander, and rinse under cold water until ice is no longer present. Also, if you go this route make sure to remove any liquid from the corn before cooking it in the skillet.
Please keep in mind that one ear of corn cob will produce about ¾ cup of corn kernels. For this recipe, I used a total of 6 corn cobs.
How to Preserve Leftover Fresh Corn:
To preserve fresh corn, you just need to cut the kernels off the cobs and blanch them in boiling water for about 1-2 minutes. Drain and let it cool at room temperature. Place the kernels in tight storage and covered, then put in the fridge for up to five days. You can also keep it in the freezer, good up to three months. Or use the leftover corn for this recipe: SLOW COOKER CHICKEN TACO SOUP
Skillet Veggie Recipes
There's just something about a skillet vegetable recipes that bring out their best taste. I sometimes use my skillet for vegetables in all three meals of a single day. Skillet sweet potatoes with eggs in the morning, a quick asparagus side at lunch and corn or eggplant at night. Clean-up is quick and the taste is phenomenal (without much work involved). When I hear summer skillet recipe I think of veggies without sauces, nothing heavy to weight me down. I hope you enjoy this summer skillet corn recipe and that it leads to you and your loved ones eating more delicious vegetables.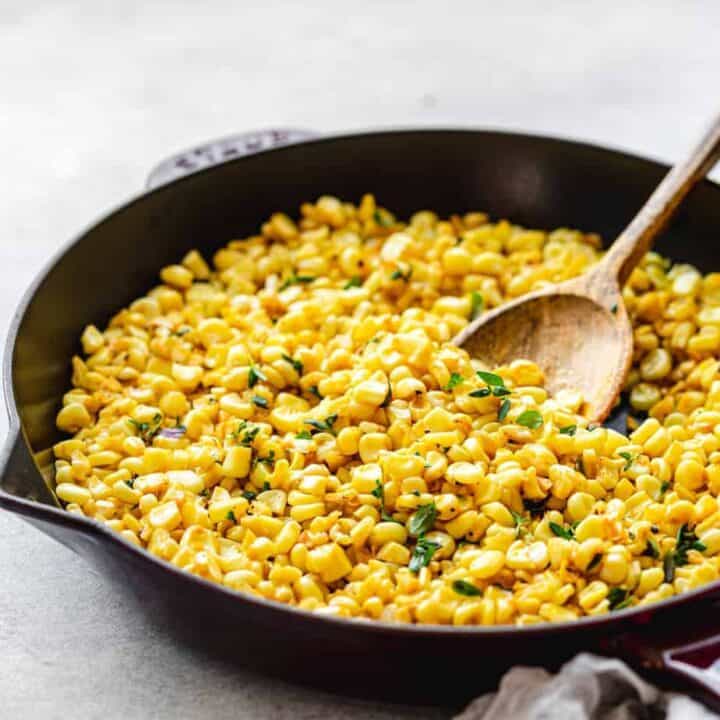 Skillet Fried Corn
Skillet fried corn with easy seasoning, thyme, and oregano.
Ingredients
6

ears corn

,

(slice the corn kernels from the cob)

1

tablespoon

oil,

(you may skip the oil and use butter instead) - please see the recipe notes below.

1

tablespoon

unsalted butter

½

tablespoon

chopped fresh thyme

,

(packed loosely)

¼

teaspoon

dried oregano

½

teaspoon

salt

,

(use more or less according to your liking)

¼

teaspoon

black pepper
Instructions
In a large skillet, heat oil over medium-high heat. Add corn kernels and keep stirring occasionally.

Add thyme and oregano, keep stirring occasionally for about 5 minutes

Turn the heat to medium-low and add butter, season with salt and pepper keep stirring occasionally until the corn is tender or until all the starchiness in the corn is gone for about 5-7 minutes. Adjust seasoning if needed.

Turn off the heat and transfer to a plate.
Notes
Skip Oil and Use Butter Only:
If you want to skip the oil, you may use a total of 2 tablespoons of butter for this recipe. If using butter, you need to lower the heat to medium-low and watch carefully so it doesn't burn.