This is a sponsored conversation written by me on behalf of Smithfield® Fresh Pork. The opinions and text are all mine.
Mouthwatering flavor - Smithfield Marinated Harwood Smoked Bacon and Cracked Black Pepper Tenderloin, served with delicious homemade strawberry apple salsa recipe and grilled summer vegetables. Perfect for a family dinner, large party or gathering or even a special occasion.
Grilling season is upon us, and many of you may already be gazing upon your grill and thinking up ideas, or have already commenced the season's first grilling recipe. For me, grilling is simple and represents fun and happiness.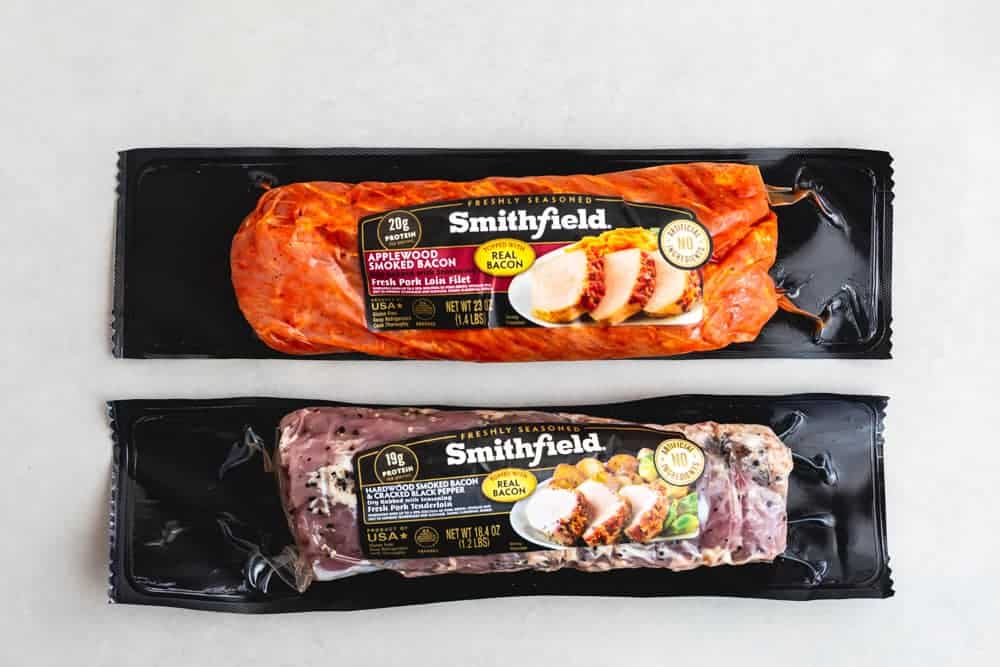 A perfect time to reconnect with family and friends is while enjoying delicious food that's easily prepared, cooked on the grill and served. The easier the better, as with less preparation time in the kitchen we can spend more quality time with family and friends during a dinner or BBQ party.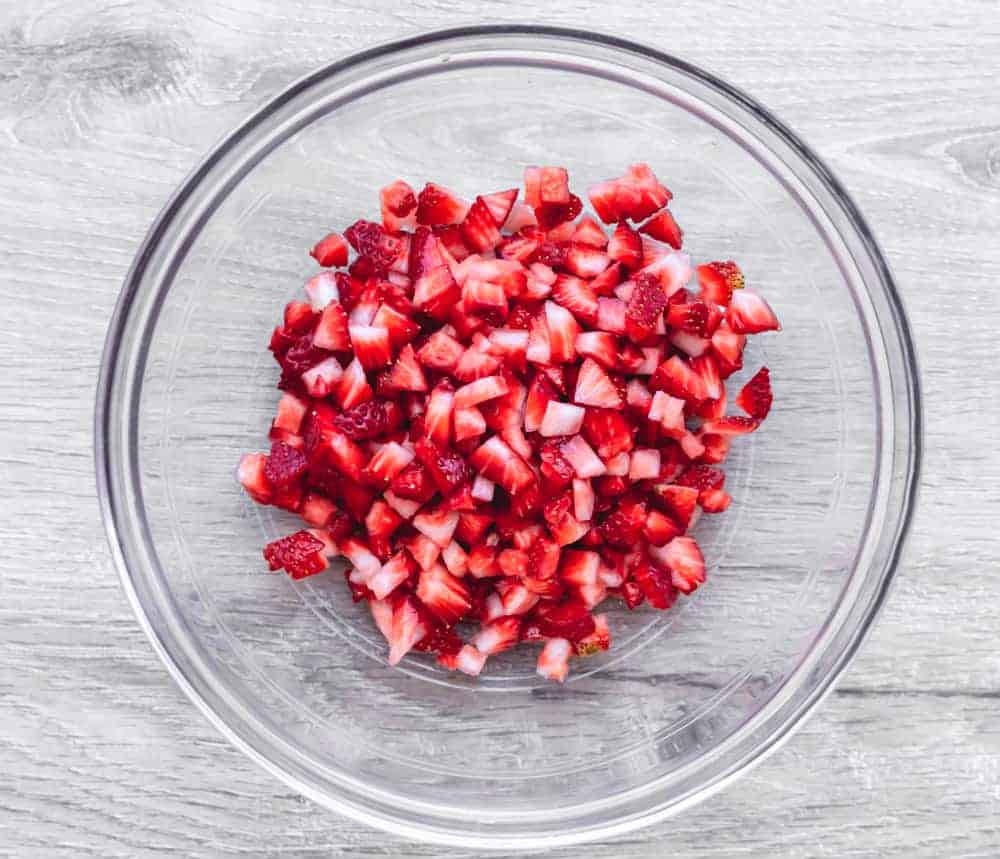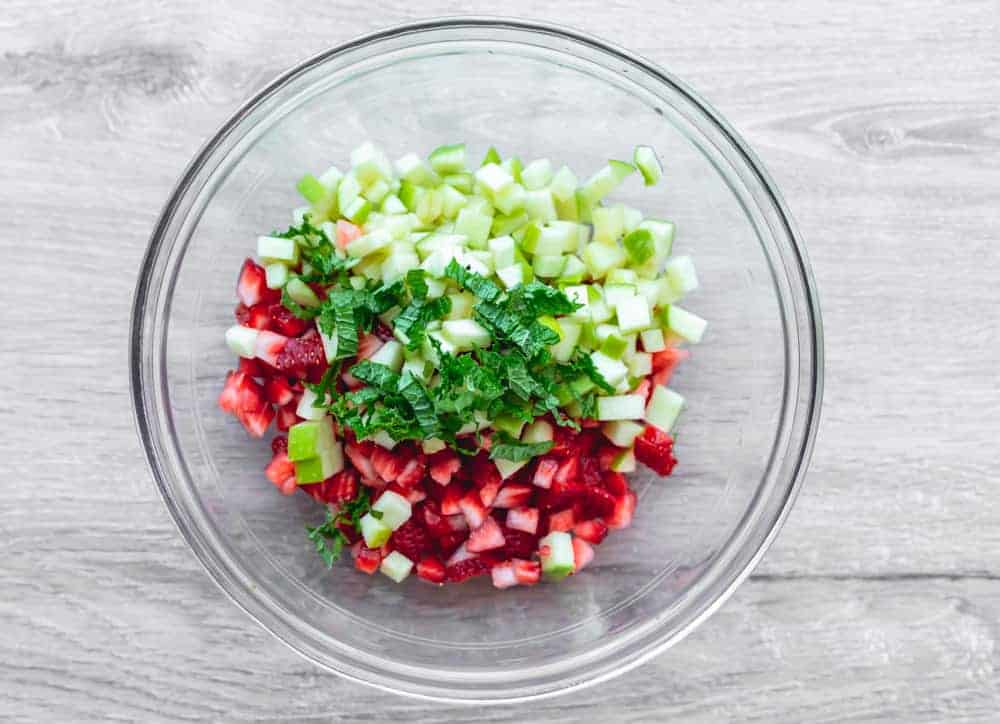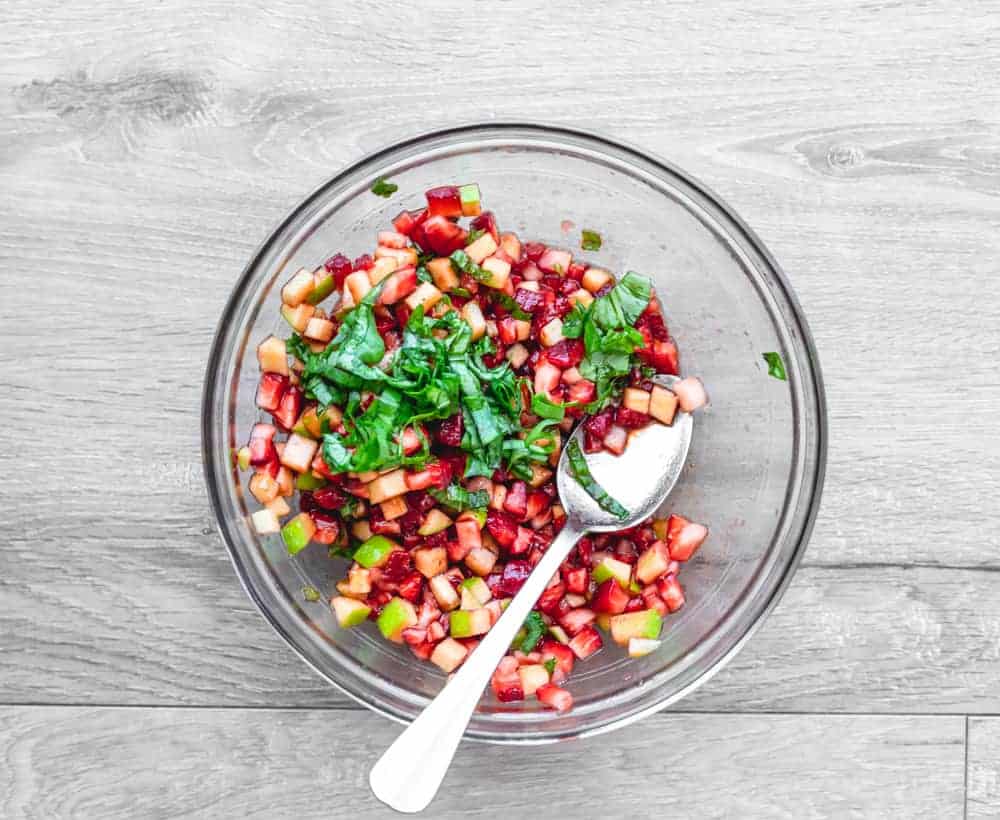 Grilled food is delicious when seasoned properly, be it a vegetable or a marinated meat. A good marinade makes foods more tender, tastier and juicier. In general, marinating meats should take a couple of hours and can go for quite a bit longer, but should most often not extend a period longer than 24 hours. For vegetables, usually 30 minutes or less in the refrigerator can do the trick. This process may sound pretty easy, but when you have to serve meals for a lot of people at a party or on a busy day with one-hundred things going on it can be overwhelming!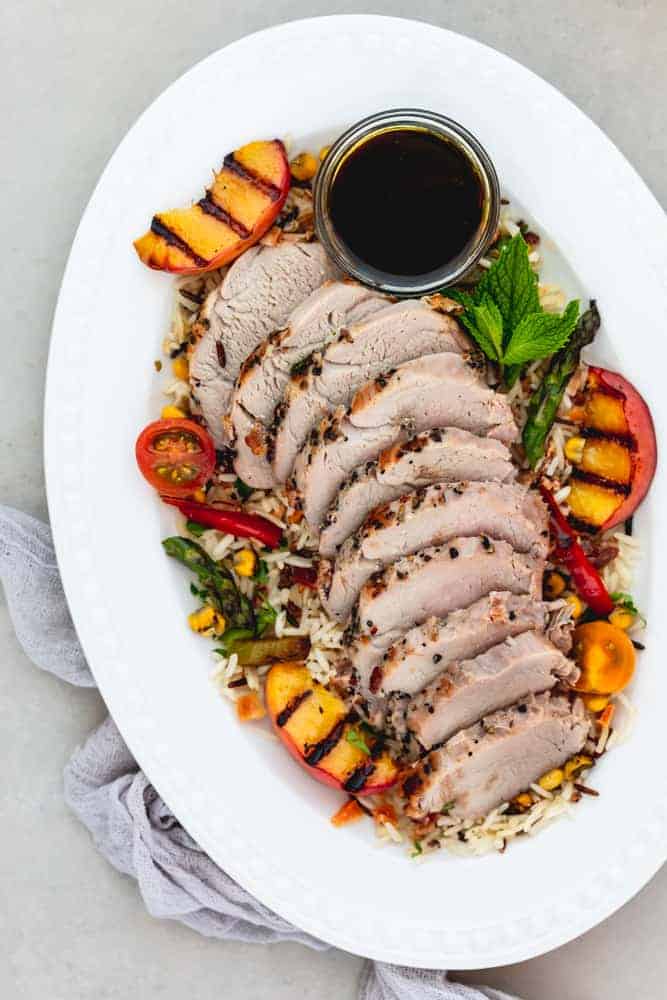 This summer, I am planning to host BBQ parties with friends and family. My sister and her family will come visit us in June and I am planning to take them to see some beautiful places, try some good restaurants in San Diego and grill some delicious foods in our backyard. I haven't seen my sister and her family in years, and my kids will be out of school for summer break. For that reason, I really don't want to spend so many hours in the kitchen to prepare foods or marinate the meats. A night in with them hanging in the backyard will beat any restaurant experience, hands-down. That's why Smithfield® Marinated Fresh Pork at Albertsons will be the perfect addition to our BBQ party or dinner. Their 100% fresh pork cuts are slow-marinated and perfectly seasoned. Smithfield Marinated Fresh Pork offers a hassle-free, delicious dinner any night of the week. It comes in so many delicious flavors to choose from. Simply grill, roast or sauté and you've got a delicious dinner ready in minutes.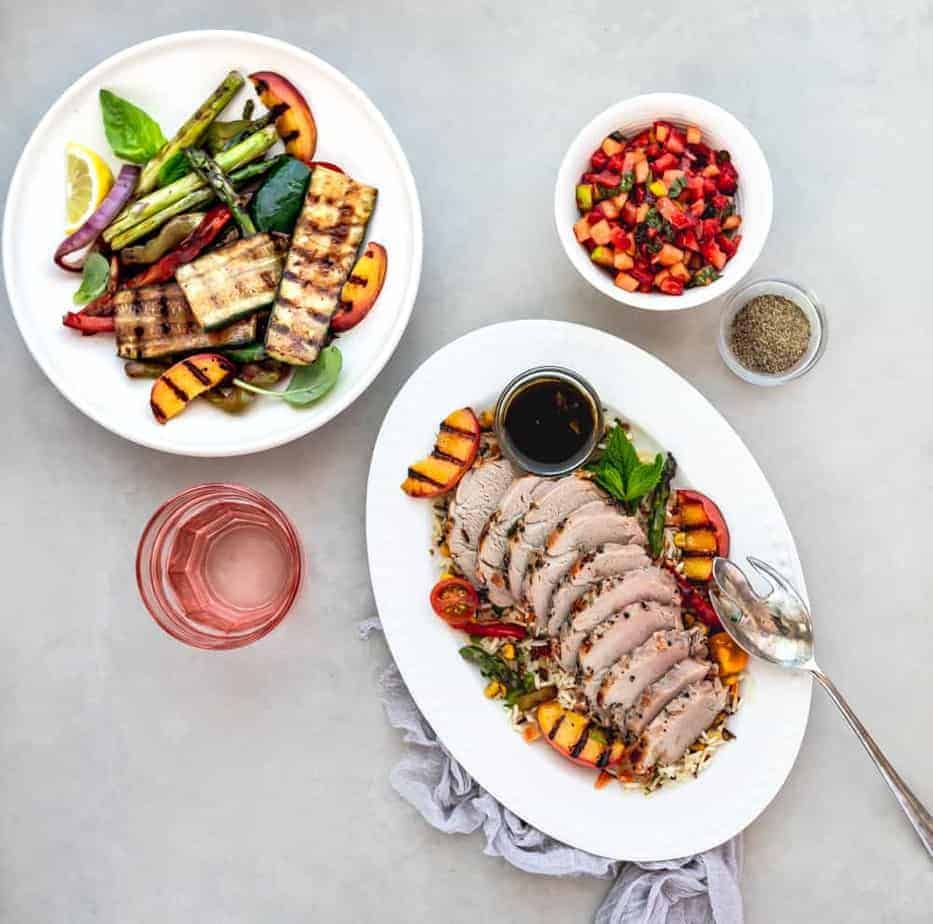 With Smithfield Marinated fresh Pork, many people will happily spend less time in the kitchen. For me, it gives me more time to prepare delicious side dishes, drinks and desserts. When I throw a barbeque I definitely want more items and options out there for people to enjoy. I've tried at least three Smithfield Marinated Fresh Pork flavors, all of them were delicious. The meats were so tender and juicy. I like that the meats have a perfect amount of seasoning and are not overpowering. They also work well with just about any type of side dishes. You can even use the leftover meats for your next recipes. When I get out on the grill and start going I usually end up cooking more than I need for just that single meal (even if everyone is eating a ton). It works out well, the leftovers are so good to eat for the next couple of days' lunches. My kids and husband are always happy to dig into more grilled items.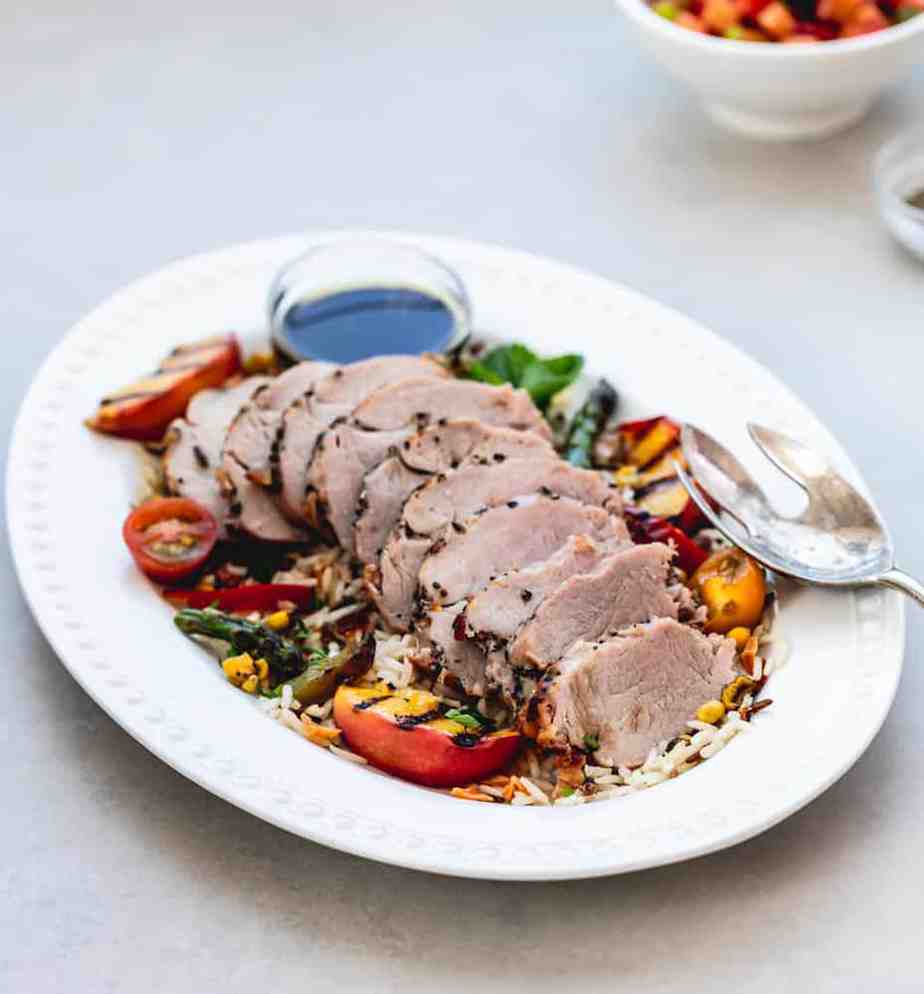 You can purchase Smithfield Marinated Fresh Pork available at Albertsons or Safeway, located at the fresh meat section. To get inspiration from the Smithfield Championship Pitmasters, you can visit this page. Also don't forget to follow Smithfield Facebook fan page to see more grilling content.
Smithfield Marinated Fresh Pork is great on the grill and is flexible to brighten up a weeknight meal with the fam or be the hit of a weekend barbecue.
Today I am going to show you a refreshing strawberry apple salsa recipe that I served with Smithfield Marinated Hardwood Smoked Bacon and Cracked Black Pepper Fresh Tenderloin, rice pilaf and grilled summer vegetables. It's one of those meals will fill you up and is bursting with taste, yet has a great freshness with its balanced ingredients. Maybe it's one that you'll want to add to your barbeque rotation.
To serve, you'll need:
Smithfield Marinated Hardwood Smoked Bacon and Cracked Black Pepper Fresh Tenderloin (cook according to product packaging)

Rice Pilaf
Strawberry Apple Salsa (recipe below)
Grilled Summer Vegetables (recipe below)
Find more grilling recipes here.
📖 Recipe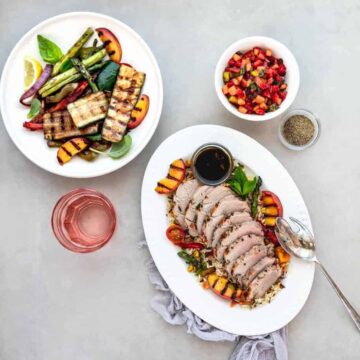 Strawberry Apple Salsa Recipe
Ingredients
1

cup

chopped fresh strawberries

½

cup

chopped fresh green apple

2

tablespoons

chopped mint

2

tablespoon

chopped fresh basil

3

tablespoons

olive oil

1

tablespoon

balsamic vinegar

1

tablespoon

fresh lemon juice

salt/pepper to taste
Instructions
In a mixing bowl, add all above ingredients and keep stirring until well blended.

Season with salt and pepper to taste. Serve immediately.
📖 Recipe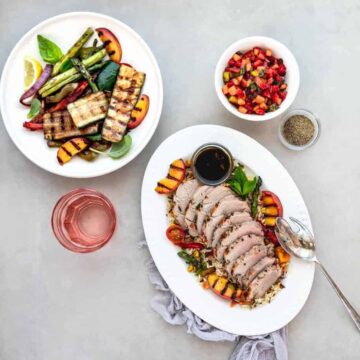 Grilled Summer Vegetables
Ingredients
¼

cup

olive oil

2

teaspoons

balsamic vinegar

½

teaspoon

garlic powder

⅛

teaspoon

pepper

1

zucchini

,

cut into ½ inch slices

10

asparagus spears

1

red bell pepper

,

cut into 1 inch strips

1

green bell pepper

,

cut into 1 inch strips

½

red onion
Instructions
In a mixing bowl, combine olive oil and balsamic vinegar until well blended.

Place the vegetables in the mixing bowl, stir until the vegetables are well coated and let it marinate in fridge for at least 15 minutes.

Grill over medium heat, covered and cook until tender for about 8 minutes.