Tofu Stir Fry with Soy Sauce, Garlic and Ginger
Below is a delicious tofu stir fry, marinated in ginger, garlic and soy sauce. It's unique for tofu with its slightly smoky flavor. Tofu is very high in fiber and protein, it's also very affordable. For this stir fry tofu recipe, I used a package of extra firm tofu that I purchased from my local Trader's Joe. The firmer the tofu the better for many types of recipes, and I feel this one falls into that bucket.
How to Use this Tofu Stir Fry:
This stir fry tofu can be served hot as a main dish, then just fridge the remaining and serve it cold in a salad. This easy stir fry tofu recipe can be cooked with or without the marinating process. If you decide to marinade the tofu to boost the flavor, you can put the tofu in marinating sauce for just 10-15 minutes.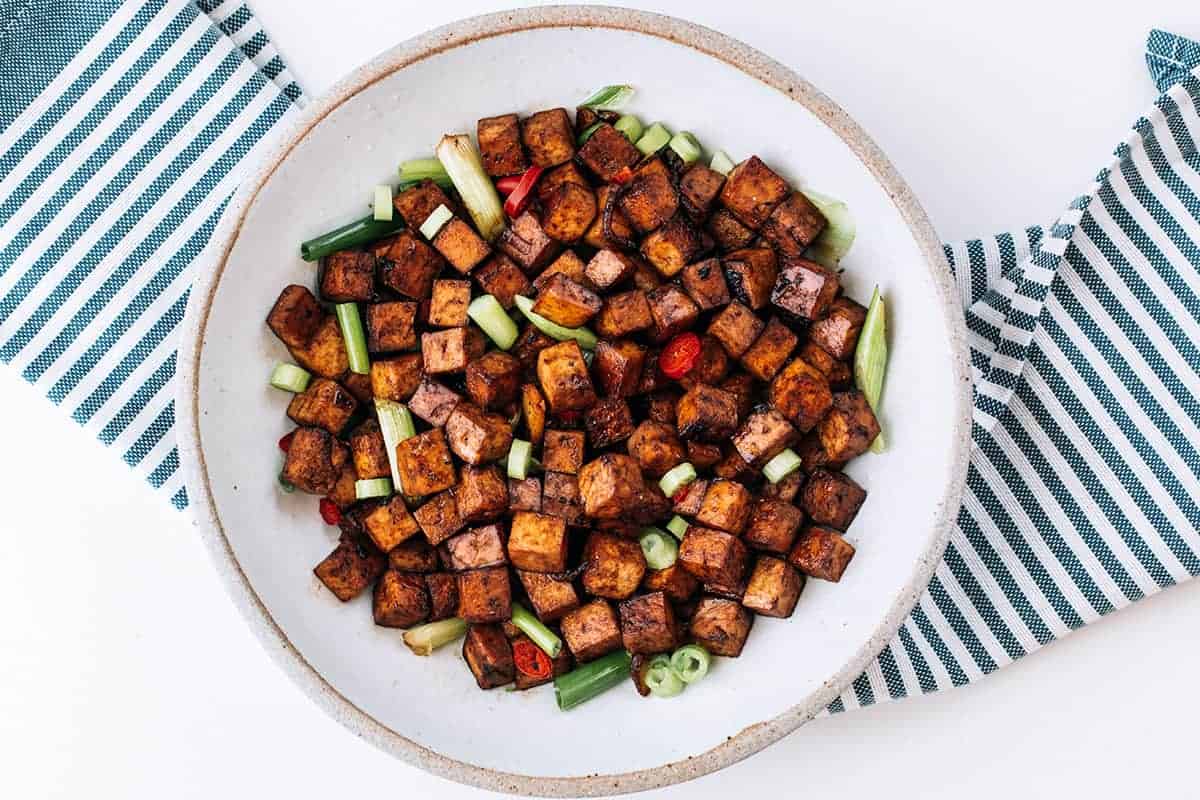 I use my favorite coconut oil by Nutiva to stir fry the tofu. You may also use canola oil or peanut oil. I also used a combination of light soy sauce, dark soy sauce and sweet soy sauce for the tofu marinade. Not to worry if you don't have all of those. The dark soy sauce gives the caramel color and is rich in flavor and less salty. Sweet soy sauce (aka Kecap Manis) is an Indonesian soy sauce with a sweet flavor. If you can't find this at your local store, you may skip and replace with honey or agave nectar instead

How to Drain Tofu before Stir Fry:
cut the tofu into small cubes, lay flat on a cutting board and lined with paper towels to remove excess moisture OR use EZ Tofu Press from Amazon - Removes Water from Tofu for Better Flavor and Texture.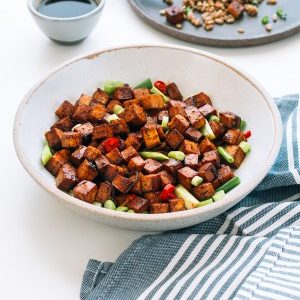 Sti Fry Tofu with Garlic and Ginger
Ingredients
3

cups

extra firm tofu (cut into small cubes

,

lay flat on a cutting board and lined with paper towels to remove excess moisture)

3

cloves

garlic

1

inch

ginger

5

inch

Green Onions

,

sliced into 1 pieces (green and white parts included)

3

tablespoons

low sodium soy sauce

,

add more according to your liking

2

tablespoons

dark soy sauce

1

teaspoon

sweet soy sauce/kecap manis (you may skip this

,

add more agave/honey instead)

1

tablespoon

rice vinegar

1

tablespoon

agave nectar/honey

,

add more according to your liking

½

teaspoon

ground coriander

3

tablespoons

coconut oil

Salt/Pepper

Thai red chili pepper
Instructions
In a mixing bowl, combine soy sauces, rice vinegar, agave and coriander.

In a frying pan/wok, melt 2 tablespoons of coconut oil over medium-high heat.

Add tofu cubes and stir fry until the tofu turns brown on all sides for about 5-7 minutes. Transfer the tofu to the bowl and set aside.

Melt 1 tablespoon of coconut oil into a frying pan or wok.

Add garlic, ginger, green onions (white part only) into the pan and cook until fragrant and shows ready.

Put the tofu back into the pan and pour in the soy sauce mixture. Keep stirring until the tofu is well coated for about 7-10 minutes

Add salt/pepper and soy sauce to add sweetness or saltiness, according your liking.

Add green onions (green part only), stir for about one minute

Serve and garnish with some fresh red chili pepper