Brussels Sprouts salad with bacon, apple, walnut and Pecorino Romano cheese, served with shallot vinaigrette. This thinly sliced Brussels sprouts salad has a refreshing balance of tanginess from the fresh lemon and apple cider vinegar, saltiness from the bacon, and sweetness from the apple and honey.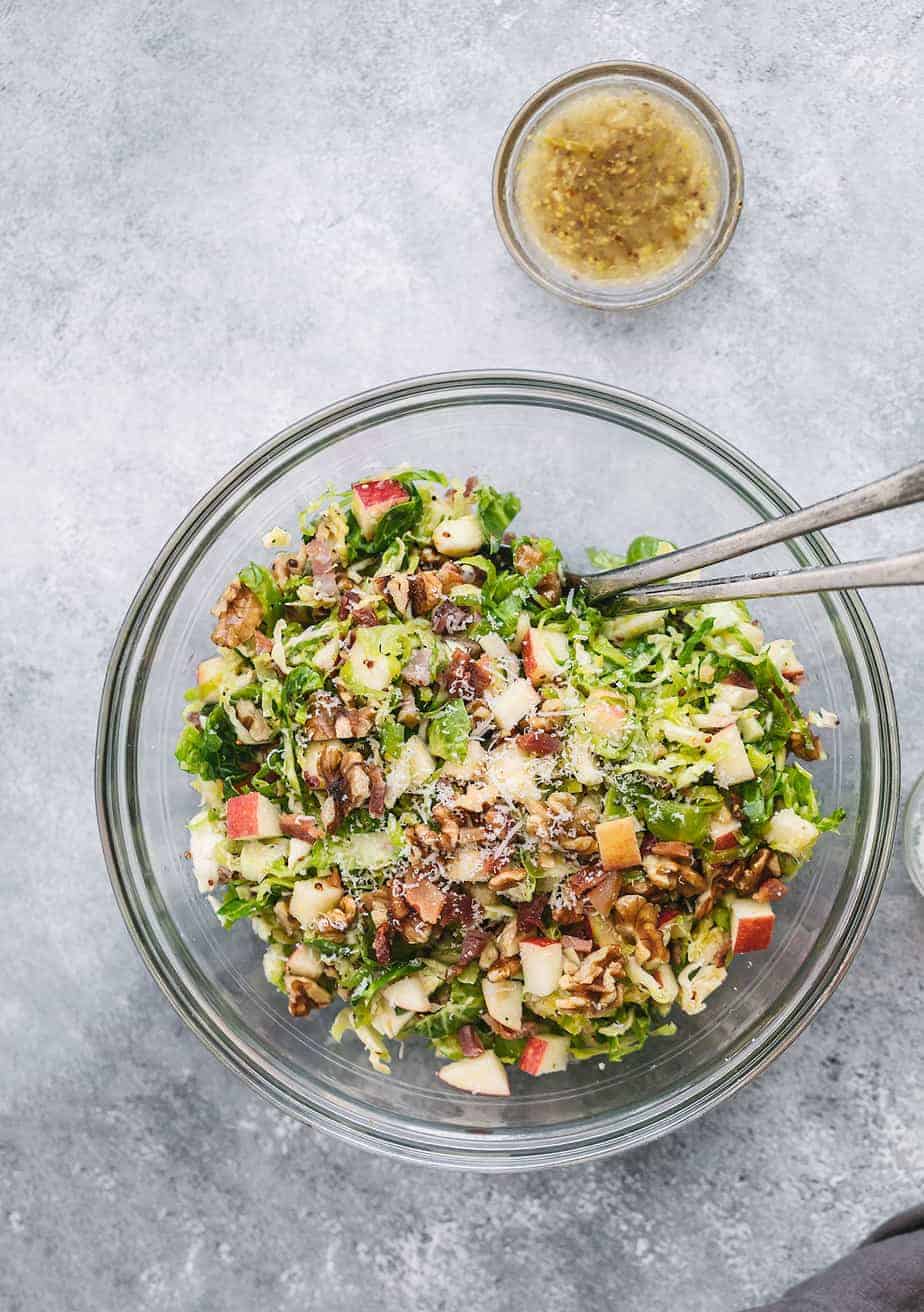 If you are one of the many people who grew up hating Brussels sprouts then you absolutely need to try this Brussels sprouts salad recipe! The bitterness from the Brussels sprouts is hardly there with the other flavors playing in; even my kids enjoyed this recipe. Before serving, I soak Brussels sprouts in a bowl of cold, salted water for about 20 minutes. I then remove the outer part, wilted or discolored leaves, cut the stem end, cut in-half and then slicing them into thin pieces.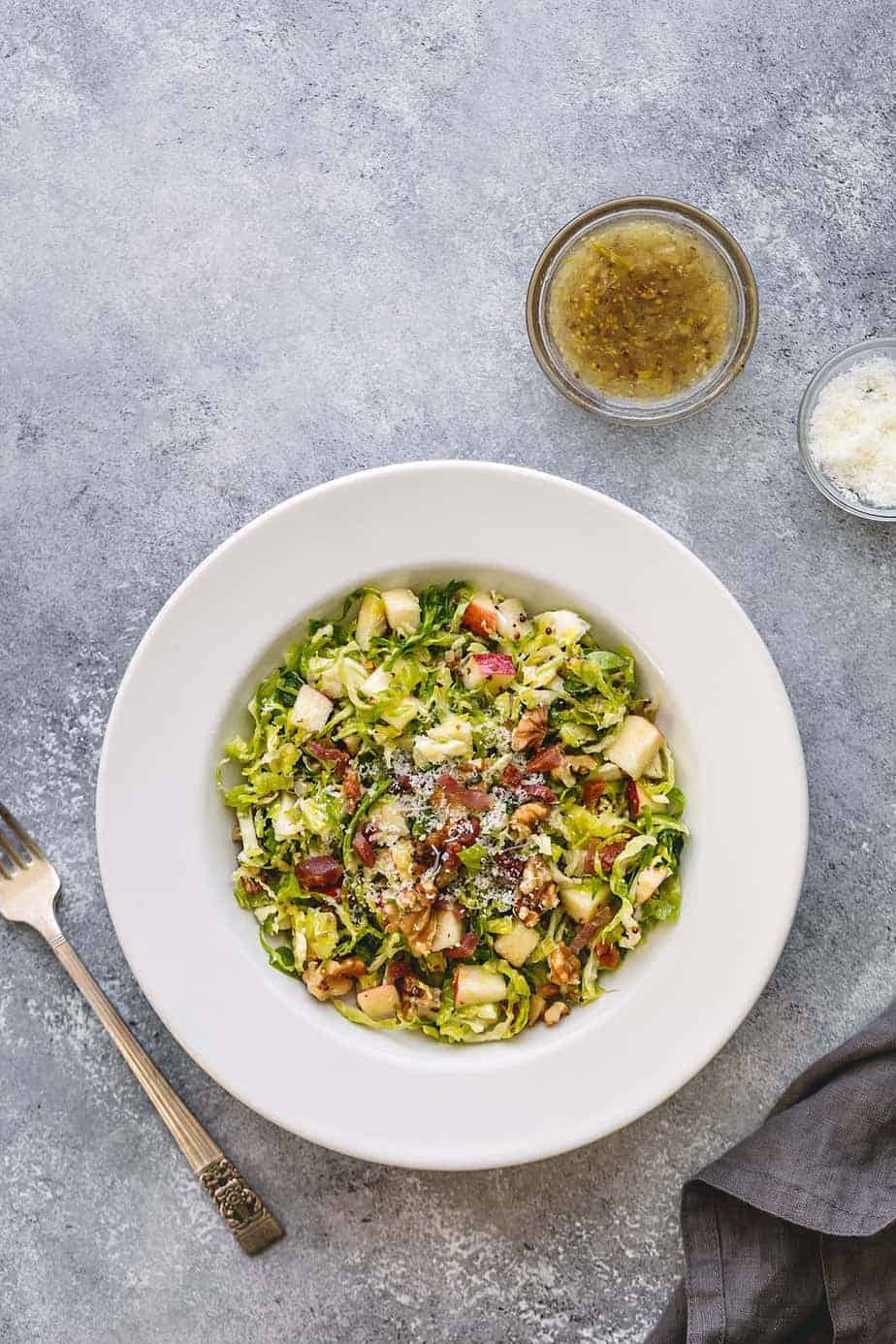 This Brussels Sprouts salad with bacon, apple, walnut and Pecorino Romano cheese is a healthy salad recipe for your next dinner, lunch or BBQ party. Brussels sprouts are rich in many valuable nutrients. They are an excellent source of vitamin C and vitamin K. They are a very good source of numerous nutrients including folate, manganese, vitamin B6, dietary fiber, choline, copper, vitamin B1, potassium, phosphorus and omega-3 fatty acids. Here is a link where you can learn more about the benefits of Brussels sprouts here. This salad provides a tasty way too get more veggies, fiber and nutrients into your diet. Want to try more Brussels sprouts recipes? Try these Oven Roasted Brussels Sprouts with Balsamic Vinegar and Bacon Brussels sprouts salad with kale, pomegranate
How to Choose Brussel Sprouts:
Choose Brussels Sprouts that are small, bright green, tightly closed, odorless and without yellowing or loose leaves around base. Fresh Brussels sprouts can be refrigerated in a plastic bag (unwashed) for three to five days.
Brussels Sprouts salad with bacon, apple, walnut and Pecorino Romano cheese recipe:
📖 Recipe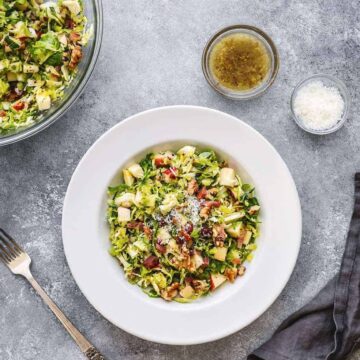 Brussels Sprouts Salad with Bacon, Apple, Walnut and Pecorino Romano Cheese
Ingredients
2

cups

thinly sliced Brussels sprouts

1

medium apple

,

(chopped)

¼

cup

walnuts

,

(chopped)

2-3

tablespoon

grated Pecorino Romano Cheese

,

(use more according to your liking)

2

tablespoon

chopped spearmint leaves

2

thick slices of bacon

,

(cooked and chopped)
Instructions
In a mixing bowl or salad dressing container: Add shallots and apple cider vinegar. Let sit for about 2 minutes. Add the remaining salad dressing ingredients and whisk until well blended.

In a large mixing bowl: add Brussels sprouts, chopped apple, cooked bacon, chopped walnuts, Pecorino Romano Cheese, spearmint leaves and the homemade shallot vinaigrette salad dressing (about 5 tbsp). Mix well.

Optional: adjust with salt/pepper, extra salad dressing, or 1 tablespoon fresh lemon juice for rich and intense flavor.
Notes
To cook bacon on microwave:
Place 2 sheets of paper towel on a plate, lay up 2 thick bacon slices on the paper towels and cook on high heat for about 2-3 minutes.