Looking for a fried Brussels sprouts recipe? Try this Roasted Brussels Sprouts recipe, cooking Brussels sprouts in the oven as an alternative. With just a few pinches of other ingredients here and there they taste outstanding and are extremely healthy.
If I'm craving some meat I sometimes like to try my Brussels Sprouts with bacon, a combination that didn't make much sense to me until I tasted the two together: amazing!! I've never looked back.
You can try pancetta with Brussels sprouts as another option, it gives a slightly different taste than some may prefer.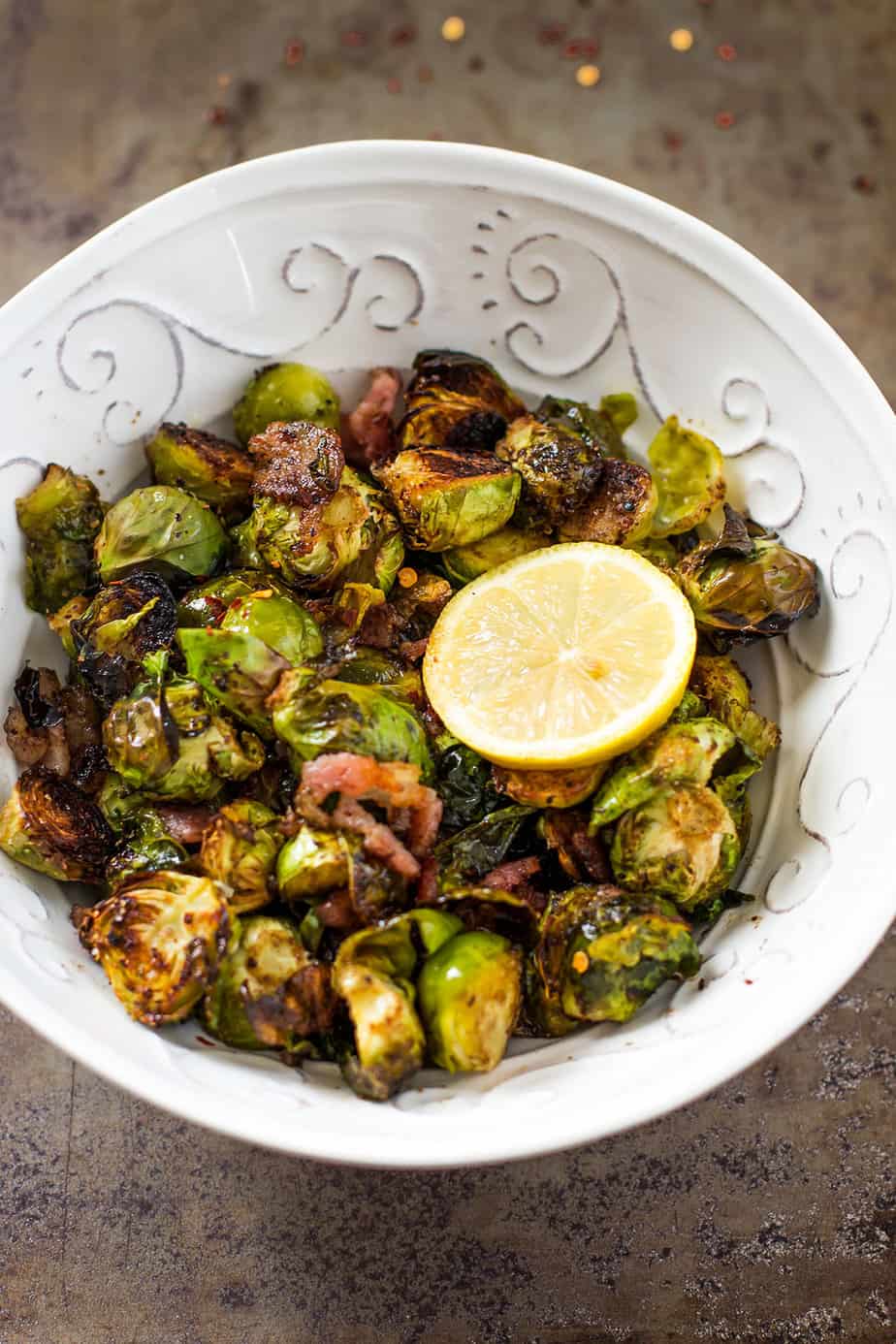 Eating Brussels Sprouts with balsamic Vinegar is something I really recommend. The color comes out to be a beautiful, darker brown and more importantly they taste even better. The sweetness of the balsamic vinegar taste compliments the Brussels sprout's strong taste.
If a family member says they don't like this veggie, try adding balsamic vinegar next time and see what they say. It also makes them a little bit softer which many people prefer.
Brussels Sprouts Health Benefits
Before getting into the recipe I'd like to take a quick moment to go over some of the health benefits of Brussels sprouts. They are in the cruciferous vegetable family but don't get nearly the amount of press as kale. It's too bad, as Brussels sprouts help lower the risk of cancer in a big way.
From managing diabetes to stronger bones Brussels sprouts help in many different areas of health, with hefty amounts of vitamin K, vitamin C, and 10% or more of vitamin A, vitamin B-6.

Check out more Brussel Sprouts recipes:
Eating cruciferous vegetables could add years to your life, but we aren't always in the mood for a leafy vegetable salad. Brussels sprout's shape, texture, and taste are so different, it really mixes things up. The best way to keep up your vegetable intake is to make your taste buds satisfied by eating a nice variety of veggies with new, tasty ways to prepare them.
Roasted Brussels Sprouts versus Pan Fried Brussels Sprouts
Whether to use the oven to cook Brussels sprouts or pan-frying Brussels sprouts is a question that has come up a few times, and like many other vegetables, I like to prepare them both ways.
Brussels sprouts are thicker than many other vegetables so similar to carrots I prefer to put them in the oven with nice seasoning so they can roast and pick up the accompanying flavors and juices.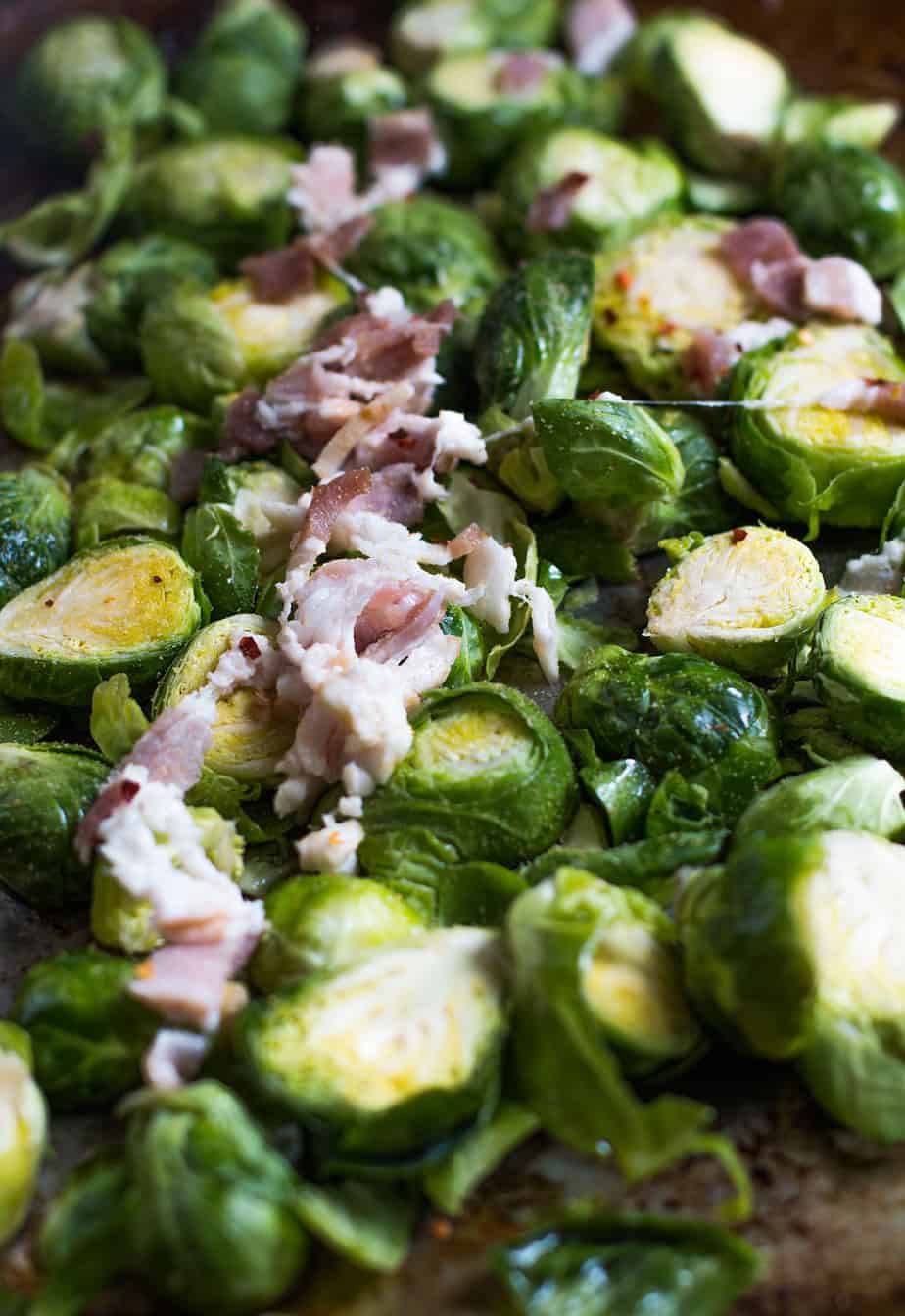 Roasting vegetables in the oven is a healthy way to go, so if you enjoy the taste of oven-roasted Brussels sprouts I'd recommend continuing doing that. Most important is that you continue to eat as many vegetables as you can, so frying veggies, baking veggies or steamed veggies are all great choices in my book!
📖 Recipe
Roasted Brussels Sprouts with Balsamic Vinegar and Bacon
Roasted brussels sprouts, the best way to cook brussels sprouts. It's so easy to prepare and delicious.
Ingredients
1

pound

brussels sprouts

,

(trimmed and halved)

1 - 2

slices

of bacon

,

(chopped)

1

tablespoon

of extra virgin olive oil

2

cloves

of garlic

,

(peeled and minced)

2

teaspoon

onion powder

a pinch of red pepper flakes

1

tablespoon

of balsamic vinegar

salt/pepper to taste
Instructions
Heat oven to 400 degrees. Coat the bottom of pan with olive oil, then put sprouts cut side down in a single layer on the pan.

Add chopped bacon, garlic, sprinkle with salt/pepper, red pepper flakes, and onion powder.

Roast until sprouts are tender for about 20-30 minutes, shaking the pan halfway through.

Taste the sprouts and add salt/pepper if necessary. Place sprouts in a bowl, add balsamic vinegar and stir. Serve and enjoy!
Nutrition
Calories:
127
kcal
Carbohydrates:
16
g
Protein:
5
g
Fat:
6
g
Saturated Fat:
1
g
Cholesterol:
1
mg
Sodium:
42
mg
Potassium:
615
mg
Fiber:
6
g
Sugar:
4
g
Vitamin A:
1140
IU
Vitamin C:
129
mg
Calcium:
74
mg
Iron:
2
mg