This chow mien recipe (also known as Chinese fried noodle) is a perfect quick and easy meal for lunch or dinner. The recipe is flexible, and works well with just about any chicken or meat, even those that are leftovers.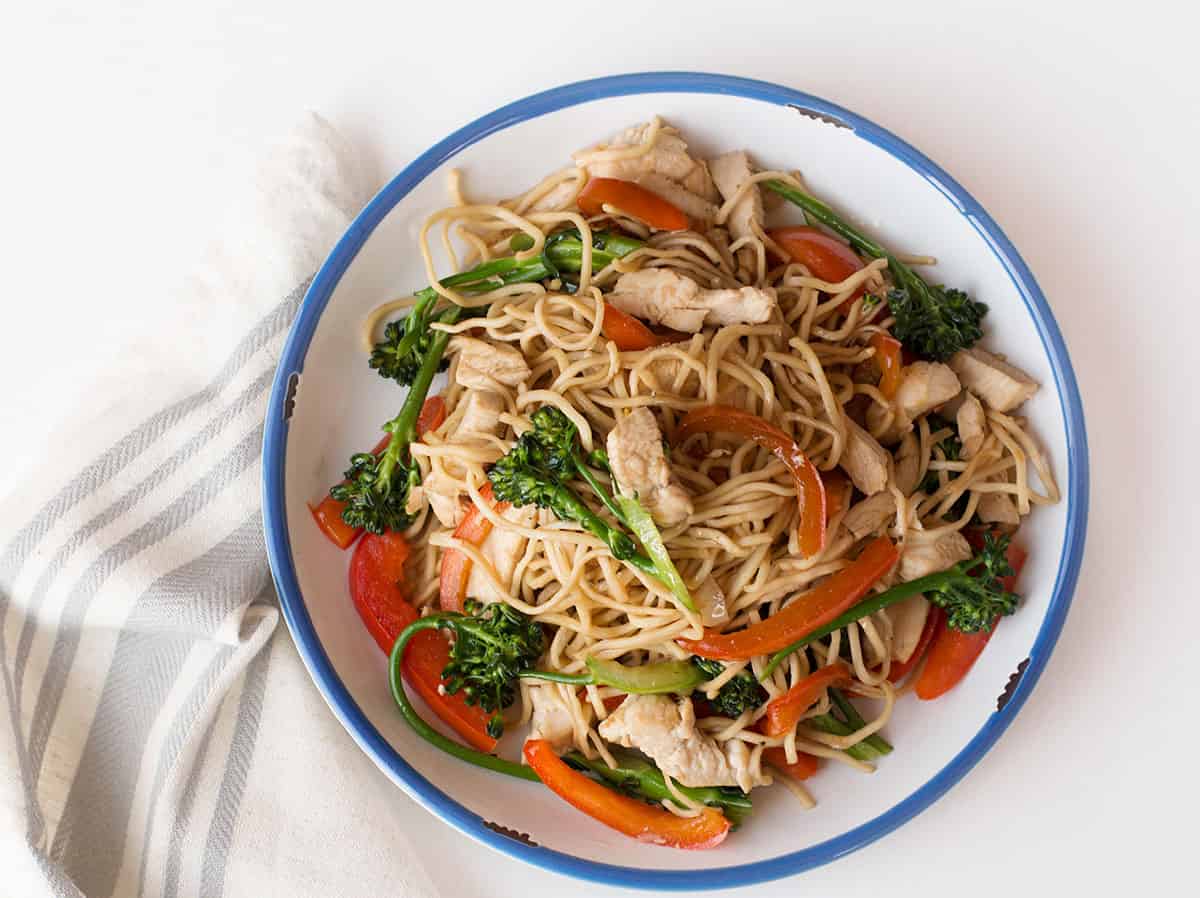 Tips: Try not to overcook the noodles. I often go rogue in my cooking but for these noodles it's not a bad idea to follow the package directions for heating the noodles and to quickly wash with cold water upon completion to give it an immediately cooling off. You may also add 1-2 tablespoons of cooking oil to the cooked noodles if you think you may want to fry them at a later time.
📖 Recipe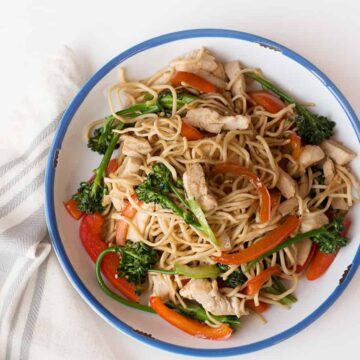 Chicken Chow Mein
Ingredients
2

pieces

boneless skinless thighs

,

cut into very thin and small

¼

cup

low sodium soy sauce

1

tablespoon

rice vinegar

1

teaspoon

sesame oil

1

tablespoon

peanut oil

1

pieces

carrot

,

cut into small or julienned

2

cups

broccoli or napa cabbage

,

cut into small pieces

1

cup

red bell pepper

,

cut into thin strips

3

cloves

garlic

2

tablespoons

oyster sauce

8

ounces

Chinese noodle/Lo mein/ Ramen

Salt/pepper if needed

,

according to your liking
Instructions
Marinade the chicken with 2 teaspoons of soy sauce, rice vinegar and sesame oil in a small bowl. Set it aside while you cook the noodles according to package directions. Drain the noodles well.

Heat the peanut oil in a large skillet. Add the marinated chicken when the skillet is very hot and stir-fry until cooked through.

Remove the chicken from the skillet and set aside.

Add the broccoli, red bell pepper and garlic, stir-fry for 2 minutes then add the noodles and keep stirring for another 2 minutes.

Add the remaining soy sauce, oyster sauce, cooked chicken to the skillet. Keep stirring for 2 more minutes.

Serve in a plate and enjoy when the noodles are still warm.