This Chinese eggplant with minced pork is one of the most popular dishes in Chinese households. The eggplant is stir-fried in light oil, then braised in a Szechuan sauce mixture until flavorful and tender. This Chinese recipe is much better than Chinese takeout and is a fun recipe to start with if newer to making Asian cuisine!
Chinese Eggplant with Minced Pork
If you have stumbled upon the fresh Chinese eggplant at a local market and don't yet know what to do with it then try out this recipe!
The Panda Express Chinese Eggplant dish is similar to Chinese eggplant dishes you'll find on the menu at other Chinese restaurants, and the below recipe has a similar taste to them.
In my recipe, the Chinese eggplant with minced pork is cooked in a savory Sichuan sauce. It has a perfect amount of spiciness and light sweetness.
So, let's talk about some of the main ingredients you'll need to make this delicious Chinese eggplant with minced pork.
Jump to: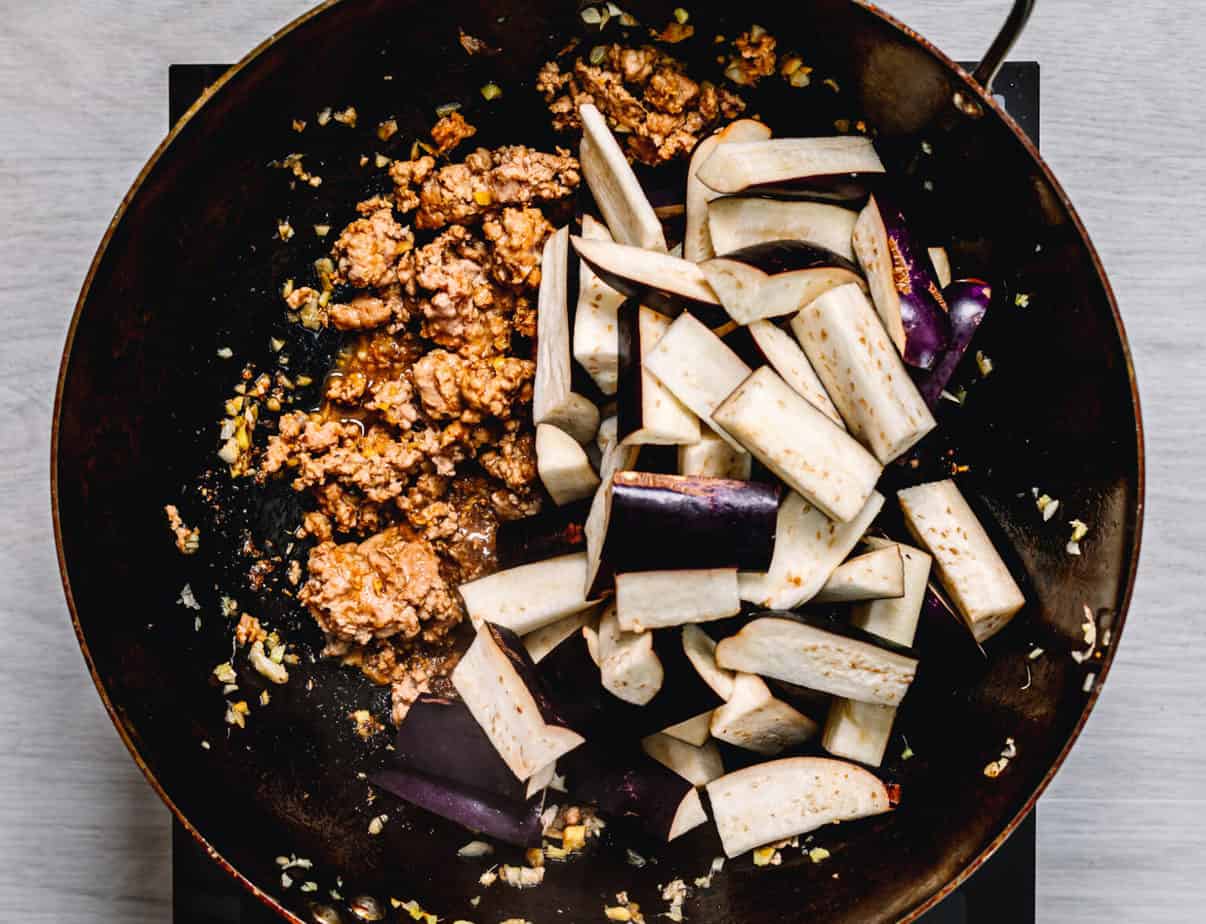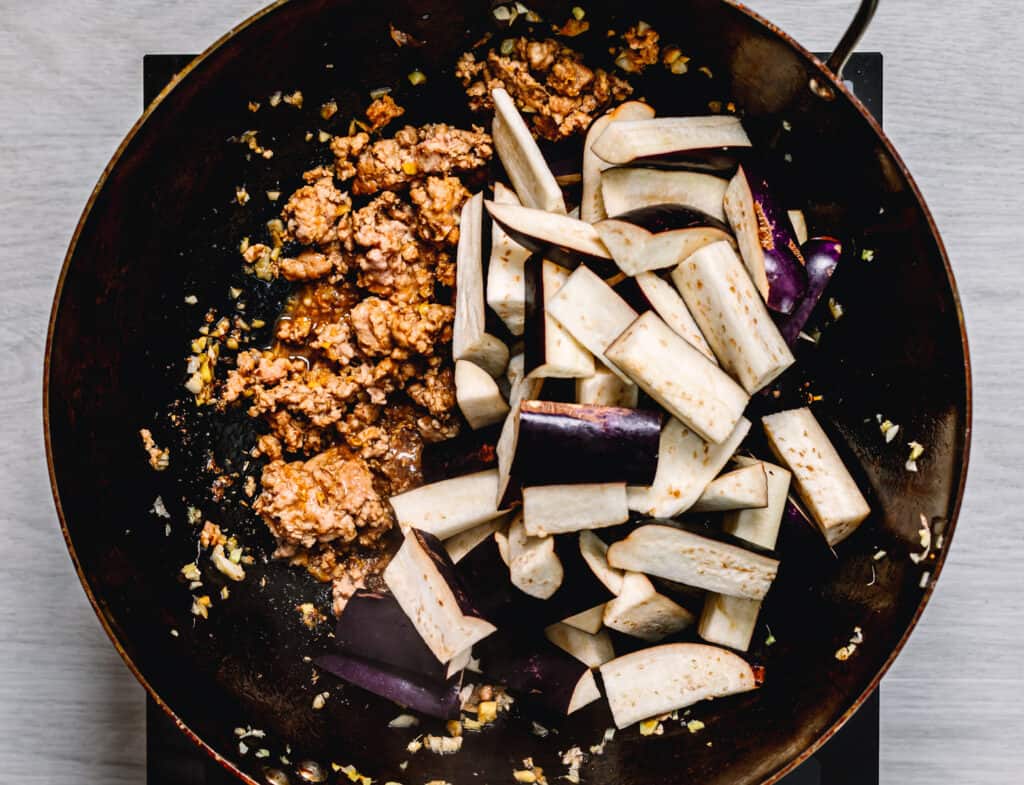 Chinese Eggplant vs Regular Eggplant
The Chinese eggplant is part of the nightshade family. Compared to a "regular" eggplant, the Chinese eggplant has thinner skin, a longer shape, is skinnier, has fewer seeds and is a less bitterness. Overall, it has a more delicate flavor.
Do I need to soak Chinese Eggplant in salted water?
Soaking an eggplant in salted water is a pretty common cooking preparation, as it reduces the bitterness and prevents it from soaking in too much oil and becoming greasy. This technique is really useful if you are going to stir fry.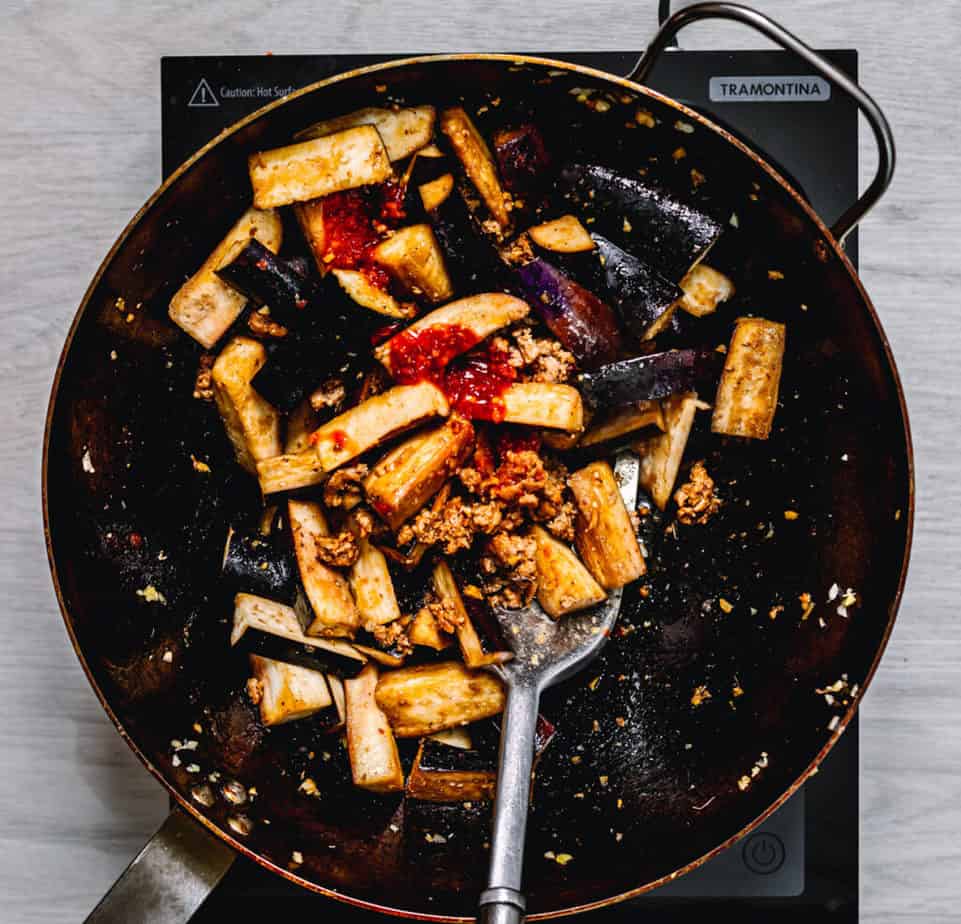 In this minced pork with eggplant recipe we are going to fry the eggplant in a small amount of oil, then braise it in a soy broth mixture, and lastly slow cook it until it absorbs all of the flavors and becomes tender. For that reason, salting the eggplant in salted water is optional.
Personally, I prefer to skip this step to save time, and I really don't think it affects the flavor of the dish.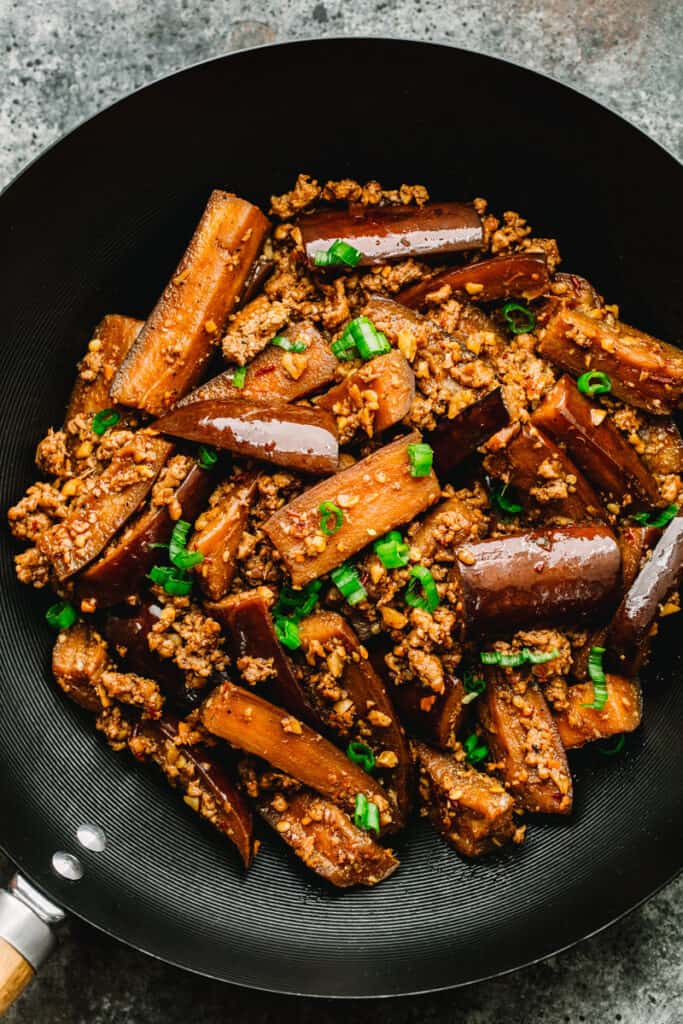 Minced Pork:
The minced pork is a nice addition to the dish. I think it improved the flavor and turned this into a complete meal in a one-pot because of its protein content.
Minced pork is tasty, versatile, and very inexpensive. It has almost 30 times more Vitamin B1 than minced beef. It's also often cheaper and a lower-fat option to beef. Best of all, it takes only a few minutes to cook in a skillet, making this dish perfect for your busy weeknights.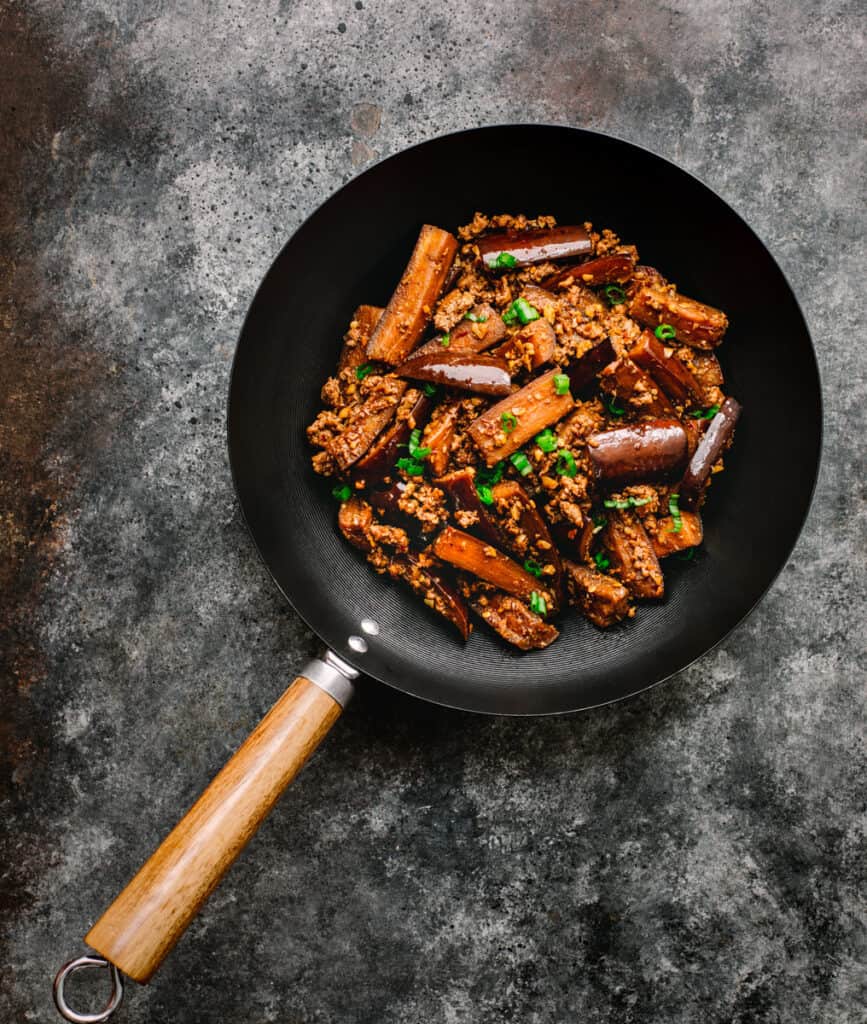 Szechuan Sauce:
The flavorful Szechuan sauce (or Sichuan sauce) is used to braise the pork. To make the Sichuan sauce, you will need Sichuan peppercorn, soy sauce, black vinegar, broth, and Shaoxing cooking wine.
I also used the oyster sauce to add a savory flavor to the dish. It's a staple condiment in Chinese cooking and commonly used in stir fry dishes.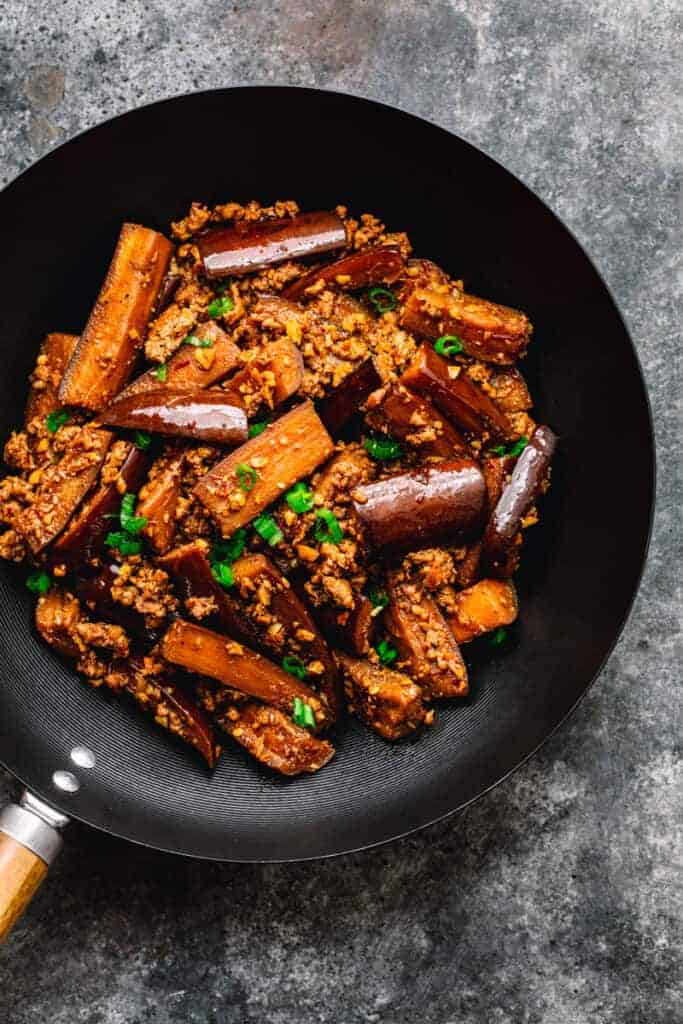 To add spiciness to the dish, I also used a small amount of Chili Garlic sauce. It's widely available in markets, both traditional and International. Target, Ralph's (or Kroger), Von's, Walmart are some examples of stores where you can find Chili Garlic sauce.
Chinese black vinegar is commonly used in Chinese stir-frys, braises, and sauces. It's a dark and complex (yet milder) vinegar made of glutinous rice and malt. It is pretty similar to balsamic vinegar.
You can purchase the product in any Asian grocers. I personally bought mine from a local Ralph's store (Kroger). As an alternative, you can use rice wine vinegar.
How to Braise Chinese Eggplant
Now, let's talk about the cooking process. It's actually quite simple.
First, you will need to stir fry the pork in a wok.
Second, stir fry the eggplant in the oil for a few minutes.
Third, braise the eggplant by cooking it slowly in the Szechuan sauce.
Last, add the extra seasoning needed and continue cooking until the eggplant builds the flavor and becomes tender.
Check Out More Tasty Asian Recipes
📖 Recipe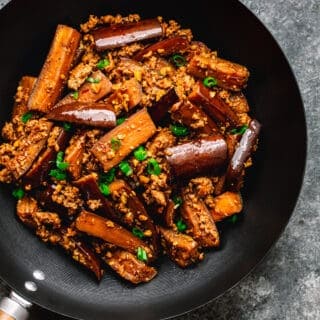 Chinese Eggplant with Minced Pork
The eggplant is stir-fried in light oil, then braised in a Szechuan sauce mixture until flavorful and tender. This Chinese recipe is much better than Chinese takeout!
Ingredients
1

pound

Chinese eggplant

,

(*see notes)

¾

pound

minced pork

2

tablespoon

minced garlic

1

tablespoon

finely chopped ginger root

1

tablespoon

fresh Sichuan peppercorn
Sichuan-style Sauce:
¼

cup

broth

2

tablespoon

soy sauce

¼

cup

Shaoxing Wine

,

(*see notes)

2

tablespoon

Chinese black vinegar, known as Chinkiang or Zhenjiang vinegar

,

(*see notes)

2

tablespoon

chili garlic sauce

,

(or use about 1 tablespoon fresh chopped red chilies or more)

4

teaspoon

white sugar

½

tablespoon

oyster sauce
Instructions
Preparation:
Wash the eggplants and trim off the stem ends. Slice into 2-inch lengths, and then cut lengthwise into ½-inch thick wedges.

To make the sauce, in a bowl, stir together the stock, soy sauce, Shaoxing wine, black vinegar, chili sauce, oyster sauce, and sugar. Set aside.

Toast the Sichuan peppercorns in a skillet over medium heat until fragrant. Remove from heat and use a spice grinder or mortar to grind the peppercorns. Set aside.
Cooking:
Heat 1 tablespoon of oil in a wok or skillet over high heat. Add garlic and ginger, cook for a few seconds or just until fragrant.

Add the pork and cook for about 2-3 minutes. Add Sichuan peppercorn, stir for a few seconds.

Add eggplant and stir fry until begins to brown for about 3 minutes.
Braising:
Add the Sichuan-style sauce mixture. Stir to combine and bring to a boil. Turn the heat to medium, cover the wok, stirring occasionally and braise the eggplant for about 7-10 minutes until just tender. Add broth if the mixture looks too dry. Adjust seasoning if needed.
Serving:
Remove from the heat and transfer to a large plate. Add chopped green onions and serve with rice. Enjoy!
Notes
If you can't find black vinegar, you may use Balsamic vinegar or rice wine vinegar as a replacement ingredient.
The ideal Shaoxing wine substitute is pale dry sherry.
If using globe "regular" eggplant, cut into ½ inch cubes.
Feel free to adjust the seasoning by using more or less chilies, sugar or salt according to your taste.
Nutrition
Calories:
320
kcal
Carbohydrates:
18
g
Protein:
17
g
Fat:
18
g
Saturated Fat:
7
g
Cholesterol:
61
mg
Sodium:
1092
mg
Potassium:
572
mg
Fiber:
5
g
Sugar:
10
g
Vitamin A:
71
IU
Vitamin C:
4
mg
Calcium:
40
mg
Iron:
2
mg