Looking for ground pork recipes or noodles recipe with pork and hoisin sauce? You have to try this Chinese recipe: Minced Pork Noodles! This ground pork stir fry noodles can be ready in less than 15 minutes.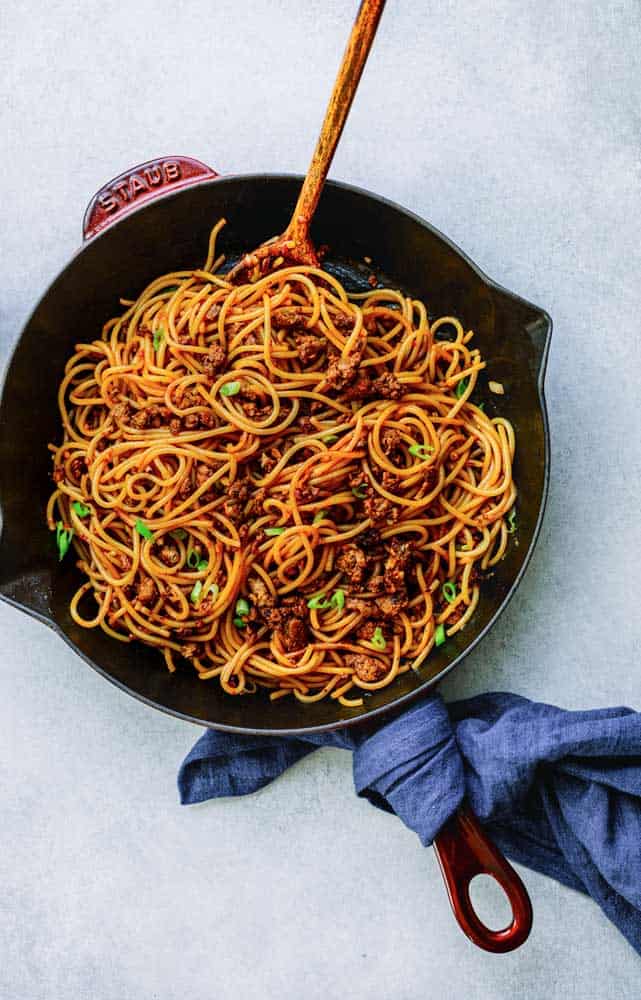 This Minced Pork Noodles stir fry is made with ground pork and cooked in the Hoisin Sauce and Sichuan peppercorn mixture. It tastes better-than-takeout! Additionally, this dish is so affordable and easy to make!
Jump to:
Minced Pork Noodles with Hoisin Sauce Mixture:
I cooked this pork noodles dish in the Hoisin sauce mixture. The stir fry sauce has the perfect balance of sweetness and saltiness. It's so simple, yet so delicious. To make the sauce, I only added 4 ingredients: broth, Hoisin sauce, Mirin, and low sodium soy sauce.
So, what is Hoisin Sauce? Hoisin Sauce is made using soybean. It's a thick, sweet, and fragrant sauce commonly used in Chinese cooking. It's also a great sauce to glaze meat, as a dipping sauce for stir fry or to add sweetness to the soup, such as Pho.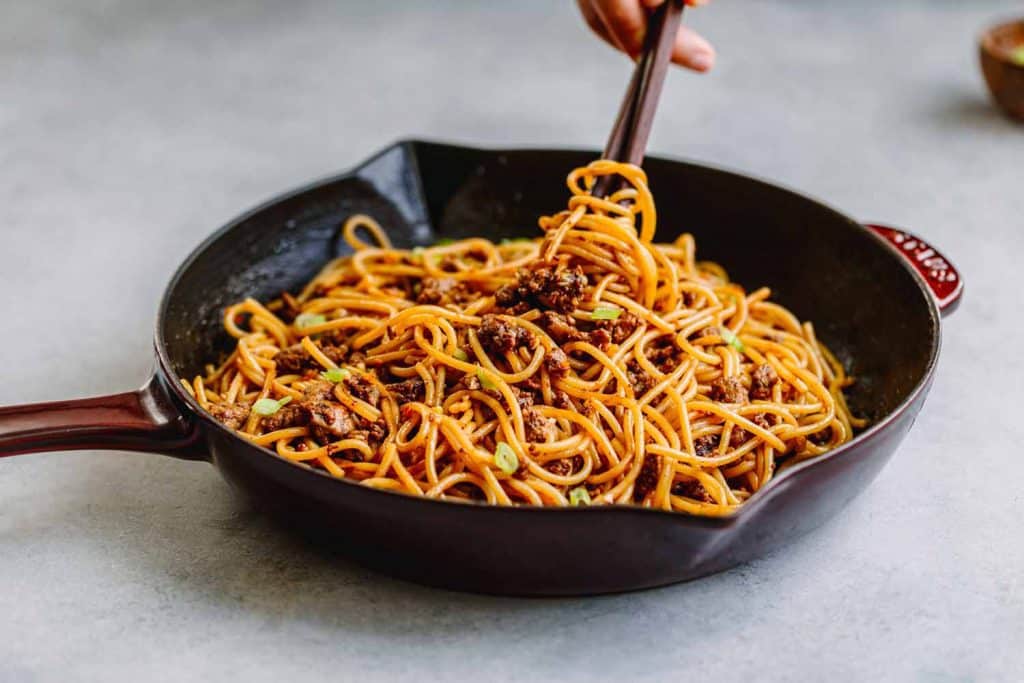 Minced Pork Noodles Ingredients
Ground Pork
Chicken broth
Low-sodium soy sauce
Mirin (or you can use dry sherry)
Hoisin Sauce
Chili garlic sauce
Sichuan Peppercorn
Sesame Oil
Dry Sherry or Shaoxing wine
Garlic
Ginger
Scallions
Optional Ingredients:
I listed two optional ingredients that actually play important roles in the minced pork noodles dish: Sichuan Peppercorn and Chili Garlic Sauce. If you love spicy food and have access to these products, please do not skip out on these!
Sichuan Peppercorn:
Sichuan Peppercorn is an essential ingredient in Chinese cooking. It has a very unique aroma and flavor, that is slightly lemony and creates a tingly numbness in the mouth. While this is an optional ingredient, I highly recommend adding Sichuan peppercorn to give a little kick and add that special citrus flavor to the dish. You can find this type of peppercorn at any Asian market, or even local stores like Sprouts, or Ralph's (Kroger).
Chili Garlic Sauce:
Chili garlic sauce is another optional ingredient to add to this dish. This chili sauce is a combination of chili and garlic and is absolutely delicious. It's a staple Asian condiment and can be added to many recipes. You can find chili garlic sauce at any grocery market like Krogers, Sprouts, Vons, or Target. It's very inexpensive and lasts a long time in the fridge. I really recommend using this sauce to bring the dish to the next level.
The cooking process of this Ground Pork Noodles is pretty easy. It basically contains two important steps:
Cook the pork in the Hoisin sauce mixture prior to adding the pork into the noodle.
After, use extra sauce to flavor the noodle during frying.
How to Make this Ground Pork Noodles Recipe:
First, cook the noodle according to product packaging. Set it aside.
Second, prepare the stir fry sauce by mixing chicken broth, low sodium soy sauce, mirin, and hoisin sauce.
Third, cook the pork on a hot skillet or wok undisturbed for 3 minutes or until it is browned. Then you can break up the meat into small bits. Keep stirring until there is no longer pink. This process should last about 1 minute. Remove from the heat and transfer to a plate.
Next, it's time to cook the garlic, ginger, scallions and the optional Sichuan peppercorn to give extra taste and aroma to the dish. You only cook these condiments for 30 seconds or until fragrant. Do not burn!
Now, put the browned pork in Hoisin Sauce back into the skillet and add the noodles.
Lastly, we need to season the noodles with extra Hoisin Sauce, Soy Sauce, Sesame Oil, Dry Sherry, and the optional Chili Garlic Sauce.
Replacement Ingredients:
You can use Shaoxing wine in replacement for dry sherry. For mirin, the Japanese sweet rice wine, you need a combination of acidic and sweet flavors, a good example is using dry sherry with a small amount of white sugar.
Check Out More Delicious Asian Recipes
📖 Recipe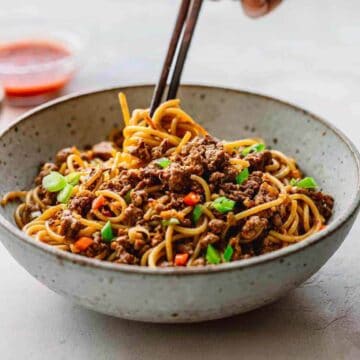 Minced Pork Noodles
Delicious stir fry noodle recipe with ground pork and Hoisin sauce mixture.
Ingredients
Instructions
Cook the Spaghetti noodles according to the product packaging or until al dente. Set aside.
To make Sauce 1 - for Stir Fry Pork:
In a small bowl, stir in chicken broth, hoisin sauce, mirin, and low sodium soy sauce until well combined. Set aside.
To Stir Fry Pork:
In a wok or a non-stick pan with no oil needed, cook ground pork, undisturbed, until underside is brown, about 3 minutes. When pork is browned, break up meat into small bits. Keep tossing until no more pink for about 1 minute.

Stir in the sauce 1 for minced pork and cook until the pork is coated with the sauce. Transfer to a plate and set aside.
To Stir Fry Minced Pork and Other Ingredients:
In a wok, heat 2 tablespoons vegetable oil over medium-high heat, add chopped scallion (white part only), garlic, ginger, and Sichuan Peppercorn. Continue to cook, tossing often for about 30 seconds or until fragrant.

Add the browned pork back to the wok. Keep stirring for about 30 seconds.

Add the noodles to the wok, give it a quick stir. Add the sauce 2 (1 tablespoon hoisin sauce, 1 tablespoon sesame oil, 1 tablespoon dry sherry, 2 teaspoons chili garlic sauce) into the wok. Continue to cook, tossing often for about 45 seconds - 1 minute or until the noodles are coated with the sauce. Adjust seasoning if needed.

Remove from the heat. Serve with the remaining scallions (green part).
Nutrition
Calories:
503
kcal
Carbohydrates:
53
g
Protein:
18
g
Fat:
24
g
Saturated Fat:
11
g
Cholesterol:
41
mg
Sodium:
676
mg
Potassium:
354
mg
Fiber:
3
g
Sugar:
6
g
Vitamin A:
60
IU
Vitamin C:
3
mg
Calcium:
35
mg
Iron:
2
mg