This creamy roasted cauliflower soup has a vegetable broth and no heavy cream. Put this side-by-side against a store-bought creamy soup and you'll be blown away by the comparison in taste. Then go down the ingredient lists of the two and you'll be floored. With roasted cauliflower, coriander seeds, nutmeg and a few other veggies this healthy winter soup is packed with nutritional value. My kids lapped it up and wanted more... it makes me so happy when they feast on veggies like they're a dessert.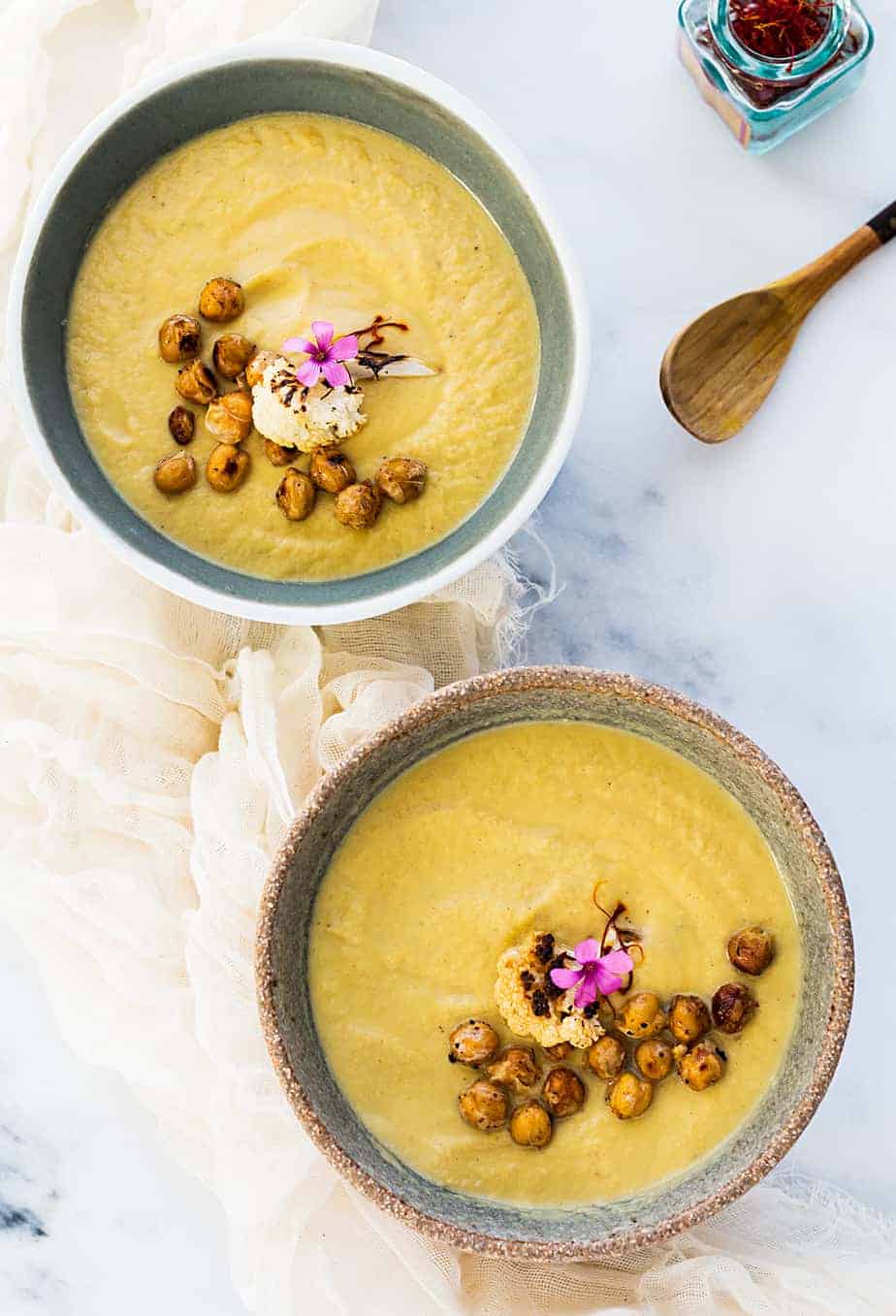 This cauliflower soup recipe is the second time I've featured the vegetable as a star ingredient this week. Nutmeg, coriander and leeks are ingredients that aren't used all that often and may not be lying around the house, but I recommend trying them out in this recipe. Especially during fall and winter these can be used in quite a few recipes.
Saffron may be expensive but just a dash gives the flavor a boost, but is not mandatory. I keep a small bottle around and use a touch here and there to make it last, then buy another tiny $10 bottle. If you are looking for cauliflower recipes, check out these delicious cauliflower recipes Delicious Roasted Cauliflower Lemon Pasta and Parmesan Roasted Cauliflower (with Adobo Seasoning). Hope you'll enjoy this healthy and nutritious roasted cauliflower soup recipe!
📖 Recipe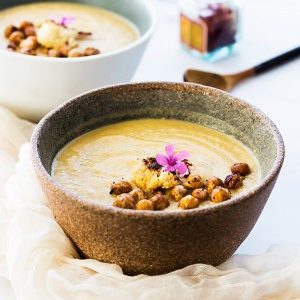 Creamy Roasted Cauliflower Soup with Saffron
Ingredients
1

pieces

cauliflower head

,

cut into small

1

teaspoon

salt

½

teaspoon

ground nutmeg

½

teaspoon

coriander seeds powder

2

tablespoons

coconut oil

,

I used Nutiva brand

¾

cup

leeks

,

chopped

½

medium onion

,

chopped

½

cup

carrots

,

chopped

2

cloves

garlic

,

minced

teaspoon

optional: ½ Spanish saffron

cup

optional: ½ coconut milk

3-4

cups

vegetable broth

,

low sodium
Instructions
Preheat oven to 450 degrees F (230 degrees C). Place the cauliflower in a small roasting pan. Drizzle with oil and season with salt, pepper, nutmeg, coriander seeds powder, toss to coat and distribute evenly.

Roast the cauliflower until tender for about 10 minutes, then remove from the oven and set aside.

Heat 2 tablespoons coconut oil in a large pot and add leeks, onion, carrots, garlic. Stir for about 5-7 minutes, until fragrant.

Add the roasted cauliflower and saffron. Stir for another 2 minutes.

Remove from heat and put all the soup ingredients in a blender, then puree.

Bring the puree soup back to the pot and add broth. Cook at low heat and bring to boil for about 10 minutes

Add salt/pepper to taste.

Remove from the heat and serve