Looking for healthy salad recipes? Try this vegan salad, Crunchy Asian Slaw, made of shredded red cabbage, green cabbage, fresh mango, carrots, cilantro, mint, a drizzle of tamarind sauce and roasted unsalted peanuts on top. It's rich in antioxidants, has very low calories, high in fiber and offers a lot of vitamins and minerals for your overall health and to help prevent cancer and heart disease. The rich amount of Vitamin C and beta-carotene in cabbage, mango, and carrots can keep the eyes, hair, and skin healthy and help to delay the aging process.
I was inspired to make this Crunchy Asian Slaw recipe after my last visit to one of the best vegan restaurants in Los Angeles. For the tamarind sauce recipe, I mixed coconut milk, tamarind paste, lemon juice and a little maple syrup to balance out the tanginess. To boost the amount of Vitamin E content, I used avocado oil. You may also use grapeseed oil or almond oil in this salad dressing recipe. I sometimes like these alternatives to the strong flavor of the extra virgin olive oil, especially in Asian recipes.
Not in the mood for Tamarind salad dressing? Try this cabbage salad with this popular mango salad dressing.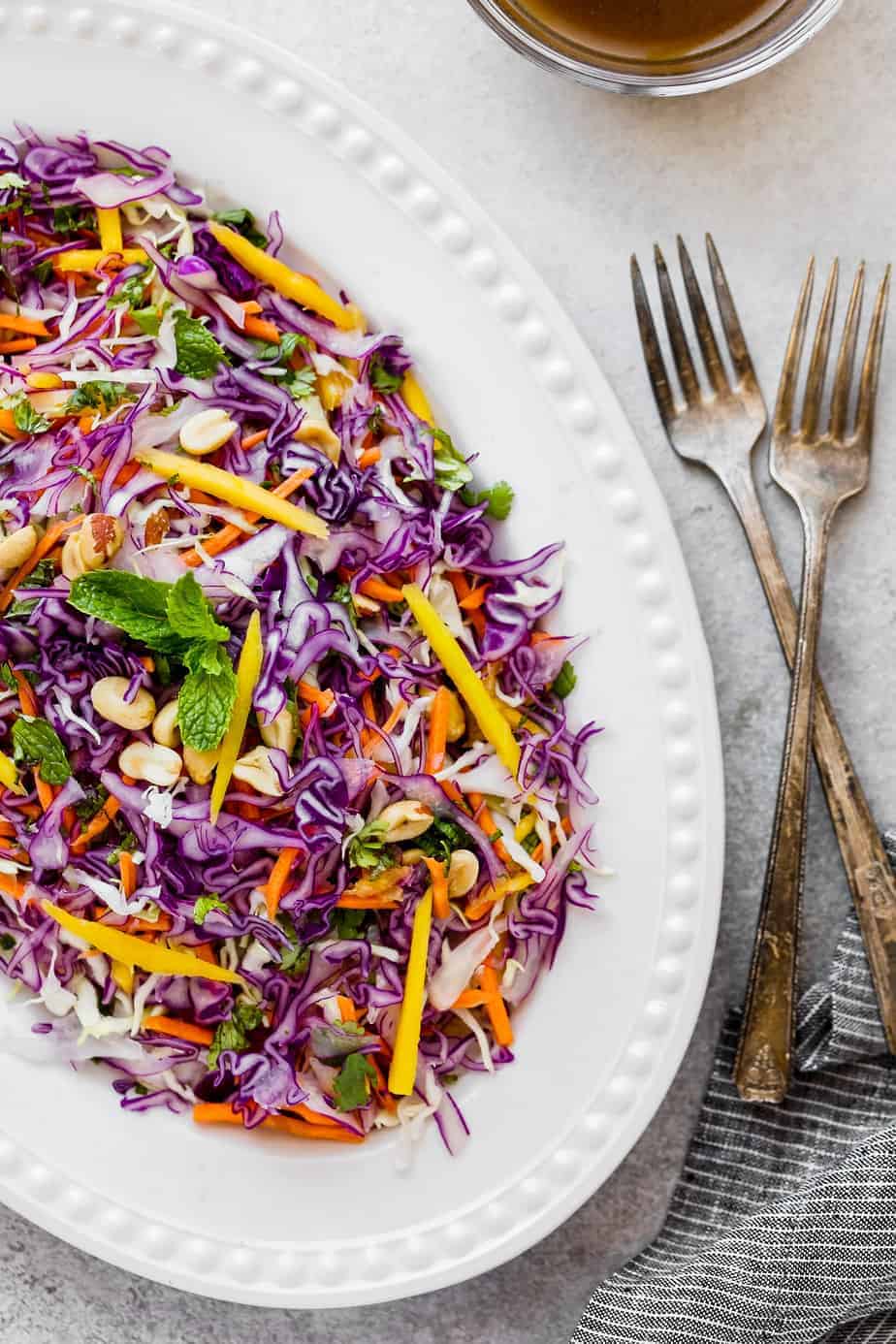 I purchased the tamarind paste from my local Sprouts market. It's an organic tamarind paste and the price is pretty expensive about $7.99 per 12 ounces. Tamarind paste is also available at almost any Asian grocery store where you can purchase it at much lower prices. The tamarind sauce goes well with this Crunchy Asian Slaw.
If you ever have the chance to eat a tamarind take advantage of the opportunity! It's delicious and different from other fruits I've come across. I'd say the same about other fruits from Asia as well, from durian to jackfruit to rambutan, the initial look (and in the case of durian, smell) may seem strange but give it a taste and you'll be hooked. Tamarind has an interesting history and has been used to reduce fevers, help with nausea, and its paste has even been used to make casts for broken bones.
Here's How to Make Crunchy Asian Slaw with Tamarind Sauce:
📖 Recipe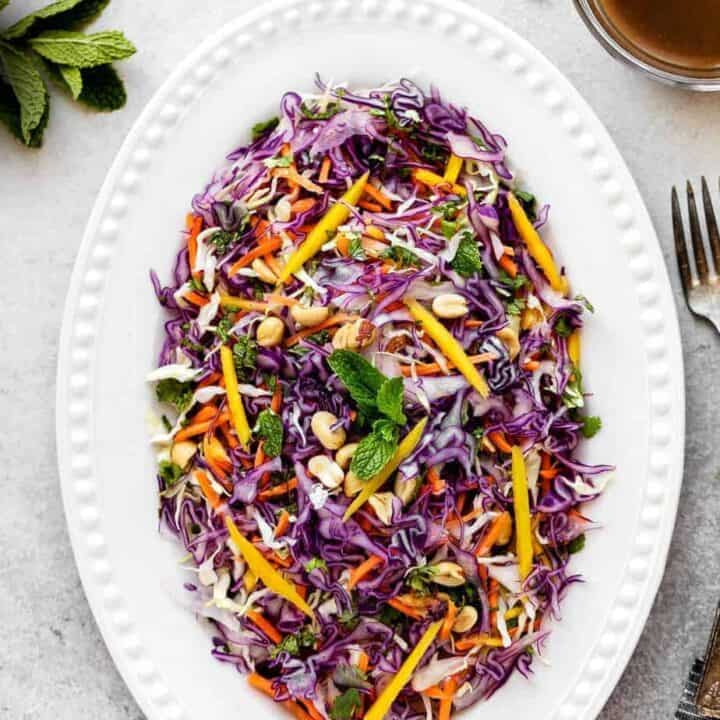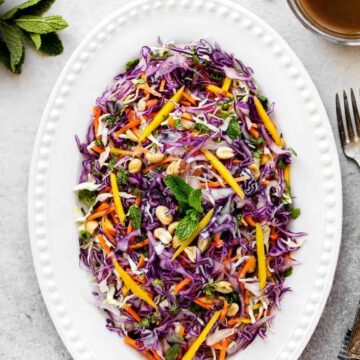 Crunchy Asian Salad with Cabbage, Mango, Carrot and Tamarind Sauce
Ingredients
For Tamarind Sauce:
2

tablespoons

tamarind paste

⅔

cup

avocado oil or sunflower oil or any vegetable oil

⅓

cup

cream coconut milk (for cooking)

black pepper to taste

2-3

tablespoons

maple syrup

,

(add more according to your liking)

6

tablespoons

fresh lemon juice

,

(about 2 small-medium size lemons)
For Salad:
2

cups

red cabbage

,

, thinly shredded

1

cup

green cabbage

,

, thinly shredded

½

cup

carrots

,

shredded

½ - 1

mango

,

, thinly sliced

3

tablespoons

cilantro leaves

,

, add more according to your liking

3

tablespoons

mint leaves

,

, add more according to your liking

3

tablespoons

unsalted roasted peanuts

,

, add more according to your liking
Instructions
In a mixing bowl or salad dressing jar: Add tamarind paste, avocado oil, coconut milk, maple syrup, fresh lemon juice. Shake well. Add maple syrup and black pepper to taste.

In a salad serving bowl: mix together shredded cabbage, mango, carrot, cilantro, mint, drizzle with tamarind sauce and top with unsalted roasted peanuts.