A delicious and fluffy Dutch Baby Pancake, cooked in the oven. This Dutch Baby is the easiest pancake recipe, perfect for breakfast, brunch, lunch or dessert! Also be sure to check out other delicious brunch recipes: BREAKFAST POTATOES SKILLET WITH KIELBASA SAUSAGE CHORIZO EGG TACOS
Dutch Baby Pancake Ingredients:
Learn how to make a Bismarck or German Pancake at home with simple pantry ingredients: Flour, eggs, nutmeg, vanilla, sugar, and butter. This puffy Dutch Baby Pancake is a good breakfast recipe that your family will enjoy.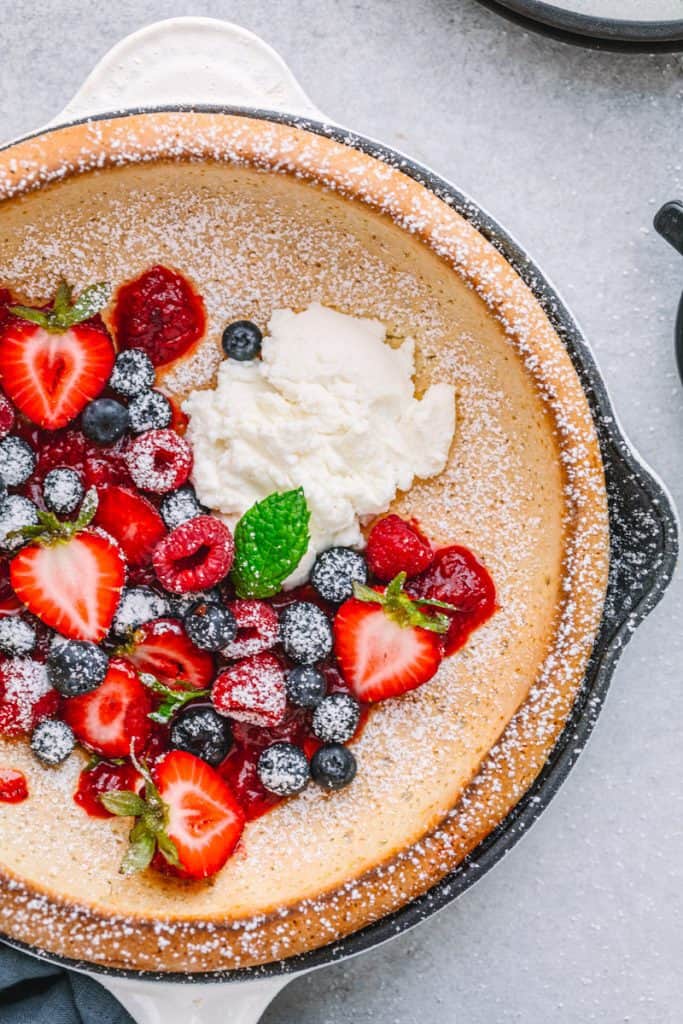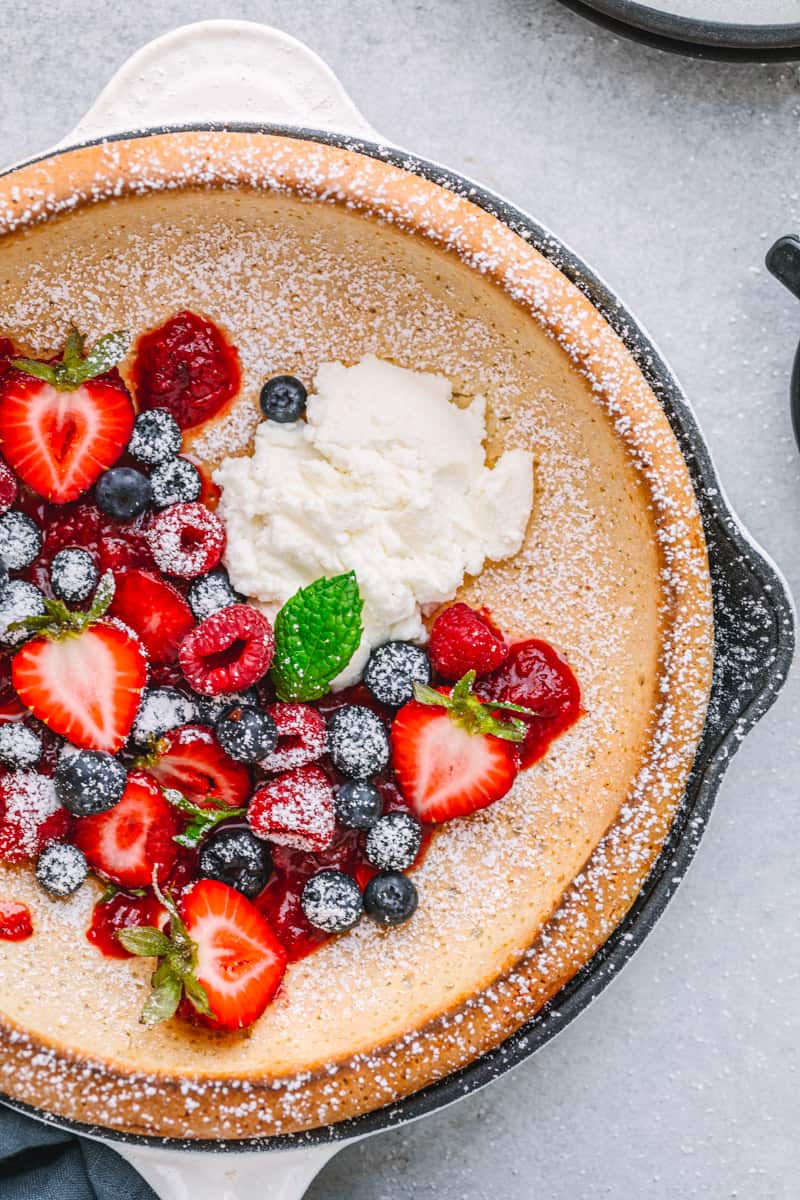 What To Serve with Dutch Baby Pancake:
To celebrate summer, I served this Dutch Baby Pancake with homemade strawberry compote and fresh berries. Strawberry compote is the perfect topping for any pancake or waffle. And to add extra protein, I also added ricotta cheese on top of the puff. I then finished up with a sprinkle of powdered sugar. Please keep in mind, these are optional toppings. Feel free to use your own favorite toppings to your liking.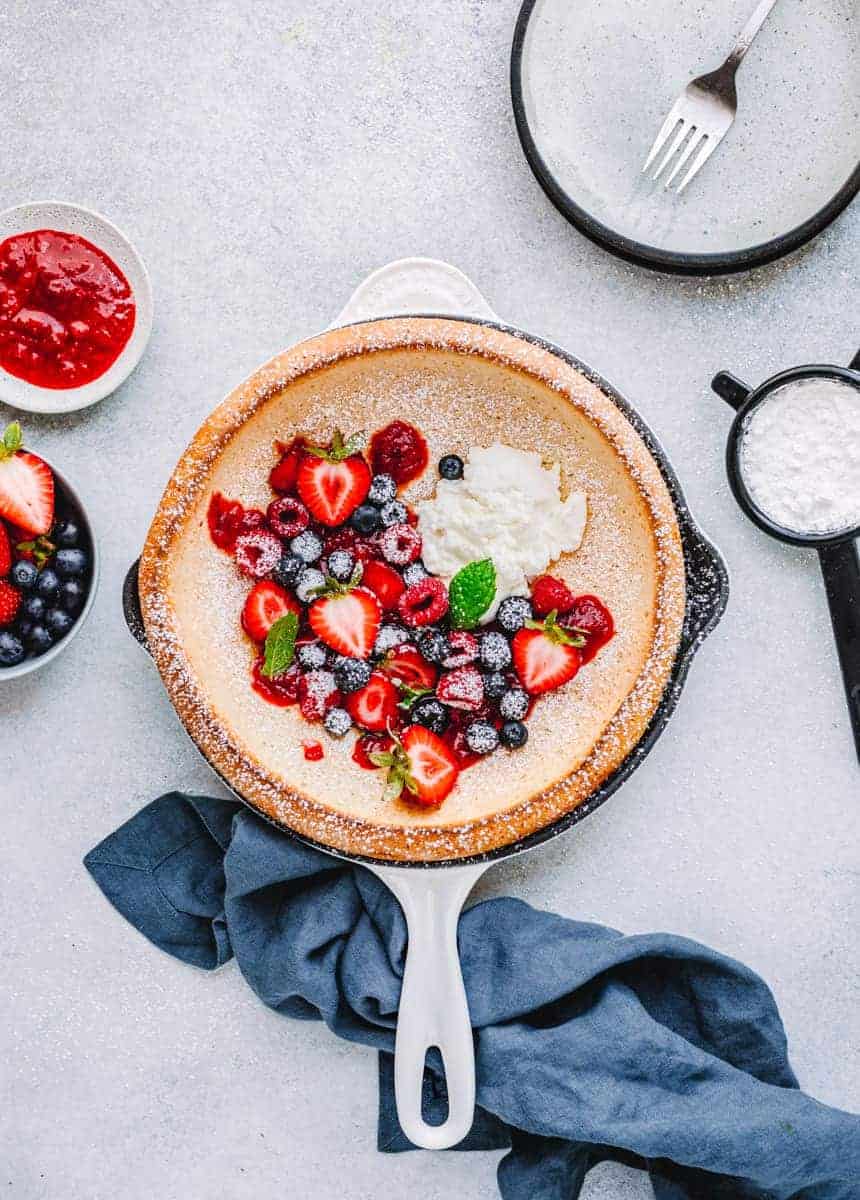 How to Make Fluffy German Pancake:
To make this fluffy pancake is so easy!
First, you need to make the batter by mixing flour, eggs, nutmeg (you may replace this cinnamon), vanilla, sugar, and salt in a high-speed blender (or blend by hand).
Second, melt the butter and grease the skillet. During this time, you will let the batter rest at room temperature so you can produce a lighter pancake.
Third, you need to cook the batter in the oven for about 20 minutes.
Lastly, make the Dutch baby pancake pretty by adding your favorite toppings and finish up with a sprinkle of powdered sugar.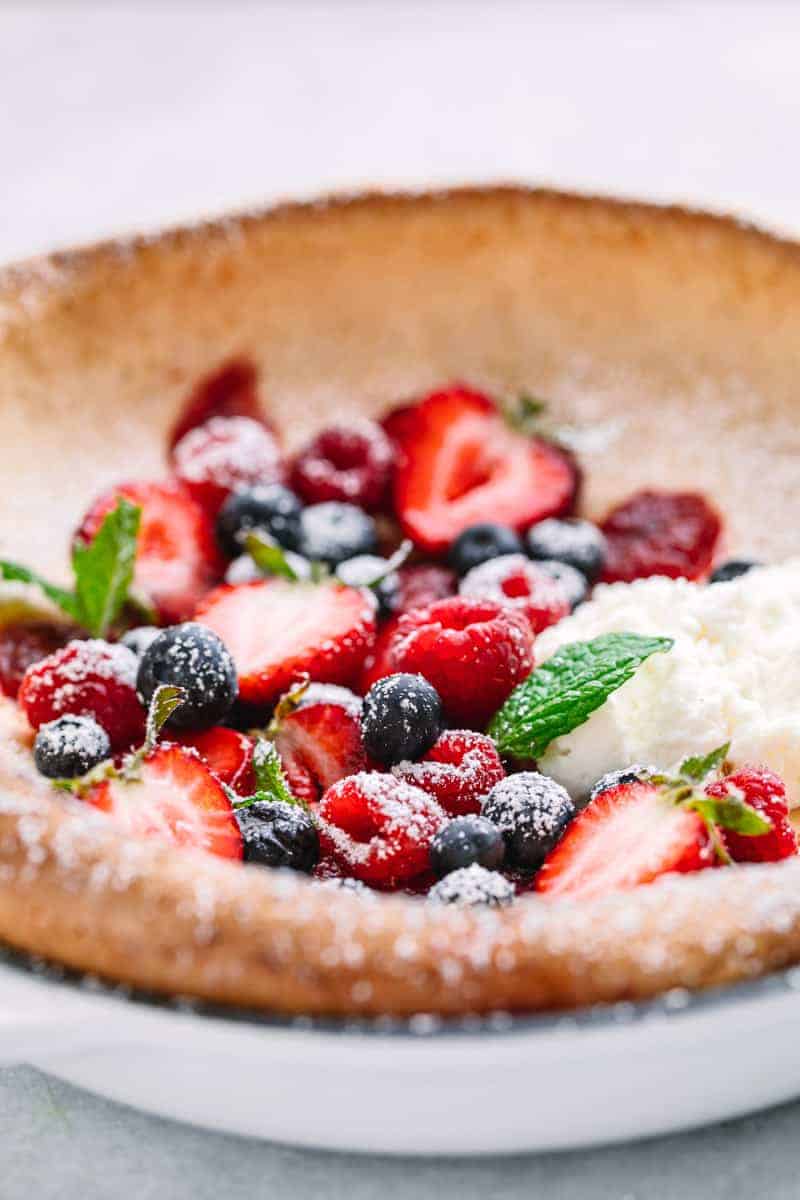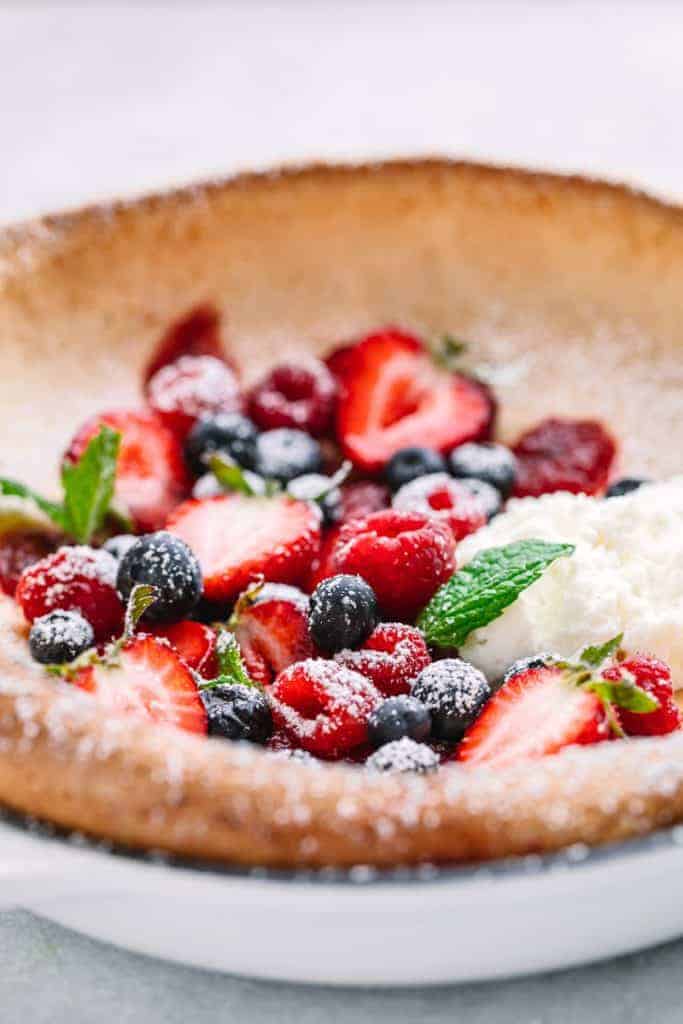 How To Make Strawbery Compote:
To make the strawberry compote, you only need fresh strawberries, lemon zest, sugar, and water. The cooking process will take about 5 minutes! It's so easy and it has wonderful flavors.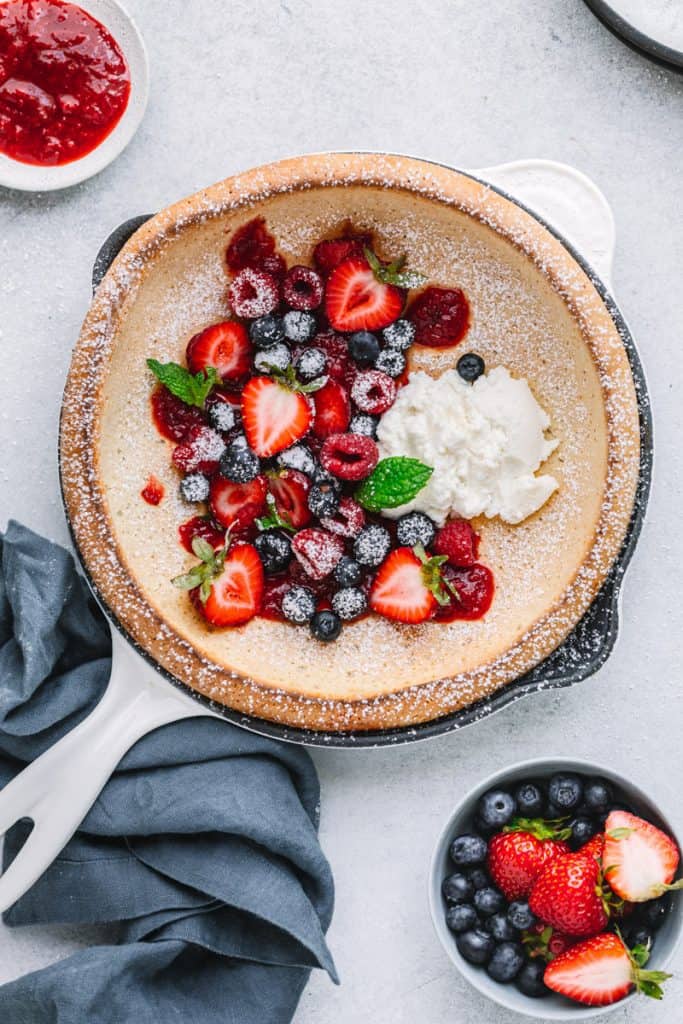 How to Store Leftover Pancake Batter:
If you have leftover batter, you can keep the batter for up to 2 days after making it in the fridge. Just be sure to transfer fresh batter immediately to an airtight container.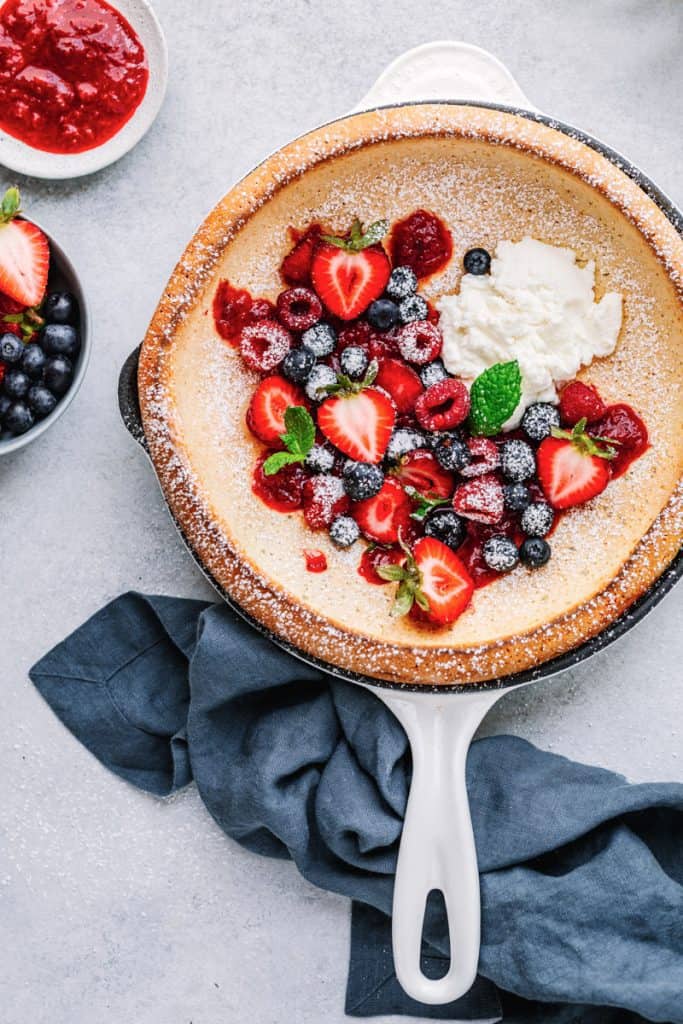 To be safe, before you use the batter for the next recipe after putting it in the fridge for a few days, make sure that the pancake mix doesn't have any odor or any signs of mold.
📖 Recipe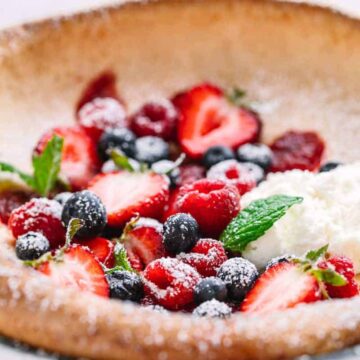 Dutch Baby Pancake
Puffy German Pancake served with homemade strawberry compote
Ingredients
For Strawberry Compote:
1

cup

finely chopped fresh strawberries

2

tablespoon

white sugar

3

tablespoon

water

½

teaspoon

lemon zest

,

(use you can use more according to your liking)
Optional Toppings:
mixed berries

ricotta cheese

powdered sugar
Instructions
To make Dutch Pancake:
Preheat the oven to 400 degrees F.

Put the butter in a large ovenproof skillet (10 inches) and place in the oven.

Meanwhile, combine flour, eggs, milk, sugar, vanilla, nutmeg, and salt until uniform using a blender.

Remove the hot skillet from the oven.

Swirl the butter around the pan to coat completely, and transfer the remaining butter into the blender. Pulse to blend.

Pour the batter into the skillet and cook for about 20 minutes or until the pancake is puffed.
To make Strawberry Compote:
In a medium saucepan, add chopped strawberries, sugar and water.

Cook over medium-high heat, stirring occasionally for about 4 minutes. Add the lemon zest and continue cooking for 1 minute. Turn off the heat and set aside.
To Serve:
Serve the dutch baby pancake warm with a generous amount of Strawberry compote, fresh berries, ricotta cheese and a sprinkling of powdered white sugar.
Notes
No blender?
You can make your own pancake batter by mixing the eggs and milk for about 1 minute or until the mixture is light yellow. Then add the remaining ingredients: flour, sugar, vanilla extract, nutmeg, and salt into the mixture. Keep stirring until you see no lumps on the pancake batter.
Chopping strawberries:
Finely chopped strawberry is highly recommended so you can cook the the strawberry compote faster and don't need a blender to puree.
How to Zest Lemon without Zester:
You can use a vegetable peeler or sharp knife to slice very thin pieces from the lemon. Avoid peeling the bitter, white pith.
Nutrition
Calories:
282
kcal
Carbohydrates:
28
g
Protein:
7
g
Fat:
16
g
Saturated Fat:
9
g
Cholesterol:
156
mg
Sodium:
208
mg
Potassium:
158
mg
Fiber:
1
g
Sugar:
15
g
Vitamin A:
582
IU
Vitamin C:
21
mg
Calcium:
62
mg
Iron:
1
mg