If you are looking for delicious easy breakfast recipes to make this upcoming week, check out these chorizo egg tacos.  They are made of simple ingredients and are so quick to make, even on a hectic weekday morning!  I served the chorizo eggs on store-bought corn tortillas, for those of you who have a little more time making them from scratch is always tastier.
I purchased the chorizo from my local store.  Since it has been previously seasoned and had the salt already added, I minimize the amount of extra seasoning during my prep and cooking. To make the cooking process go a little bit faster I cooked the potatoes in the microwave (with skin) for about 4-5 minutes.
I have tried vegetarian chorizo as a meat alternative and some of the brands out there do a pretty good job.  It all comes down to having the right mix of spices and whether they nail that authentic taste.  You can find options in both tofu and tempeh varieties.  Tofu as a whole is much more popular here in America but in Asia, there are a lot more tempeh dishes.  I am personally a big fan of the harder consistency but it's not for everyone.
With the avocado and tomatoes, this dish is another healthy dish that I'm proud to share with you.  For those of you on a health-watch you can of course use only the egg whites.  With all of the other flavors going on here there's no lack of taste so the yolks won't be as missed as they are in some other dishes.
I hope you enjoy this simple chorizo egg tacos recipe! Also check out this easy vegan taco recipe  and this fresh mango salsa recipe!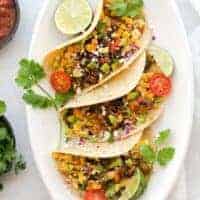 Ingredients
2

large potatoes

0.5

pound

chorizo (bulk or sausage with chasing removed)

4-6

whole eggs

1/4

cup

milk

avocado

cilantro

salsa

fresh chopped tomatoes

Mexican cheese to serve

red onion

chopped

salt/pepper to taste
Instructions
Cook the potatoes in the microwave for about 4-5 minutes. Remove and let them cool down for about 5 minutes before cutting into small pieces.

Heat 2 tablespoons of olive oil in a medium-to-large sized skillet.

Add potatoes, then cook for about 2 minutes. Add salt/pepper to taste. Transfer to a plate.

Heat 1 tablespoon of olive oil in the skillet.

Add chorizo, then stir and break it into small pieces. Cook for about 4-5 minutes or until color indicates it's fully cooked, and transfer to a plate.

In a medium mixing bowl, beat eggs and milk with some salt and pepper.


Heat 2 teaspoons of butter in a skillet until hot.

Reduce the heat to low. Pour the egg mixture in. As eggs begin to set, gently pull the eggs with a spatula, then continue cooking and pull, lift and fold the eggs.

Remove from the heat , transfer to a plate.
To assemble tacos:
Heat the tortilla in a skillet. Remove them and add generous amounts of chorizo, eggs, potatoes.

Top with avocado, cilantro, tomatoes, Mexican cheese, salsa and red onion.