These healthy baked chicken tenders get so crunchy without frying in the oil. They are made with simple ingredients and aren't deep fried! This is a good recipe for crispy chicken tenderloins that will save you a ton of calories! A quick and easy recipe that can be ready in less than 30 minutes.
Chicken fingers are my favorite comfort food that always reminds me of my childhood. I still remember how I always begged my parents to buy some KFC crispy fried chicken tenders every weekend.
Jump to:
Healthy Baked Chicken Tenders - Crispy but Not Greasy!
So, today, I want to share this healthy baked chicken tenders recipe. These breaded chicken strips are great alternatives to store-bought chicken tenders. They are so tasty and you'll be surprised at how uncomplicated the process is.
These chicken tenders are breaded in the traditional way. This classic three-step system involves egg, flour, and breadcrumbs to make sure you've got the crispiest and crunchiest chicken fingers.
Now, let's talk about the ingredients and cooking process!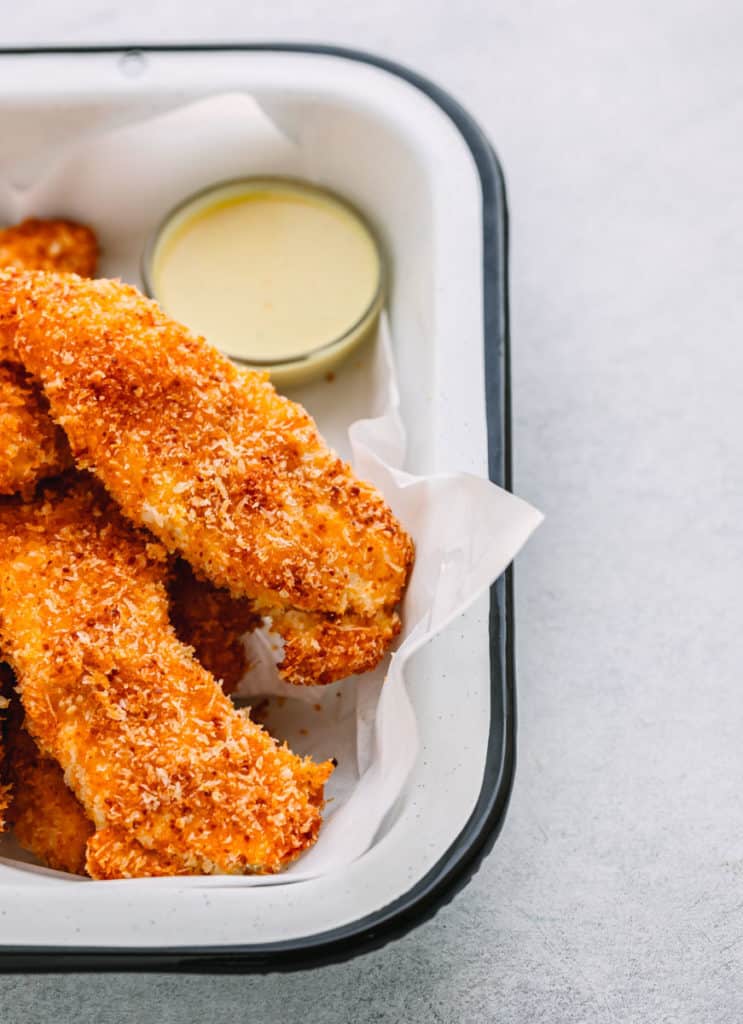 Ingredients for Healthy Baked Chicken Tenders
To make this crunchy crumbed chicken recipe, you will need the following ingredients;
chicken tenderloins
grated parmesan cheese
panko breadcrumbs
egg
all-purpose flour
oil
paprika
a pinch of salt
What is Chicken Tenderloin
Chicken tenderloin is white meat. It's located on either side of the breastbone, under the breast meat.
For this recipe, I highly recommended using pre-cut chicken tenders. The pre-cut makes the cooking preparation so much easier and faster. However, if chicken breast is your only available option, feel free to use that.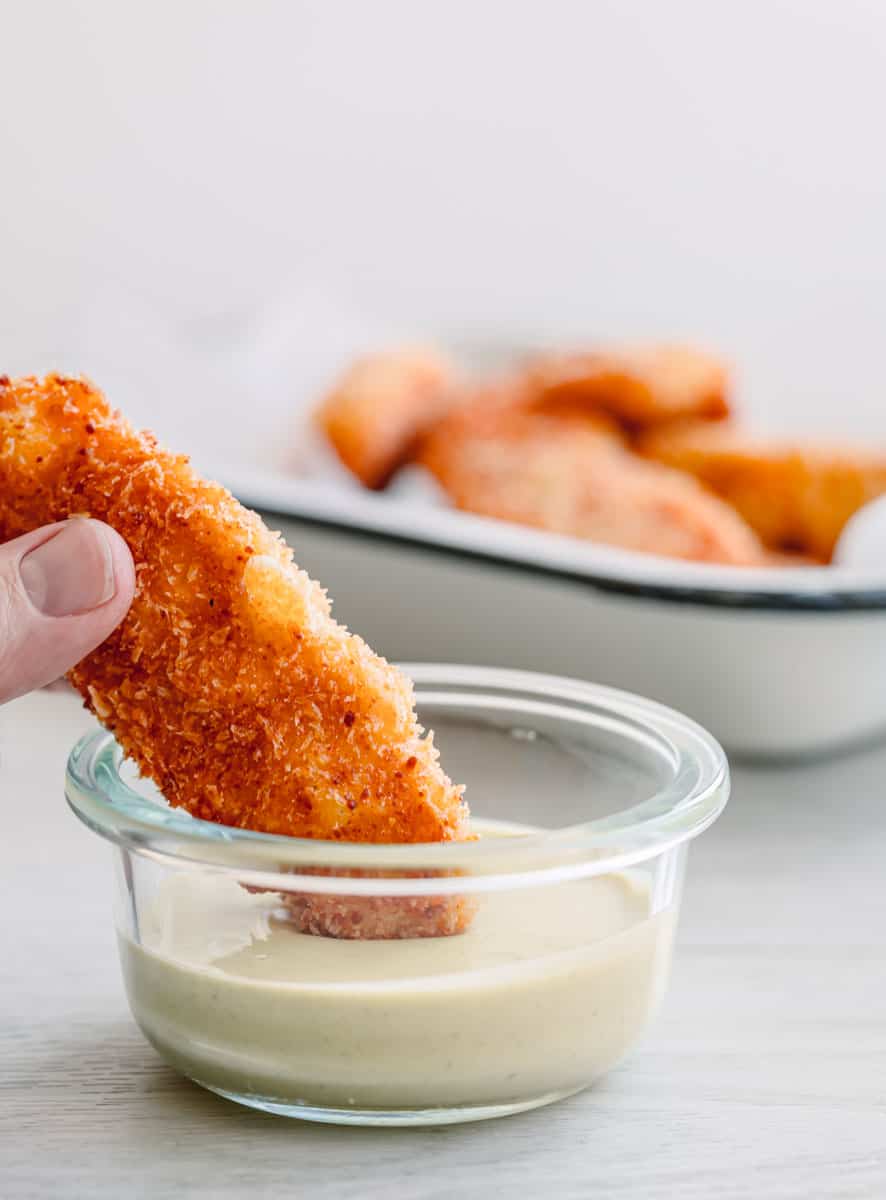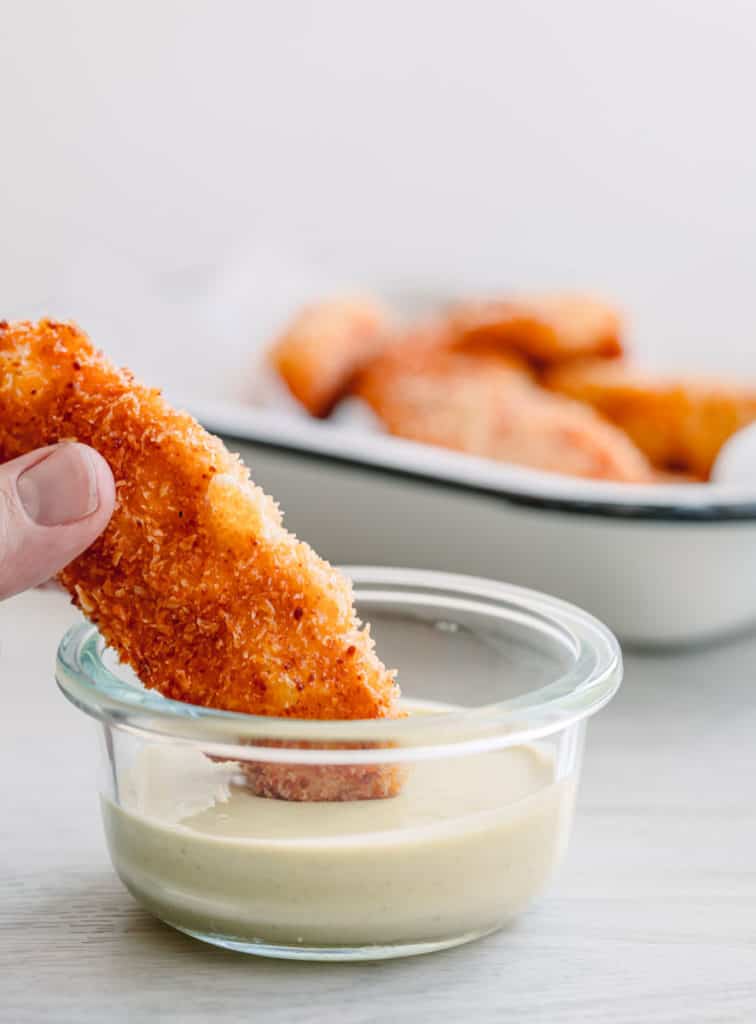 How to Cut Chicken Breast into Chicken Strips:
To make chicken tenders from chicken breast, you just need to cut the chicken breast into long strips. Just be sure to cut the strips into the same size so they can cook evenly at the same time (about ½-inch strips).
Oven-Baked Chicken Tenders with Panko Breadcrumb
Panko is a Japanese breadcrumb. It's traditionally used as a coating for deep-fried foods such as tempura or tonkatsu.
Panko has a light, airy, and delicate texture that helps it crisp as it cooks. As a result, you will get crispier and crunchier food.
I purchased the Panko breadcrumbs at my local Trader's Joe for under $2 per 7oz bag. Please keep in mind that Panko is definitely not gluten-free.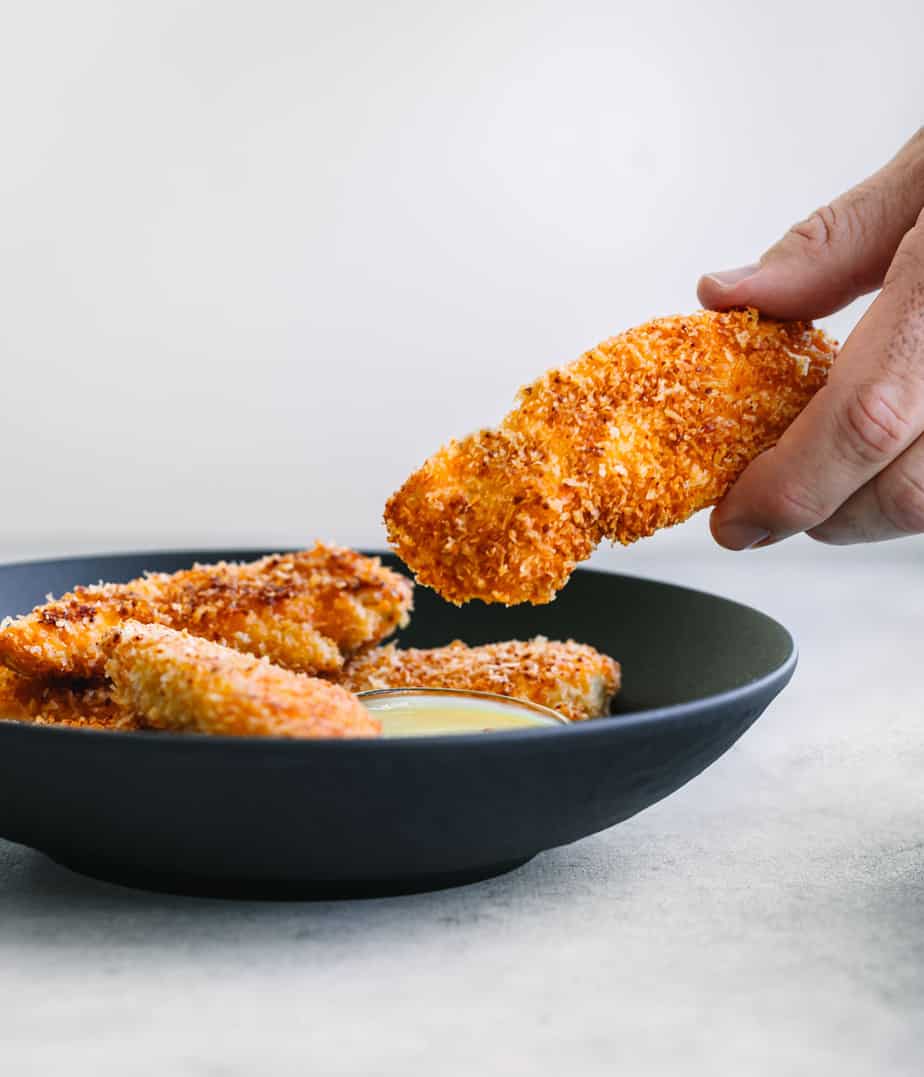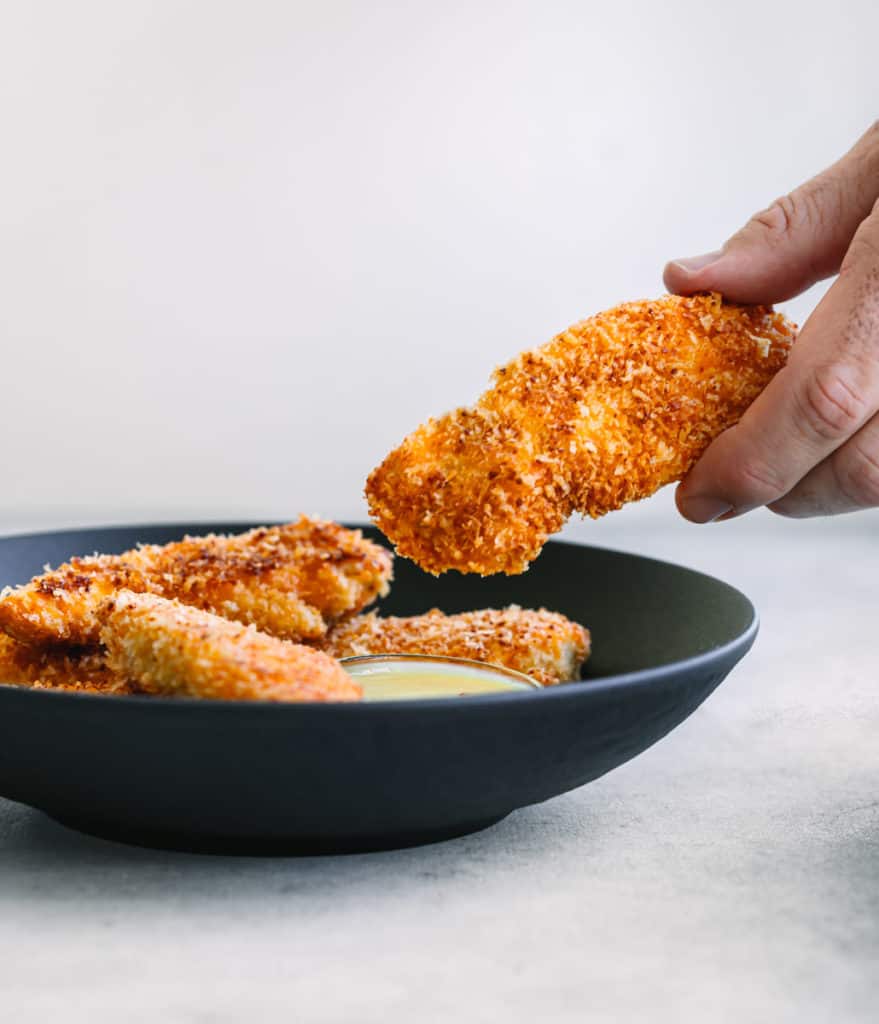 How to Make Healthy Baked Chicken Tenders in the Oven
To make these crispy chicken strips, you need to follow these simple steps to make keep the breading from falling off the chicken.
First, pat the chicken dry with paper towels.
Second, dredge the chicken in flour until is completely coated on all sides. Don't forget to shake off the excess flour.
Third, dip the chicken tenders into the egg-paprika mixture.
After that, coat the chicken tenders with the panko breadcrumbs, parmesan, and oil mixture.
Lastly, you need to bake for about 8 minutes then flip the chicken and bake for another 8 minutes or more at 425°F or until the internal temperature reaches 165ºF (75ºC).
Please keep in mind that the cooking times listed in this recipe are estimated times and may vary slightly based on the types of oven, chicken, and batch sizes being used.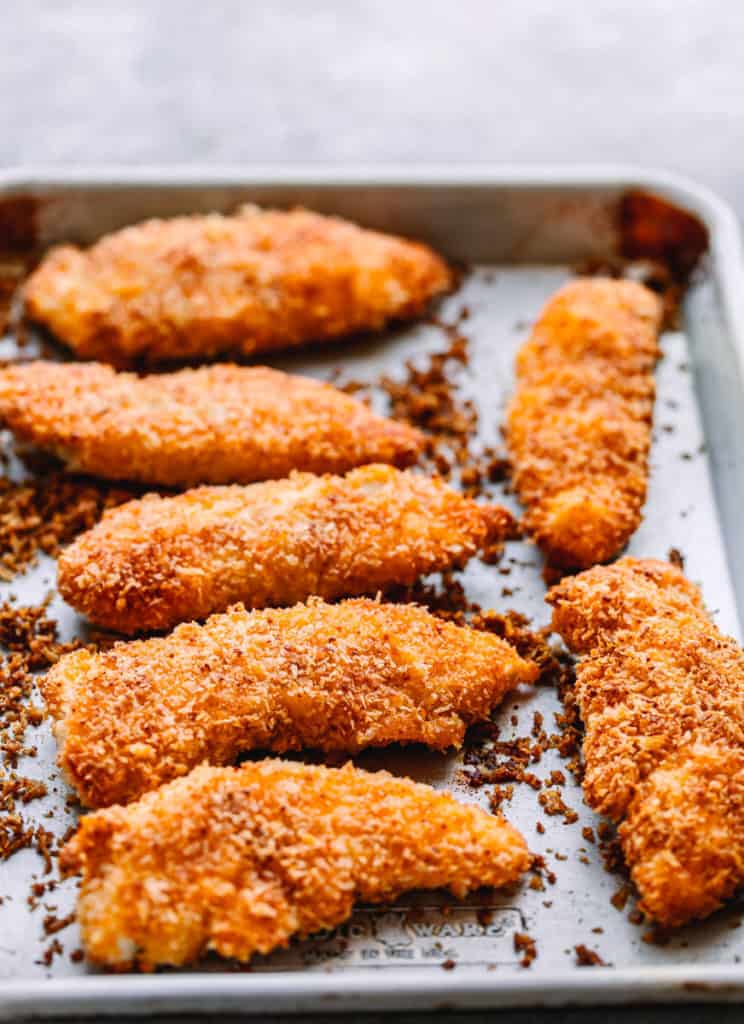 I served the crunchy chicken strips with homemade honey mustard dipping sauce. This creamy dipping sauce is insanely delicious, my kids really enjoy this recipe and even asked me to make more for lunch the next day!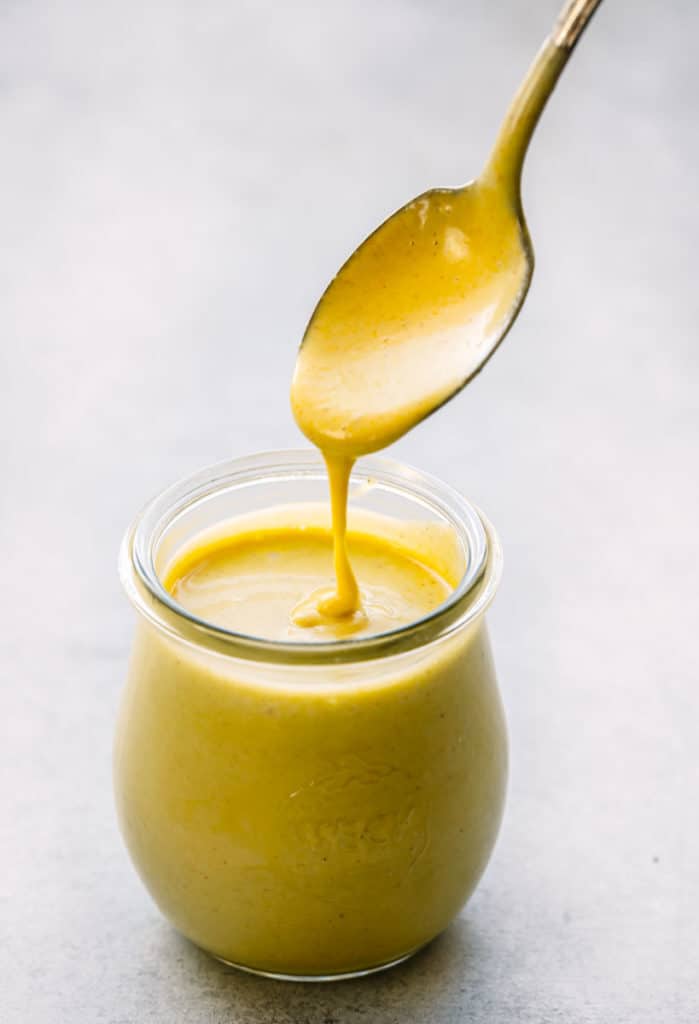 Check Out More Chicken Recipes:
I hope you'll enjoy this recipe and share it with friends! If you try it and don't mind, please leave me a comment and/or give this recipe a rating. Be sure to subscribe to receive weekly recipes and follow me on Pinterest.
📖 Recipe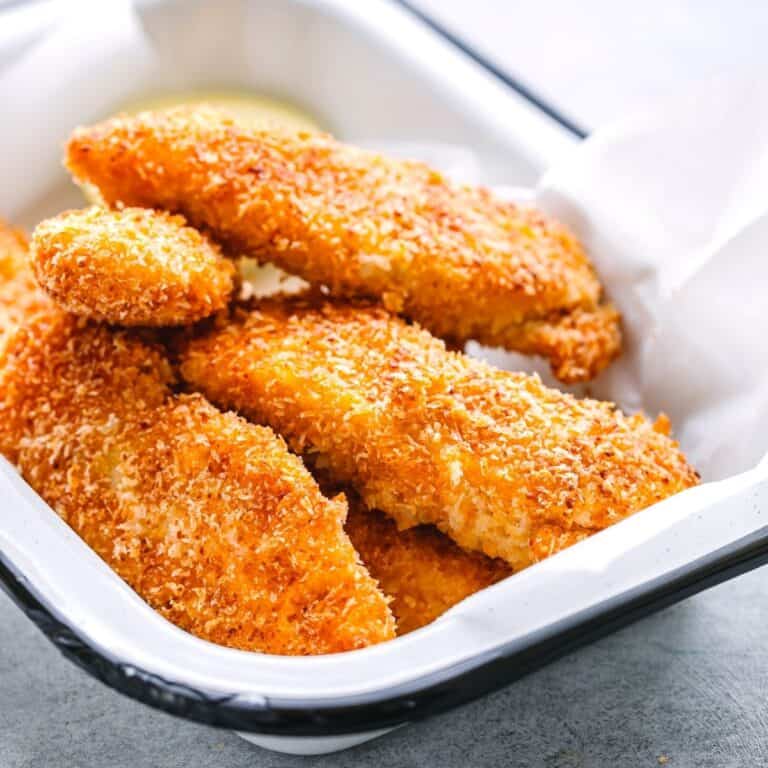 Healthy Baked Chicken Tenders
Healthy Baked Chicken Tenders recipe. The best way to cook chicken tenderloins (aka chicken tenders) is in the oven.
Ingredients
optional:
½

teaspoon

salt

a pinch of black pepper
Instructions
Preheat the oven to 425°F

On a large plate, place the flour. In a shallow dish, beat the egg, and season with paprika. In a third shallow dish, mix panko bread crumb, parmesan cheese, olive oil, and add the optional salt and black pepper if needed.

First, pat the chicken tenders dry with paper towels and coat the chicken tenders with the flour. Give a little shake to remove excess flour.

Dip the chicken into the egg mixture, shake off excess then coat the meat with bread crumbs and press down to adhere.

Place all chicken tenders on a lightly greased baking sheet. Bake for about 8 minutes (less or more time depending on the thickness). Then turning the chicken tenders, continue cooking for 8 more minutes (less or more time depending on the thickness) or until the chicken is no longer pink or cooked through and the coating is golden brown.
Notes
If you love herbs and spices, you can mix any spices of your choice (Italian seasoning, basil, oregano, etc) with breadcrumbs.
Nutrition
Calories:
233
kcal
Carbohydrates:
14
g
Protein:
19
g
Fat:
11
g
Saturated Fat:
3
g
Polyunsaturated Fat:
1
g
Monounsaturated Fat:
6
g
Trans Fat:
0.01
g
Cholesterol:
71
mg
Sodium:
438
mg
Potassium:
291
mg
Fiber:
1
g
Sugar:
1
g
Vitamin A:
186
IU
Vitamin C:
1
mg
Calcium:
87
mg
Iron:
1
mg