This shop has been compensated by Collective Bias, Inc. and its advertiser. All opinions are mine alone. The following content is intended for readers who are 21 or older. #Chardonnation #NotableSummer #CollectiveBias.
Looking for seafood appetizer recipes? Try these pan seared scallops, served with a tangy mango vinaigrette recipe. It's a great food and wine pairing recipe for your next party or special night. If you are going to use frozen scallops, be sure to thaw them in the fridge for about 4-6 hours before cooking. If you need a faster way, defrost the frozen scallops in a cold water with ice cubes for about 30 minutes prior to cooking. Perfectly cast iron pan seared scallops with simple seasoning are a great way to enjoy seafood.
A successful home wine tasting event is well within your reach, no matter your knowledge of wine or your comfort in cooking posh food. The first wine party I hosted was a bit intimidated, but soon realized that pulling off elegant dishes are sometimes just as easy as comfort food, and that the mood of a party is only elevated when there's a bit of great wine involved. Below are some tips on throwing the party that you may find useful, from the setting to the music, and of course some good wine and food options to make the night memorable.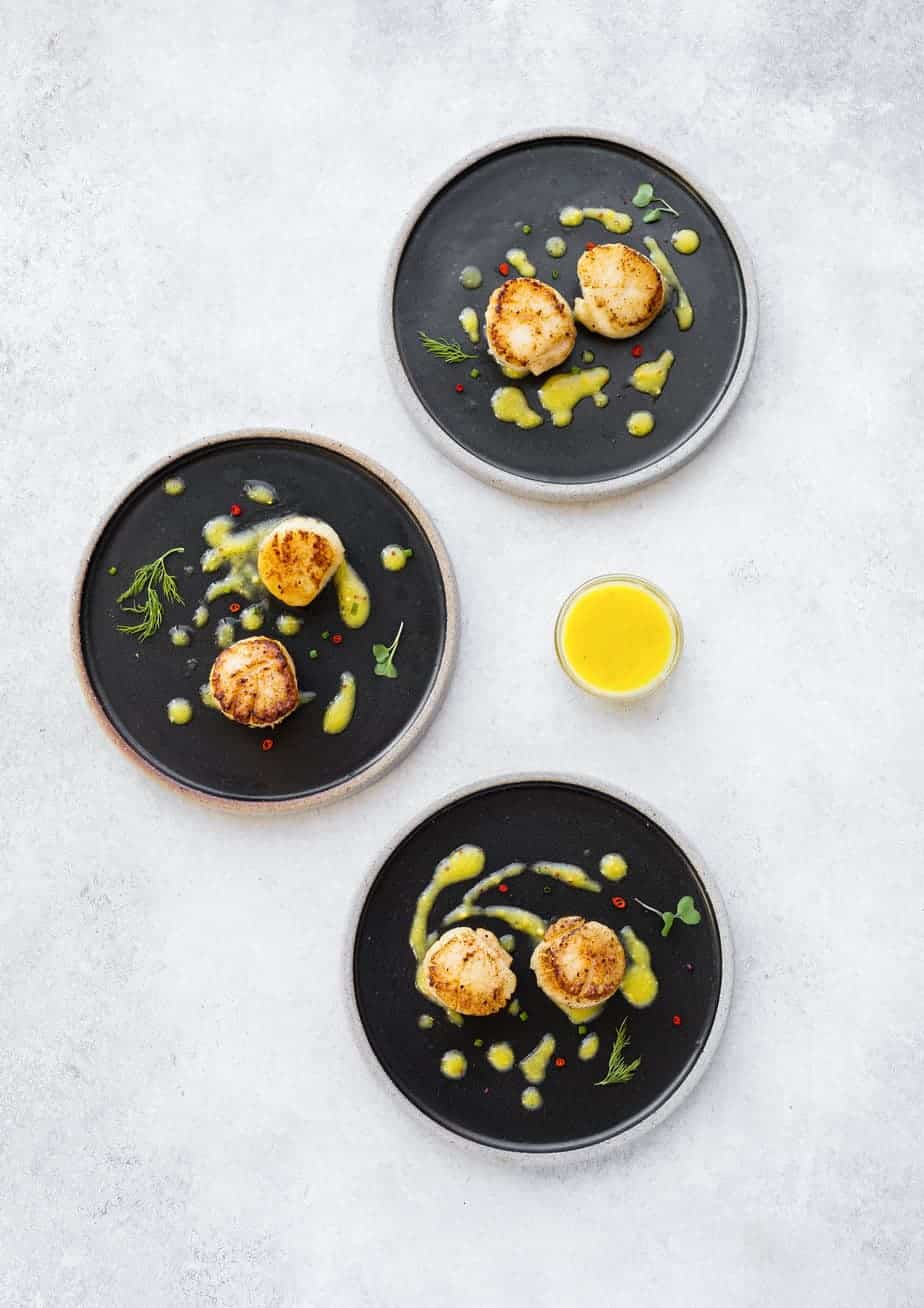 For your wine party setting, don't feel constrained to the traditional images that come to mind of a lavish dining room and fine crystal. A living comfortable living room or kitchen does the job fine, after all it's all about fabulous wine with friends. Summer nights are great to enjoy wine outdoors. My friend has a garden adorned with string lighting that have a twinkle that just seems to beckon us to open another bottle. Along the same lines of being low key, wine glasses break and break often. If that means using a glass that doesn't match the rest, se la vie! My husband usually tries to take over the music, which could range from his Blue Note jazz catalog to bossa nova. I'm a little more mainstream in my choice of tunes and think soul is perfect music for sharing a bottle.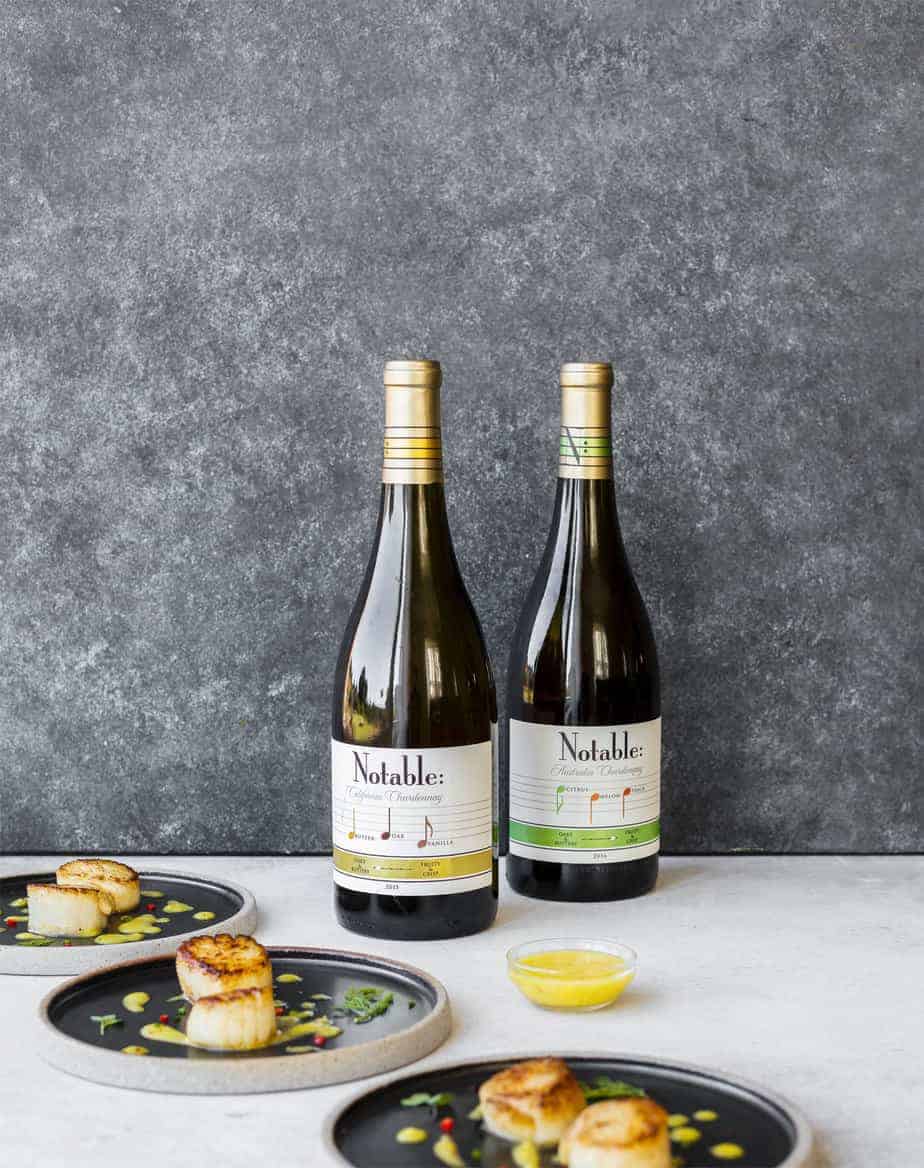 With many choices out there for wine, it is helpful to narrow your selection based on flavor profiles and quality. Notable California Chardonnay and Notable Australia Chardonnay stand out from the others in that their flavor profiles are written right on the bottle. Go for the (California) Oaky & Buttery Chardonnay that has hints of vanilla, butter and oak, a refined and full bodied bottle, but unique and delightful. This has always been my favorite style of Chardonnay, maybe because I'm a California girl. Or try the entirely different experience with the (Australian) Fruity and Crispy Chardonnay that has citrus, melon and peach. I found the fruitful flavor to be zesty and refreshing. Over the last year I've transitioned from reaching for Rieslings to certain citrusy Chardonnays, and Notable makes a great one. Have you tried blind wine tasting before? I have not, but these would be a fun pair of bottles for it.
One advantage of having the flavor profiles right on the bottle is from the stance of paring the food. A Chardonnay is a great match for some light tasting fare, such as the mild and delicious scallop. I prepared skillet cast iron pan seared scallops with mango sauce as it plates nicely. They're one of those dishes that's quite easy to prepare, yet bring that wow factor from the aspect of seafood and the sauce. I actually had no idea what I was going to pair with the Notable bottle, but I grabbed that first and then matched up the food according to the flavor profile. You can find the Notable brand of wines at grocery stores or other places, here's their website www.notablewines.com. The bottles are quite unique… just follow the notes.
Pan Seared Scallops with Mango Vinaigrette Recipe: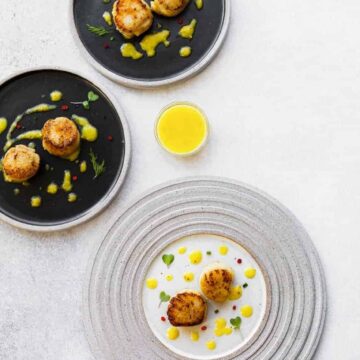 Pan Seared Scallops with Mango Vinaigrette
Ingredients
16

jumbo scallops

2

teaspoons

butter

2

teaspoons

vegetable oil

salt
Mango Vinaigrette:
½

cup

chopped ripened mango

¼

cup

white wine vinegar

½

tablespoon

Dijon mustard

6

tablespoons

sunflower oil

black pepper to taste
Instructions
Season the scallops with salt and pepper.

Add the butter and oil to the cast iron skillet on high heat.

When the skillet begins to smoke, add the scallops to the pan. Sear the scallops for about 1 ½ minutes on each side or until edges have a golden crust.

Transfer to a plate with mango vinaigrette. Serve immediately.
Mango Vinaigrette:
Blend all of the vinaigrette ingredients together in a food processor or blender.

Serve with fresh seafood/scallops.