Thank you PEBBLES™ Cereal for sponsoring this post. PEBBLES™ Cereal is gluten-free and a great inclusive option for your family!
This eggless custard, Panna Cotta is so creamy, smooth, and scrumptious. It's a great dessert recipe that can be made in advance. It looks beautiful and can be served with many different toppings of your choice. This Panna Cotta with Fruity PEBBLES™ is guaranteed to satisfy your sweet craving!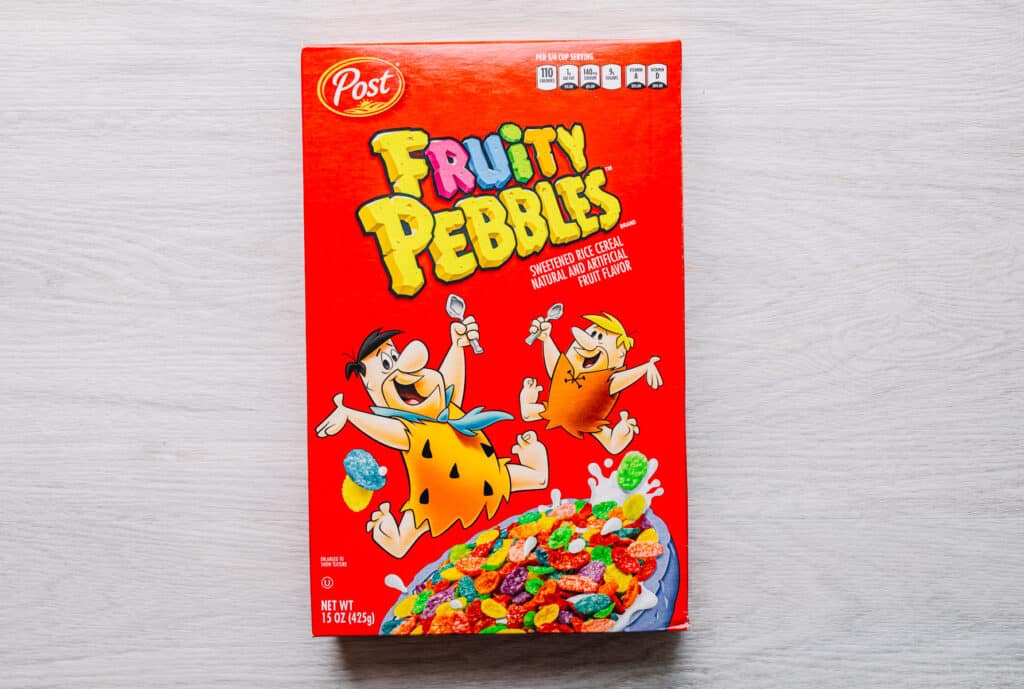 November is Gluten-Free Diet Awareness Month. To celebrate, I am going to share a simple gluten-free dessert that actually tastes fantastic!
This Panna Cotta with Fruity PEBBLES™ is my fun twist of the classic Italian custard dessert, known as Panna Cotta. It uses Fruity PEBBLES™ as one of the main ingredients that elevate it from the pack, and also as an eye-catching topping.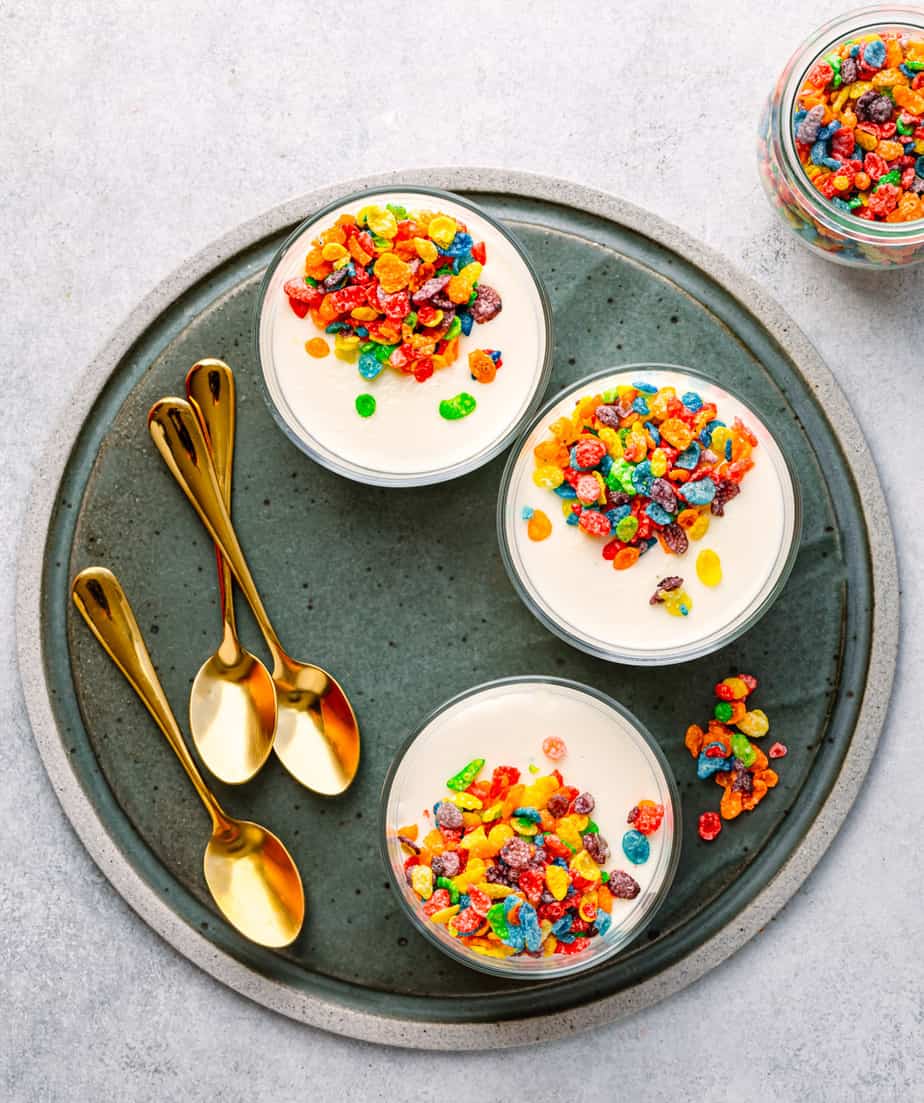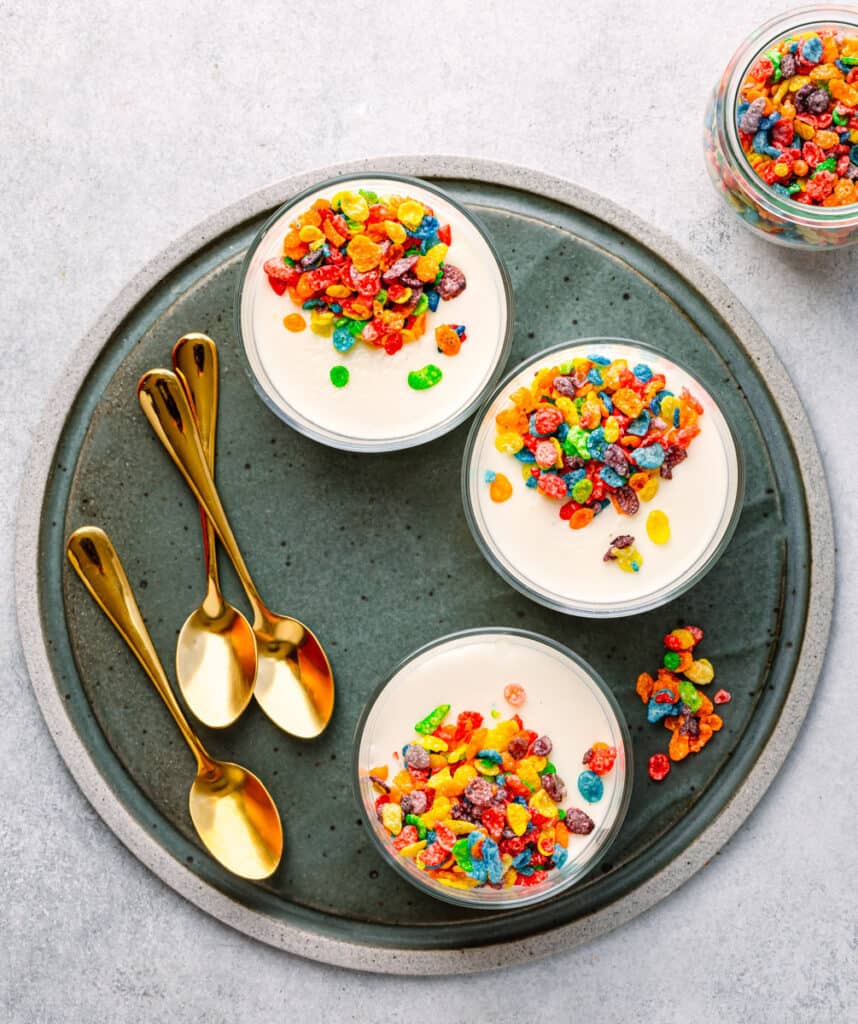 Why You'll Love this Panna Cotta recipe:
Eliminating gluten from your diet doesn't mean sacrificing flavor. This Fruity PEBBLES™ Panna Cotta is a flavorful gluten-free dessert recipe to indulge your sweet tooth. It's a no-bake dessert recipe that doesn't require any baking skills or sifting flour! It's so easy to make and to assemble. It can also be made ahead of time and stay fresh for up to 3 days in the fridge.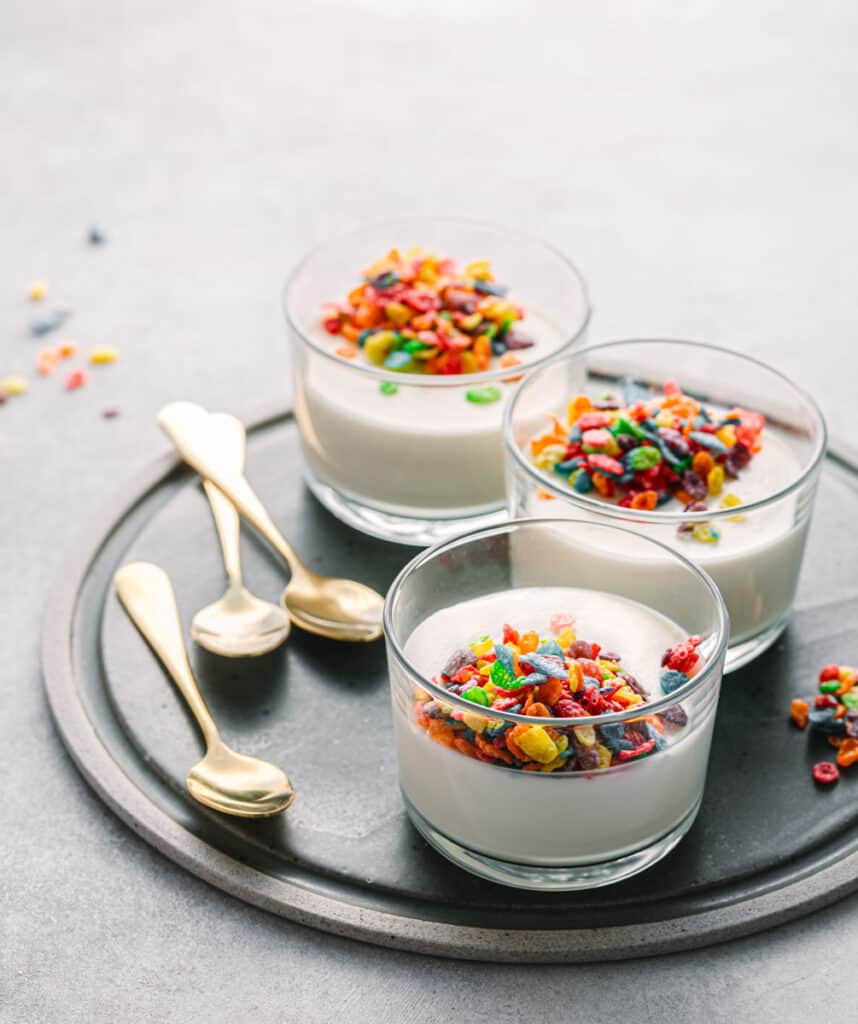 What is Panna Cotta:
Panna Cotta is a classic Italian dessert. It's an eggless custard that is made with sweetened cream and thickened with gelatin. It's basically a simple no-bake pudding, with the perfect creaminess and smooth texture, and the added benefit of being naturally gluten-free.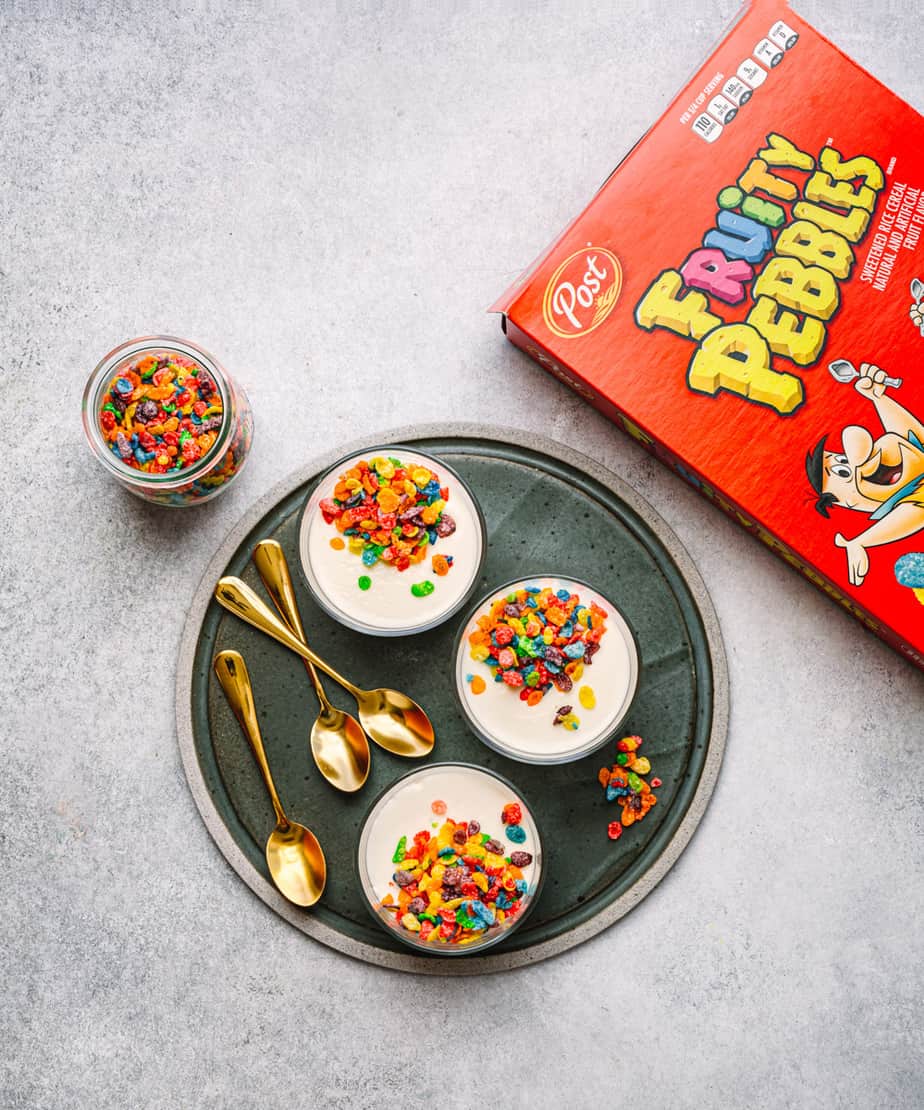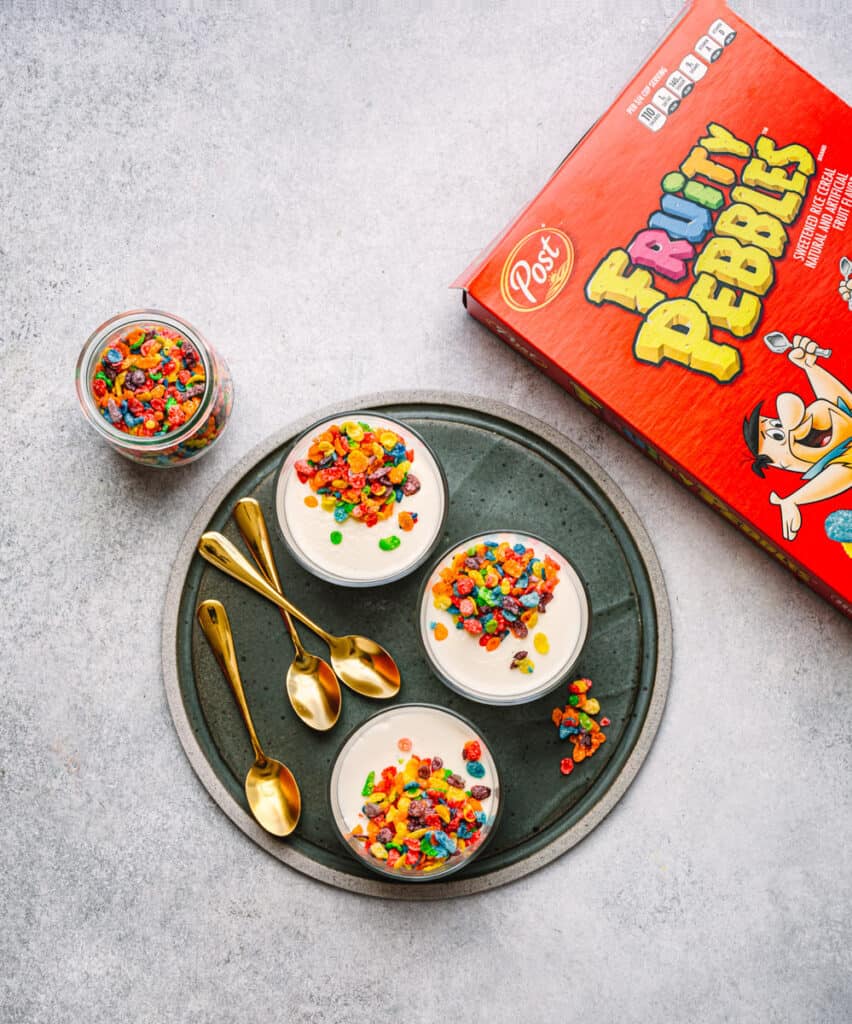 Ingredients for Panna Cotta:
To make this panna cotta, you will need Fruity PEBBLES™ cereal, heavy cream, milk, sugar, unflavored gelatin, and vanilla extract. As for a topping, you can serve this with the colorful Fruity Pebbles™ on top as they not only compliment the panna cotta to look fun and colorful, it also adds to each bite's flavor and texture.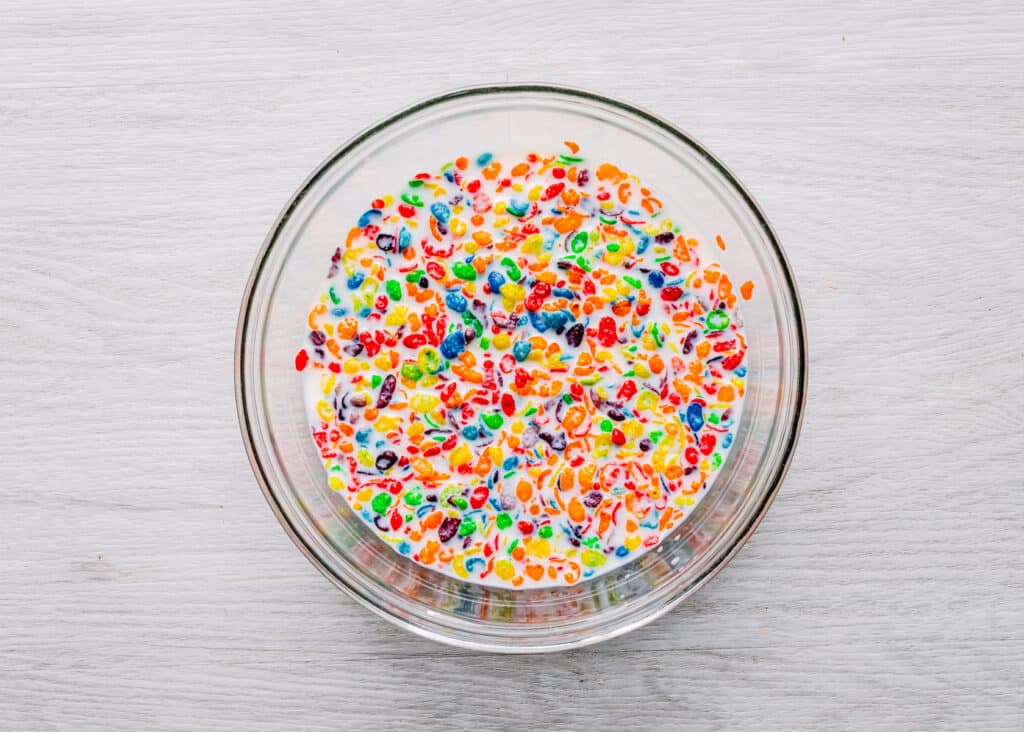 I watched my husband enjoying a bowl and halfway through he poured another scoop of the Fruity PEBBLES™ in, so I knew I chose the right topping. He made a bee-line for those but I had other options out like fresh fruit, fruit compote, or jam, which can also work for this dessert.
How to Make Panna Cotta with Fruity PEBBLES™:
This Panna Cotta is so easy to make and to assemble! As I mentioned earlier, no baking required! The only bad thing about this recipe is the cooling time which can take hours for the panna cotta to set.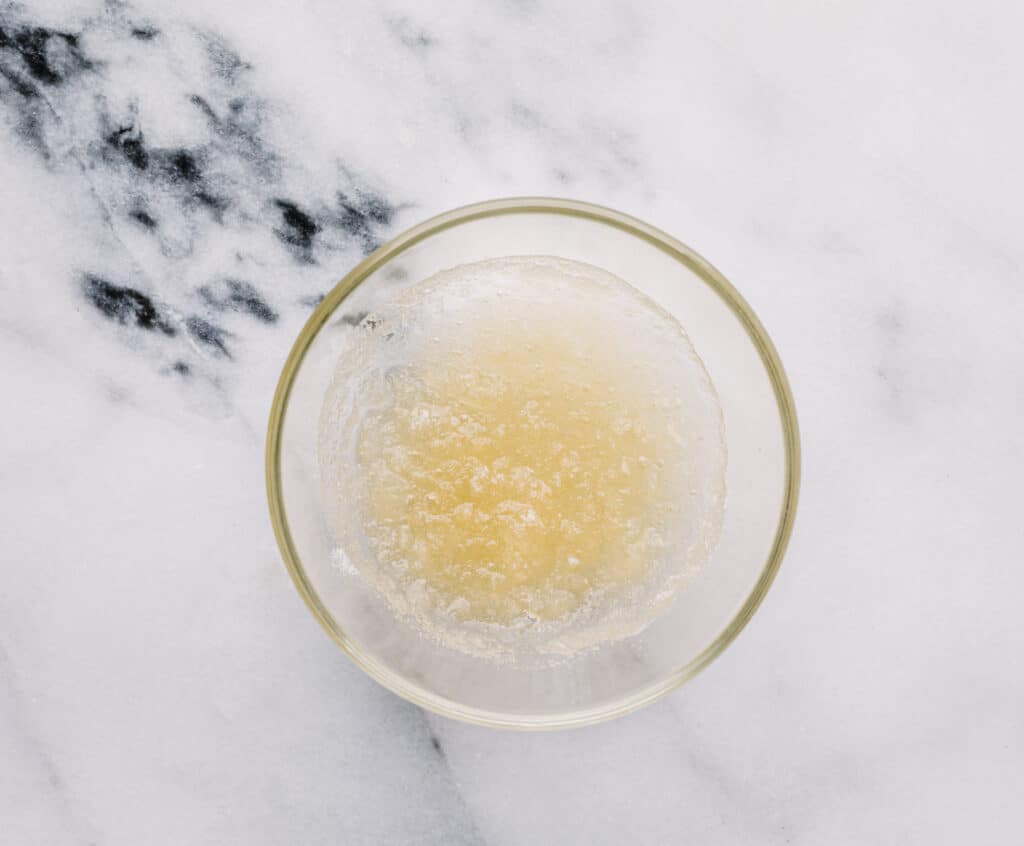 So here are some of the important steps to make Panna Cotta:
Soaking: You will need to soak the cereals in cold milk and let it stand at room temperature for about 30 minutes.
Cooking the Liquid: place the liquid (milk plus heavy cream) and sugar in a large saucepan and bring to a simmer. Do not boil and be sure to keep stirring until the sugar is dissolved.
Add the gelatin.
Cooling: In general, Panna Cotta takes a minimum of 4 hours of cooling time. If you are going to keep them longer than overnight, you need to cover them with plastic wrap by pressing the wrap gently against the panna cotta to prevent the skin from forming.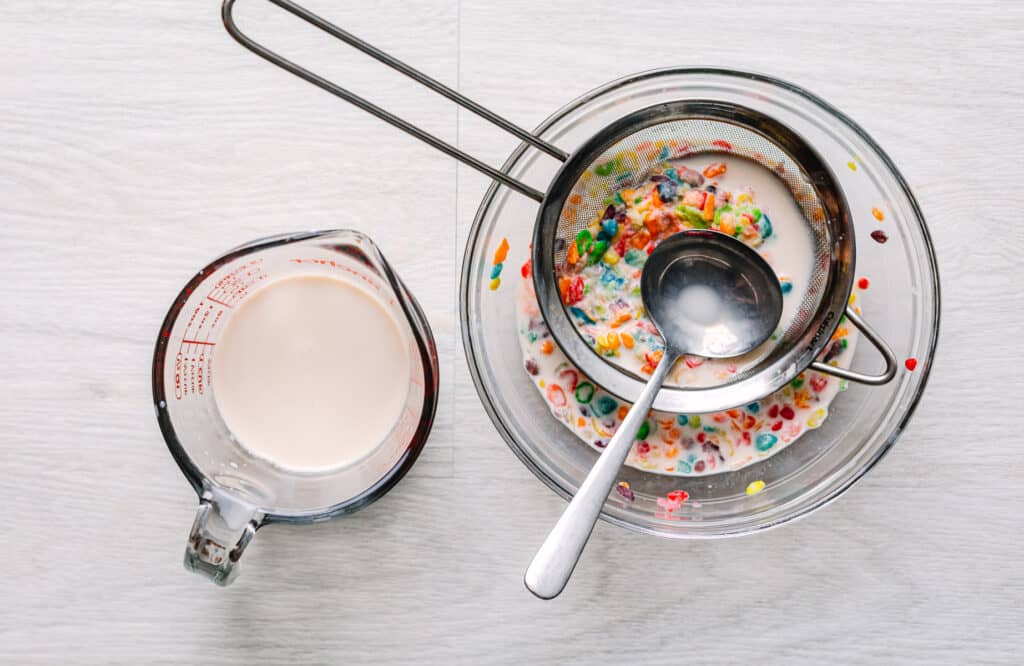 Heavy Cream and Milk:
In my opinion, a good panna cotta should taste light, silky, smooth, and clean. For that reason, I prefer to use less cream or fat. In this recipe, I used a combination of heavy cream and 2% reduced-fat milk. Half n Half can also be used as an alternative ingredient to milk.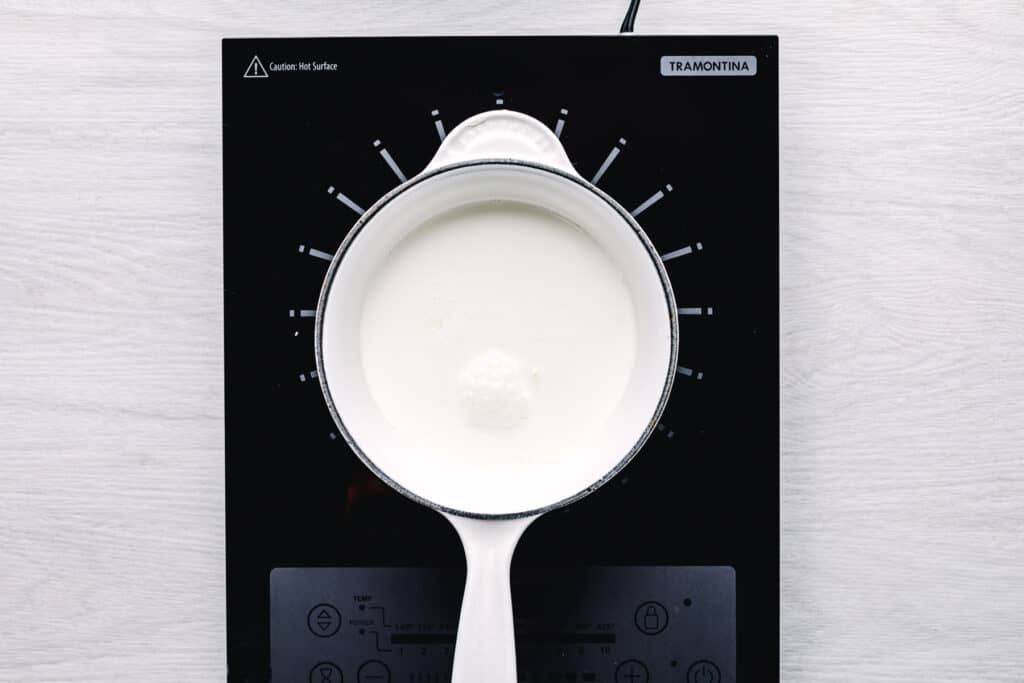 PEBBLES™ cereal is the same great cereal you know and love that just happens to be gluten-free. It's the perfect breakfast and snack-time solution. It's great on its own or as an ingredient that inspires fun, colorful and creative recipe ideas as I feel is shown in this recipe.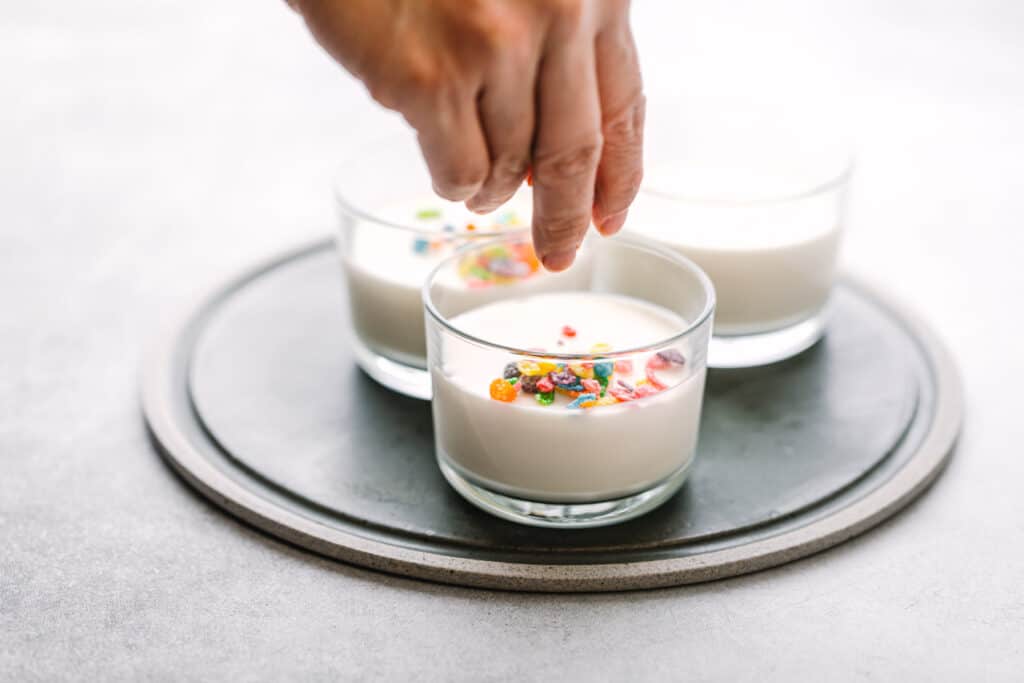 It was fun to see my kids race over to devour this dessert, just about every kid knows the different PEBBLES™ cereals by name, with Fruity PEBBLES™ possibly being the biggest fan favorite! You can learn more about their cereals here; perfect for November with it being Gluten-Free Diet Awareness Month.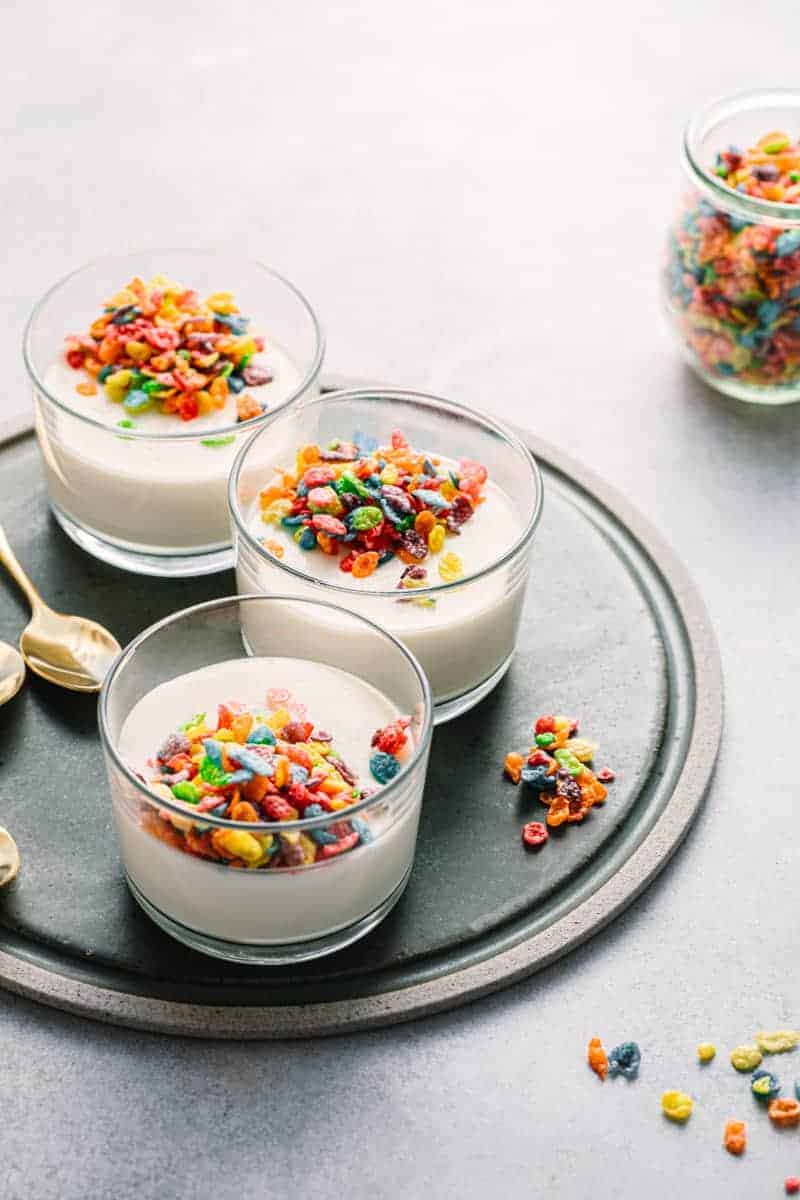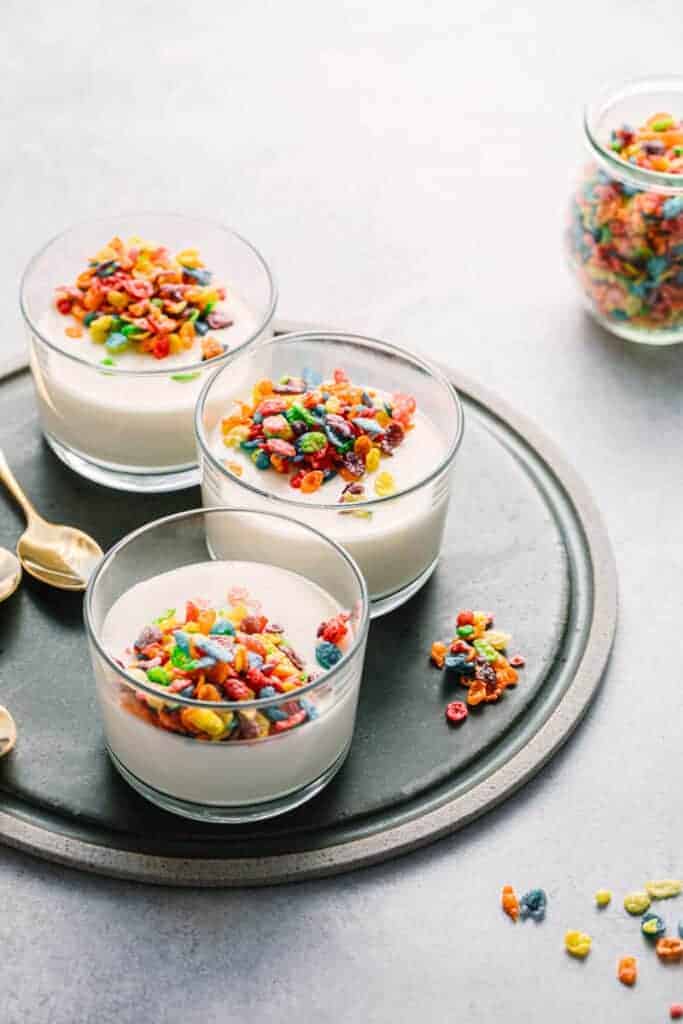 Also visit postpebblescereal.com for more information, including recipe and craft ideas.
Disclaimer: THE FLINTSTONES and all related characters and elements © & ™ Hanna-Barbera. (s19)
Check out more dessert recipes:
📖 Recipe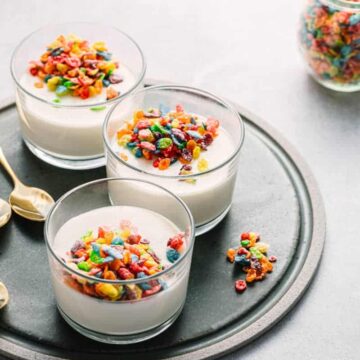 PANNA COTTA WITH FRUITY PEBBLES™
This eggless custard, Panna Cotta is so creamy, smooth, and scrumptious. It's a great dessert recipe that can be made in advance. It's a no-bake and gluten-free dessert
Equipment
ramekins or small dessert glasses
Ingredients
½

cups

Fruity PEBBLES™

1

cup

milk

,

( I used 2% reduced-fat milk)

2¼

cups

heavy cream

⅓

cup

white sugar

1

package (0.25 oz)

unflavored gelatin

2

tablespoon

cold water

1½

teaspoon

pure vanilla extract
Instructions
In a medium bowl, add Fruity PEBBLES™ and pour in the milk. Allow sitting for an hour.

In a small bowl, sprinkle the gelatin over the water and let stand for about 5 minutes.

Strain the Fruity PEBBLES™ out and transfer only the liquid into a saucepan.

Add heavy cream, sugar into the saucepan. Bring the mixture just to a simmer over moderate heat, stirring.

Remove from heat, add the gelatin and vanilla extract. Stir until dissolved.

Pour the liquid into 4 small glasses or 6 small ramekins. Let them cool down at room temperature then transfer to a fridge, covered for at least 4 hours.

Serve with additional Fruity PEBBLES™ as a topping.