A delicious brunch food, savory crepes recipe with sausage, bacon and winter vegetables: kale, acorn squash and sweet potatoes.
If you are looking for delicious brunch recipes, here is a mouth-watering savory crepes recipe with the perfect fillings for the upcoming holidays. Crepes are one of the essential breakfast items, if you've never made them, well, it's time to try this recipe at home.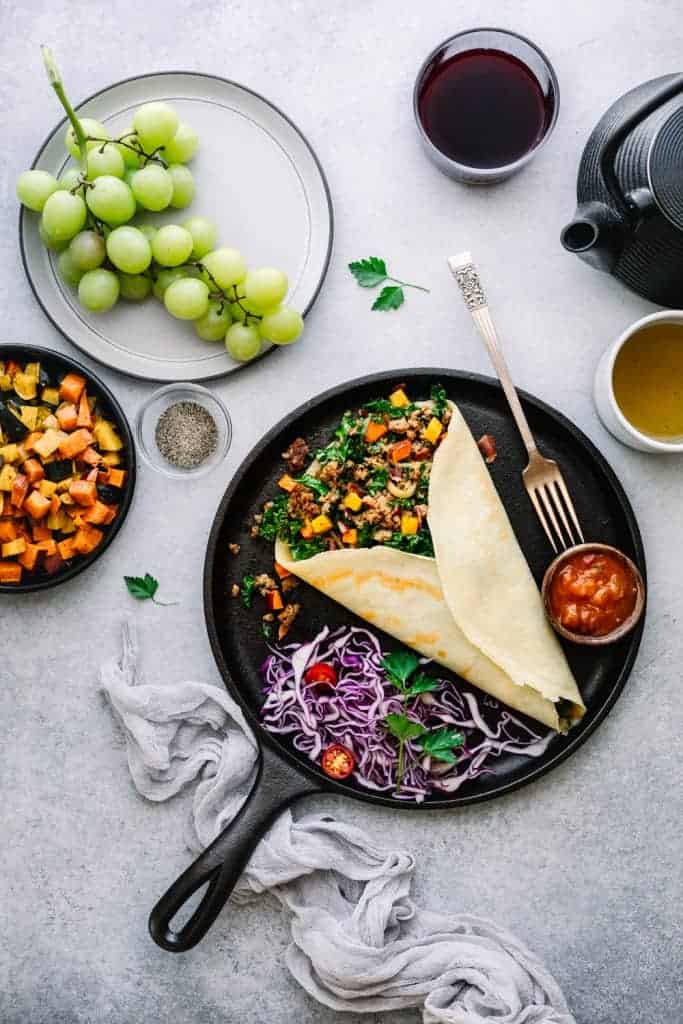 The holiday season is the perfect time to make wonderful and delicious holiday memories with our families. For me, the best way to celebrate holidays are to eat my favorite foods. This entails cooking for my family something special that everyone will like, such as this savory crepe with sausage, bacon and winter vegetables. We can skip the crazy holiday traffic line at the breakfast and brunch restaurants and instead spend more time with my family at home. Even though classic holiday foods are staples in helping us celebrate the holiday, I always try new twists on traditional recipes to make them look festive, maintain a great taste yet keep things fresh and new, like these Breakfast Potatoes Skillet with Kielbasa Sausage , Sausage Breakfast Skillet with Potatoes and Vegetables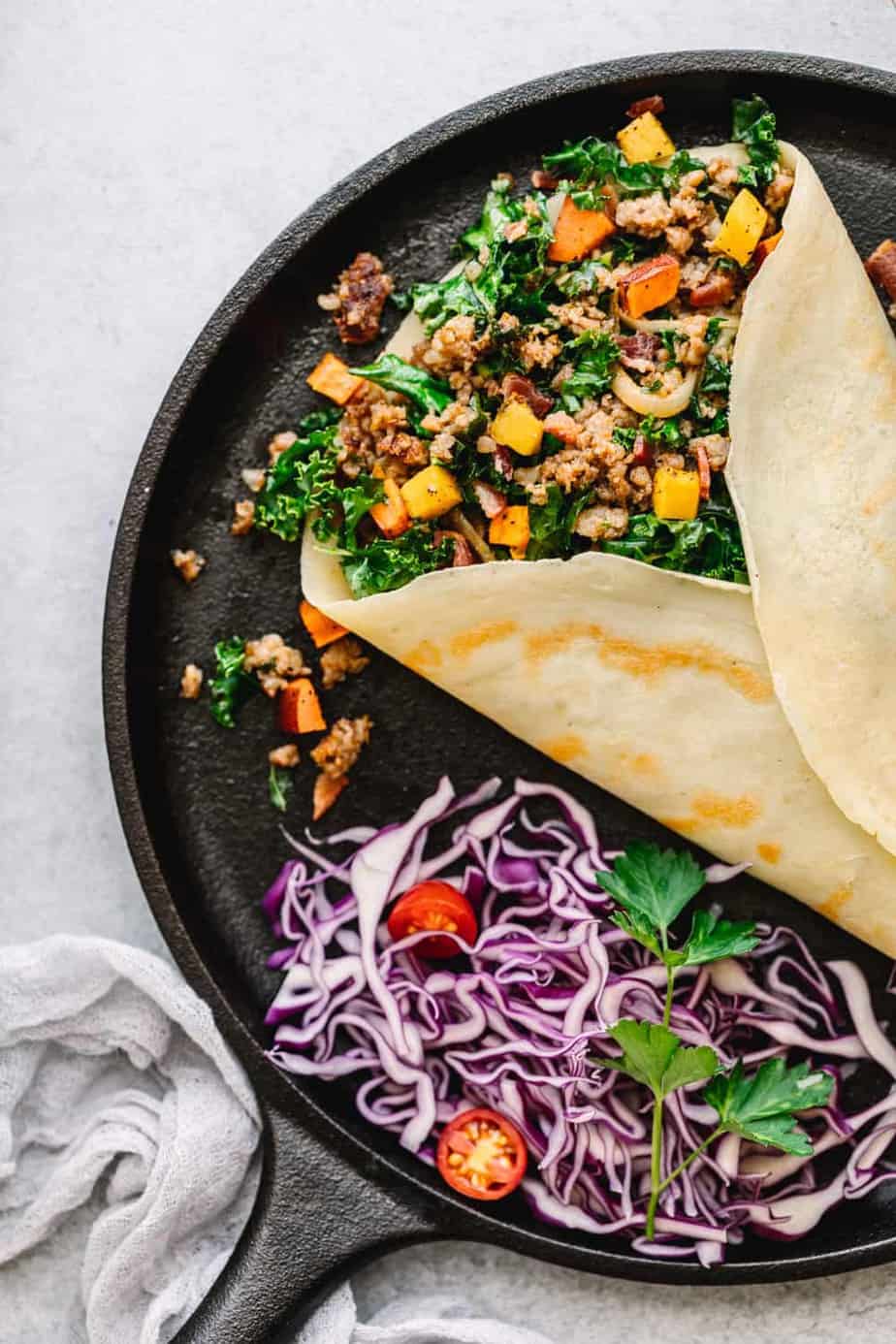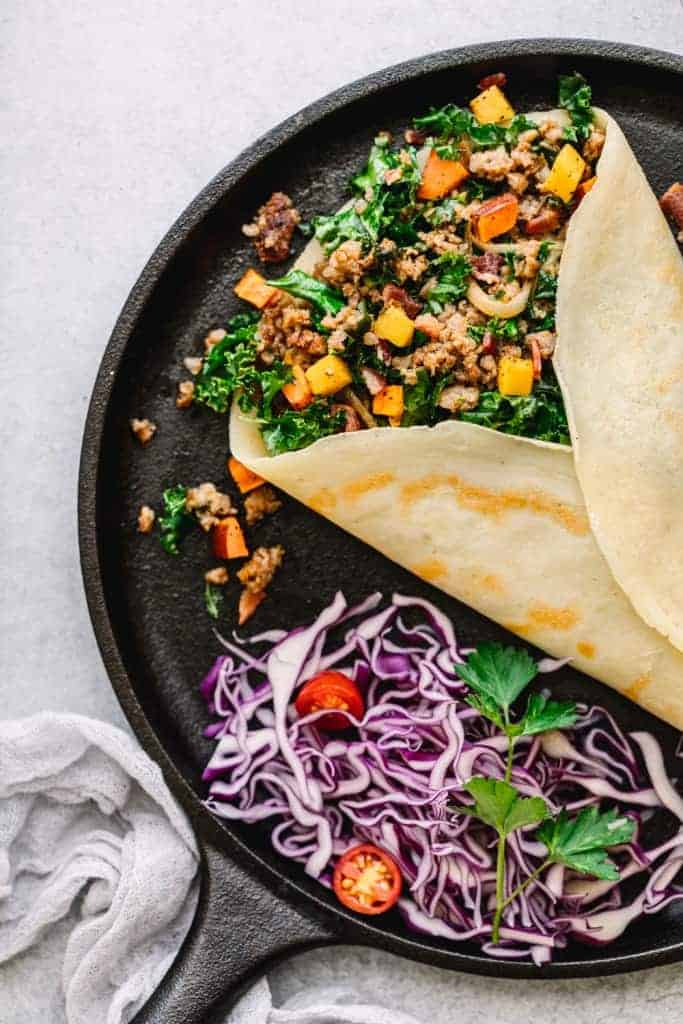 Breakfast or brunch is a favorite meal time of for our family. We have eggs, bacon, sausage, or even porridge almost every morning. For special times like this holiday season, I always use seasonal produce to add new taste to traditional recipes. For example, instead of making a simple sunny egg with bacon and sausage, I chose savory crepes recipe with sausage, bacon and winter vegetables. This is something that we usually order from the restaurant at hefty price.


To make this savory crepes recipe unique and fit with the holiday theme, I used these winter vegetables: acorn squash and sweet potatoes that i seasoned with herbs and spices for holidays such as sage and rosemary). This crepe recipe can be finished up with sweet or savory toppings. It's perfect for breakfast, lunch or dessert recipes.
📖 Recipe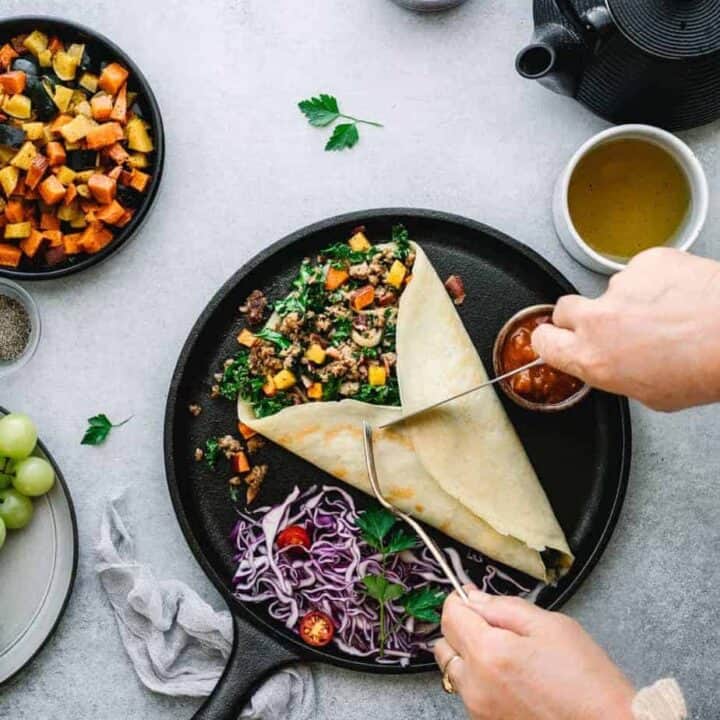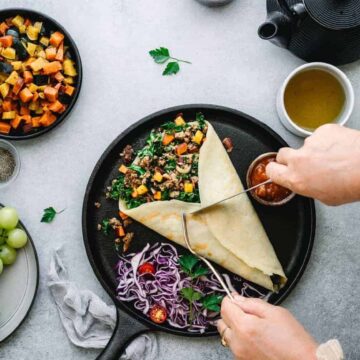 Savory Crepes with Sausage, Bacon and Roasted Vegetables
Ingredients
Sausage and Kale Stir Fry:
8

oz

Breakfast Sausage Links of your choice

1 ½

cups

chopped kale

¼

teaspoon

dried sage

A pinch of dried marjoram

½

onion

,

chopped

A pinch of black pepper

optional

salt
Roasted Squash and Sweet Potatoes:
4

cups

acorn squash

,

chopped

2

cups

sweet potatoes

,

chopped

2

tablespoons

olive oil

¾

teaspoon

salt,

add more according to your liking

¼

teaspoon

black pepper

1

tablespoon

fresh rosemary

,

chopped

5

fresh sage leaves

,

chopped
Toppings:
Bacon

Optional: Ricotta cheese
Instructions
To make roasted squash and potatoes:
In a large bowl, mix olive oil, salt, black pepper, rosemary and sage leaves. Add chopped acorn squash and sweet potatoes, stir until well coated.

Transfer to a baking sheet and roast for about 25 minutes.
Stir Fry Pork sausage and Kale:
Place links in a pan with 1 tablespoon of water and cover. Cook slowly over medium heat for about 3 minutes. Remove the lid, and crumble using a spatula to break up the meat.

Add chopped onion into the skillet, stir and keep cooking for about 2 minutes. Add sage, marjoram, chopped kale and keep cooking for about 1 minute. Season with salt and pepper if needed. Set aside.
To make crepe:
In a blender, combine flour, egg, milk, water and salt.

Heat a small non-stick or griddle or crepe pan over medium-high heat. Add butter to coat. Pour about ¼ cup of batter into the center of the pan and tilt the pan to spread the batter around evenly. Cook until edges start to dry and center is set. Turn and cook the other side.
To serve:
Place a slice of crepe on a plate, spread two tablespoons of ricotta cheese, add generous amount of sausage and kale stir fry, add roasted winter vegetables and crispy bacon chips. Serve with salsa or sauce of your choice.