This is a sponsored post written by me on behalf of Mission®. All opinions are entirely my own.
A refreshing shrimp ceviche with avocado recipe is made with cooked shrimp, cucumber, tomato, avocado, chili peppers, serrano chilies and other fresh ingredients. An easy Ceviche de Camaron recipe to make at home, serve it alone as a side dish or with Mission® Thin & Crispy Tortilla Chips.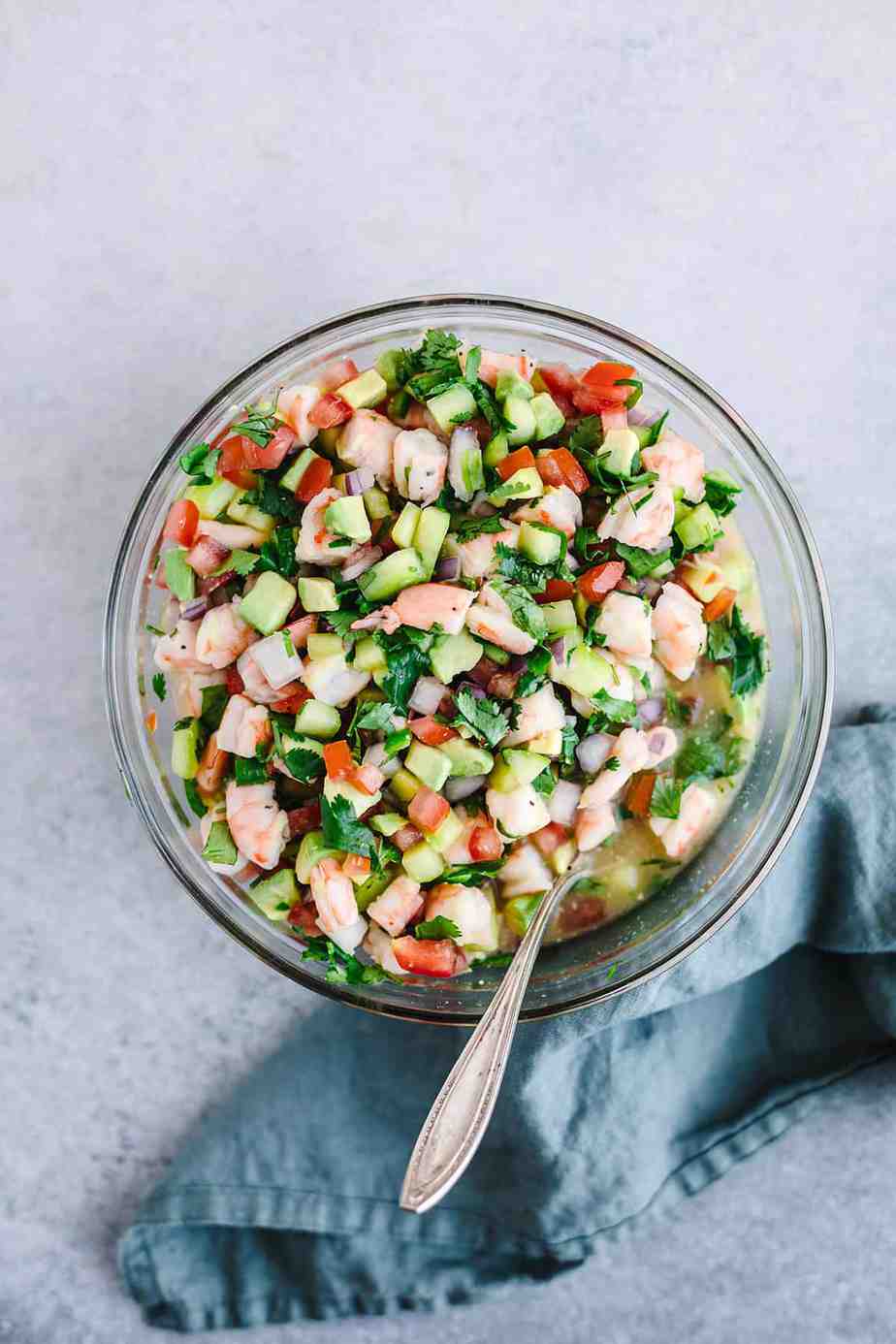 During my time in Seattle I was blown away with their sports fans. Most of their teams were doing well, but even those that weren't had undying support from the city. Before every game they'd be out in droves, ready to devote their entire day to pre-game, game, then post-game celebrations (or commiseration if the game didn't go well).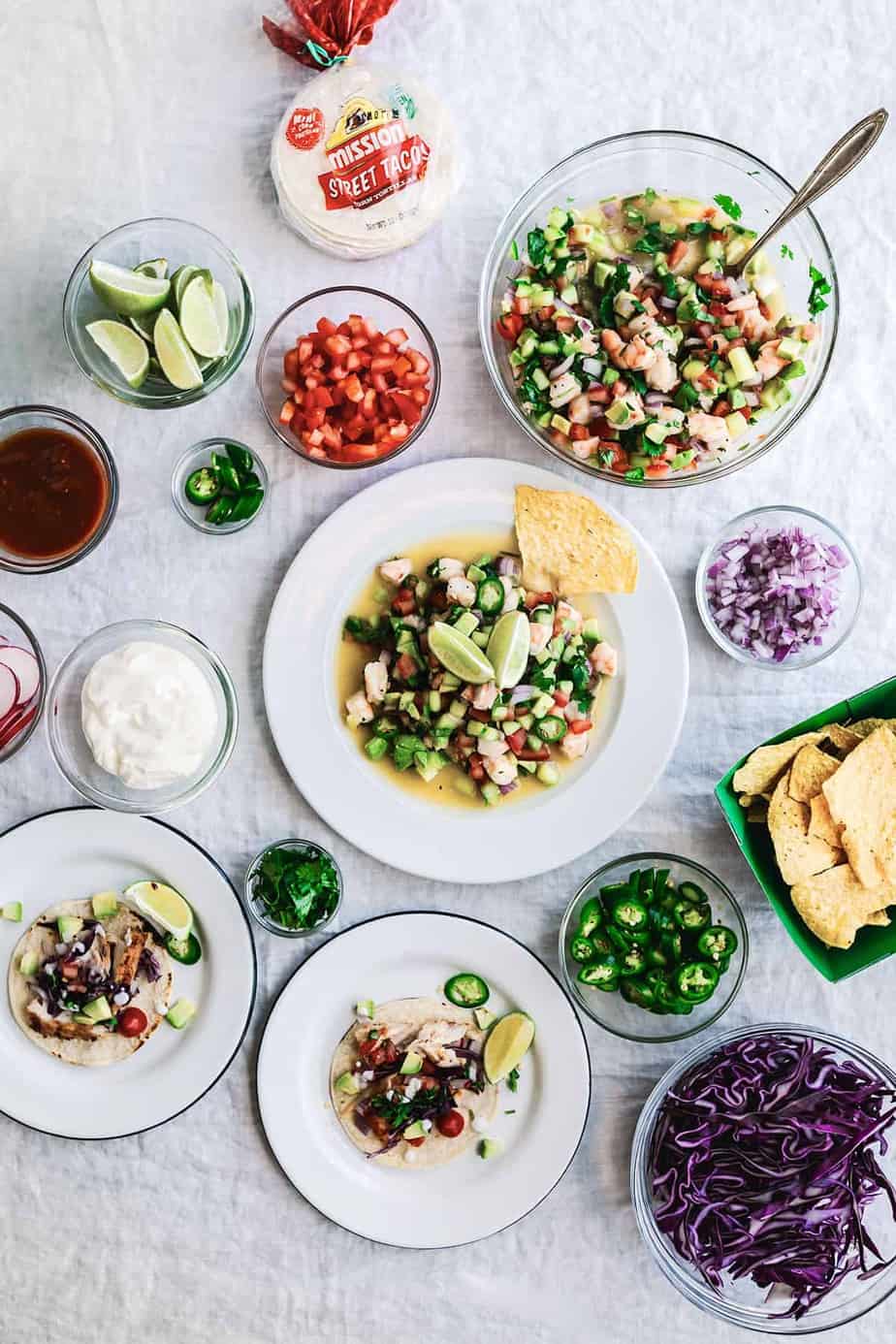 The fans were nice about letting newbies like me jump on the bandwagon. Some of my friends had Seahawk tattoos, whereas I was just getting the gist of the rules. I did bring something of value to the table, which was the ability to create great game day food.
I have since moved to San Diego, another diverse city with great seafood. While we don't have a team here, I'm still keeping up with hosting watch parties every now and then.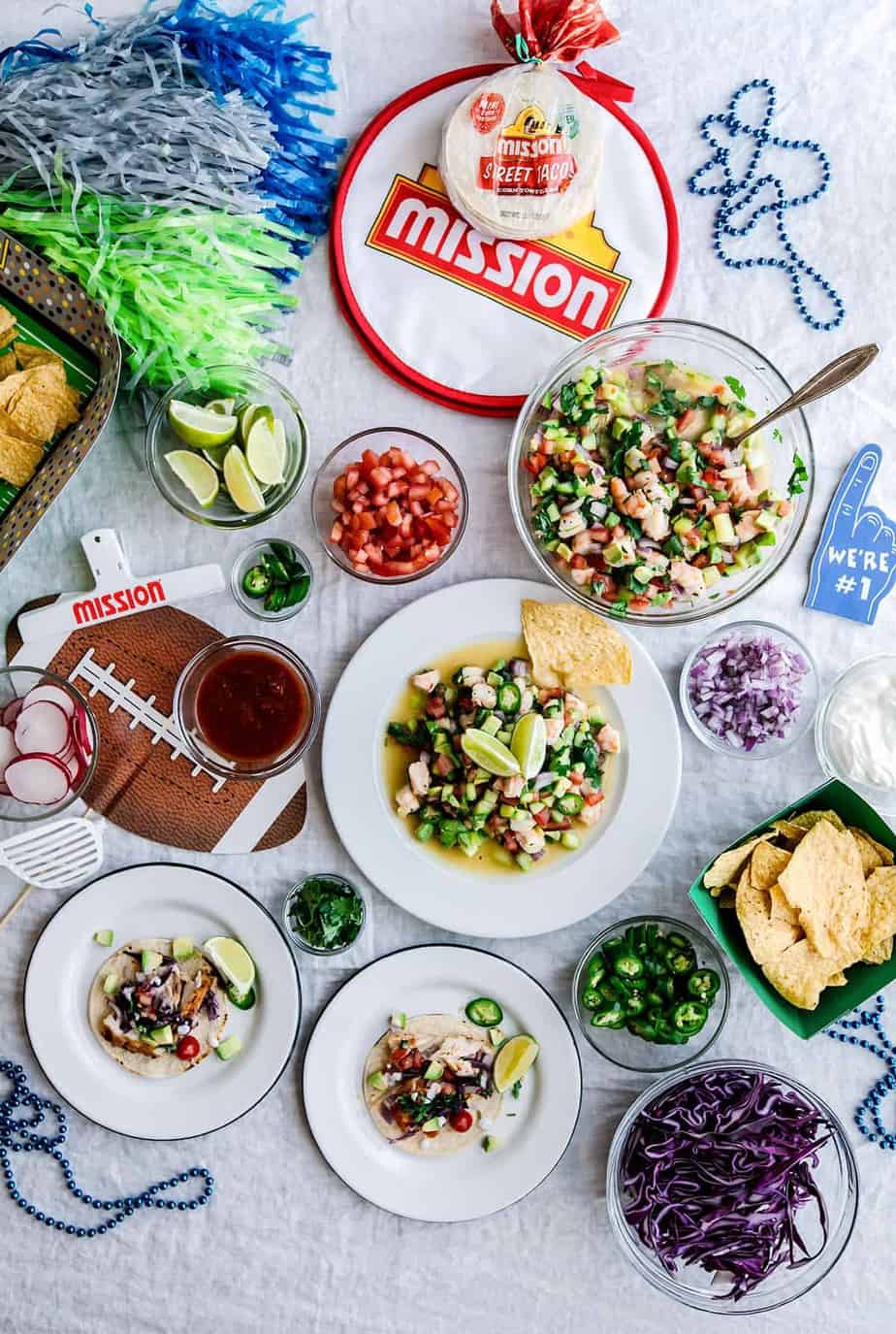 The first images that come to mind when someone says the words "game day food" are for the most part, heavy items. I think what I've created here today for your next game day party is packed with flavor and every bit as good as those other dishes, yet this has a lot of healthy ingredients and is very light overall.
My husband is a huuuuge football fan and I want to spoil him with food he'll enjoy on his lazy Sundays. He's trying to eat better though, so I don't want to negate all of the effort he's put in throughout the week to make healthy choices. This meal was perfect for him with a taste that's fantastic and lots of ingredients with an abundance of health benefits.
It's always fun getting the gang together for a few hours, and with football and good food you can't go wrong.
For this year's game day party celebration, I was inspired by Mission® products to make a delicious seafood dip! Check out my recipe below!
Shrimp Ceviche with Avocado:
An easy shrimp ceviche with avocado, full of flavor, made with simple ingredients. Cooked or raw shrimp can be used to make this ceviche recipe. Since I am showcasing a recipe that would be served for game day, I opted for cooked shrimp to prevent foodborne illnesses when leaving the ceviche at room temperature during the party.
Shrimp Ceviche with Avocado: Raw shrimp or cooked shrimp? If you decide to use raw shrimp, make sure it was previously frozen, which kills harmful parasites that can infect the human body. Blanch the shrimp for about 1 minute in hot boiling water, quickly remove from the heat and place them in ice water to stop the cooking process. You also need to marinate it in lime juice for about 2 hours before adding the other ingredients above.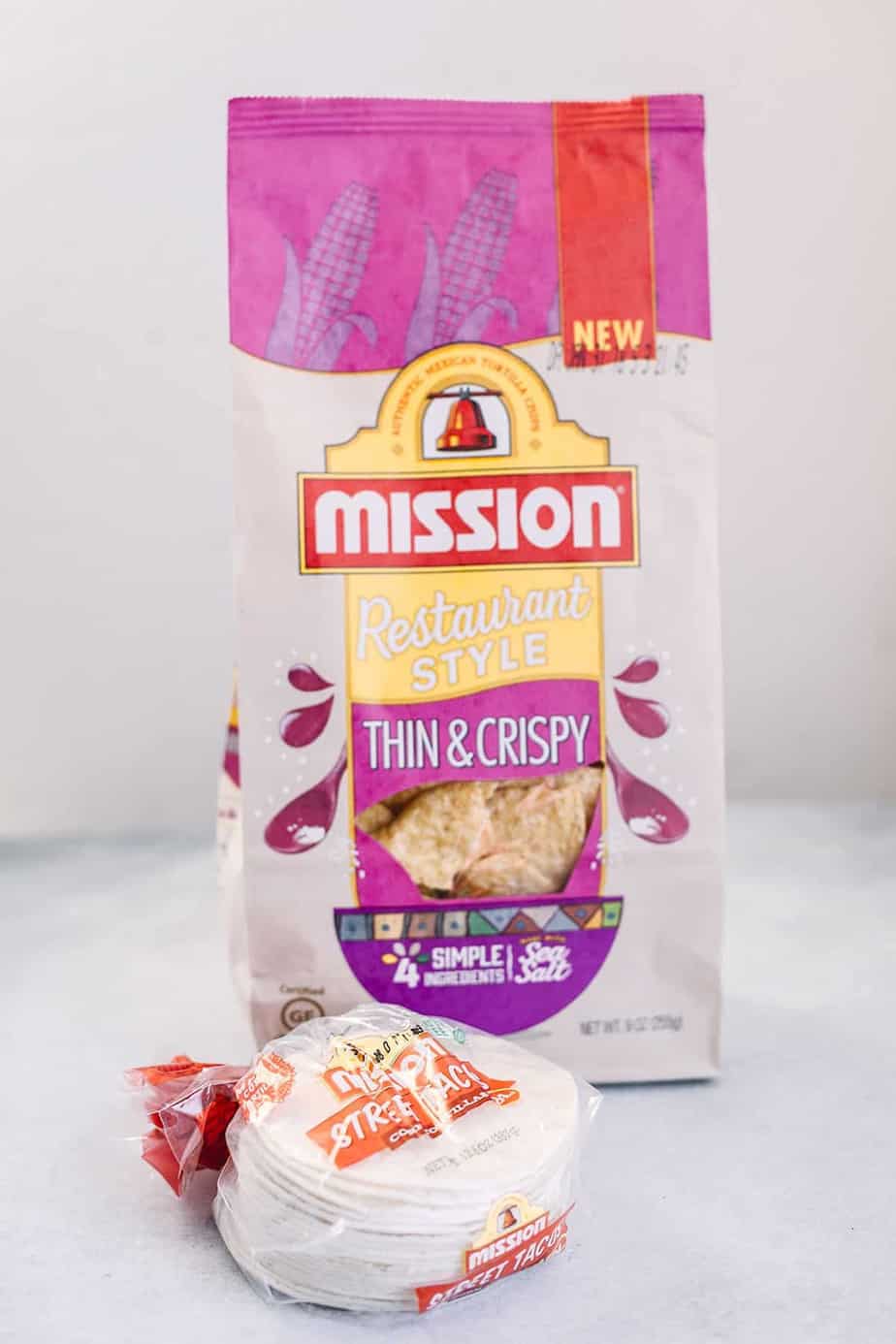 Don't forget to enter the sweepstakes which is going on between 1/1/18 and 1/19/18. You get a chance to win the big game prize pack, including a Roku® Streaming Stick®, party decorations, a recipe card for your favorite team, and maybe even a 70 inch 4K TV. To enter visit www.MissionPartyKit.com.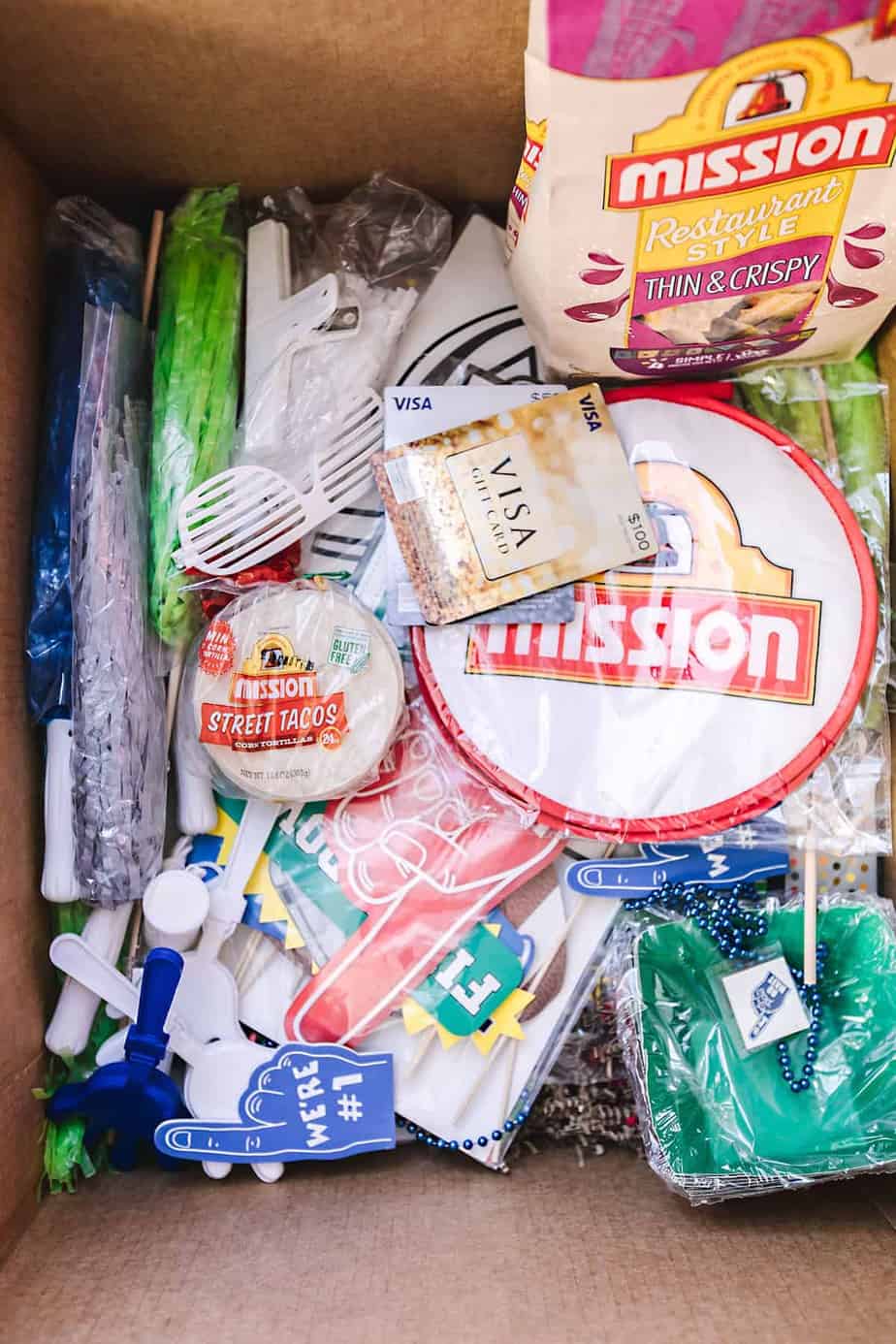 NO PURCHASE NECESSARY. PURCHASE WON'T INCREASE CHANCES OF WINNING. Open to 50 US states/DC residents, age of majority (age 19 in AL & NE/ age 21 in MS/age 18 in all other states and DC) or older. Enter at www.MissionPartyKit.com. One entry/calendar day. Sweepstakes begins 12:00:01 a.m. ET on 1/1/18 and ends 11:59:49 p.m. ET on 1/19/18. For prizes, odds & official rules, go to www.MissionPartyKit.com.
Here's How to Make Ceviche de Camaron or Shrimp Ceviche with Avocado:
📖 Recipe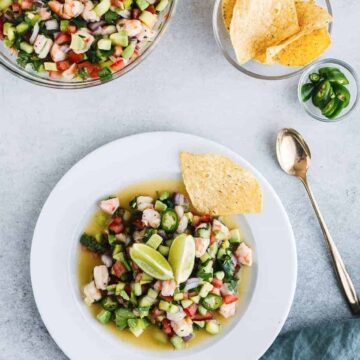 Shrimp Ceviche With Avocado
A refreshing shrimp and avocado ceviche recipe is made with cooked shrimp, cucumber, tomato, avocado, chili peppers, serrano chilies and other fresh ingredients.
Ingredients
1

pound

cooked shrimp (medium size, about 31-40 shrimps per pound)

,

peeled and cut into ½ inch pieces

3

fresh medium-size limes

,

juiced

3

fresh medium-size lemons

,

juiced

3

fresh oranges

,

juiced (I used tangerines or clementine oranges)

2

serrano chili peppers

,

thinly sliced, seeded

¼

teaspoon

salt,

add more according to your liking

½

cup

finely chopped red onion

½

cup

fresh chopped cilantro leaves

1

avocado

,

diced

1

cup

diced cucumber

,

peeled and seeded

1

cup

diced tomatoes,

seeded
Instructions
Soak the chopped red onion in cold salted water for about 5 minutes. Drain and rinse well.

In a glass mixing bowl, place cooked shrimp, lemon juice, lime juice, orange juice, serrano chili peppers, salt and red onion. Let it sit in the fridge for about 1-2 hours.

About 15-20 minutes before serving, toss in some chopped cilantro, avocado, cucumber and tomatoes

Serve and enjoy with Mission® Thin & Crispy Tortilla Chips.