This unstuffed slow cooker cabbage roll soup recipe is perfect to warm you up in the winter (or any season!).  It's a hearty soup recipe, one pot meal with a good amount of lean protein and veggies.  Full of flavor it uses only simple spices and ingredients: fire roasted tomato, tomato sauce, broth, yellow onion,  carrots, celery, garlic powder, Worcestershire sauce, all spice ground and a bit of light brown sugar to balance the sour and salty flavor.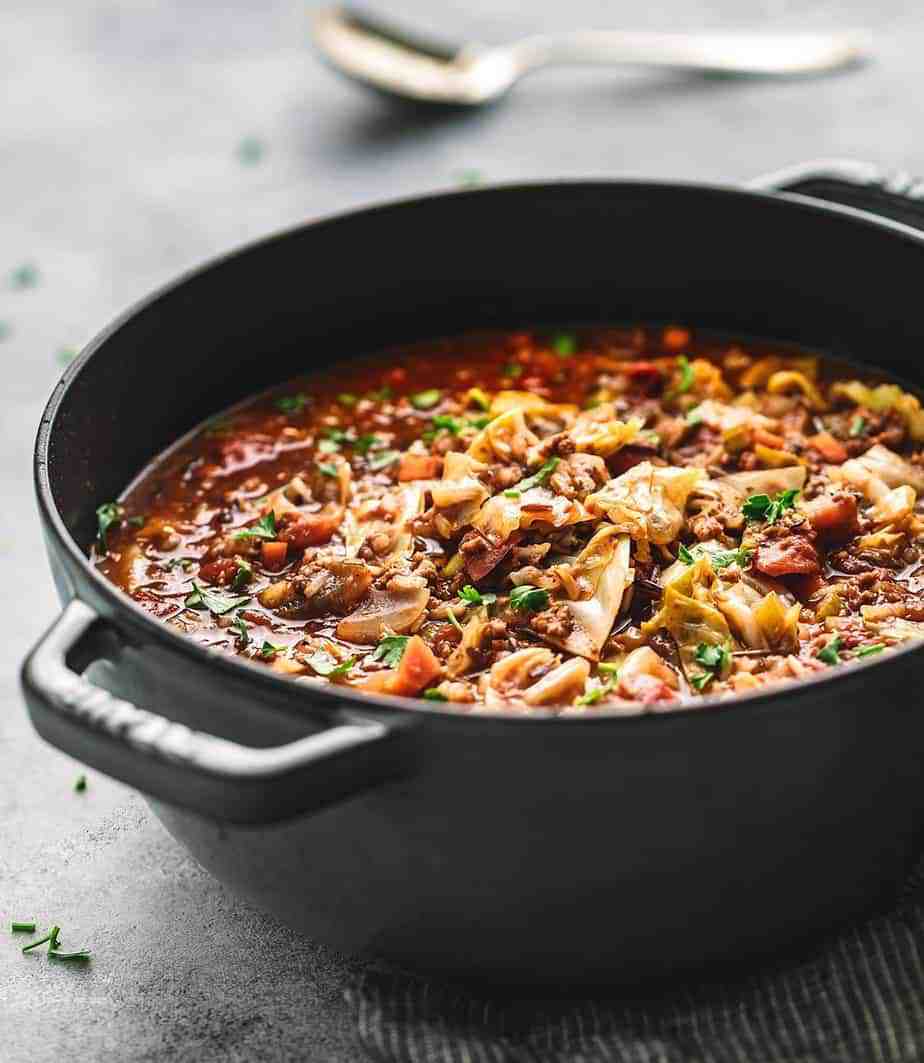 You can cook this slow cooker cabbage roll soup for about 3 hours on high heat or 6-7 hours on low setting. If you are looking for a low-carb version of a cabbage roll soup then you may want to skip the rice or swap the rice with kidney beans for healthier and heartier alternative.  Kidney beans are low in fat and rich in complex carbohydrates, minerals, proteins and vitamins.  Kidney beans have also been linked to a reduced risk of risk of various of cancers, heart disease and diabetes. Uncooked long grain rice is recommended.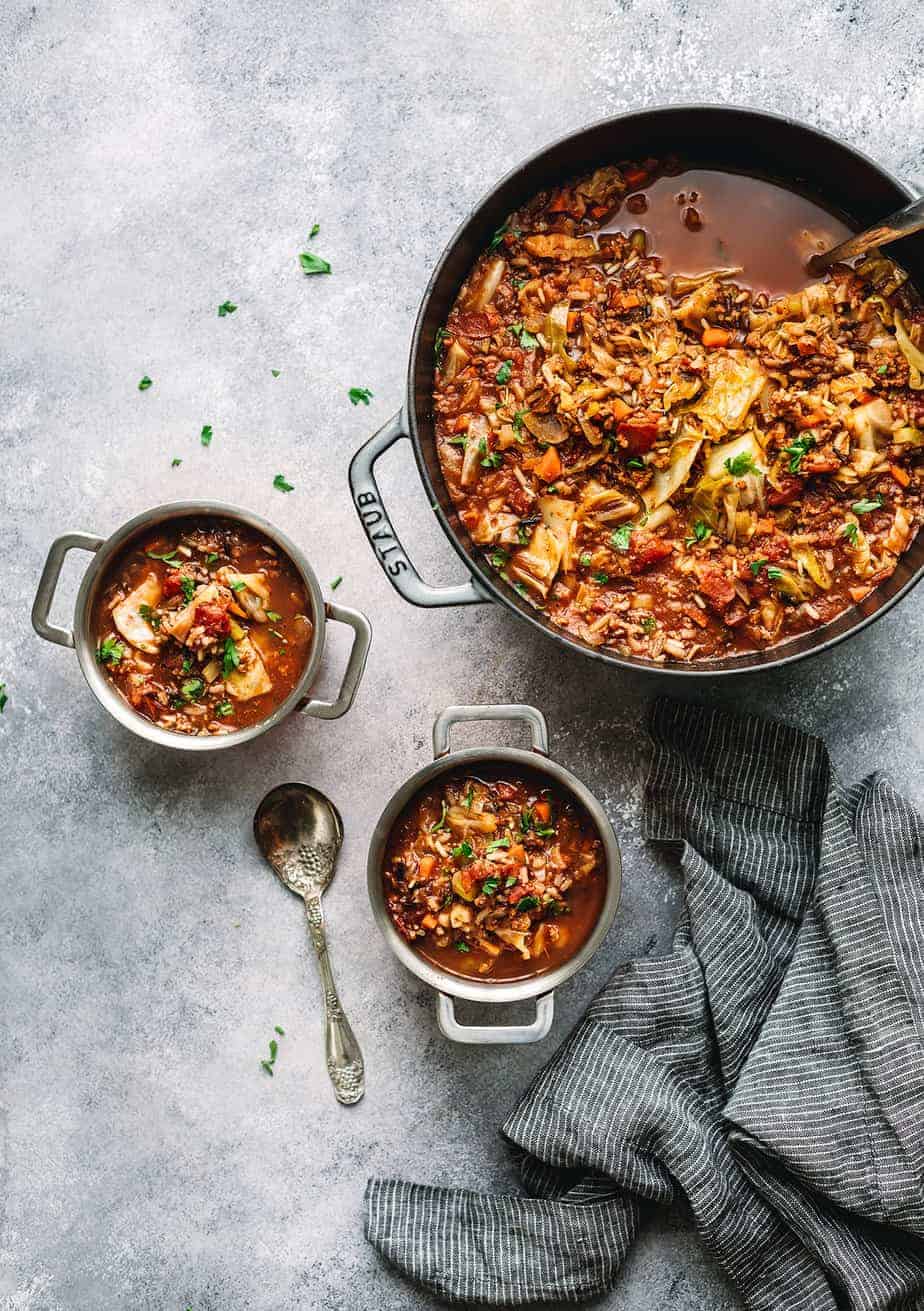 Slow cooker cabbage roll soup, full of flavor and loaded with nutrients. Cabbage is an excellent source of vitamin K, vitamin C and vitamin B6. It is also a very good source of manganese, dietary fiber, potassium, vitamin B1, folate and copper. Cabbage has the highest amount of some of the most powerful antioxidants found in cruciferous vegetables. You can read more benefits here and here. Tomato has an impressive amount of vitamin A, C, and vitamin K, as well as significant amounts of vitamin B6, folate, and thiamin. They are also a good source of potassium, manganese, magnesium, phosphorous, and copper.
You can find the slow cooker cabbage roll soup below. And here are some alternative slow cooker soup recipes for you try: Slow Cooker Creamy Chicken Wild Rice Soup and Slow Cooker Butternut Squash Soup.
Unstuffed Slow cooker Cabbage Roll Soup:
Slow Cooker Cabbage Roll Soup
Ingredients
12

oz

lean ground beef

2

tablespoons

olive oil

1

medium yellow onion

2

celery stalks

chopped

2

medium carrots

chopped

4

cups

green cabbage

chopped

1

can

14.5 oz fire roasted tomato

1

can

12 oz tomato sauce

4

cups

beef broth or vegetable broth

1/4

teaspoon

garlic powder

2

tablespoons

Worcestershire sauce

1/4

teaspoon

all spice powder

optional: 1 1/2 teaspoons light brown sugar

1/2

cup

uncooked white long grain rice or wild rice
Instructions
Heat 2 tablespoons olive oil on a large skillet over low-medium heat. Cook yellow onion, carrots and celery stalks until tender for about 3-4 minutes. Transfer to a slow cooker.

In a slow cooker, combine ground beef, green cabbage, fire roasted tomato, tomato sauce, beef broth, garlic powder, Worcestershire sauce, and all spice powder. Cover and cook on low for about 6-7 hours or 3 hours on high.

Optional: Season with salt/pepper, light brown sugar to taste.

Rinse the rice thoroughly and pour it into the slow cooker at about halfway through the cooking process (or about 1 hour on high heat)

If soup is too thick, add more broth to dilute, adjust seasoning, allow 15 minutes of additional cooking time.
\