This hearty fish soup is packed with flavor. An easy seafood stew recipe that can be ready and on your dinner table in less than 30 minutes. The soup is filled with cod fillets, shrimp, mixed vegetables in a rich tomato broth.
This fish soup is a simpler alternative to my favorite Italian-American fish stew dish, Cioppino. It's so easy and quick to make, yet extremely flavorful! This super easy seafood soup is made from scratch using simple ingredients that many people can find at their local grocers or pantry.
Fish Soup Ingredients:
This seafood soup is made by combining seafood with vegetables in a rich tomato broth. Feel free to customize the ingredients to your own liking and based on availability.
Fish: I used cod fillets, but any white fish such as halibut, sea bass, or red snapper would also be fine.
Shellfish: In this recipe I used shrimp. Crab, lobster, clams, scallops, or mussels are great alternatives to shrimp.
A Delicious Fish Soup Base:
The seafood stew recipe begins with basic ingredients used in making a stock; carrots, celery, yellow onion, parsley, and garlic. I let everything simmer along with the other soup ingredients; crushed tomatoes, water, clam juice, white wine, thyme, and saffron.
Now, let's talk about saffron and clam juice. These ingredients are optional but definitely make for the "secret ingredients" that add depth and flavor to this and other fish and seafood recipes.
CHECK OUT THESE INSTANT POT SOUP RECIPES: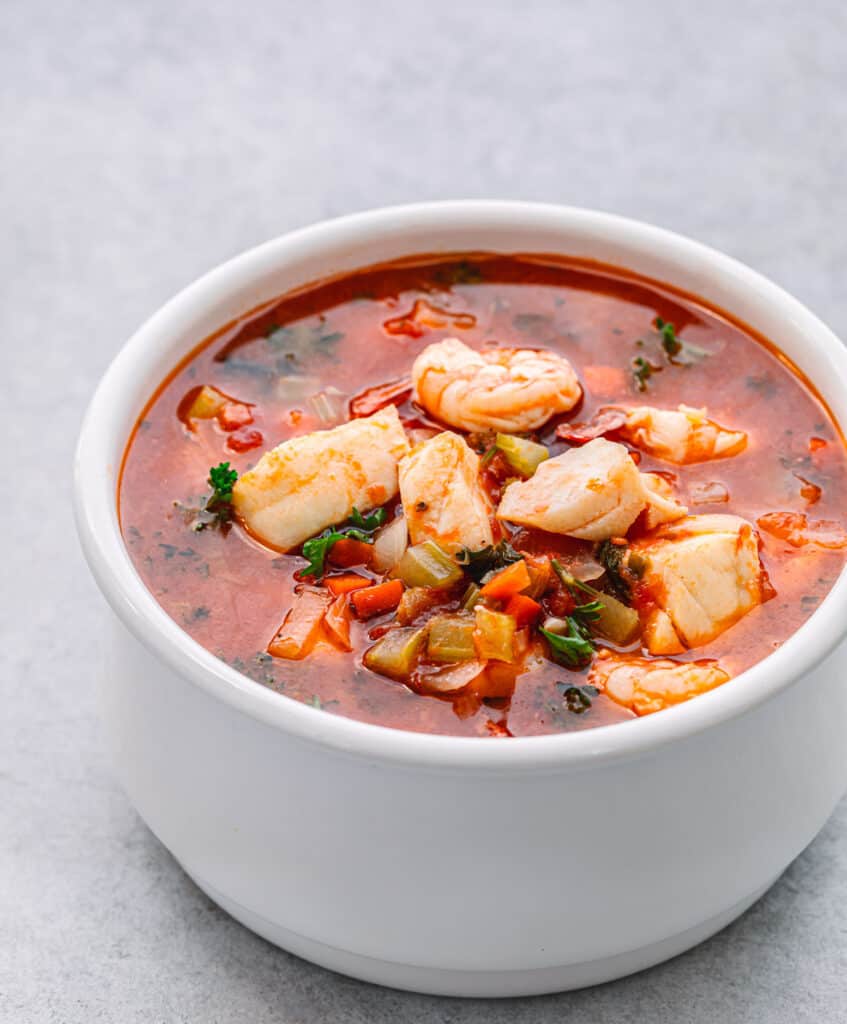 If you don't have saffron in your pantry, feel free to skip it. Saffron has a very subtle flavor and aroma. It's one of the most important ingredients for dishes like paella and bouillabaisse but isn't a make-or-break ingredient in this particular recipe. That said, I liked the extra hints of flavor it did bring.
Clam Juice is usually made from the liquid used to steam fresh clams when strained and mixed with salt. It's a must-have pantry staple. You can use it to flavor various sauces, seafood dishes, or in soup bases.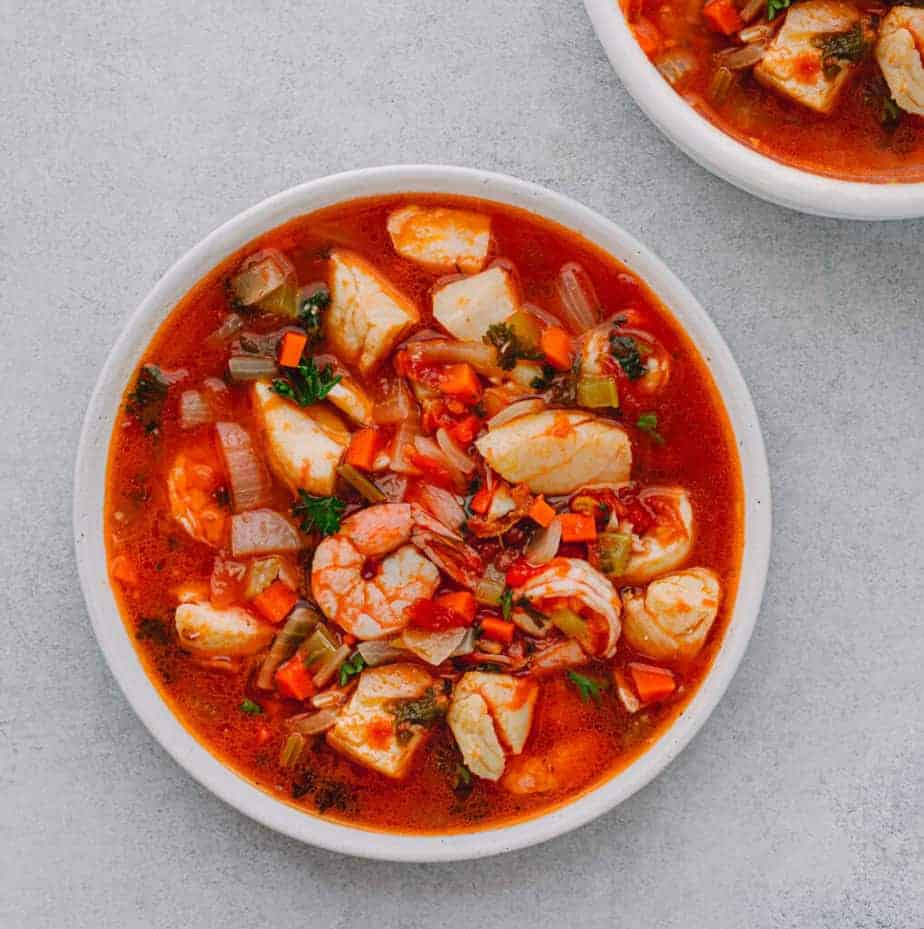 In this recipe, I used Bumble Bee Snow's Clam Juice. If you don't have this product in your pantry then feel free to skip it or make your own seafood stock from shrimp shells. I am going to show you how to make it on the recipe card below.
Crushed Tomatoes are made from fresh tomatoes that are peeled, seeded and crushed then mixed with tomato puree to create a coarser texture than tomato sauce, but smoother than diced tomatoes.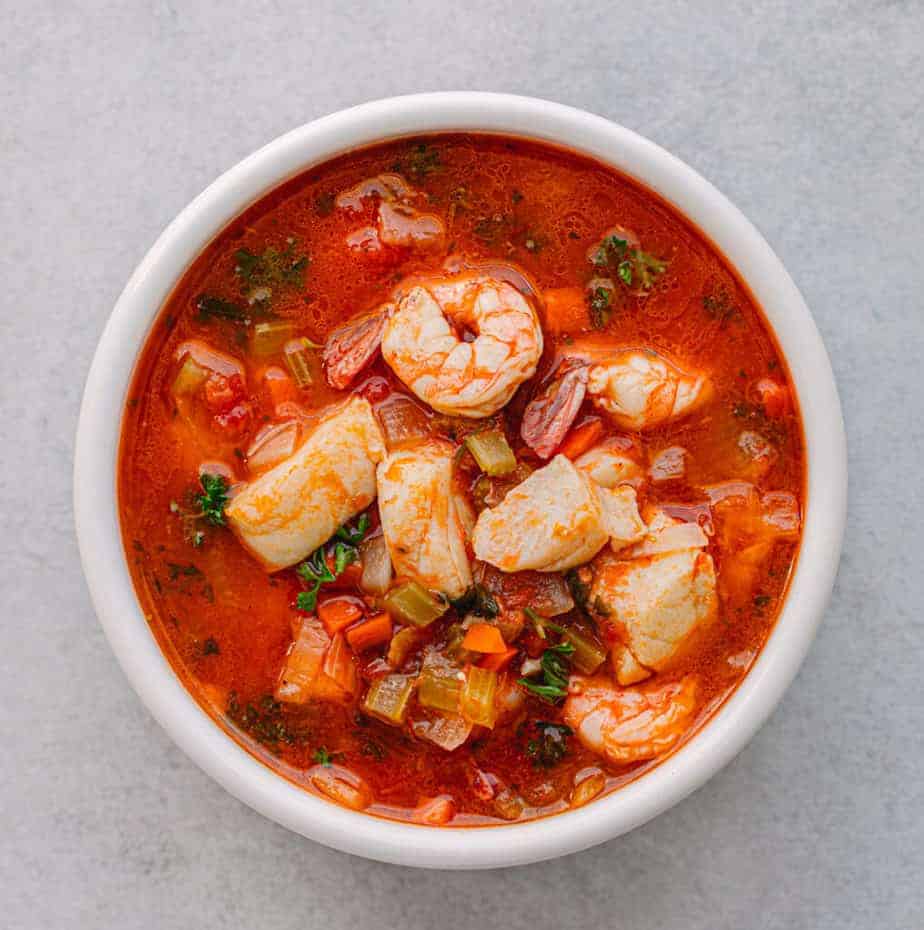 How to Make Fish Soup:
1. Cook the basic ingredients for the soup base for about 10 minutes.
2. Add white wine and cook just until it evaporates.
3. Add the remaining soup ingredients and let them simmer for about 10 minutes.
4. Add the fish and shrimp. The cooking process should take about 3 minutes… so quick!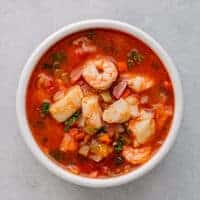 Ingredients
1.5

pounds

white fish

(such as cod, halibut, red snapper, or sea bass), cut into 2-inch pieces

15

pieces

of medium-size shrimp

6

tbsp

olive oil

1

cup

diced yellow onion

½

cup

diced carrots

½

cup

diced celery

1

tbsp

minced garlic

½

cup

lightly packed chopped parsley

½

cup

dry white wine

14

oz

crushed tomatoes

(unsalted and unseasoned)

2

cups

water

8

oz

clam juice

½

tsp

dried thyme

1

tsp

salt

(add more according to your liking)

¼

tsp

crumbled saffron threads

(optional)
Instructions
In a large pot, heat the oil over moderate heat. Saute the onion, celery, and carrots for about 8 minutes. 

Add garlic, and keep stirring for about 1 minute. 

Add parsley, and keep stirring for about 2 minutes.

Add white wine into the pot; cook until it almost evaporates.

Stir in the clam juice, water, crushed tomatoes, saffron, and thyme. Bring to a boil. Reduce the heat and simmer, uncovered for about 10 minutes or until the soup reaches your desired consistency and taste. Adjust seasoning if needed.

Add fish, then shrimp, and cook for about 3 minutes or until fully cooked. 

Remove from the heat. Serve with hot sauce and enjoy!
Notes
An optional step to make your own seafood stock from shrimp shells instead of using clam juice.
Put the shrimp shells and water in a small pot; bring the water to a boil. Reduce the heat and simmer, covered for 15 minutes. Strain the shrimp stock into a bowl. Discard the shells. Use this shrimp stock as replacement to clam juice.
Nutrition
Nutrition Facts
Fish Soup
Amount Per Serving
Calories 442
Calories from Fat 225
% Daily Value*
Fat 25g38%
Cholesterol 94mg31%
Sodium 1069mg46%
Potassium 1039mg30%
Carbohydrates 20g7%
Protein 38g76%
Vitamin A 3659IU73%
Vitamin C 27mg33%
Calcium 98mg10%
Iron 3mg17%
* Percent Daily Values are based on a 2000 calorie diet.