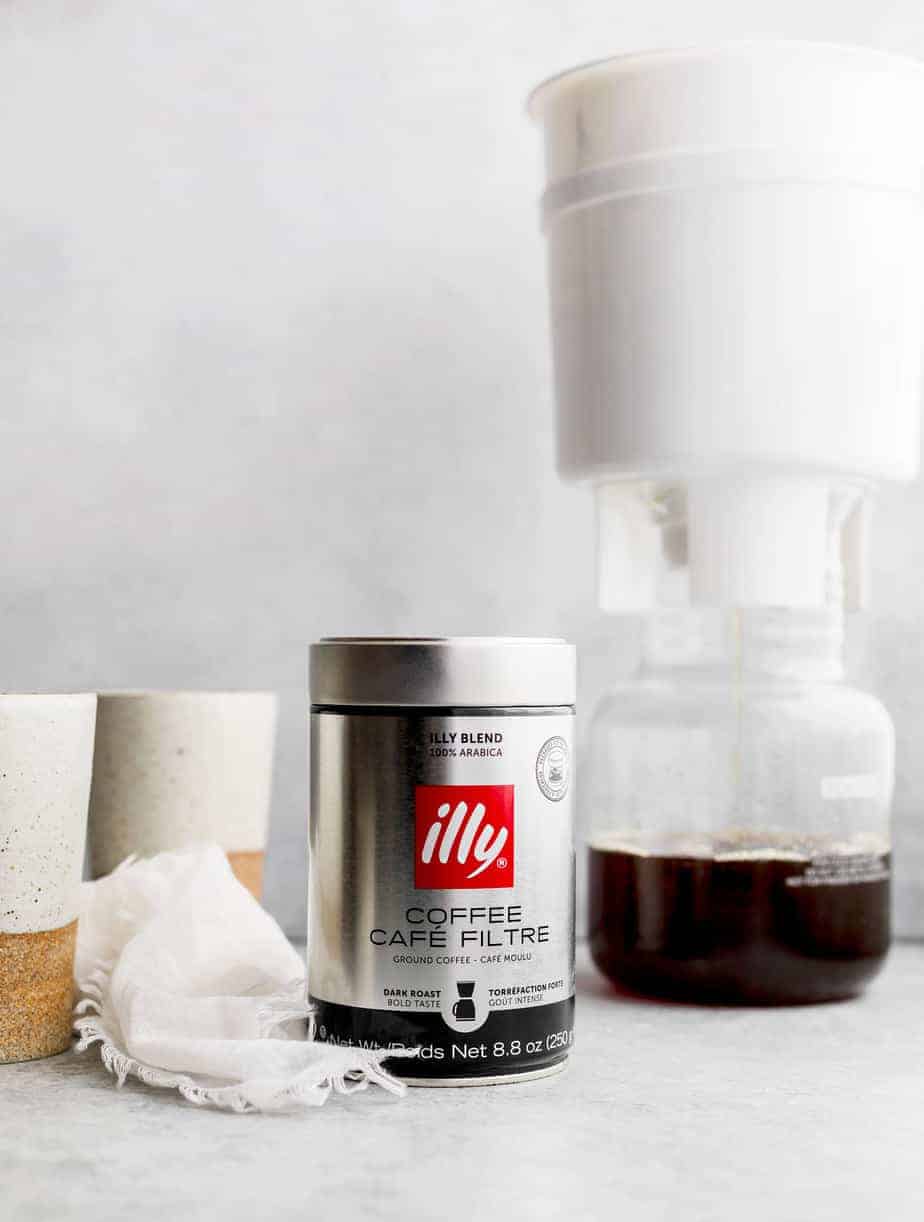 Baked Pears with Maple Syrup and vanilla extract, served with delicious homemade granola crisp, vanilla ice cream and illy cold brew. An easy baked pears crisp dessert recipe for your next brunch or party.
One great taste deserves another. It's quite a simple rule to follow right? After we've put time into making a delicious dish it should only be served alongside a high quality drink to match. The drink should not only go-along-with the accompanying food's flavors, it should bring them to new levels. People most often think of wine when it comes to food pairings, and as of the last few years craft beers (especially with all of the fine gastropubs popping up). I seldom pass up an invitation to a party with either of these! Fine coffee is another drink that pairs well with food, be it after a fine dinner with guests or a Sunday morning brunch.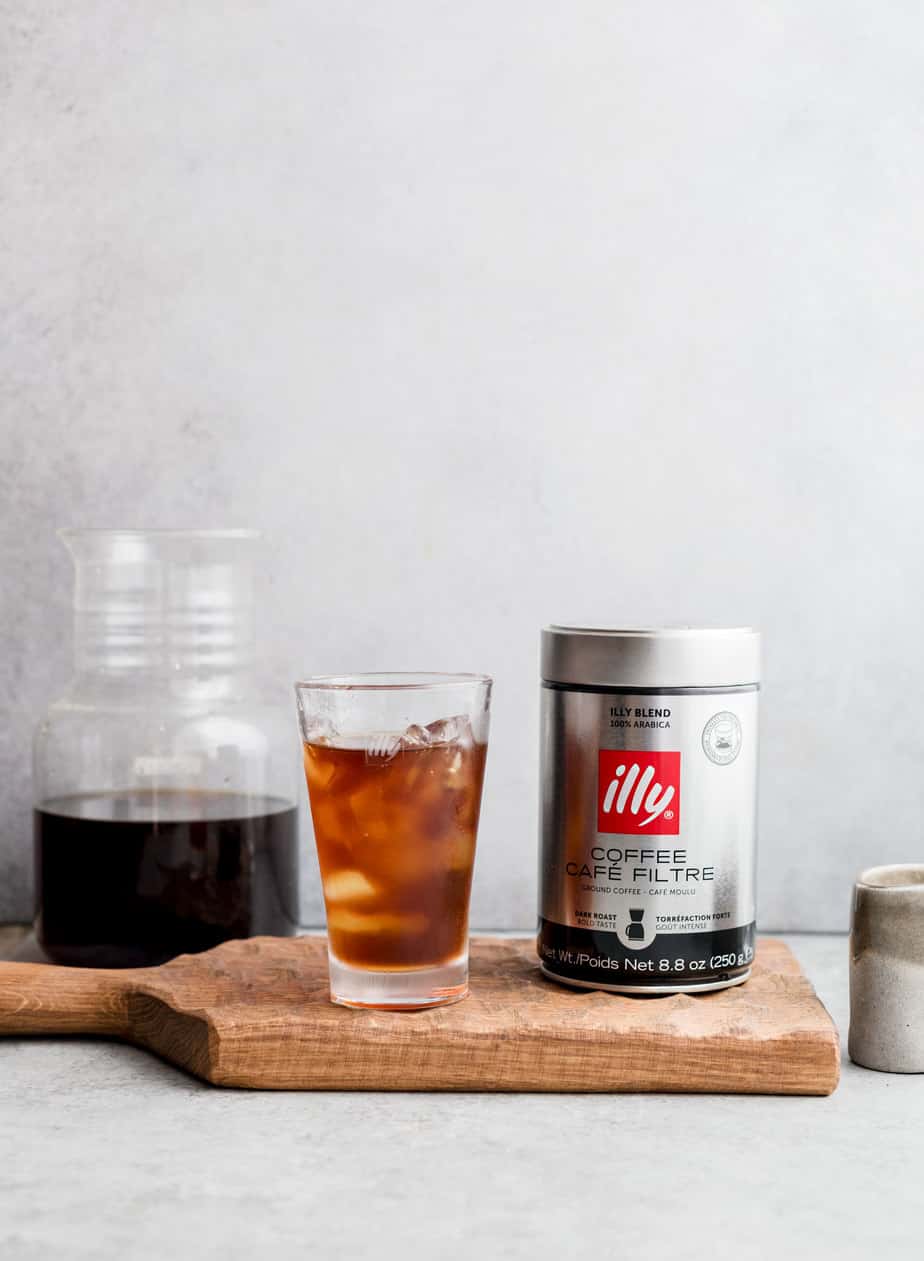 Below is a recipe for baked pears with maple syrup a homemade granola crisp, and a simple scoop of ice cream on the side. The dish has some nice contrasts: the pear still warm from the oven and the cold vanilla ice cream, the crunch of the a homemade granola and the cool texture of the pears. The dish works well on its own, but with a cup of my tastiest coffee in-hand I savor the each bite so much more. It is ever important to select the right coffee for pairings, one that is rich in body yet a bold and smooth taste. illy coffee is what I reach for and has never let me or my guests down. The pride they take in their product is unmatched in everything from their selection of Arabica beans ("from 9 of the best origins in the world"), to the way they pressure package their beans for freshness. A great cup of medium roast illy blend coffee or illy espresso will elevate the taste of this dish as well as the mood of you and your guests. Yes, it's that good!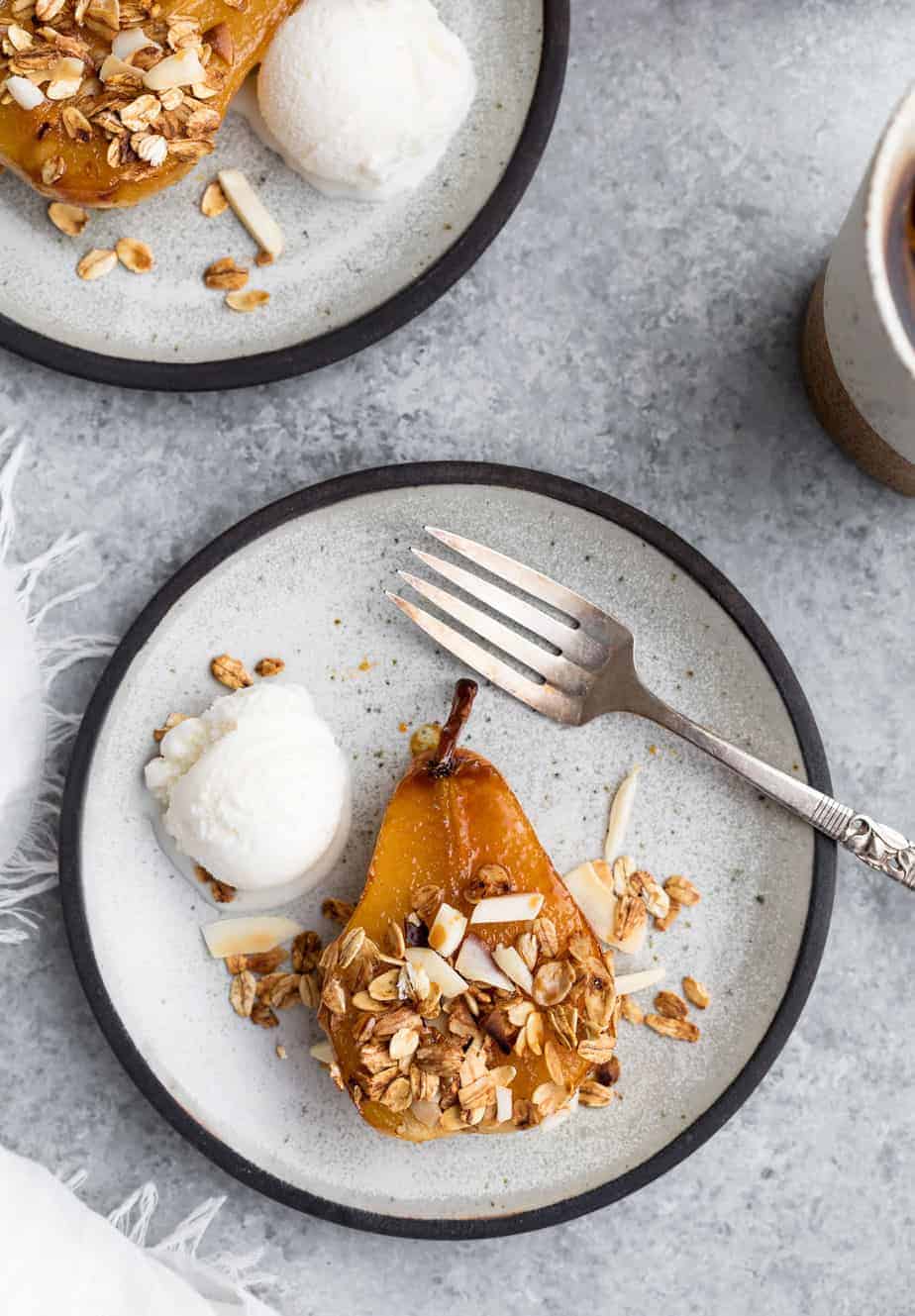 You can visit illy and use code COFFEE17 to enjoy special 20% savings on your online order.
On a final note, one more reason to support illy products is that they pioneered a business model where the farmers of the beans receive healthy profits. This is fair, and has an outcome of higher quality Arabica beans. It's also a much more sustainable approach, too, which makes me a proud supporter of the brand.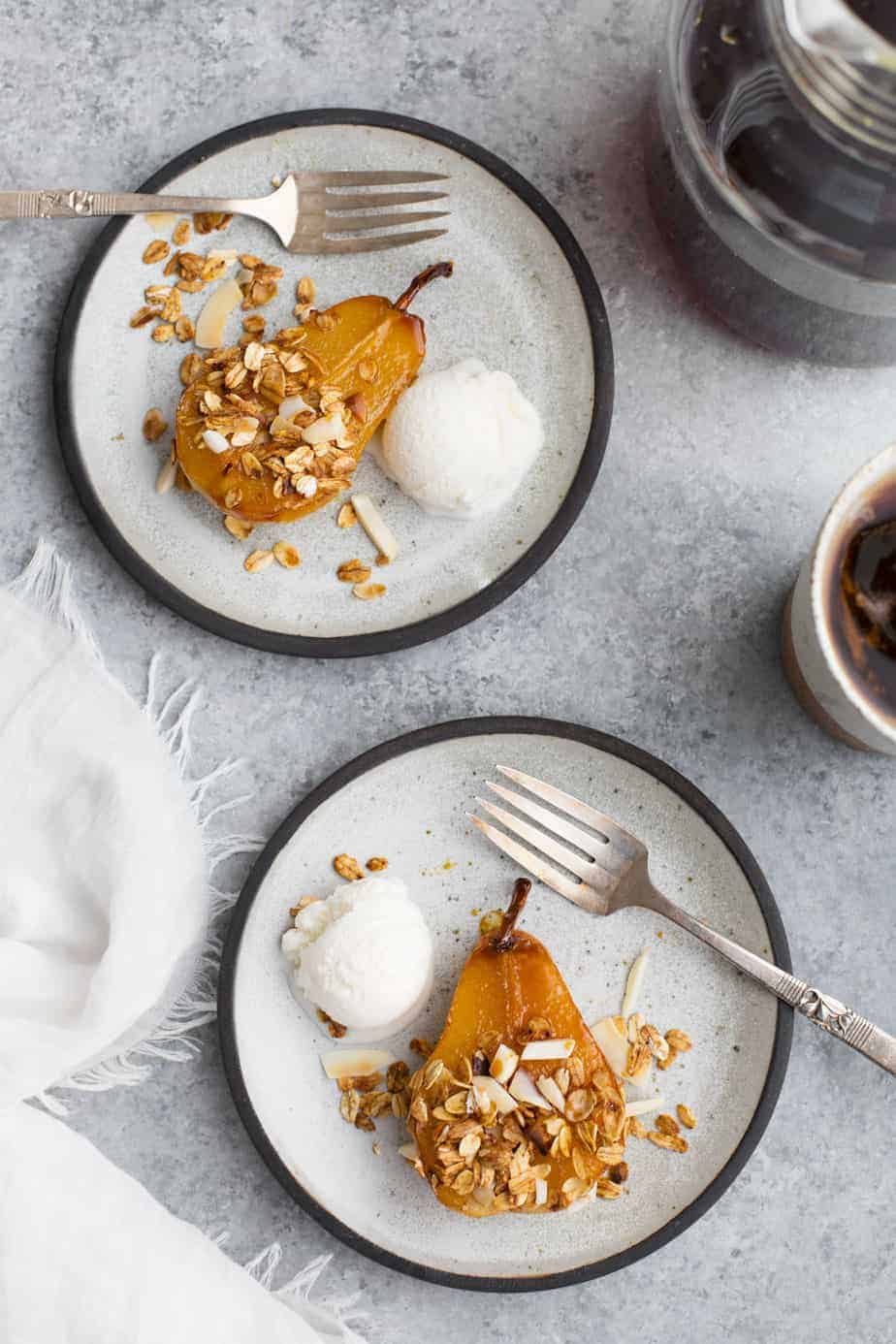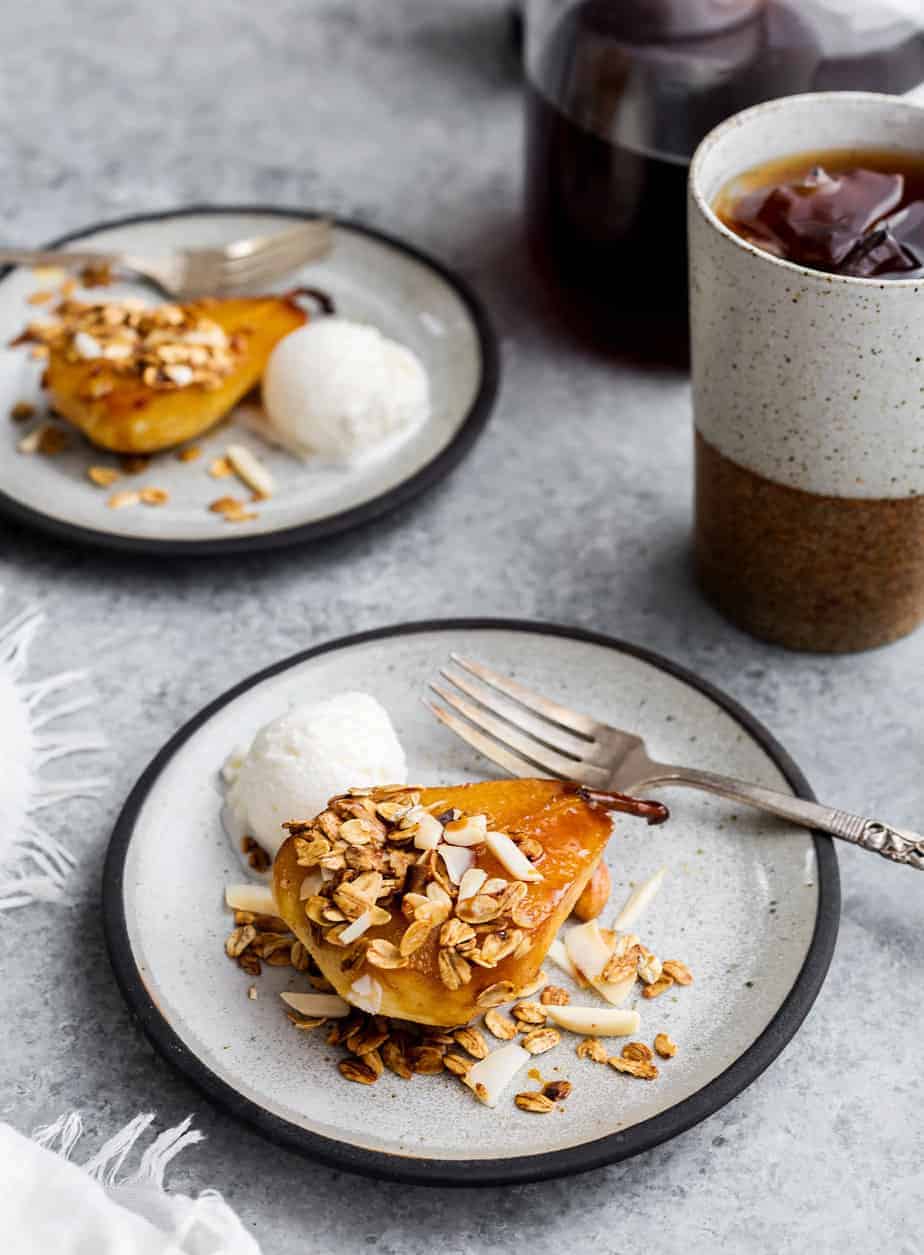 Here's the recipe for the baked pears with maple syrup, served with a delicious homemade granola and vanilla ice cream dish. It's easy and quick to follow, yet has an end result that can pass at any type of gathering, even a posh party.
Baked Pears with Maple Syrup Recipe
📖 Recipe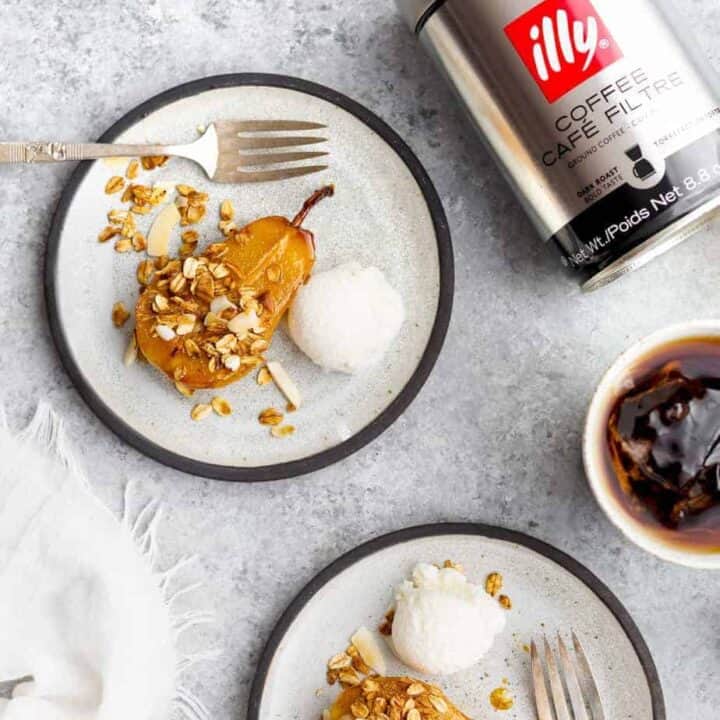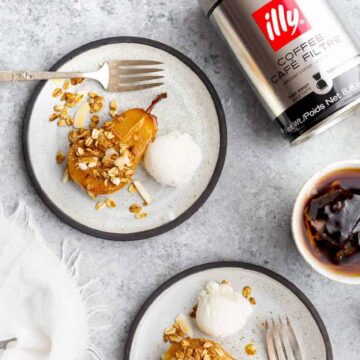 Baked Pears with Maple Syrup
Ingredients
Homemade Granola Crisp:
1

cup

whole oats

¼

cup

silvered almonds

¼

cup

Coconut flakes

2

tablespoons

maple syrup

2

tablespoons

light brown sugar

1

tablespoon

vegetable oil

¼

teaspoon

ground cinnamon

⅛

teaspoon

salt to taste
Instructions
Baked Pears:
Preheat the oven to 375 F.

Peel the pears and cut them in half.

Rub the pears with lemon.

Scoop out the cores with a spoon.

Melt the butter in a skillet.

Add the cinnamon, brown sugar, maple syrup, cook in low heat. Keep stirring until the sugar dissolved.

Add the pears into the syrup mixture until well coated.

Transfer the pears to an oven dish, cut side down and bake for 30 minutes or until the pears softened.
For Homemade Granola:
In a mixing bowl, combine maple syrup, light brown sugar, vegetable oil, ground cinnamon and salt.

Stir in oats, silvered almonds, coconut flakes into the mixing bowl until well coated.

Spread the mixture into a thin baking sheet and bake for about 5 minutes or until the granola is golden brown.
To serve:
Put a halved pear on a plate and drizzle with a generous amount of granola. Add ice cream as a topping. Serve and enjoy