A simple chocolate chip banana bread recipe. The ultimate moist banana bread with chocolate chips and walnuts is baked to perfection. A great recipe to take the classic banana bread to the next level.
Banana bread with chocolate chips on top!
If you are looking for the best banana bread recipe around, try this chocolate chip banana bread! It's also a great recipe for those of us that don't know what to do with those ripe bananas.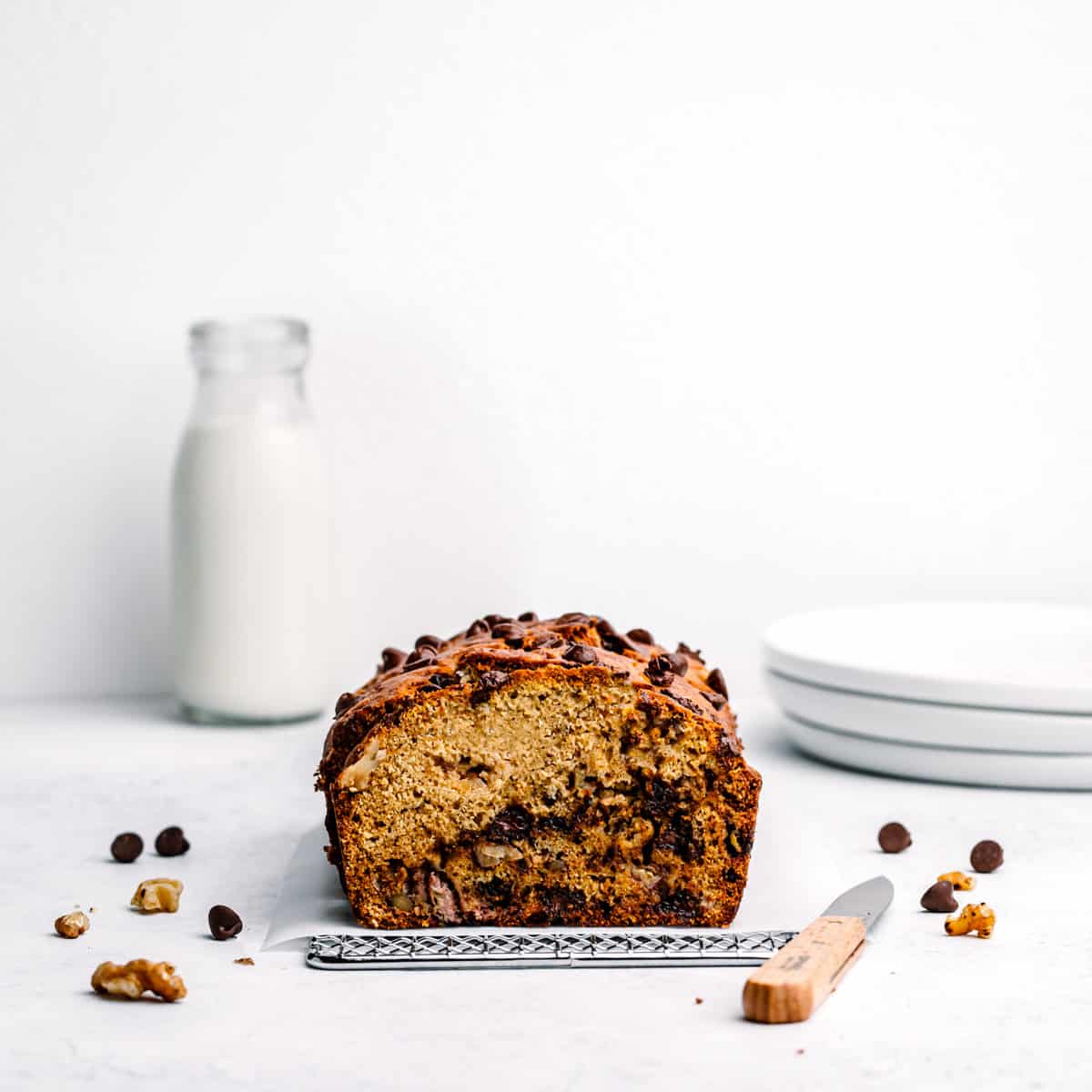 This simple choc chip banana bread is made from scratch and basic pantry ingredients! It's the perfect breakfast and dessert recipe. It's so easy to make, even those that don't have baking skills can impress friends and family with this home recipe!
This banana bread has a great texture and the right balance of sweetness! You can eat it by itself or serve with a scoop of ice cream.
Now, let's talk about the ingredients used in this banana bread recipe.
Jump to:
Ripe Bananas:
The most important ingredient is banana. The ripe bananas are the best bananas for banana bread.
Ripe bananas have a yellow color with brown spots and are also soft. The darker the better as it increases the flavor, especially sweetness. You will only need about 3 ripe bananas (500 grams) per recipe, but feel free to use up to 4 if you want to achieve more "banana" flavor and of course, a sweeter taste.
Here are some useful methods you can do to ripen banana quickly:
You can put the unripe bananas in a paper bag and loosely fold down the top. This process will help ripen the banana in 1-2 days!
Place the bananas with peels on, on a lined, rimmed baking sheet and bake until the peels turn black at 300°F. Just be sure to let them cool down for a few minutes before handling.
Prick bananas all over with a fork, then put them on a paper towel or plate. Microwave on high for 15 seconds at a time, keep repeating this process until you achieve the desired consistency.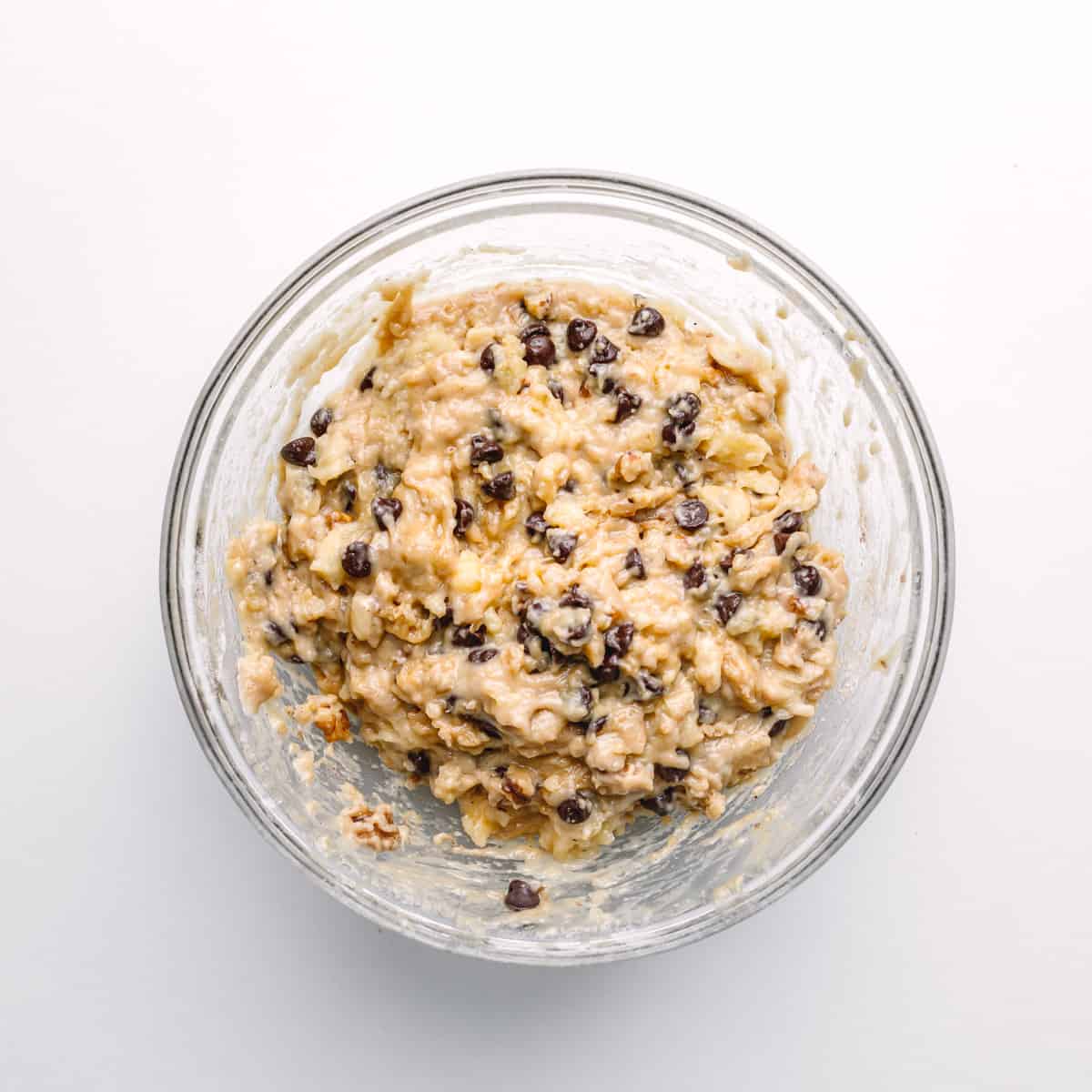 Sugar:
In this recipe, I used brown sugar. It's basically sugar that contains molasses in it. It also slightly has more minerals than white sugar. However, the sweetness level stays the same. Feel free to use white sugar if that's the only thing available in your pantry.
Because the chocolate chips contain a high amount of sugar, you only need to use ½ cup of brown sugar to make this banana bread.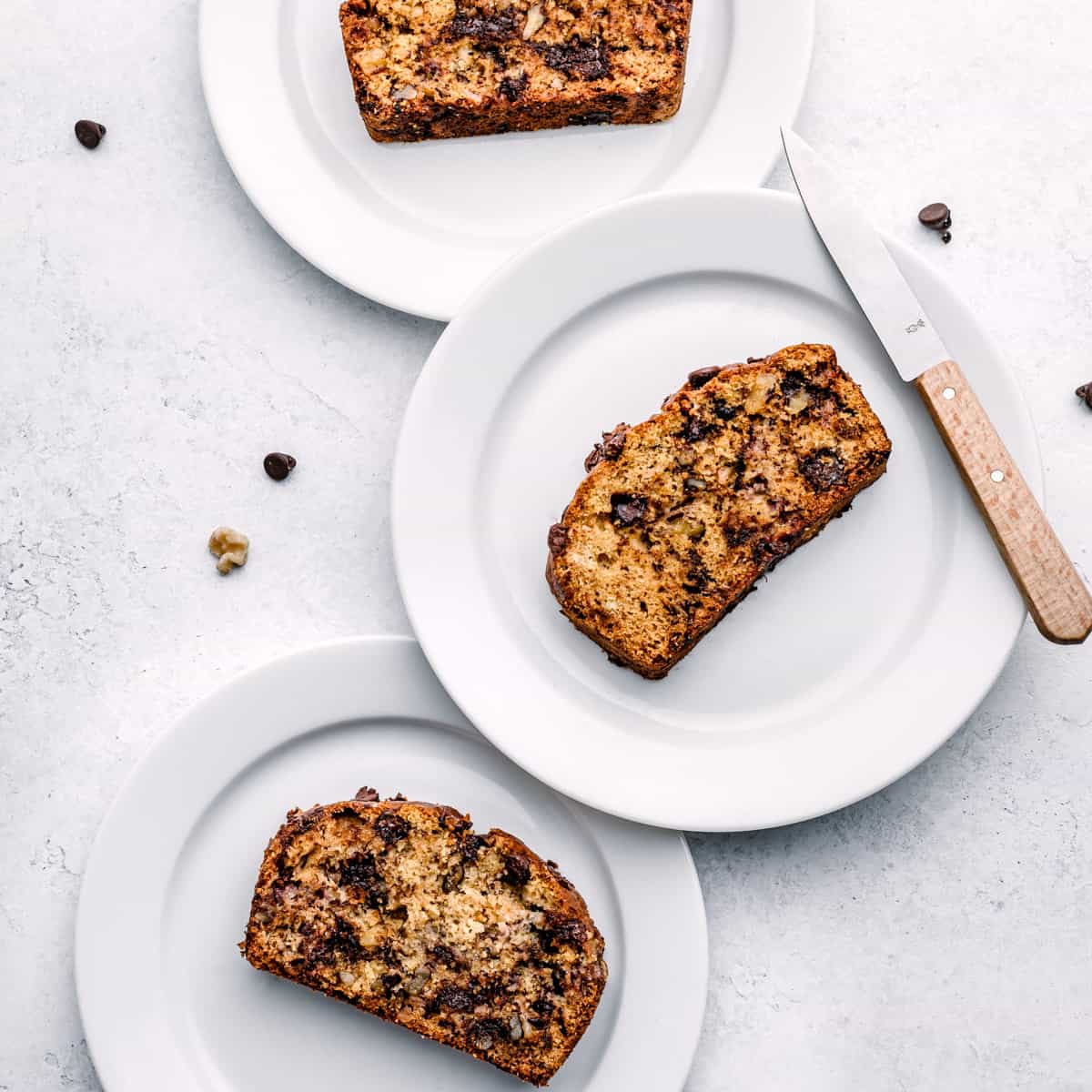 Chocolate chips:
This banana bread is loaded with melted chocolate chips. I only used ½ cups of chocolate chips but you can always use more according to your taste!
If you are not in the mood for chocolate chips then skip them; and simply turn this banana bread into a classic recipe by using ¾ cup of brown sugar, delicious!
Check Out More Sweet Recipes:
Walnuts:
The toasted walnuts add nutty, crunchy, and earthy taste to the bread. They add texture but not extra flavors so the banana and chocolate are still the stars. I recommend to use walnuts but not required, and always be aware of nut allergies for those that you're baking for.
There are two ways to toast walnuts.
Simply lay walnuts on a baking sheet and roast for about 5 minutes at 375F or until they just start to turn brown and smell toasted.
Heat a large frying pan over medium-high heat. Add walnuts, then toast, stirring frequently until they just start to turn brown and smell toasted.
Please note that walnuts go from toasted to burn quickly. Be sure to watch them closely with whatever method you choose.
How to Make Banana Bread:
First, you will need to mash the ripe bananas coarsely with the fork. You want to make sure that they are fully broken, but also want some of larger lumpy pieces to remain.
Then, combine melted butter and brown sugar. Add eggs, and vanilla extract.
After that, mix all the baking dried ingredients in a medium mixing bowl.
Next, combine the dried ingredients and mashed bananas, stir to combine.
Last, you want to add in the chocolate chips and walnut before pouring the mixture into the bread pan.
📖 Recipe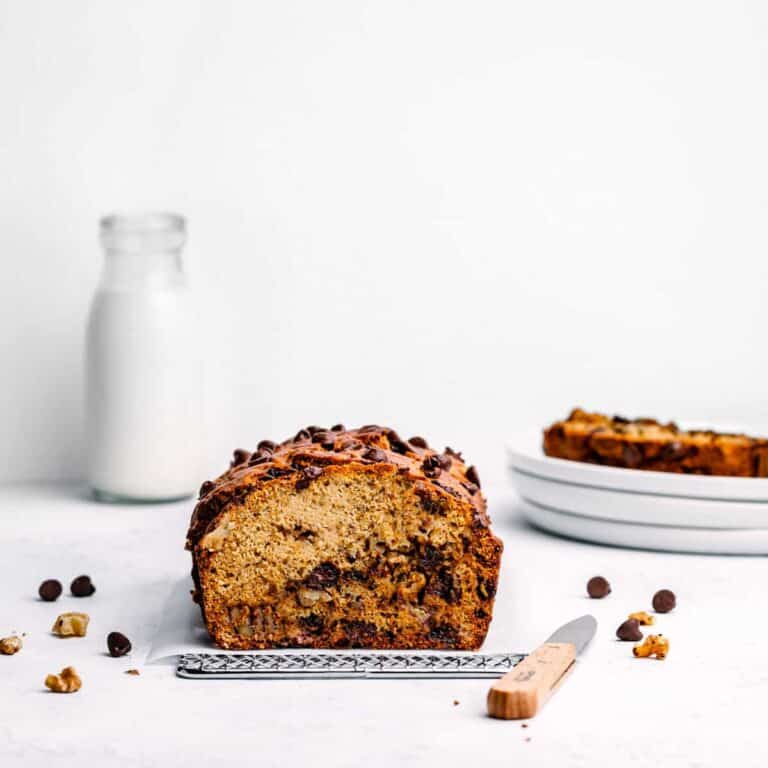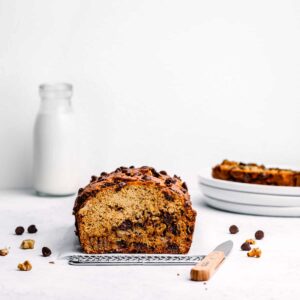 Chocolate Chip Banana Bread
A simple chocolate chip banana bread recipe. The ultimate moist banana bread is baked to perfection. A great recipe to take the classic banana bread to the next level.
Ingredients
3

ripe bananas

,

(500 grams)

2

eggs

½

cup

unsalted butter,

(melted)

1

teaspoon

vanilla extract

1½

cups

all-purpose flour

1

teaspoon

baking soda

½

teaspoon

salt

½

cup

brown sugar

½

cup

chocolate chips

,

+ more for sprinkling on top

¼

teaspoon

cinnamon

,

(use more or less according to your liking)
Instructions
In a small bowl, mash the bananas coarsely using a fork.

In a medium bowl, whisk the melted butter, brown sugar, vanilla, and eggs until combined.

Add flour, baking soda, salt, and cinnamon to combine.

Gently fold in the mashed banana, chocolate chips and walnuts. Mix until each addition is just incorporated. The batter should be barely blended and still thick.

Pour the batter into the prepared loaf pan and spread into an even layer.

Sprinkle the surface generously with additional chocolate chips.

Put the pan into the oven and bake until a toothpick insered into the center comes out clean for about 50-55 minutes.
Nutrition
Calories:
457
kcal
Carbohydrates:
57
g
Protein:
7
g
Fat:
24
g
Saturated Fat:
11
g
Cholesterol:
95
mg
Sodium:
406
mg
Potassium:
332
mg
Fiber:
3
g
Sugar:
25
g
Vitamin A:
590
IU
Vitamin C:
5
mg
Calcium:
45
mg
Iron:
2
mg